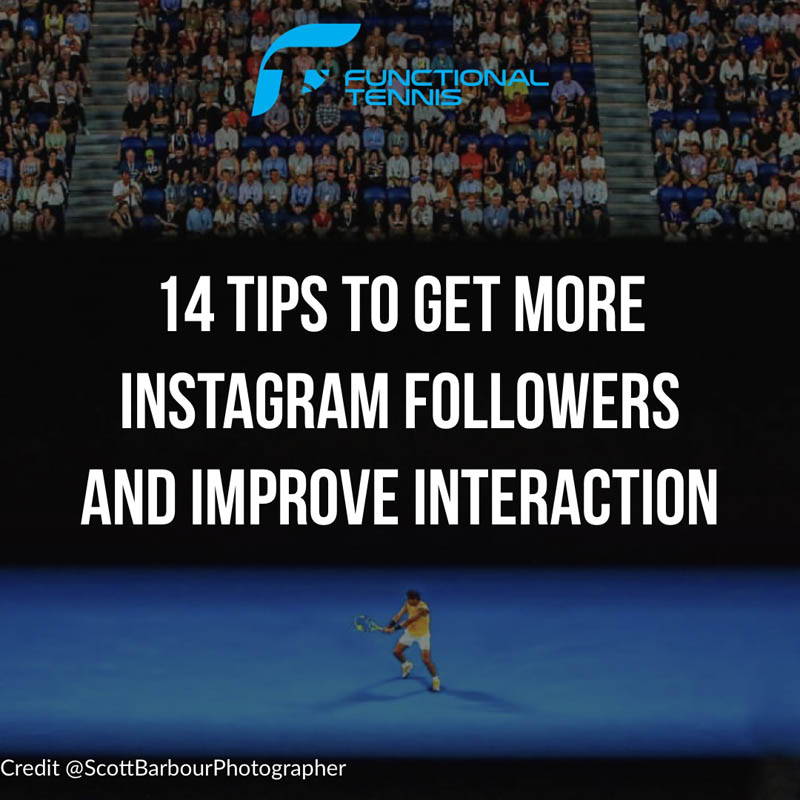 I frequently get asked by coaches, players, parents and other non tennis related people how I have grown the Functional Tennis Account to over 200K Fans and if there are any tips that I have to help grow and improve interaction on their account.
My love of tennis has definitely made it easier but I've put together a list of things I have found important to help me grow the Functional Tennis Instagram account over the past 2.5 years to 209,000 followers.
They are all very simple and anybody can do it. They just take time. Here you go...
---
---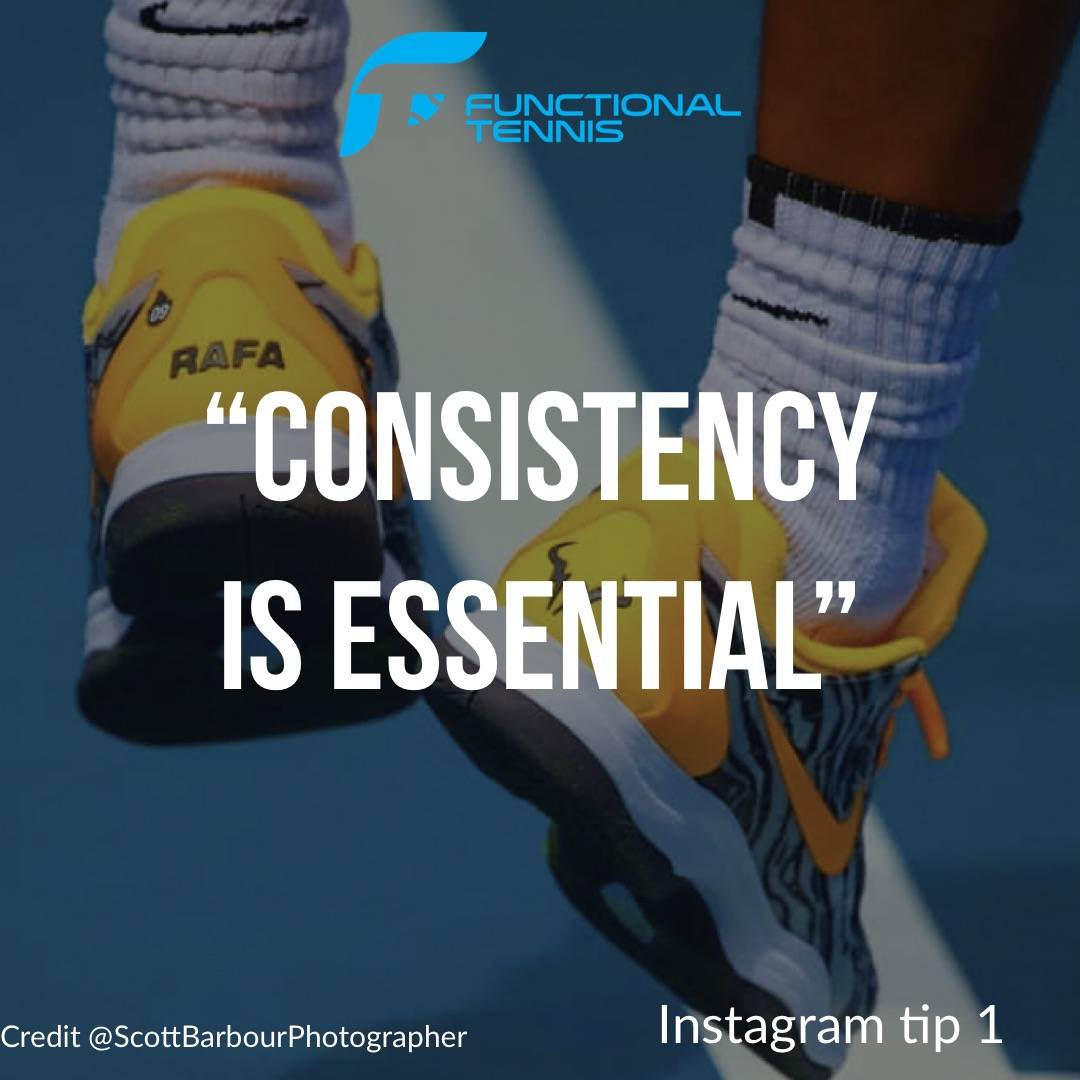 Consistent posting has been the #1 key success to growth for Functional Tennis. Just like all things in life consistency is a key role whether you are trying to improve your forehand, work on your fitness or simply try to be healthier.
Since we launched in June 2016 we have posted every single day, that is our goal and we have done all we can do stick to it. Posting daily works for our type of account and wont suit everybody but the key note here is to set a weekly posting schedule and stick to it, consistency will pay off in the long term. This also applies to any of your other social accounts, whether it's Facebook, Twitter, YouTube or another social account.
---
Video preforms better than images and we recommend you use video over images as much as possible. The advantages of videos are:
Better interaction from followers

People learn more from a video

Instagram favours video in their algorithm which gives your content a better chance to be seen by followers

Greater chance to be found in the explore feed so you can pick up new followers
---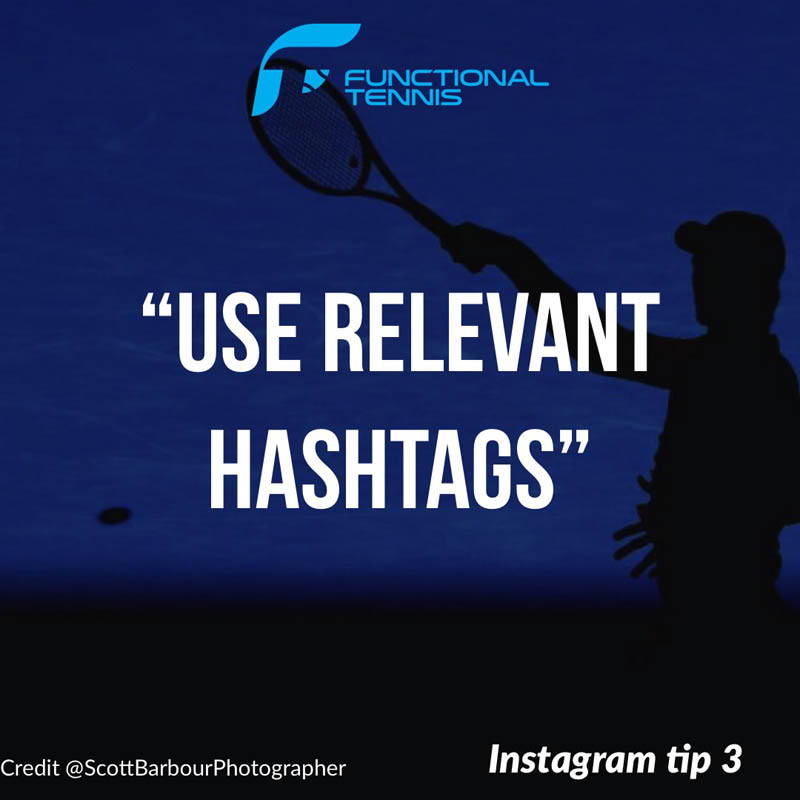 #tennis #FunctionalTennis
You can use up to 30 hashtags on Instagram posts. I find for tennis 30 hashtags can be overkill and advise you to use only the relevant hashtags for your post. So if your post is about the serve just use:
#tennis
#serve
#servelesson
#playername
#coachname
maybe also the #location
(Feel free to also tag #FunctionalTennis so we can see it and if we think its great we will re-gram it 😀)
Again consistency is essential here, use hashtags with all your posts.
---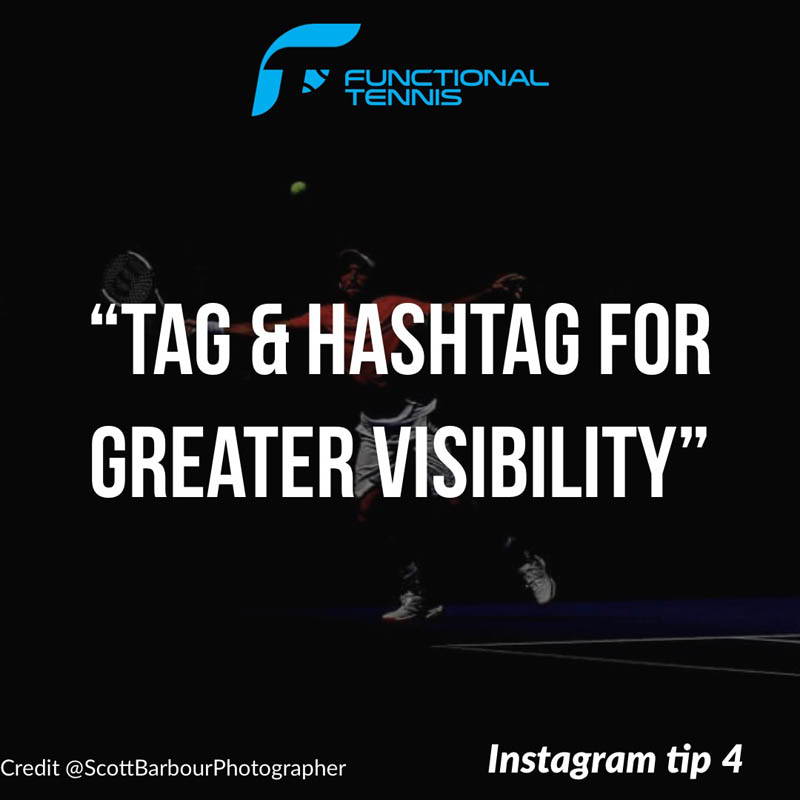 If you are featuring a player/coach/academy with a lot of followers or want a certain account to see your post chances are they will not see your tag in the description as their activity feed is constantly updating with new interaction. Thats why I find it important to hashtag the account you want to target as well as using the "Tag People" Option on the New Post Screen as there is a better chance of it been found by them.
If you want us to see your post I would advise you use the #FunctionalTennis hashtag and tag us in the "Tag People" section. We get mentioned in descriptions (@FunctionalTennis) many times every day but we miss them most of the time but we never miss the #FunctionalTennis tags as they are so easy to look back on or the photos I've been tagged in section.
---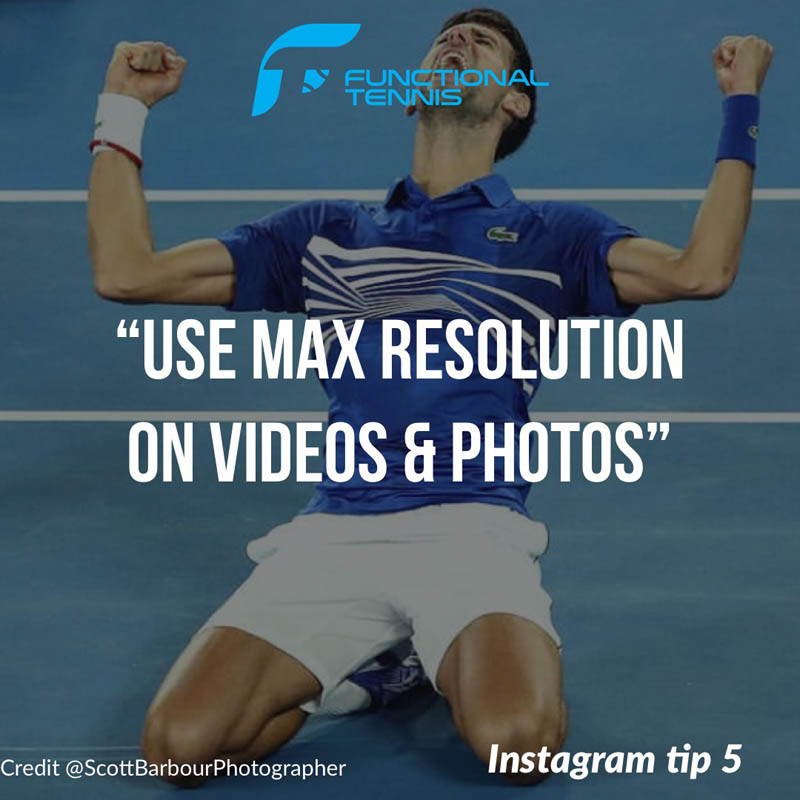 Quality goes further. We advise you try and upload the highest quality video possible (data permitting!) With the latest smart phones there is no reason to have a grainy video that looks terrible and people ultimately just scroll down their feed when they see it. If we have 2 of the exact same videos the one with the better resolution will always preform better. No excuses!!
👀 Tip
I've found that when I get sent videos as DM on Instagram they have lost quality. Ask for videos to be sent to iMessage orWhatsApp. iMessage seems to keep the best quality of them all.
---
If you are reposting a video, always credit the source. There is nothing worse than somebody putting in the time and effort to record a video or photo and then you come along, repost it and don't give the source any credit.
They can report you
You are missing an opportunity to build a relationship

Crediting videos has allowed me to build many great relationships with players/coaches/fans all over the world who can become a source of great videos. Plus when you credit the source, the source usually picks up fans and this gets them excited and they are likely to send more videos your way. It's a win win.
---
7. LOAD the post with info
Use all the features provided by Instagram to provide as much info as possible on each post as it gives you a greater opportunity to get discovered.
Location
People in the video
Hashtags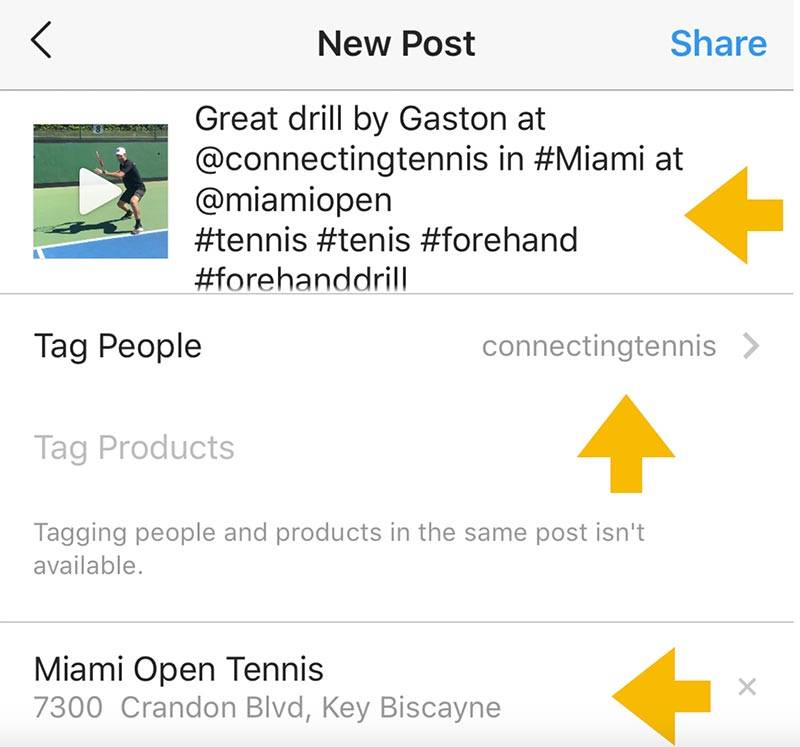 ---
8. Speak to the cameras as one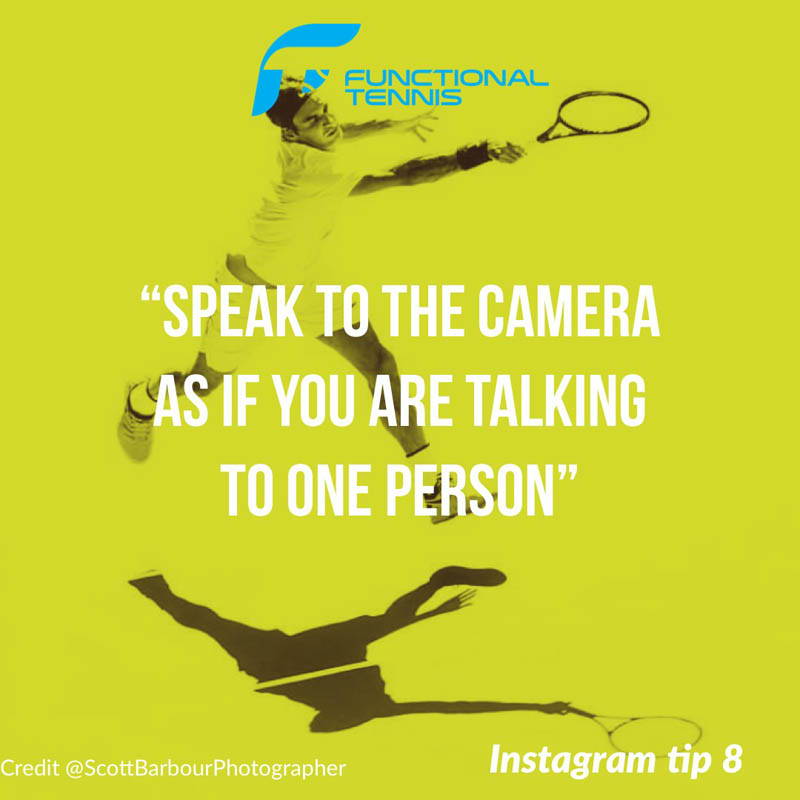 When you record a video for a post or a Story post, talk to the camera as if you are talking to one person not to a group. This can be hard at times as you default say "Heys Guys" instead of "Hi". It comes across more personable and when the person watches the video its like you are talking directly to them.
---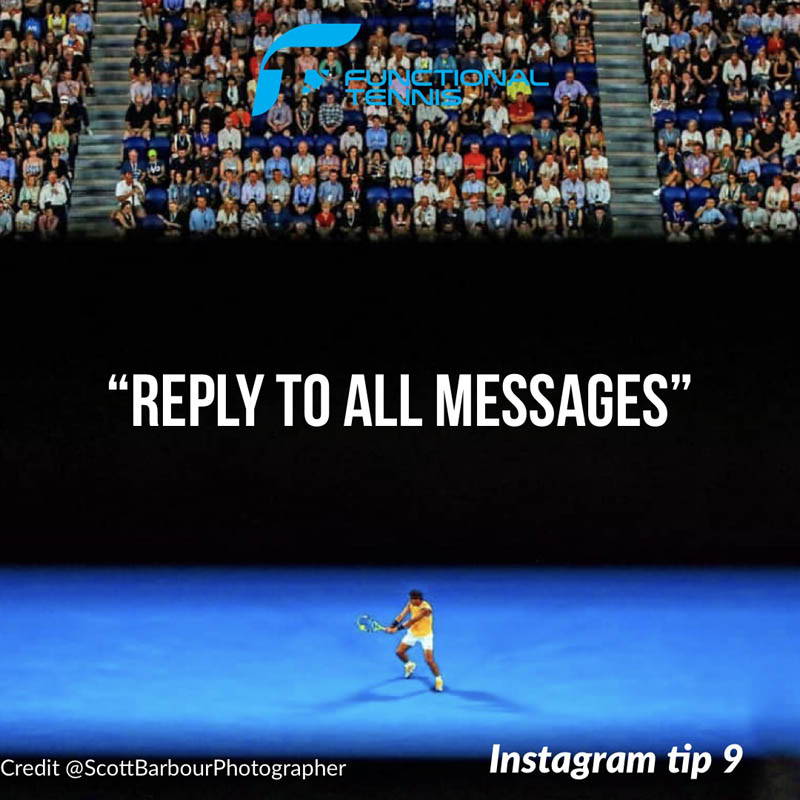 We try to reply to all DM's, just a simple recognition of a ❤️ could be enough for a reply but it shows you read the message and honestly appreciate it. If you are getting messages with trash talk (thankfully doesn't happen too often) or SPAM you can just delete/block/ignore as its not worth any of your time.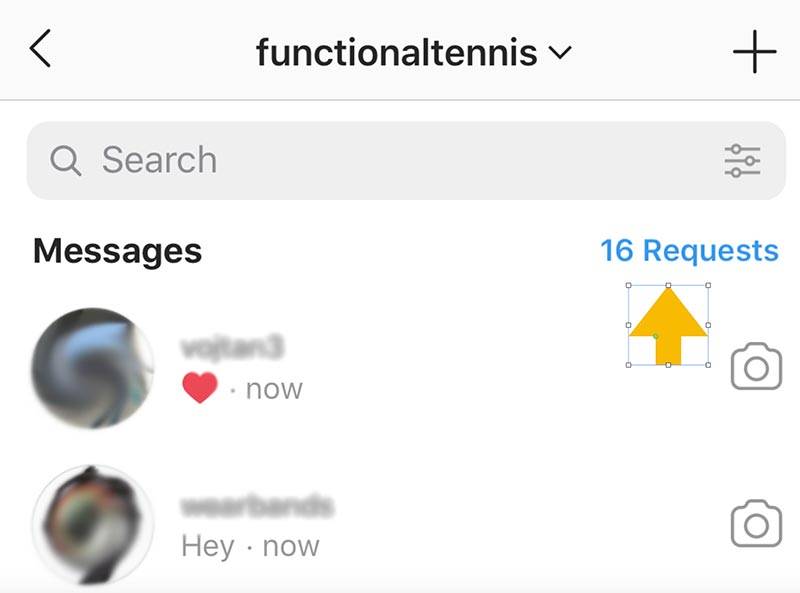 The section with messages from people you don't follow can often have some messages so make sure you check them out and don't leave people hanging! We try get back to every message we receive here at Functional Tennis. We've found many opportunities in this section so don't ignore it!!
---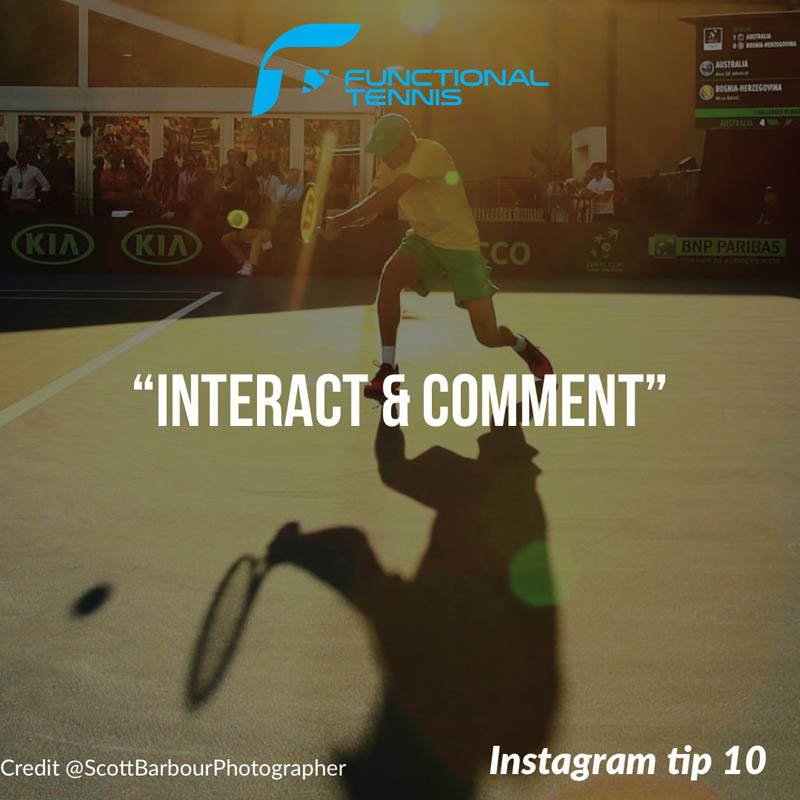 I've talked to pro tennis players of all levels who wonder why they don't have a bigger fan base. The main reason I find is cause they choose not to. What usually happens is:
The Player will post a video/Image
A fan will comment with a question etc
The Player doesn't reply
In some cases a higher ranked player or somebody famous or verified may comment
The player replies to (4) but not to (2)
By replying to (2) the player can begin to build real fans. We are not talking about hundreds of comments, most of the time it's only a handful.
I've also heard the excuse "I don't have the time" which is crap. We all know how much time tennis players spend hanging around tournament sites, airports etc!!
Interacting with your audience is a key part to growing a tribe of followers and I can't emphasise enough the importance of it.
Another example I have is along with Functional Tennis I have another tennis account called Tennis Patrol. I started Tennis Patrol 6 months after Functional Tennis and have posted the same type of content, it has grown to about 80K fans but I very rarely interact with the followers and this is clearly visible with lower interaction and less brand recognition than Functional Tennis. Spending time interaction with your fans and replying to DM's over the long term really pays.
---
11. No logos or big graphics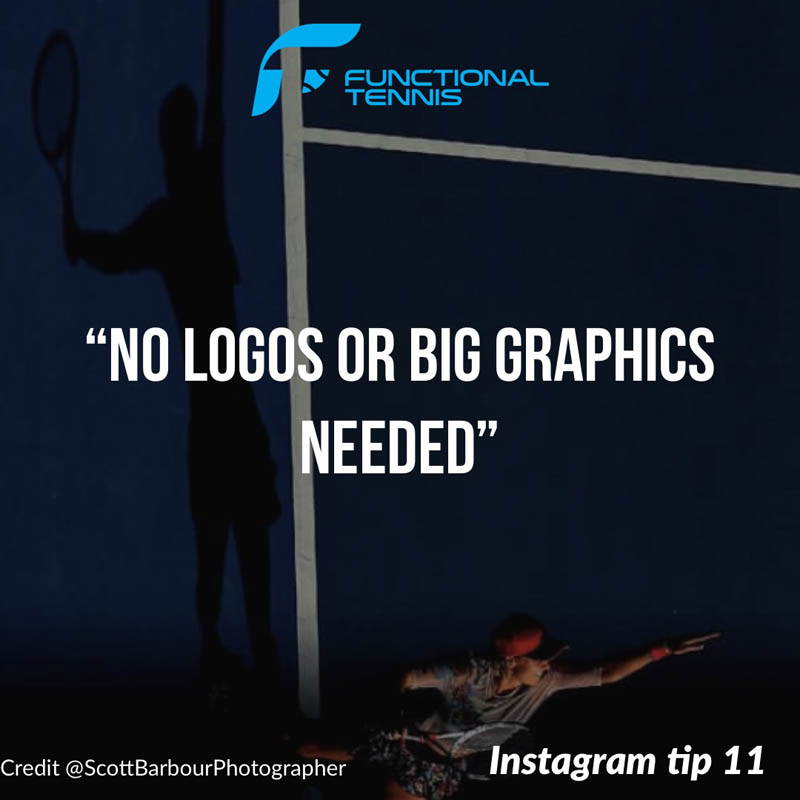 I recommend staying away from having big logos or text on your images/videos like below. They are never the most appealing and accounts like ours will think twice about re-sharing them.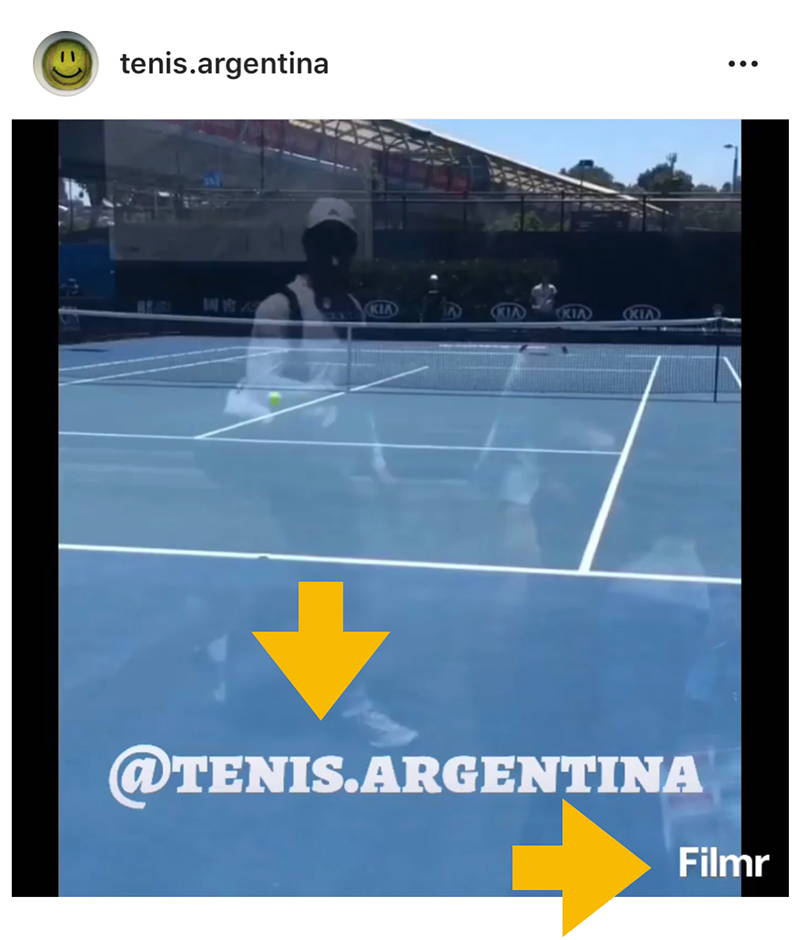 ---
12. Switch to a business account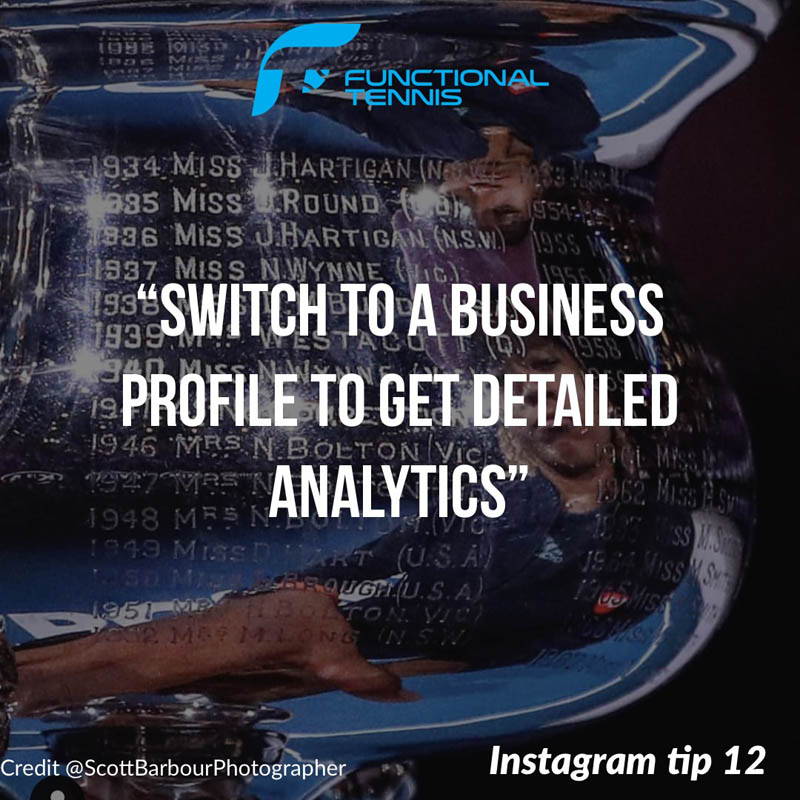 Switching to a business account will allow you to get detailed insights on your activity, content and audience. You can then use this information to see what your top preforming posts are based on
Engagement
Reach
Follows
Impressions
Profile Visits
Saved
and much more for up to 2 years after you have converted to a business account.
These insights will allow you to understand what content will work for you.
Sometimes though there is some content that you thought would never be great and its turns out to be gold!
---
13. Repost your top preforming content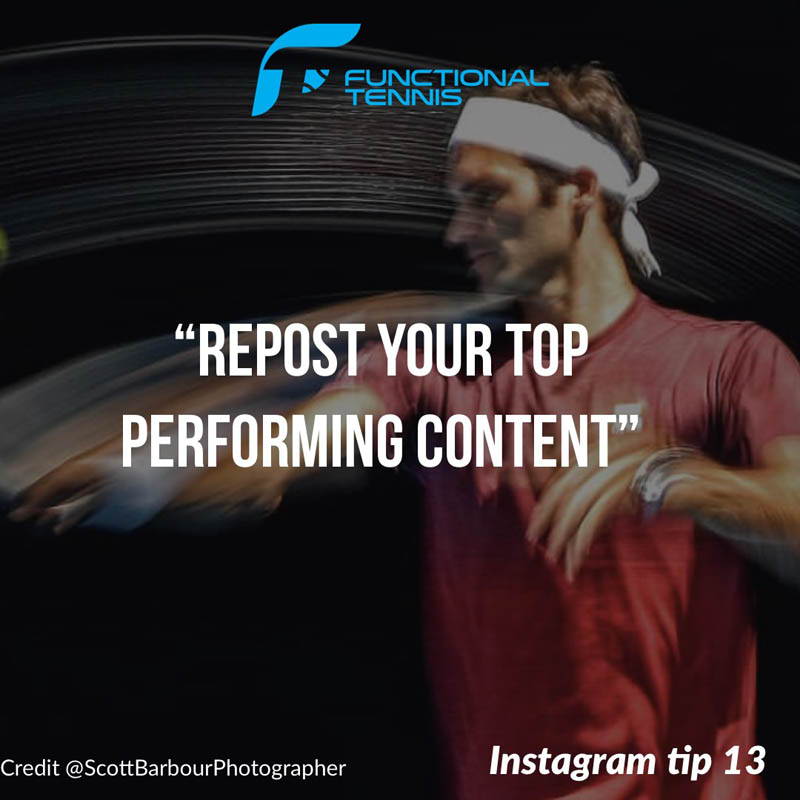 Once you have setup a business account and you can see your top posts don't be afraid to repost them every 3-6 months. Sometimes it preforms just as good, sometimes better and sometimes not as good but it's always a good solid post. You will have new fans who have not seen it before so they always appreciate it and older fans will to 😉Nobody ever gets fed up of a Roger Federer backhand!!
---
14. Keep Post production to a minimum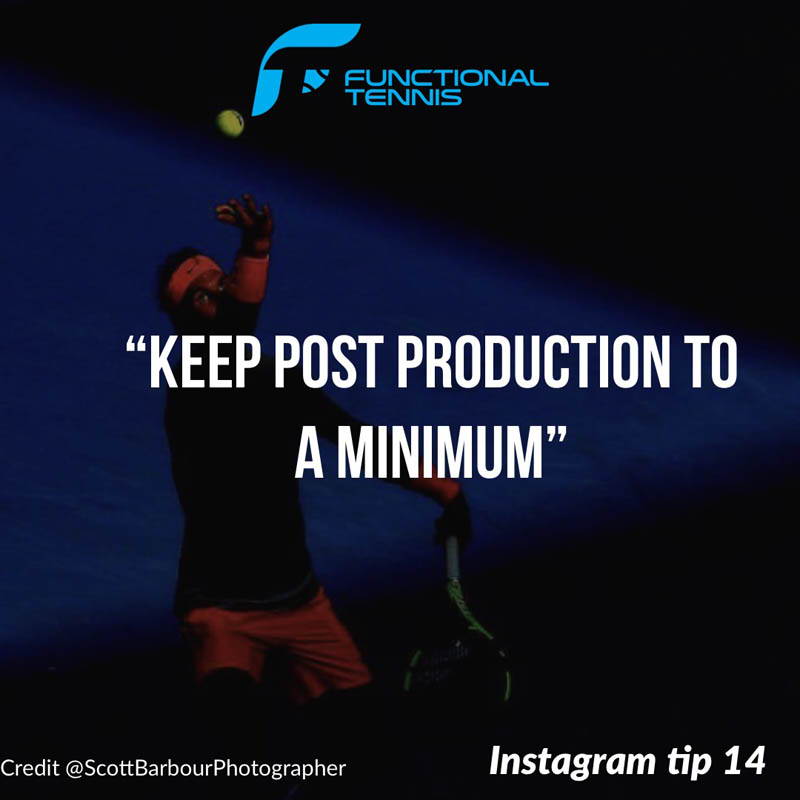 If you have a heavy post schedule keep post production to a minimum. There is no need to spend time or money editing videos. I've gone down this route before expecting videos to preform better and most of the time for the quantity of time spent on them it wasn't worth the effort for us.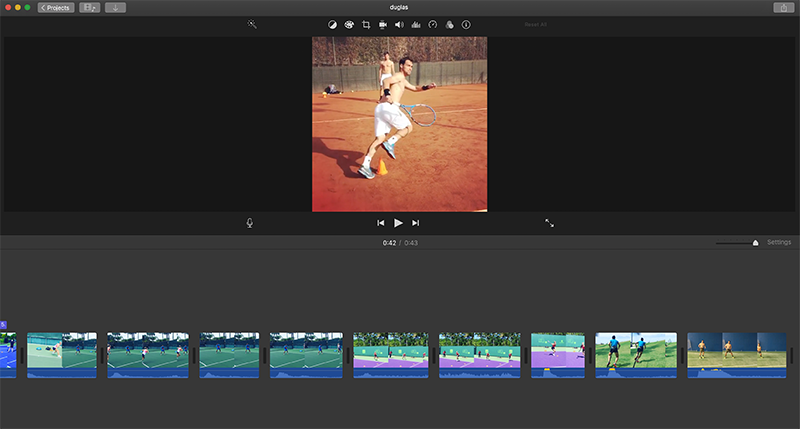 If you are a video editor and post little but extremely high quality content then this strategy may work for you.
---
The main apps I use to run Functional Tennis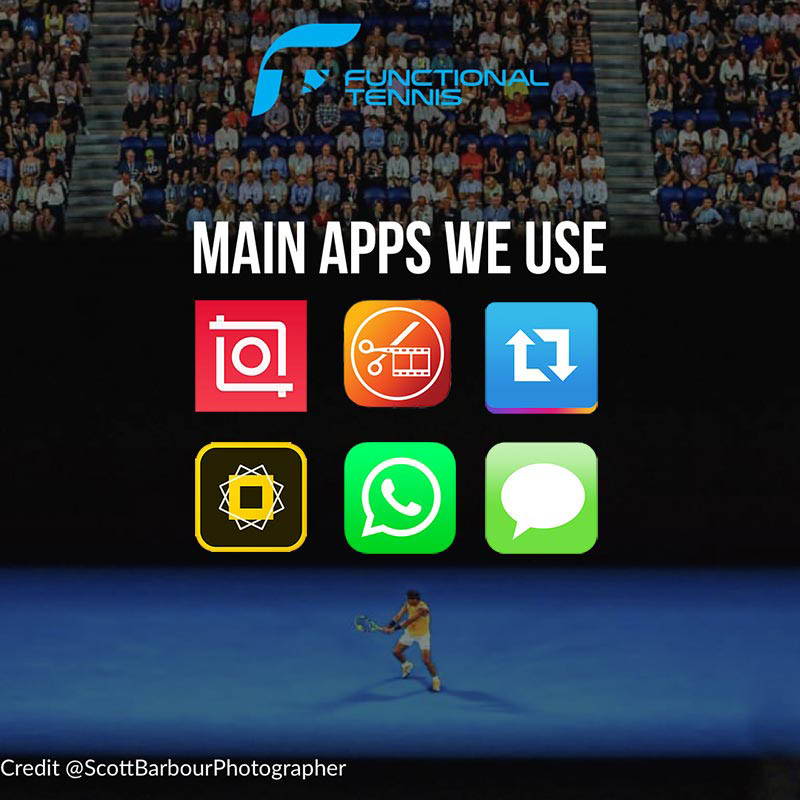 Great free tool to add text on images for promotional content. You can also do small transitions on the images which can be nice.
Great for splitting videos in 15 sec chunks for Instagram stories. It's so painful to do without this app. It costs $2.
The app we use every single day for retrieving content from Instagram. There are a few different types available that all do a great job. They normally cost $2 - $5 and worth every cent.
I use both of these to get sent videos which I find are higher quality and also relationship build with some fans and communications usually takes place here.
I have found this to be the best video editor on the App store. I can preform basic editing tasks very quickly and its more than enough for my content, an essential part of our work. It costs roughly $5 a year and again worth every cent.
---
All of the above have helped me grow Functional Tennis to over 200K Fans and we will do our best to continue to grow and reach more tennis fans throughout the world. If you need any advice feel free to contact me on here or Instagram.
There are also other sections I would like to cover in the future such as:
Setting Up Online Stores
Sourcing Products
Email Marketing
Working with brands
Other ways to interact with followers
If you would like to stay updated sign up to our newsletter below.
Hope you found this useful 😀If you know anybody else who may benefit please share it with them.
Have a great day.
Fabio
Thanks to Pro Photographer Scott Barbour for allowing us to use his photos.  
---