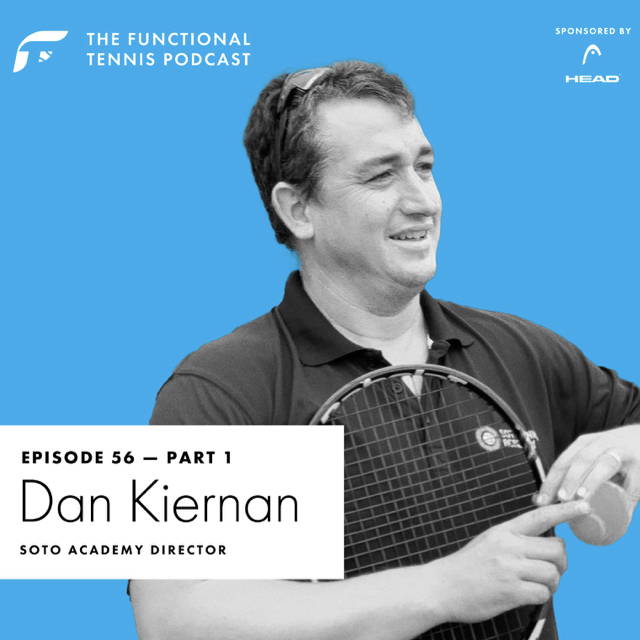 Director of Soto Tennis Academy & Former Pro
We are very excited to have Dan Kiernan, a former professional and current director of Soto Tennis Academy join us. Dan now runs the Soto Tennis Academy in Spain full time.
Some of our best episodes have come from academy owners & this one being no different!
In the first of these two episodes: Dan talks about how he ended up in coaching, what its like to play at Wimbledon, what he does at Soto Tennis Academy and more!
As always, stay safe & hope you enjoy!
If you find it interesting please share with your tennis friends and family.

Thanks to our sponsors HEAD who allow us to have a producer and a better sounding podcast 🙏
Listen to Part 2 of this conversation here
Dan Kiernan
Hi guys, I'm Dan Kiernan from Soto Tennis Academy and you're listening to the Functional Tennis Podcast
Fabio Molle
Welcome to Episode 56 of the Functional Tennis Podcast. I'm Fabio Molle, your host. This week I speak to Dan Kiernan, a former pro who has set up a great Academy in Sotogrande, Spain. This episode will be split into two shows. This week we'll talk about how Dan got into tennis, winning a round at Wimbledon and his road to opening the Soto Tennis Academy as well as an in depth look into life at the academy. Next week, we'll be back with Dan telling us how he use the COVID pandemic as an opportunity to grow the academy worldwide. And we also touch deeply on mental health issues in tennis. Shout out to aour podcast sponsors HEAD and if you're on twitter, please give us a follow over at @functennis . We have restarted our Twitter account. We want to be more active over there, and it's a great way to connect with our listeners. Okay, let's get started. Hi, Dan, welcome to the Functional Tennis Podcast.
Dan Kiernan
Fabio. Thanks. Thanks for having me.
Fabio Molle
It's been a while I've been wanting to get you on for various reasons. One, being I've known of the Soto Tennis Academy long before I started Functional Tennis through my pal and another LSU alumni like yourself, James Cluskey, you did a bit of training with you over there?
Dan Kiernan
Yeah, that's right. Yeah, I mean, that's going back some that is Fabio but it's, yeah, James would come out, you know, every now and then and actually back in the day like Liam Broady. And I'm sure James will thank me for this story, but he actually beat - we did a physical testing, and he beat Liam Brody in the sprints, and he's not let Liam live it down, you know, so yeah, the good old days and that we've had a lot of Irish players over the years as well the connection has been strong.
Fabio Molle
I don't believe, I don't Cluskey won a race.
Dan Kiernan
We have a video somewhere in the archives. I think it was potentially down to Liam Brody's lack of effort a little bit but at the end of the day he still beat his man on the day. And Liam got a hard time for it ever since that'sfor sure.
Fabio Molle
Well, if you find that you've got to send that to me. Also, we have a top academies list on Functional Tennis, and we just don't want to write about the top academies. And now Soto will enter that list when this podcast is live, you'll be on that list. So it's great to speak to the founder and to the main man who set up the academy and that's why I want to do this podcast as well. We've done it with a few other academies and it's great and it just gives listeners a better insight into the academy rather than some information you send me, how far it is from the airport all that sort of stuff so it's good to speak and get your values and see a bit more in depth how the academy runs.
Dan Kiernan
I really appreciate that Fabio you know and any you know any support that you know academies like ourselves can get from from platforms like yourself is massively appreciated you know, and I'm, I'll answer all questions on any topic as honestly as possible. And so anything you want to know about the academy we can get into the detail, that's for sure.
Fabio Molle
Great, that's fantastic. I know during COVID has been tougher. All academies coaches, players for everybody in every line of business, but I think you've handled it really well. You've been really progressive, and think you've been really busy. I heard you say you haven't been off, haven't had a day off and 14 weeks like that since when is COVID really started. And I just want to hear more about that and what worked for you and what didn't work for you. And how I feel you're going to come out of this stronger than you did going into it, which is not the case for everybody. So it would be great to get some insight into that.
Dan Kiernan
Yeah, absolutely. It's been a testing and challenging time I think for, for everybody globally, and I've said it on a couple of our podcasts - it's almost that I think that's helped us all a little bit that everybody's in the same boat. You know, I think there's been a there's been a connection that people have made through this pandemic. And I'm always a big believer that adversity says a lot, you know, says a lot about tennis players, says a lot about about people. And I have to admit, I've had a brilliant team. I've had a brilliant team over the last few weeks, you know, it's, I sometimes get some of the praise for the initiatives, but there's a lot of great people behind me that are doing the work and working extremely hard as well. So I feel very fortunate and feel very connected to my team. It's brought us close together and you know, like you said I hope a lot of good things will come out of this as well.
Fabio Molle
I agree there and I also think that by you doing, other academies see it as well that pushes them to do more, they are like - Dan's killing it over there at Soto look at what he's doing for the community. And so that gets that gives them a kick up the arse, we better do something here. And so yeah, okay, let's start with how did you get into coaching? Maybe talk a bit about your, your tennis days. I know you were a pro. And yeah, how you ended up down in Spain?
Dan Kiernan
Yeah. So I mean, there's a longer version and I'll try not to bore the listeners too much. But like a lot of players, you know, back in the day, so I was a 1980 baby. So back in the day from the northeast of England, football was the sport really, you know, played football to a decent level. I was fortunate to have a couple of older brothers who got me into sport and kind of bullied me with being better than me and slaughtered at a young age. So they started at eight, I started at five, you know, I was kind of the fortunate third child with two older brothers. And yet didn't really know if I was any good, but I guess just back in the day I just loved playing sports, loved playing football or playing tennis. And it all became a little bit more serious age 14, because I was offered a place at the National Academy down at Bisham Abbey, which meant leaving home, you know, and that was at the time I was playing football for Middlesbrough School of Excellence. I guess it would be Middlesbrough Academy nowadays. So there was a bit of a tennis or football decision to make at that point, but also moving away from a very close family, which was which was very scary. So took that leap, and had 4 years down the Bisham Abbey before being quite fortunate again at that time to almost fall into the opportunity to go to US college and when I was in US college, I actually started doing a little bit of coaching. So just to make a little bit of extra cash, you know, to pay some bills. And I have to admit, it always felt quite right and quite easy for me to coach. I've got a family full of school teachers from parents, brother, sister, aunties, uncles, cousins. So I think it's kind of a teaching where natural teaching was the way I was brought up, so it tended to just feel quite natural for me to be part of teaching and connecting with people. So then when I played on the pro tour, I always said actually, I had got a marketing degree in America and I always said that I would go into marketing, and I wouldn't I wouldn't stay completely in tennis in terms of having a tracksuit on every day. However, as I was playing my pro career, I started to do a little bit of coaching there as you will get with a lot tennis players you know you're trying to - I was British number one doubles player about 150 in the world, but I wasn't making enough through my playing to kind of keep me going. So I started doing then a few hours and as it kind of naturally took over really my playing I just know remember 2005 I was actually coaching almost full time but still playing tournaments and we actually won our first round of Wimbledon and the last a tight match to the Bryan brothers and a lot of my students were there watching that, which was it gave me an I say this to two coaches or players all the time. When you play to a good level, you get a bit of a legs up into the coaching world. But that leg up doesn't last for long. You know, you need to become a coach by right so yeah, so that was it. I gradually stopped playing. After that summer I recouped a few of my losses you know by by getting a bit of a payout at Wimbledon. We made a couple of Challenger finals. And then and then kind of before I knew it, I was a full time coach. And it just felt very natural. It felt very normal. And I felt very passionate about doing it really. So yes did that for five, six years - absolutely loved it. And my decision to move to Spain is certainly not a reflection of how I was enjoying my time in the UK. I loved my job there, loved the players I was working with. I was very fortunate. [Bjorn Thompson] walked through the doors he was one of the first players I coached. And and then I just I've always had this, this dream of actually doing it somewhere where I feel you could play out outdoors all year round. Then we considered Australia myself and my wife, but Australia seemed a long way away. And we started, we then started looking in Costa del Sol, which was only two hours, two and a half hours away. And my one of my best friends, he's a sports scientist. He's worked at a very high level on that side. We got our heads together. We were over there on a holiday back 11 years ago, and that's when the idea for Soto Tennis was planted
Fabio Molle
Wow, that's, that's a nice journey. Before we talk about Soto Dan, tell me, what was it like to win a round at Wimbledon? Obviously, not that many people actually win a round there and that's a dream of so many pro players who some may not even get a chance. What was the feeling for you like?
Dan Kiernan
As you've asked that question, I've got goosebumps. So I think that probably explains the feeling a little bit. But I would say there's positives and there's negatives to this to this path, because I certainly if I start with with the negative and then end, hopefully on the on the positive, I think I was certainly guilty of setting a ceiling. So as a tennis player, you know, and I think, I think certainly a lot of British players, and I'm sure Irish players have been guilty of this over the years, where my goal and ambition became to play at Wimbledon. And, you know when I got to about 150 in the world, I kind of knew I was getting my wildcard, you know, so the first year we played Wimbledon, got the wild card, and that felt great, but my mind probably wasn't - we had set points in the first set in our first time we played, and my mind probably wasn't quite ready to win a match there because I was almost not clearly satisfied but that would be a reflection that I had that I was satisfied that I'd kind of got through the doors of Wimbledon. So the following year, I'd moved that ambition again, not high enough, in my opinion, but maybe we did that point we didn't have anyone leading the way really, I was British number one at 150/160. You know, whereas now we've got we've got 8/9/10 guys in the top 100. And and I was then okay, I want to win a match at Wimbledon. So we actually played against Hyung-Taik Lee, the Korean guy and Kevin Kim. And we were two sets to love down in the first round. Yeah, which is a bit of a funny story, actually. I mean, I've always been a big lad. I was in good shape when I was a player, but I was a big lad and HEAD had sent me the new kit and tennis players or it's kind of always been a slim fit, fitting in my thighs and backside arent great with slim fit. And we were actually in a practice match a couple of days before the first round. I was practicing the I formation and I heard a bit of a split in the back of my shorts which was a bit embarrassing because we were playing against a former Wimbledon champion and then during the match I genuinely for two sets felt really uncomfortable with the clothes I was wearing. It was it just, you know, I felt I felt tight I felt restricted and at two sets to love I said to my partner, James Auckland, I'm going to get changed. And I bought a pair of Nike shorts from Queens Club a couple of weeks earlier. And then I pulled out my old Reebok LSU top, which I unpicked all of the, all of the seams so it didn't say LSU, which is illegal at Wimbledon and I went into the bathroom and I put that on, and I genuinely felt like a new man and I came out and we played an amazing three sets in a row to win that match. My memory of that was how confident I felt in the fifth set. I felt like I owned Wimbledon you know, whereas the year before I was very, I was very timid, you know, I wasn't kind of probably breathing correctly, I felt very nervous, very heavy. Whereas on that day, certainly for those last three sets, I felt like anything I touched turned to gold. And I felt really comfortable taking the lead. I know James Auckland got very nervous when we were serving, I was serving for the match at 5-4 in the fifth set, but we had a big crowd, lots of my students, family. And yeah, you can't you can't write those sorts of stories and those feelings that you have. I mean, it was, it was incredible, really. And that was that was on the Friday. And then we finished and what I also couldn't believe was how tired I was after a five set match, not so much physically, but more than mental exhaustion of it. Sorry, that was the Thursday. As we played later, it rained that year. We then would we then got drawn against the Bryan brothers, which we thought this is going to be a big court, you know, we're going to be court one maybe and actually I'm still not sure why but they actually the Bryans were number one seeds, but they actually put the number two seeds on court one the next day against just some kind of random players. So I always wondered why they didn't put the British guys against the Bryans on court one but that's fine. And the next day we got fortunate because we were just really flat from the day before. And we went a set down to the Bryans, 6-3 pretty routine. And then the rain came and that rain was and you hear it at a high level. Obviously there's some very famous matches, Ivanisevic - Henman had been a big one that were affected by the rain at Wimbledon but it did it just give us that extra few hours and we came out middle Saturday, a big crowd around one of the kind of back courts at Wimbledon court 11 or court 12 but a big crowd around there. And for the next set and a half, without any word of a lie. I felt like we were completely dominating the Bryan brothers you know, we won the second set. And then we 4-3 up in the third set, we had two break points on Bob to go 5-3 up, and I felt like we were the best pair, I really did. And then again, I'll live with this for a long time, but I hit it, I read Bob's serve a bit of a chopper grip forehand, got it to his feet. And James made a brave move, but probably the wrong move, he went across rather than forward, Bob nudged line, and then serve three aces, and then we got hit by a bulldozer and they just like and I think we lost maybe 4 & 3, 4 & 4 from there. But that was that was an amazing experience. But I wish that I built on that, you know, not certainly not a big regret because I've gone on to, you know, do things that I love and I've taken responsibility for that part of time. But at the time that that was almost me done, I think because I'd set my goals and I'd set ceilings to what I wanted to achieve. So I think there's a bit of a message maybe in there for any players listening you know don't set ceilings, you know, set goals but you know keep moving those goals forward because I think we're all capable of a little bit more than we realize sometimes.
Fabio Molle
If you had have won that match and kept going with doubles, we probably wouldn't be having this conversation today. There may not be Soto Tennis Academy, you may be somewhere else you may be still on the tour like in doubles terms, you'd still be, I think, in the highlight part of your career because there's so many players from your age still playing at the moment. So one result really can, I know, it may not change anything, but one result can change a lot of things for a lot of players.
Dan Kiernan
Yeah. And I'd like to say on that Fabio as well that because I know in my heart of hearts, I had the level to be a Top 50, Top 30, Top 40 doubles player. I really know that however, you have to have more than just the level. You have to have the ability, the resilience, you know, to you have to travel you have to go through you have to push through difficult times and I absolutely tip my hat to any of these guys that have gone and done it, you know, it's, it would be easy sometimes for me to sit back and like at the world tour finals a couple of years ago, I was like, ah, I've beaten them, beaten them, beaten them. However, I'm not there, you know, so that I'm very comfortable with that, you know, and it's, you know, because those guys have gone out. And as any tennis players, tennis coaches or people in the tennis world really close to it, probably the biggest attribute is your ability to manage disappointment, to be resilient, to continue the grind of being on tour through those futures and challengers and, you know, away from your family, your friends, and that wasn't quite for me, you know, and I'm very comfortable with that, you know, and fairplay to all of those guys that have done it. There's many more to mention [that are still playing], and I certainly tip my hat to all of them because they had an attribute that I didn't and fair play to them.
Fabio Molle
You're right. It's more than just having this skill or the level. I know you see, I see some German league matches or French league matches and the level of some of the players is ridiculous and they've never played a pro match in their life. They just never had interest in going pro but they'd seriously trouble top hundred pros and they're scared of them. So it's just people make decisions. Some want it more than others, and then some just don't want it at all, but they're really good. Before we get onto Soto, I have one last question. Do you still wear the LSU gear?
Dan Kiernan
Haha you know, I have I have a couple of tops. I was certainly I mean, you can spot a college tennis player a mile off at any tennis tournament and I certainly went through a lot of years of wearing LSU gear. My coach who was also James Cluskeys coach, who we talked about earlier, he actually left his post at LSU, two or three years ago, so I definitely had less of a connection. Every now and then he might send me a T shirt or like, you know, there might be the odd one coming through. Yeah, so I actually I went back there for the first time about almost two years ago now, I haven't been back to LSU for about 15 years. And again, anyone from different colleges will know this, it becomes a big, big part of you. And LSU certainly has that impact on me. You know, it's a second home, it's something that I'm very strongly connected to. And that was amazing and went back to the football stadium, saw the new tennis facility. And I must admit, I did pick myself up a couple of new LSU branded tops. You know, that merchandise must make an absolute fortune over there. So I've got an LSU golf top now. So if I ever get on the golf course I'm still representing the Tigers.
Fabio Molle
You're sorted because only Sunday I played Padel with James Cluskey and he was head to toe LSU loves the stuff. Tell us about Soto - where it is, how many courts you have, coaches, players, courses you run, education for the kids tell us more about Soto.
Dan Kiernan
Yeah, so Sotogrande is a hidden gem it's absolutely beautiful here. It's like it's a little I suppose a little urban I see a little urbanization is actually bigger than people realize. But again, it is a gated community so that was one of my big attractions you know, it's very secure and very well manicured. You know, the tennis club is 100 yards from the beach, you know, so and it's almost like its own little campus, which is which is beautiful. We we run in a very simple manner really - we have we have two lots of we call it levels of service. And so we have a full time level of service, which basically it's for me, I'm a big one on accountability. I believe that I believe that every player needs to have someone who's managing that program and someone who's accountable for the management of the team around the player also accountable for the development of that player and as a player and as a person, so if you're a full time player at Soto tennis, that's what we do. You know, we manage you 52 weeks a year, we're open physically open 48/49 weeks a year, but it would be very rare that on Christmas Day, I'm not speaking to a player, you know, that's, you know, that's the job you know, that's what we do. People come in and we are then a big, a big part of their life in every possible way. So we have about 30 to 35 full time players, ranging from I guess really my son whose aged 9 and playing to a decent competition level. But we have had you know, we've had Junior Grand Slam champions, we've had numerous top 10, top 20 juniors in the world. We've got a top hundred WTA player, not just to come and practice but I'm talking about people that we've managed because that's also different as a tennis academy, I've got Dan Evans comes in we have different people like this but they're not Soto tennis players. They come in you know, use our facility and you know the environment. And then the second one is an access player. And the way that I would describe that if you're a full time player, you have a lead coach who manages what I call the internal team, which is the other tennis coaches at the Academy, the physio, the sports psychologists, the strength and conditioning coaches, manages then the external team, which might be a sponsor, might be an agent, might be a federation. It might be a Fed Cup captain, Davis Cup captain, or it might be another coach who a player might live in Dubai and go back for six weeks every year. It will be managing the relationship with that coach when the player goes back, and then the family and that's how I would define a full time player management and service. Whereas the access player service means that we are part of the external team. So I'll give the example of Liam Broady on that, he used to spend maybe six to 10 weeks a year with us. But Mark Hilton was very much the lead coach - who was fully accountable for Liam's development but Mark would manage me in the academy and say right, I want him to come in and I want him to do a physical block, I want them to come in and I want him to train on clay for a couple of weeks. I want him to come in and I want Dan, I want you to go and travel with Liam for two or three weeks, you know, so that would be used in different ways. And that will be varying again, like I say, Dan Evans comes and prepares on clay. We have some eight nine year olds that come in, as long as the level is relevant, and they're coming in with the right attitude then we provide that opportunity for people year round.
Fabio Molle
And tell me do you do any short term camps, a lot of times to Functional Tennis we get requests for more recreational, older adults, sometimes players from the States, younger players from the States and they want somewhere to train for two to three to four weeks during the summer. Are they programs you provide? Or that's not you?
Dan Kiernan
Yeah, we do. I mean currently on our facility, it's a beautiful facility, but we've got six courts 3 hard, 3 clay. So in terms of if the player is of relevant level, age and stage of development to players that we have at the academy, then absolutely, so we kind of look at that in a bespoke manner. You know, in the summer months, we open our doors to 16 players a week as an access whereas throughout the year, we only have four places available each week because we want to make sure that as a full time player at Soto Tennis, you know, you are absolutely getting looked after to the very best of our ability in all ways. And the same with access players that come in we kind of want to know the reason why. You know, so in terms of like recreational come in play an hour in the morning. We don't run camps like that. But what we do have is we have the offering of, you know, we'll have maybe a player come in that wants to join, or get stuck in for two, three hours a day with certain level players. And then maybe they've got a younger brother who wants one individual lesson a day while he's there. You know, maybe the parent wants to do that. And the same with adults, we've had probably on average, we have three to four adult groups come out a year, who, you know, they'll come out and we'll then provide a very bespoke package for what they want, you know, so what we don't tend to do is if someone wants to come and just rent our courts, because actually it doesn't make business sense, because courts are a premium at the academy. You know, if we were, if we had 25 courts, and someone wanted to come and rent some courts to run to come and play their own tennis, then then of course, that makes business model sense. But when if you got someone coming in not paying a whole lot of money to take your courts away, it causes a bit of a loggerhead with what we're trying to do at the academy. But we do have some, some bespoke adult groups that come in and say, right, this is what we're after a couple of hours coaching in the morning, and maybe set up a local match for a couple of afternoons a week and some help with the best restaurants to go to, you know, so we do have that element, but it's not our core business.
Fabio Molle
Okay. And for the younger players that come there, do you have residence on site or did they live nearby?
Dan Kiernan
So we're partners with the Sotogrande International School, which is a fantastic school. And then we actually run a program with the school, which allows players to do almost part time school but still getting the relevant, courses that they need. So let's say the 14 to 16 year olds, they leave school at one o'clock each day. And then the 16 to 18 year olds start school at three o'clock. And that runs with the golf academy. Now where that's relevant to your question Fabio - I've gone round the houses a little bit is they all stay in the boarding house at the International School. So the boarding house at the International School is brilliant. It's amazing. And we then have our access players who come in without their parents, we then have a full pastoral care offering for them, you know, so they have you know, with three meals a day, the food's fantastic, we work with nutritionists on the food, and you know, there's nurses on site. You know, they've got all of the the pastoral care in place. There's classrooms, so players coming over that need to study for a couple of hours on an evening, you know, they've got the lounges to watch TV and, you know, it's a very modern boarding house which works extremely well and the same with groups coming over there is always that option, that we have groups that come over that they stay in the boarding house. Or the other option is if they travel with adults, then we, we get apartments that are all within walking distance of the academy. So yeah, so there's different boarding and accommodation options that are in place. If they're a little bit older then what we have is we have then a self catered option where all of the players stay in a couple of houses which are within 100 yards from the academy, but they obviously have to be of the age that they're, they're self sufficient to do that.
Fabio Molle
Looks like you look after them pretty well. And how many coaches do you have?
Dan Kiernan
Yeah, so we've got seven, seven full time tennis coaches and soon to be three full time strength and conditioning coaches. Which yeah, it works. Well. We've got a we've got a really strong coaching team and as I as I touched on at the start, you know, people that come and work at Soto Tennis, they come to be part of the family and the lifestyle you know, it's not someone who's gone right I'm just going off to work type of attitude nine to five, you know, I do strongly believe you know and it's that's the proofs in the pudding of how the coaches have been over the years, they all become very connected to the academy and to the core values and beliefs of the academy. And I think that's, that's part of the recruitment process. You know, I tend to know who my next coach will be 6/12/18 months in advance, because we do work so closely together, all of my coaches I can't speak highly enough of, so if they're listening to this podcast, a big shout out to all of my coaches because they really are fantastic.
Fabio Molle
What are your core values?
Dan Kiernan
As an academy we start with honesty, you know, and that's, always been something that is very, close to us in everything that we do, you know, whether thats being honest with the players, you know, with the parents, you know, the expectation, all of those things, you know, humility, making sure that we are humble in what we're doing, you know where we understand, we understand the sport is much bigger than us, we understand that we're very, we're very fortunate to do what we do. And then what we then do each year Fabio is I want them to be set by the players, coaches at the Academy. So what we do at the start of each year, we get together into little focus groups and the players first and foremost, they talk about their ambition, you know, what is their ambition and then we come together so we understand what the ambition of the players and the coaches is at the academy. Now in the 10 years of running, that it's never been less than trying to get to division one college level. So basically what we're saying is we want the environment to be good enough to allow players to make it to professional level of tennis, so then all the players and all the coaches agree on that. And then I get them back into focus groups to then discuss what they believe the values need to be at the at the academy in order for that to happen. And what what we then do is we bring that together, and that actually is it's always very similar because obviously we have an impact on that. But the acronym that we've had this year is GROWTH, which is gratitude, which is respect, which is ownership of what you're doing. And it's want and want and desire. The T stands for the for the daily bill. So we will we talk about the bill to be successful at anything that you do. There is a bill to pay and thats sleeping well, eating well, warming up while doing your gratitude in the morning, you know, cooling down well, you know, if you're not taking care of those things, don't expect success, because success doesn't come for free. So that's in there. And then we have the H, which is our kind of core honesty and humility values that are in there as well. And you know, so that's, that's kind of, and we'll do that again in September. If it does change ever so slightly, there's obviously the strong principles in place that we have at the academy from control the controllables, pressure as a privilege. You know, there's these things that really stand up and hold true throughout the academy and put the big one on the values. And this has been a journey I've gone on. It's one thing writing them down, but the biggest thing is actually that the players are living them every day and the coaches are, so we get together every Friday, we call it Friday circle, which stands the circle stands for, you know, the team that we have at the Academy, the unity and the bond and players each week will give examples of how they or other players have lived the values throughout that week. So we're constantly trying to keep that at the forefront. So that we've got this almost kind of cold court of work of how we do it, because I'm a big believer that in order to have the best culture, you always want it to be self policed. You know, and if and if players are calling other players out for not doing it, or players are, are giving daily examples of where the values have been, have been shown, then you go quite a long way. And you might have actually seen it. We had a post from the tournament this weekend. You know, one of our 12 year old boys was taking one of our nine year olds for a full warm up before the tournament, and that he hadn't been told to do that. It was just I walked around the corner, and I managed to capture that moment. And that's when I know that the culture is really starting to work when we're thinking have self policing it without those coaches having to dictate that all the time.
Fabio Molle
That sounds like a well put together plan. And I did see that post. And by the way, I thought it was great. So yeah, congrats on, you know, being able to put that together and talk about it so cleanly like it all makes a lot of sense. And obviously, as you say the challenge is getting people to believe in it to act on it every day. But it sounds like I know one of your players well, Pete Bothwell who spent a lot of time with you there. And he definitely has a lot of those qualities. So I can see your work going through him. My final question Dan, on this tennis player life and sort of tennis academy is cost. What is an estimate cost in euros for a player to live there all year?
Dan Kiernan
Yeah so, we're transparent in terms of the different options that people have. And then you've got the pro team, which how I do it with the pro team is we we set that up in a bespoke manner because I believe in value and different ways of giving value so, so I won't talk about the pro team because that's separate, but we, we have the players that are coming for tennis, you know for tennis or tennis program, but 52 weeks a year of management, it's 16500 euros which falls quite a long way short of the majority of tennis academies out there. Where the costs start to get up a little bit as if they're coming in and they're doing full time boarding and full time schooling because those are costs that I can't control. So then you're looking at being if someone was to come in and do the full time schooling at the International School, with the full time boarding at the International School and the tennis, then we're starting to look at 40,000 euros per year if players are coming in, which a lot of them are in the living with parents are coming in and they're living in the boarding house. They're of the age to to be self sufficient. Then it's a much cheaper way of doing it. And then the final bit then on the education is we do have some players that are coming in and they're doing on their online learning, whether that's whether that's through an official, they're very sophisticated these online learning schools now, or whenever we've certainly had, we've had Irish players who have taken taken that year out, that you have in Ireland, you know, they've come in and maybe they've they've gone they want to use that year to train at a tennis academy. And then maybe we set up that they're doing a couple of hours of Spanish a week or a one hour Spanish a day. So there's still kind of fulfilling some form of education whilst they're here, or maybe they take a certain course when they're here. In terms of the costings, it all depends on what bits everyone's picking, you know, in terms of are we doing the highest level school with the highest level boarding, are we doing this way or that way. But the way that I've always structured the pricing and this the same I've always been waged my coaches is I'm a big believer in it, the job is the job. So right we're working with a player and it's when you start doing pay and play and you start bringing together okay, you're paying for that lesson then that squad then that fitness, then there's, it starts to one get more pricey, but two you're not really working all inclusively with that player, you know, and the big part for me is how the programs managed, you know, going to tournaments, you know, spending time talking on the phone, spending time texting them, you know, doing all of the extra bits on a Sunday afternoon going on watch them and watching them in that final 45 minutes away and staying and having food with them afterwards. And getting to know the family really well. You know, so it's really kind of an all inclusive way that we work with our full time players. In terms of access players coming in. It's outside of July and August. I believe it's about 450 euros a week for the tennis and physical program, which is all inclusive for the week, and then July and August, it's about 500 euros. So again, we've done a lot of research into tennis academy pricing, and we wanted to set ourselves lower than some of the some of the big names out there. And but at the same time, we also have to value the, the excellent service and make sure that the business is running so that we can continue to bring in these great cultures and the great offering that we currently have.
Fabio Molle
Your prices sound pretty reasonable. I think from our research on the Academy list, prices roughly range from 35 to 50,000 euros would be the average I've seen some a lot more now as well. But the European ones seem to be cheaper than the ones in the States. You can't go too low because you have good coaches to pay and their time is respected and you're running a business there you have your bills. So you know if it's too cheap, there's something up, but I think your price is very reasonable. Thank you very much for that info Dan. Appreciate it. And finally, where can people find out more about Soto and more about your podcast and the courses?
Dan Kiernan
Yeah, thanks for asking that Fabio, thats very kind. And I mean, so in terms of our website, which everything's linked through, it's a website's pretty simple, but it's just sototennis.com. We're very active on on social media, and particularly Instagram, and Facebook. And so come and give us a follow on those we try and give insights into what's happening on a daily basis at the academy through our social media. And, you know, we seem to have quite a loyal following who like to get that insight and find out more. We're also on YouTube, which on YouTube is a great way but we've got hundreds of videos, which again, give a real insight into how the academy works. And then from there, you know, you'll be able to get all of the links into Soto Tennis online Academy and also in its physical sense. And lastly, if anyone anywhere wants to reach out to me, I'm always very happy to talk and discuss it further. You can get a hold of me through those ways, or very simply just dan@sototennis.com. I'm more than happy and I'd love to talk tennis as you probably noticed in this podcast.
Fabio Molle
Yeah, no, it was great chat and then appreciated. And yeah, thanks for all the information in the academy and also from the mental health side and Europe. It's really great. Thank you very much. I hope you enjoyed that episode with Dan. It was great to talk to him and get an in depth look into life at the academy as well as his tennis career. Next week, we'll be back with Dan telling us how he used the COVID pandemic as an opportunity to grow the academy worldwide. And we touched deeply on mental health issues in tennis. Goodbye.
---

PODCAST SPONSORED BY HEAD