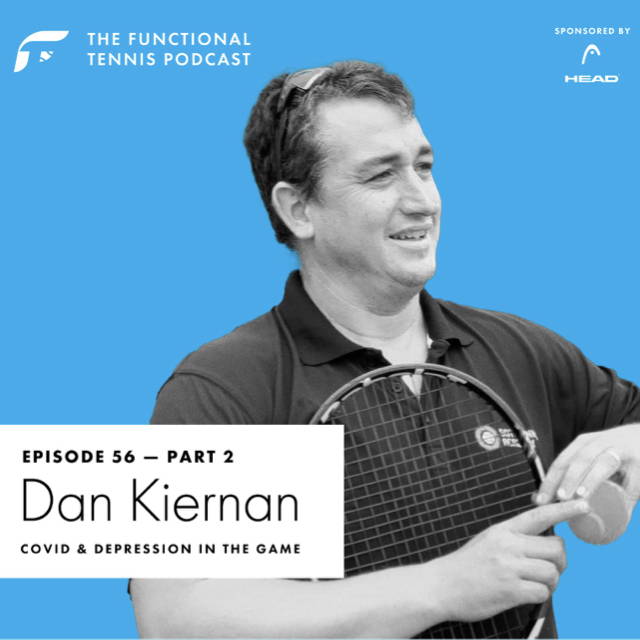 COVID & Depression in Tennis
Dan Kiernan joins us again for Part 2!
During this episode, Dan discusses the challenges tennis has faced during the COVID pandemic & how his academy tried to combat these challenges.
We also talk at length about mental health issues in tennis. It's eye opening stuff that needs to be talked more openly about!
Enjoy it & looking forward to hearing what you think!
If you find it interesting please share with your tennis friends and family.

Thanks to our sponsors HEAD who allow us to have a producer and a better sounding podcast 🙏
Listen to Part 1 of this conversation here
Dan Kiernan
Hi guys, I'm Dan Kiernan from Soto Tennis Academy and you're listening to the Functional Tennis Podcast.
Fabio Molle
Welcome to Part Two of Episode 56 of the Functional Tennis Podcast. I'm Fabio Molle, your host. Last week we talked about Dan Kiernan's life and his tennis academy in Sotogrande, Spain. This week, we're talking about how he used the COVID pandemic as an opportunity to grow the academy worldwide and we touched deeply on mental health issues in tennis. Mental health in tennis is an area that I would like to touch on more moving forward on this show. Shout out to our podcast sponsors HEAD. Okay, here we go. Now we're going to move on to another exciting part of this conversation which I want to get into is during COVID, there was a real challenge for everybody. I know for me as a business, we couldn't ship to most countries worldwide, people weren't playing tennis, and it's still ongoing at the minute. But from your side, all of a sudden, you can't have players in the academy, players have to be sent home and I know different acadamies around the world had different issues with their players in and out of the academy. But what were your main challenges? And from what I know, to combat challenges you obviously, from a marketing point of view, you launched courses, you launched a successful podcast. Tell me more about everything there.
Dan Kiernan
Yeah, so there's a thing that I've managed to get my head around over the years when something bad happens, I say the word good. I have to say on that - when it comes to critical illness, then that doesn't obviously work. You know, so if there's anyone tht listening thats thinking you haven't had these really bad things happen and certain things that scares me because there's nothing you can do about it, you know, and that's, that's very difficult. But I am a big believer that whenever other bad things happen, opportunity opens. I've really worked hard to get that mindset over the years. And that's something that we really try and drill into our players, our coaches, you know, it's something that we're big on. So on the first day when this all happened, obviously, it's the unknown. Without any shadow of a doubt, it brings stresses, it brings challenges, it brings difficulties, and I think they're important to talk about as well, you know, and that's, we think an International Tennis Academy, you can't go on the tennis court, you know, your kids can't go to school, everybody has gone home. You know, you now don't have anyone that can get to you because of the travel, tennis is, especially in an academy like ours, it is very much a universal sport. You know, it's an international sport. It's one of the fields without question has been hit the hardest. However, on day one, we could have given a long list on what we couldn't do any more, but what we did as a team, and this is where I've got so much admiration for my team as well. We said okay, let's reframe this. What can we do? You know? And I think that that small reframing of what can't we do which is the natural human brain goes can't do this can't do that. Oh, poor me, poor me, poor that. We just went right. What can we do? And we sat there and we said, right, so what we can do is tennis is a mental, physical, technical and tactical game. Okay. Now, what we can't do is we can't hit balls over a net. But what we can do is we can get them really fit and we can set up really individualized physical programs that are individualized through what they need physically, but also individualized with what they have in terms of facilities, space, logistics, all of those things. What we can do is we can make sure that we work with Anthony Ross at Mentally Tough Tennis and he works very closely with us as well as coaches so we become the day to day sports psychologists for our players. We can get them to really, really understand our sport psychology model, we can get them do a lot of work on that area, and really develop that side. What we can also do is we can get them to I'm a big believer, I have a concept that I use, which is watch your code, you know, which I do a bit of coach education around and that I'm going to develop it over the years. And the C stands for Connect. But the O stands for order, and I'm a big believer that you have to connect and give players order to their mind, order to their game before you start developing. So there's no excuse for all of our players not to have absolute tactical order, understand their patterns, understand their game, watch lots of tennis, work with the coaches, you know, so we worked on that and then from a technical point of view, we looked at it and said, well, volleys is an area that you don't necessarily need a lot of space. So let's make sure all of our players have the best technical volleys that they possibly can at the end of this, you know, so that was the starting point. And 48 hours later, we had an online program for Soto tennis players. And we worked tirelessly through the night to make sure we had, and then we just started then developing content the whole time for our players. And the way that we looked at that and believe you mean, not every parent or player bought into it, because some people think if you're not hitting tennis balls, you're not getting better. But we did have a lot that did. And what we did with that is we had all of that program running, we then made sure that there was lots of regular zoom calls, you know, lots of discussion and discussion around all those areas. And those that committed to that program genuinely came back as better tennis players. It worked, you know, not saying everybody did commit, but the ones that did - came back, but but what that left us with was still the real position if we can't charge full prices for that. So we're now already down. We've now got players that aren't going to pay that. So they disappear. You know, so you have a few players and parents disappear, you know, but we still have pretty much all of our outgoings. So how are we now going to keep the business going? So we then started to then say, well, online opens up an opportunity to the world, you know, we now have more potential students than ever before. So we and it's still ongoing, but we launched our first online course, we didn't know how to spell online until 10 days before and we spent 10 days. I didn't go to bed before five o'clock in the morning for that two weeks. Either did half of my team and we develop what I was really, really proud of - which is a 21 day program for different levels. And, and I would say that was a really big success. You know, we, we managed, we I think there was ended up being at 80 or 90 people that really bought into that course. And feedback was fantastic. And then what we did is we continued developing. So we now have 12 more courses online, which we haven't actually started to really market yet, you know, but ranging from kind of strength flexibility programs, to tactical programs, to technical programs, to understanding you know, how to play tennis as the underdog. Going into real detail, you know, the team's really produced some brilliant work. And over the next couple of weeks, the whole idea is that we are going to have Soto Tennis as an online Academy. So people can access Soto Tennis and then then can access the people within Soto Tennis and it's then their first kind of step to that relationship with Soto Tennis and thats something that we absolutely plan on growing over the next few months, which is brilliant. So that's going to be a real positive of this time. It's something I've always wanted to do and you hear it all the time, people it's been great because people have done things they wanted to do. You know, I've, I've always wanted to have a podcast, just give it a go. So myself and John McGahon set up the podcast whenever it was, 10 weeks ago and you know, I think we released we Episode 37 today, you know, so that's been a massive positive and and I've learned so much from that process and speaking to all these amazing people and, you know, that's helped me kind of refine some of my philosophies and then just the mental health side of connecting with so many people, I think that's been fantastic as well. So I felt very energized throughout the period. But that's not to say that there hasn't been some big real worries and concerns. But we you know, I'm a big believer, we keep getting our heads down to keep working hard. The good things and you will come and we'll get the return on that investment, whether that's six months, 12 months, 18 months, five years down the line.
Fabio Molle
That is a lot of courses you put together Dan. It's exciting to have that aspect your business which you didn't have 12/13 weeks ago. Now you have this now, as you said yourself, you've access to so many more players now who can buy into the Soto Tennis Academy philosophy and who you can train. So I think that's amazing. And also with your podcast, like, what Episode 35 did you say?
Dan Kiernan
So 37 goes out today.
Fabio Molle
37, sorry, in such a short space of time. That's a lot of work that goes into that. First of all, finding the guests. You've had some great guests on there. And just finding the time do that, these things all take time. Like we're nearly a year in here at Episode 55. This will be 56 actually, and so I know how much work goes into it. And plus you're building the course at the same time. Plus you're managing your day to day. Tell me, what about your coaches, did they all stay on the payroll
Dan Kiernan
Most of them did. We had a couple that again when we had open conversations, there's a couple that actually wanted to explore a couple more opportunities during this time, you know, so taking mentoring courses and taking a few different things. And so that was - I made it my goal that I was going to come through this with the same team that we started at with and you know, you can never, never say for sure with everything that's going on and what might happen in a few months down the line. But we still have the whole team back in place. And we've got one coach that he's taken kind of a couple of months away where you can in Spain, it's a little bit different, its not quite to the same level. But there has been an option in Spain and one of my coaches remains doing that until September, but that was more out of personal choice than anything with wanting to use the opportunity to develop some other areas outside of Soto Tennnis. So yeah. So all in all, the challenges will continue, we're not at the end of this as with most businesses in the world, but we'll keep trying to do the right things. It won't be for a lack of work ethic throughout the team, that's for sure.
Fabio Molle
Yeah, that's good that they're still on board. You can keep I said most of them going a yeah, great work ethic. So let's talk about something that you've also been talking about recently, something that Functional Tennis hasn't talked about at all. And I know Robin Soderling brought it up last week, which went down really well. You've been bringing it up, discussing with players and even had your own Mental Health week going on right now. Mental Health let's talk about something that isn't discussed that often.
Dan Kiernan
Yeah, I mean, it's real. I think the big thing for me is it's real. If I look at it, and obviously speaking to a lot of people over the last couple of weeks on the podcast, it's something that I've had a lot of personal experience with, as someone who's been the confidant to different people, whether it's players, coaches, you know, parents, you know, there's lots of it out there. And I think, obviously, there's a stigma attached to it. But as I've got closer to it, and you know, we've had in one of our podcasts that goes out on Thursday night, which might not be time relevant to this podcast, is one of my coaches for six years and he opens up about his full story. You know, his full story which took him to the point of him trying to take his life, and I was probably the closest person to him throughout that. And, you know, he's at the point now where he's talking about that very openly, and which is, which is a great sign because he's in a very strong place now. And but the way that I guess we would look at it is mental illness. Mental health is like physical health, you know, and you you might fall over and cut your knees Fabio and you've got, you've got to see the doctor or the nurse or you've got to put a bandage on your leg, or somebody might completely crack their kneecap into seven pieces. Now, they're both physical health. They're, they're varying degrees of intensity, you know, and, and whatever else would go with that. And I'm a big believer that that's the same on the mental health side. You know, I think we all experience some mental health difficulties at some point, whether that's work life balance, whether that's, you know, worries, concerns, anxieties, all the way through to some really strong, some really strong difficult intense internal experiences that people have. And I just guess it's something that is very close to my heart, one because of Joe. But also I we've had players that have gone through lots of difficulties themselves, but also just in the tennis world. I think it is very conducive to this. They say that 35% of athletes, you know, experience mental health difficulties, I would say it's higher in tennis, if we talk about tennis, if you're, if you're a footballer, and that's I'm not saying that you don't experience that mental health difficulties. But however, if you get injured as a footballer, you still get paid, you know, so it's difficult, but if you're still getting 20k a week, and you can't play a match for six weeks, or six months. Okay, let's have some perspective. Whereas if we talk about in tennis, you get injured, that's six months without pay, you know, and the, and the worry about what happens to your ranking. And then when you do come back, you've got to travel to Tunisia for four or five weeks, without any coaches, without any friends without, you know, so it's very conducive the world of tennis to people having these difficult experiences. And I would argue that 100% of people do, you know, at whatever level that is under whatever level of intensity that is - so we wanted to do our bit, and we're not we're not a big podcast yet, you know, hopefully more and more people are going to start listening to the podcast Control the Controllables. However, we do have enough people now that I believe its a platform that we can start to get some of those messages out and, and what better way to bring awareness to it, then then actually normalizing it through telling people telling their stories, you know, and that's where the whole kind of concept in my head worked. And as I have mentioned, you know, the pandemic, I think we probably all had some mental health difficulties have gone on or what now, you know, uncertainty, not being able to get out of the house, not knowing what's going to happen to our business, you know, all of these type of things. However, I think the thought process of everyone's in the same boat, made it much easier for us all to deal with that. And that is because of concept of normalizing, you know, it was it was normalized. So what I hope to achieve through these podcasts and, you know, I think they're fantastic, really do you know, I like to listen to podcasts anyway, is when you hear other people's stories, it might just touch the hearts of 1/2/3 people and make them feel like what they're going through is a bit more normal. And they they feel as if they've got somebody to be able to now connect to and I would talk about, so an alcoholic, you know, or somebody who gambled too much as somebody who does these things. The best therapy is that they go and they sit around a table with another 15 or 20 people sharing their story, you know, and that's where you draw strength from. So, yeah, I think we need to understand it. I think from a parent point of view, I think parents listening need to understand it. Because I think parents do put a lot of pressure on coaches because they are so engrossed in their little Charlie's tennis life, that they almost then just think coaches are just an object that's part of that at times. You know, one of one of the girls, Fran Lewis, who, you know, fantastic up and coming coach in Wales, she talks about the difficulties she's experienced. And it all stems from the pressure she feels and the expectation that coaches have to be answering their phones at nine o'clock at night, receiving difficult text messages at 10 o'clock at night, you know, expected to work on Saturdays, Sundays, you know, and all of that kind of builds up so the more people can be aware, I hope that maybe just people just think a little bit more before they speak and and maybe just ask some nicer, kinder questions. Whether it's parents, a coach, whether it's parents, a player, whether it's coach to player, I think we can help a lot by just being a little bit kinder to eachother each day. And I hope it goes somewhere to helping people with that.
Fabio Molle
It's definitely really good to be open and hear their other stories. I do think though footballers have it a little bit easier - not saying it's easy at the high level or at the lower levels, but even at the lower levels, you normally have a team so you can share with some of your teammates, you may not talk to them all. You have a management team that you can talk to. You're at home most of the time, you may travel at weekend and plus, as you said, you're injured the wages still come in, you're looked after and you've a team to look after you so I think it's a lot easier. Obviously you still have your confidence issues and other battles that go on, which can be tough, but for tennis players, it's definitely harder. And I also think for coaches, it's just as hard because normally coaches are a bit older, they may have a family, a mortgage to pay, the money has to come in and a lot of coaches have been under pressure the last few months especially and I know some governments have been great helping out which is been amazing. But there's also the stigma of people don't want to talk about mental health issues, and it's our job to open that up to make it more acceptable. There's nothing wrong with talking about these things. It's important. And you touched on the fact that, you know, if you get injured, you hurt yourself, you go see a professional, a medic profession, and it should be the same with mental issues, you should be easily able to go to a psychologist talk about the issues. And in some countries like South America, I think it's Argentina where you get, you know, everybody goes every week to talk to the psychologist. It's really open. They talk about it. I know in Ireland, nobody likes talking about it. It's slowly getting better. But some countries are more open. I know the States are quite open they all go and yeah, I think a lot of it comes from your background, your country's background, but it's our job done to open that up and say look, we're here. Share your problems with us and I take Robin Soderling did a great job where he talked about his strive for perfection, his loneliness and how it's a fine line between you know striving for perfection. And if you can step over and all of a sudden you know, anxiety sets in the panic attacks step in you have burnout, depression, eating disorders, and like stress hits people in different ways you may get lack of energy stomach issues, you know, you may get thoughts you shouldn't be getting it affects everybody differently.
Dan Kiernan
It does massively. I mean, I'd love to, I've actually reached out to Robin, I'd love to get him on the podcast to talk about it. I mean, Noah Rubin went out yesterday, Liam Broady going out in a couple of days. He talked about his health problems. Joe Dixon's got a strong story, and I know it's going to hit people, but it needs to be shared, you know, and it's, and I do think also, there's a bigger picture here, Fabio with tennis, there isn't any security in tennis, there's none. You know, there's no there's no security, you know, you get, you know, Evan Hoyt, a player that I work with. He's going in to be operated on his knee next week, he's not going to get paid for the rest of 2020. Done. Nothing. You know, that's that's it, you know if that was   my only job coaching him,. I'm now done. You know. And that's now the big thing that I think we have to try and get people to understand with tennis and if we talk about tennis coaches for a minute, you end up being, I would be very reluctant to go and coach on the tour. Because if you don't coach on the tour, you are putting yourself into a completely detrimental situation where you are relying on one individual paying your wage, you know, as a tennis coach and that as a tennis coach who is extremely professional, you know, someone who's got years of experience to be in a position where a moody 20 year old or a crazy parent of a 20 year old is your security blanket to being paid and putting food on the table for your family. I mean, let's be honest, who would ever do it?
Fabio Molle
Haha and plenty do!
Dan Kiernan
Exactly, but they do because of the passion we have for the sport. But if we remove that emotion and look at it in that way, it's crazy. It's completely crazy. And that's also why we have a bunch of there's a lot of nutters on the tour as coaches. You know, it's not the best coaches on the tour. There's some absolutely, there's some amazing coaches on the tour. But there's also there's a lot of hitting partners who are young, because they don't really need the security yet. They don't have family. You know, so absolutely. Lets go and travel the world and there's nothing to lose. Or there's others you get a lot, especially on the women's tour of 60/70 year old men who maybe don't have families anymore, and who were in a position where, yeah, traveling the world. I can do that. And I've got a bit of money to back me up. But whereas guys between the ages of people who have got families to provide for, you have to be really careful making that decision to put your career and security in the hands of a player, or a pandemic that's happened like this, you know, and I do think there needs to be some way of professionalizing the way that it works, so that players can have a wage and also that coaches can have a wage, if that's the case, because otherwise and I think more and more after we've seen what can happen with a pandemic, I think coaches will be reluctant to put themselves in such a position of insecurity. And then obviously, that insecurity brings with it mental health problems as well. So I think we've got a long way to go as a sport on that.
Fabio Molle
Yeah, and it's not only tennis coaches, it's the trainers, the physios, I notice there are not as many as them as coaches, but they've all been affected. So I think it's important that you do have a base at home, that you know, you've some business coming in at home and you're not traveling 50 weeks a year, if you can, guys who can manage both of them, at least if sort of go home and have some income there. But again, it takes time and experience you have to be you have to learn the lesson, don't you before it all comes together.
Dan Kiernan
Absolutely. And then I also just want to say what ends up happening is you can almost have anybody that's traveling on the tour. I think we need to professionalize the sport from that point of view as well. There should be a tour qualification, you know, these sort of things as well. Because then it should be that if you're at the point where you're working able to, you know, work with the highest level players 50/100/200 that should be the pinnacle of our sport, but it's not, it's really not, you know, working at the top 10 maybe is, but it's not the pinnacle of our sport going and getting paid 300 euros a week because the player wants to save some money to have someone go and hit some tennis balls and basically be treated as a bit of a bitch for the week.
Fabio Molle
Most coaches are treated like bitches, arent they? No matter what level from what you see sometimes.
Dan Kiernan
Unfortunately, too much, but I'd like to see it so it's become something to, you know, really aim for, you know, a real career progression. You know, actually I want to get to the point where I qualify to be able to and almost if you do qualify, you're able to be that to a coach, there's maybe is you know, a way and natural wave that comes in so there's some security and then you go and you do your 10 weeks, 15 weeks, whatever it might be. Yeah, I don't know exactly how it's structured. But I think, I think this time periods, these conversations should have been happening at the top end of the sport, whether they have been I don't know, but whether we're going to be granted three, four or five months to just actually open up some real discussion, ever again. You know, that's, I don't know the ins and outs of what goes on behind the scenes. But I'd like to think that some progressive conversations have happened.
Fabio Molle
I would not bet on it Dan. I think, some professions. You need to be a bit of a nutter to work in them and I think traveling on the tour is one of them. And we used to have a family business in the Catering world fast food world and I always thought to work in the fast food the better people who work there were the ones that were a little bit mad, like the quiet ones were never too quiet needs to be a bit of a nutter and we found that used to be great and I think with the traveling tennis community, the coaches have to be a bit mad to put up with everything, to enjoy themselves and I'm not saying they're good or bad coaches, but personality wise, you need to be a bit of a nutter to get the most out of it.
Dan Kiernan
Yeah, you do. The best traveling for me and I know from the players that I work with is when you go as a team, and that's something we try and do as an academy. We try and obviously, as players separate their level, it becomes more difficult. But traveling as a team as one tennis coach, one fitness coach and let's say four to five players, couple of girls, couple of boys have just been brilliant because just to enhance the experience, you know, and I think that's ultimately we have to be careful just getting caught up and ranking, ranking, ranking, ranking and the pressure that brings. We need to enjoy this experience as well. And anybody I've spoke to on the podcast the last few weeks, they always talk about the importance of enjoying that experience. You know, and once that enjoyment goes, people aren't gonna perform to the same level. They're just not, you know, and from there, it's that if you can at the lower level, and when I say a lower level, I'm talking ITF juniors and futures level. I'm a big believer that it should be traveling in groups to the best part. And if we then have more team competitions, so people have, and I think, on the mental health side of things, I think that would make a massive difference in our sport as well. And I'd love to see a little bit more of that happening
Fabio Molle
Hopefully, hopefully, it changes. What advice do you have for young juniors? 14/15 year olds who are quite good, who want to be professional?
Dan Kiernan
There are so many bits of advice that I would give and so much of the advice would be individualized to their situation, you know, however, enjoy it, enjoy the ride would be my number one bit. You know, you're not going to play, you're not going to play tennis for that long in the larger scheme of things, you know, and I think don't worry about where you get to as such, but enjoy what you do, because you'll actually then get further, you know, and have a little bit of perspective on if you have a successful career. You'll play tennis until you're 28/29 years old, you know, if you have an OK and I would say that I had a decent career and I played till I was 25. So if you're 14 or 15, you've basically got three to four years before you potentially go to US college, you know, and then you've got four years of US college. So you have got seven or eight years, just to get better every day and have some fun. Like if I could genuinely go back to then have that mentality, I definitely would have been a better tennis player. You know and I have these discussions with our guys all the time. It's basically seven or eight, free years to just to just embrace the sport, embrace the experiences. And then if you feel that you're at the level that you can go and play professional tennis after that, then fantastic then you know, you reset yourself, but you, you probably already reset yourself for another 4/5/6/7 years before you're actually in the big bad wide world from 30 years onwards. And so yeah, so enjoy it. And make sure you surround yourself with people that believe in you. And that you're connected to, if you're working with coaches, and you don't feel that it's quite working, and they don't feel like they're fully connected to you or you're on different paths, different wavelengths - then you probably are. So, I would say that that is also really important. And I'm a big believer that the number one way that a tennis coach can help a player is by connecting to them. Connecting to them as people connecting to them as a family, connecting to their purpose connecting to the way that they want to play tennis, connecting to their journey. And if you're not with a coach that you have that with, then you are not giving yourself the best chance even if that's a coach who's got a great reputation, a great reputation for good forehand technique or whatever. Get yourself with a coach who you connect with and and a place that you train that you connect with as well. So I think those would be two bits of advice - general advice that would come to my mind. Thanks for having me Fabio and well done to yourself you know on the on the podcast. And also your platform. You know, I'm a big, I'm a big advocate of there's many different vehicles, there's many different routes that you can go through the vehicle of tennis, you know, and I think what you do with Functional Tennis is fantastic, its servicing the community out there, and you are on my list to get you on our podcast as well. So, you know we've got a long list of fantastic people, because I do I want us to really showcase all of the different ways and different routes people can go. It's a difficult sport, but it's it's also the best sport in the world, in my opinion. It's, you know, you give your very best and you enjoy what you're doing. You'll get a lot from the sport and and you know, you're another great example of that Fabio. So, watch out for Fabio covered on Control the Controllables in the next few weeks as well.
Fabio Molle
Thank you. I hope you enjoyed the episodes with Dan, especially today's episode on mental health challenges in tennis. As I mentioned, its something that I would like to touch on more in the podcast moving forward and I look forward to sharing it with you guys. Hope you're back playing tennis and until next week, goodbye.

PODCAST SPONSORED BY HEAD