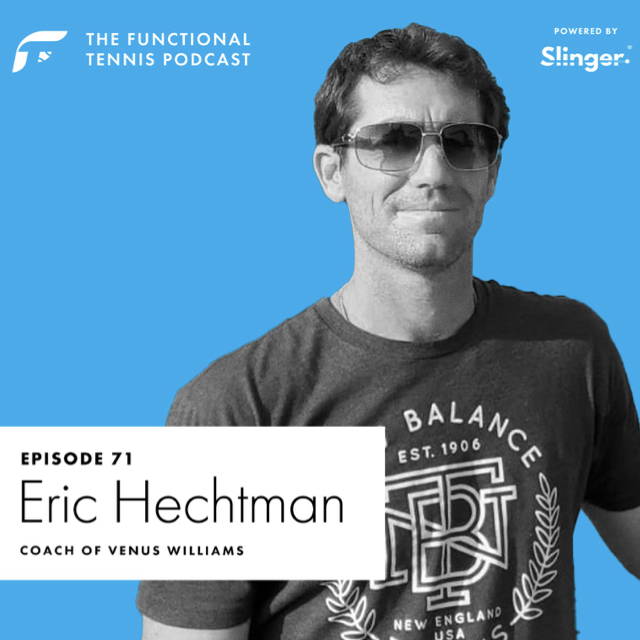 Delighted to be speaking with Eric Hechtman this week! Eric is the current coach of Venus Williams and is also the head of Tennis at Royal Palm Tennis Club in Miami 🌴
We talk about his time as a hitting partner for Federer & Nadal, how he started working with Venus, plans going forward & much more!
Another great episode this week, the second WTA Coach in as many weeks 😱
If you find it interesting please share with your tennis friends and family.

Huge thanks to our sponsors Slinger who allow us to produce the best possible episode every week 👌
Eric Hechtman
Hi, I'm Eric Hechtman and you are listening to the Functional Tennis Podcast.
Fabio Molle
Welcome to Episode 71 of the Functional Tennis Podcast. I'm speaking to Eric Hechtman, the coach of Venus Williams. We talk about his tennis career, coaching Venus, and more. Before we get started, if you're on Instagram, tag us @functionaltennispodcast on your story, so we can say hello. And also tag our sponsor slinger. I'm trying to arrange a slinger bag to give away to one of our listeners. And this will help with that. Okay, here we go. Hi, Eric. Welcome to the Functional Tennis Podcast.
Eric Hechtman
Thanks for having me.
Fabio Molle
Really excited to talk to you and hear about your tennis career, your coaching career and how you handle your your work at, The Palm Royal Tennis Club, and your family. Really can't wait to talk all about it. But before we get started, tell us where are you right now?
Eric Hechtman
Right now I'm in my house just got done with kindergarten drop off for my five year old, um, got done with pre k drop off and my three year old and my baby girl is her second birthday today. So
Fabio Molle
Thanks for taking the time out of she won't be happy you're busy talking tennis on the phone. There should be no tennis talk today. It should be all for her. But you had a video on Instagram of a four year old hitting balls really great - is that your son?
Eric Hechtman
That's not my son. That's a kid reached out to me via email. And, you know, I was scrolling through some of the videos and just unbelievable to see how the kid how enthusiastic he was and the talent level. So his dad wanted to bring him out. And it was it was fun getting out there a little bit with such a young guy so enthusiastic about tennis.It was a lot of fun.
Fabio Molle
Yeah, he looked, I could just see the strokes and he was hitting a lot of good balls a bit of power. And it was quite impressed for a four year old. So it's good. Good to see. Hopefully they can keep going and doesn't peak too soon.
Eric Hechtman
Yeah, sure.
Fabio Molle
Tell me where did your tennis journey start?
Eric Hechtman
I didn't really start playing till I was let's say like nine years old about. I played some other sports, from basketball, football, boxing, a bunch of different other things and tennis kind of stuck when my parents didn't really want me to get hurt and some of the more physical sports. And it just kind of took off from there. I always like the individuality of it. I never did never went home schooling, never played, let's say some of the full time hours that a lot of the juniors train now. But went to public high school in Miami, public middle school, public elementary and went through that process a lot different from the way it is nowadays. But it was good experience.
Fabio Molle
And you went down to Miami University, which it must be to have that experience you had where you were at home, going through your high school and then on to university. That's really it's unheard of to play at tennis, college college, tennis at a high level and then I'm not sure where you living in at home when you were at Miami ore were you on campus?
Eric Hechtman
Lived on home for pieces of it. And I actually ended up living off campus lived on campus for maybe like a month so not much. Not much on campus.
Fabio Molle
It must have been such a it's a dream to have your family so close and to obviously play play tennis you love for the sport rather than I know the Irish kids here travel over to the states and they may get by two/three times a year. It can be awfully it can be it can be tough that side of things.
Eric Hechtman
Yeah, Miami is such a great city and a little different than Europe. You know, a lot of times you grow up really following and loving a college team. So University of Miami Hurricanes, more than any pro team they were they were always my team. So go there play there. It was it was a dream. Wish I could have maybe done a little more for the for the school, but you know, I did what I could.
Fabio Molle
How was your college tennis career?
Eric Hechtman
Had a bunch of different coaches, three coaches, but you form a great bond not just with the tennis athletes that you're around but University of Miami does a great job keeping the athletes together. So you meet a bunch of different athletes from other sports from football to basketball all across the board. And it's almost like its own family in there. And it was a great experience. You got to learn things you should do things you shouldn't do and and yeah definitely helped me mature and find my way into adulthood.
Fabio Molle
and tennis wise, how did you do?
Eric Hechtman
I did all right. Um, I won. I won a lot of matches there. I always put the team first. That was always my priority when I was there and was captain there for three years and won a lot of matches. So it was fun. I had some great experiences.
Fabio Molle
Would you've been there recently would you know when a girl called Sinead Lohan? Irish girl
Eric Hechtman
Not off the top my head.
Fabio Molle
She's probably finished there a few years now. But she was on the women's team. So okay, so you went from college, and you moved, you gave the pros a shot for a while?
Eric Hechtman
I mean, not really the pros a shot for a while I basically graduated and let's say May of 2006. And then. And then my plan was to kind of hop right into law school in the start of January. So I played pro until end of October of that year. So basically June through October was the amount that I played.
Fabio Molle
And did you go into law school then?
Eric Hechtman
I went to law school for, let's say, one year, and I was teaching part time on the side really enjoyed it was developing some juniors as I was as I was in law school, high level juniors. And the club that I'm, I'm still the tennis director of offered me the opportunity to basically be tennis director. And it was at a time when the economy wasn't great people coming out of law school, were struggling to find jobs, getting low pay, and I thought to myself, I'm like, I like tennis a lot more than I actually like, practicing or studying law. So I'm just going go for it. So jumpmed ship, went fully back into tennis, from a different angle, though, from coaching. And that's kind of where I got my feet wet there.
Fabio Molle
And were the parents okay with that?
Eric Hechtman
I mean, you know, Jewish parents, they wanted me to go into whether it was either accounting, law, something like that, but you know, dad understood and, and he, you know, understood where I was coming from and, you know, haven't looked back since, so.They supported me.
Fabio Molle
That's great. They saw the passion.
Eric Hechtman
In life you got to follow your passion.
Fabio Molle
So you're director at Palm Royal Tennis Club. And then I did see online that you were hitting partner for some great guys. How did that come about?
Eric Hechtman
That was a short stint. Was basically during the Miami Open one year. So my college coach at the time called me up on April 1. And he's like, hey, Roger Federer wants you to be hiss hitting partner for for the tournament, you know, or his agent called, and I go, go, come on. It's April Fools day, you're calling me at like, it was like, five something am call. And I'm like, I'm like, I'm going go back to bed, man. He was like, no, no. And then, once I got there, you know, this is in the midst of the big Rafa Roger rivalry that Rafa wanted me to be a hitting partner in the tournament. So there's definitely a physical time because I was working, working out with both of them during that tournament, it's great experience to see how they both approach the game very differently, but very intelligently, and they go through, they go through the process. So yeah, that was that was the extent that I was hitting partner for those guys. But pretty much, you know, my career in tennis, after playing was really developing juniors into high level quality college players, and let's say for the most part, into the low levels of the pros.
Fabio Molle
And let me just cut back there really quickly to Federer & Nadal. So you were still in University at this stage?
Eric Hechtman
It was my senior year. Yeah. So I was I was graduating basically.
Fabio Molle
Whats did you take away from playing with these two greats at the time? Did it give you extra energy?
Eric Hechtman
It gave me kind of a different understanding of things, because, you know, I had just played to that point on, you know, athleticism, I didn't really understand the game of tennis and the different innuendos, so seeing them both practice so differently, but, you know, arguably the two greatest players of all time, at that stage, people, people were thinking that they were both going to be the two greatest of all time. So, you know, to see how Federer was very specific and what shots we would practice & warm up and to see, you know, Nadal, has a whole different practice, a very physical practice, at least at that stage, you know, is very interesting, you know, and that gave me a perspective that, hey, everybody's different, and everybody can approach it in a completely different manner and find the right way there.
Fabio Molle
Was any of you like, this is a lot harder than I thought it was?
Eric Hechtman
Um, you know, I knew I knew how hard it was, but as a player, you know, it's just, you know, the motivation those guys have, the discipline those guys have in their practices and the skill level is, it's just, it's almost unhuman.
Fabio Molle
The motivation you talk about, you've been around some great players, do you think you're born with the motivation? Or is it something that you can actually, let's say earn and or you can come up with later on in life?
Eric Hechtman
I think it's a little bit of both, right? I think you have to be born with it to a certain level, have to be born with that talent, and that drive, right? You know, so, for example, when I saw that four year old, and went out there with him, you know, played tennis with the kid an hour, and I've got a five year old, you know, but is he kept his attention span the whole time, he was eager to learn, and he was pumped up to play at that age, right, any four year old for any activity they're going to do, rarely would they have that type of fire in their belly. So a lot of it you're born with, and then a lot of it as you go through different stages, and you hit some bumps in the road and you need, you need different people to motivate you and to fire you up. So that you've got that extra drive when those tough times come. A lot of times it comes from a parent, sometimes it comes from a coach, you know, but that's where I see it.
Fabio Molle
I agree with you. And tell me so you're you're working, you're working at Palm Royal. And when do you move into more the coaching? You talk a bit about how you coach juniors and the lower level, but then there must be a big jump. When did you start working with Venus? How did that come about?
Eric Hechtman
Let's say, basically, from when I graduated all the way until now, had gone up there from time to time, not necessarily consistently, to hit with her in Palm Beach Gardens. And then, in 2019, she called me basically to go with her and work with her at Indian Wells. So we started working a little bit together, then, through that Miami tournament, I didn't travel to Europe, 2019, but we kept in touch. And through 2019 2020, I worked with her. So you know, I really haven't been at Royal Palm much, obviously, when she's not training, like right now, after the end of the season, I'll head out there. And I'm not working a lot of hours like I used to, but I'll go out there and work specific hours with people that I feel I could really use the help. And once we come back training, again, I'm fully committed into her training,
Fabio Molle
Great and how has been working with such a legend of the game?
Eric Hechtman
It's been it's been great such a learning experience. You know, my expertise is coaching of tennis. But you know, with pro tennis, there's so many different things going into it that you know, you pick up and learn from when you're at the tournament battling for practice courts and getting the amount of hours you want on the court and the proper time to practice - all the logistics involved behind it. And everything that kind of goes on behind the scenes, how much is actually going on? A lot of people don't know. And it's been a great learning experience. And I'm still learning every day.
Fabio Molle
You went straight to the top. So that'd be the quickest way to learn - thrown in the deep end. And when you're working with her on court, what are you working on most of the time, obviously, from what I hear, like players, when they're younger, it's probably more fitness orientated, bit more technique. But as you get older, there's a lot more strategy stuff you're working on, or do you still work a lot on technique?
Eric Hechtman
um, it's been a little bit of everything, obviously this year has been very different with COVID. So, you know, Venus has played a lot of years in the past, but we took an ambitious task, this past 2019 to revamp her serve and forehand a little bit. And I think that they've improved, I think she just needs a few more matches and to really harness it in, but there's definitely been some flashes of brilliance to it. And yeah, we definitely do speak a lot about strategy, what strategy is going to work best for her. And then also, prior to each match what strategy will possibly work best against each opponent? Granted, nothing's for certain, but it is it is a lot of strategy.
Fabio Molle
And you say you've learned a lot from her - what are like the top three things you feel you've learned from being around such a great?
Eric Hechtman
I think, number one, the mental side, to be to be positive and how to move, how to move through a loss and to motivate yourself into a practice and then a tournament and no matter what hardships you're experiencing, whether it's the travel or the circumstances in which you're staying with to be able to always find the positives in everything you're going through to persevere. She's probably the best that I've ever seen at that I can't say the best in the world because I don't know everybody else. But you know, I can't imagine somebody being better at those skills and then the the time commitment, you know, no matter what day it is, no matter what time it is to be able to go out there, get your warm up in, get your cool down in, get your practice in. And after she does all those things, she's a fully committed owner, CEO of a company. And yeah, that's admirable, right? She's, she's not wasting any time in her life. And she's active always trying to accomplish something, which that's, that's a champions mind right there, whether it's in tennis or not in tennis. And then, outside of that, you know, it's, it's the commitment to family - we'll be in town and she's always giving her father a hug, kiss. Always looking to connect with their sisters and their mother. Right. So the commitment to values and the mental commitment to things. I think that that always brings a level of positivity to, to her life. And it's it's very admirable.
Fabio Molle
Wow, they are three great things. Tell me do you ever get involved in any e commerce decisions?
Eric Hechtman
No. I mean, I hear it. I try to mainly stick to my stick to my strengths.
Fabio Molle
Stick to the court stuff. What's the best moment in the shortish career you've had with her on court?
Eric Hechtman
I'd have to say that Kvitova much in Indian Wells in 2019 was the first tournament I went to so I didn't fully know exactly what to expect. First round she had played Petkovic - had a tough 3 set match pulled it out. I wouldn't say she played her best tennis in that match. But she found a way to win. And then against Kvitova, she was down a set and a break, you know, it looked like it was going to be straight set loss. And then she just dug deep, fought hard and found a way to win played a really, really high level of tennis, ended up getting to the quarters there. But that match, it was something special to see. See that type of competitiveness.
Fabio Molle
Fire, unbelievable fire. And what's your plan moving forward? Then for 2020?
Eric Hechtman
For 2020, or 2021?
Fabio Molle
Well squeeze at the end of this year. Is there going to be much tennis?
Eric Hechtman
For Venus, she's done for the rest of this year. She'll take a little break. And we'll get into our offseason training before the start of 2021. I think it's been a hard year for everybody with the unknown when you're playing a tournament, how the tournament formats going. But there's definitely some positives, we can take few tweaks in her game. And she's healthy right now. So I think I think we'll have some definite positives going into 2021.
Fabio Molle
And you'll be on the road and in 2021?
Eric Hechtman
Yep, plan to be.
Fabio Molle
Thats interesting because we had a we had a guy David Collins on the podcast few weeks ago, he's a doubles coach works with some top doubles guys, and he spends most of time at his club, he doesn't travel as much. And just interesting to ask you how you can handle the travel and obviously with the family and run the club? It's it's a lot of work. And do you have any secrets to the, to the skill?
Eric Hechtman
I mean, everybody's got their approach when you have tennis club and you're working with a pro player. So I approached my tennis club telling them I was going to work with Venus. And I was going to come back, basically, in my full role. At at the end of her career, whenever she decides that to be whether it's one year or 10 years, who knows. And basically what I've done in the meantime, is I've put different people from different pros, and we've got a great club manager in Beverley Crane is basically in charge of the day to day decisions on the club. When I'm in town, I go in there and I help out, but I've taken a more passive role to the club while I've been traveling with her. And I thought, you know, if I'm not most of tennis, right, you know, let's say if you're like full schedule, you might be traveling 10 months out of the year, she doesn't travel as much as most but if somebody's traveling that much, how can you really give them the proper guidance, if you're not around them at the time is necessary. So, you know, I looked at it as a sacrifice a little bit for my family, which is obviously the toughest part, from the clubs that I've worked for 10 years, maybe 60 hours, I used to work on court per week, you know, so I knew the sacrifices I was going to make going into it, but I looked at it as okay, this is something that is going to make me a better coach. And I also think I can really help her towards the end of her career, do something special. So that's why I'm here. You never know what's going to happen. And that's been my approach. Some people take the opposite angle where they're more involved in the club and they travel less.
Fabio Molle
When everything finishes up you'll be back to the club with a lot of experience you would have never had before he had it stayed there. So there's big advantages to it. But let's end this, Eric with one question. What advice do you have for junior players out there who want to be pros? Let's say they are 14/15 - one, the better players in their nation? What's your best bit of advice for them?
Eric Hechtman
That's tough. So, you know, I'd say number one, they have to have self belief, they have to have the discipline. And they have to have the work ethic, right. And they've got to formulate a team around them, of positive people that can, as you've seen, this year with my hometown, Miami hate getting to that NBA Finals, right, nobody would have ever expected a team like that to make it there. But it's the culture that they've got behind their team, pushing them to work hard pushing them to believe that they can get through a loss, get through a win. And it's a tough journey. But every player is going to need that around them. And they're going to need that self discipline and that drive to kind of persevere, there's always going to be tennis, you're going to have a first round loss, you're going to have, you know, a great tournament. But it's how you weather those tough storms. And you always have to be ready for that big performance, because you never know when it could happen.
Fabio Molle
Great. It's important to have a good team around you to carry you through those tough moments and encourage you to keep going.
Eric Hechtman
Yeah, very important
Fabio Molle
Thank you very much, Eric, for jumping on the show appreciate it and hope you get to spend some great quality time with your family for the rest of the year.
Eric Hechtman
Thanks for having me. I love your guys content, lots of great videos you have on your social, and I'll be checking it out all the time, like I have.
Fabio Molle
Thank you, Eric. I hope you enjoyed that chat with Eric. It's great to see his passion for the game. If you know anybody who may be interested in this podcast, really appreciate it if you could share it with them would mean a lot to me. Other than that, I'll be back next week. Hope you get out there and play some tennis. Goodbye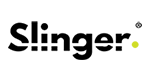 PODCAST POWERED BY SLINGER