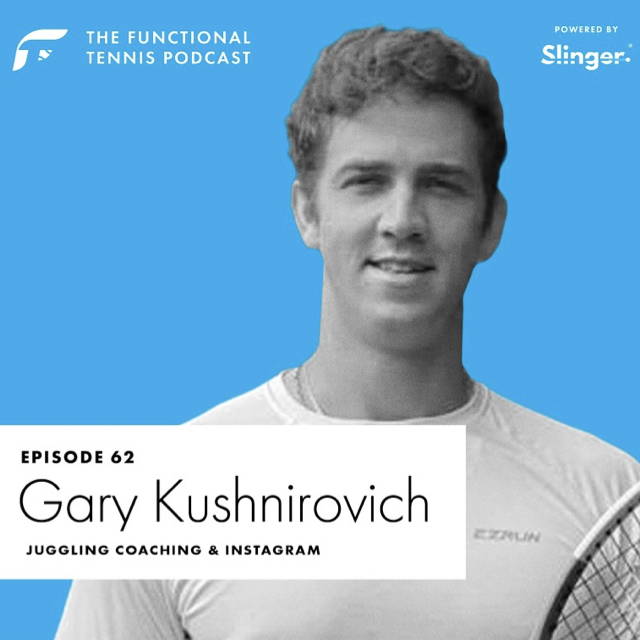 Juggling Coaching & Instagram
We are joined by Gary Kushnirovich, a coach who is a self declared tennis fanatic!
Gary currently coaches full time, but played college tennis in the US and has played some big events - most notably the New York Open.
Gary also runs a successful Instagram account (@tenniswithgary) and we talk about how he manages it all!
Hope you enjoy!
If you find it interesting please share with your tennis friends and family.

Huge thanks to our sponsors Slinger who allow us to produce the best possible episode every week 👌
Gary Kushnirovich
Hi, I'm Gary Kushnirovich and you're listening to the Functional Tennis Podcast.
Fabio Molle
Welcome to episode 62 of the Functional Tennis Podcast. This week I'm speaking to Gary Kushnirovich, a former pro who's now coaching in New York City and has done an amazing job building an online community. Before we get started, a quick word about our last two episodes - whose response has been amazing. First was Jude O'Reilly, explaining off court techniques to improve performance on court and in other areas of life. And then there was the Paul Annacone episode where he talked about his coaching experience with Federer & Sampras. They were two great episodes. If you're new to the show and missed them, you have got to check them out. Finally, before we get started chatting to Gary, a big thanks to our new podcast sponsor Slinger who make the awesome Slinger bag - the portable ball machine you can bring everywhere with you. Okay, here we go. Gary, welcome to the Functional Tennis Podcast.
Gary Kushnirovich
Thank you, Fabio. Thank you for having me.
Fabio Molle
In all the years that I know you - maybe close to, I'd say three and a half anyway, we're going for years and you came on the Functional Tennis journey quite early. I never knew how to pronounce your surname. And Gary gave me a lesson there. So I'm just going to say it here and you can you can rate me on one to 10. So it's Gary Kushnirovich.
Gary Kushnirovich
Oh, that's a 10 out of 10 man.
Fabio Molle
Great. Thank you very much. Thank you very much. So delighted to have you on board. As I was saying there. I've known you a long time, you've been putting out great content. You've purchased some of our journals or pointers - it's been amazing, which I really appreciate that. But I know you did really well during lockdown. Putting out some great content, you've built a great fan base. So I just would like to hear about that. But before we hear about that, tell us a little bit about your tennis journey from your early days where you grew up until giving the pros a shot.
Gary Kushnirovich
Alright, so yeah, I don't want to bore everybody with the details, but I'll try to make it as concise as possible. And I am a huge fan of tennis so I could talk for hours and I apologize if I ramble a little bit, but I started playing around three years old with my parents, my mom and dad were the ones who taught me how to play - my mom started me playing when I started with the racket being bigger than I was. So that's a great age to start, you know, because back, I think back when I was playing, we didn't have the quickstart tennis that we have now where the rackets are proportionally sized to the younger players. So you know, I was playing with a full sized racket and needed help holding it up. And my father was my coach through my developmental years. We spent a lot of time working on my game together many hours on court, which is one of the main reasons why I'm, I think I'm really so passionate about tennis. And one of the reasons we'll, I guess we will come back to this later why I put out so much content, because I learned a lot from watching videos that were available back then. And we didn't have you know, the Instagram and the YouTube. It wasn't as big as it is now, obviously, and there wasn't as much free content out there that was available. So you know, watched a lot of Nick Bollettieri tapes and you know, Pat Etcheberry, fitness tapes and things of that nature, trying to sculpt my game together. So that was kind of my developmental years and I went on to play college tennis, played at West Point at the United States Military Academy, which is a D1 program, I played there for two years, and then I played at St. John's University. Transferred there. I played there for for two years and was fortunate enough to play under two pretty great coaches and attained two championship or conference rings for the Patriot League, and then the the Big East Conference. For those of you that are familiar with college tennis in the States, you know, there's different conferences for the different universities. Those two are not the strongest conferences for tennis, but it's still a little great little achievement, I think, to be able to have a ring, you know, still cool.
Fabio Molle
No matter where you are Gary, if you're winning is a great achievement.
Gary Kushnirovich
Winning is winning right, yeah, exactly. So, and then as I was finishing up my college career, I started coaching. I coached a little bit when I was still a junior, you know, just for some extra pocket money. And then when I was at St. John's, I started coaching a little bit as well, to kind of like make ends meet and try to you know, pay for the extra stuff that I wanted, and I started to develop this real passion for coaching. And I had at one point fallen completely out of love for tennis. When I graduated from high school and I went to college, I basically had achieved my goal of getting into school. That's what my goal was. And I really didn't want to play beyond university. But after I started coaching, when I was at St. John's - started coaching a little bit I started to develop this passion for high performance coaching specifically, I was really fortunate to work with Tim Mayotte and Lee Hurst. He was incredible role model for me, you know, working with these players and the same with with Lee Hurst and I was able to see what it actually meant to work with high performance players and there really isn't that many coaches or facilities in the New York/Northeast region that are, you know, really high performance focused. And so it was interesting for me to see that and experience it. And so it was at that point that I kind of decided, hey, I've never played ITF's, I had never had an opportunity to travel internationally or see other players outside of maybe Orange Bowl when I was like 12 or 14, you know, by the time you're in your 20s, you don't really remember the details of that. So I decided that I wanted to try competing on the on the pro circuit, so that I could see what it actually takes to play at that high level. So that at one point I could bring the player to that level. So the the whole reason why I started playing after college, as I was coaching as well was to coach better, right so that was the the main driving force behind me actually wanting to go out and compete and travel a little bit. Yeah, I guess that's how I started coaching really more seriously, I was coaching to fund my traveling so that I could go and experience tennis in other countries and see what other players were doing, what other schools of thought there were. And learning from that, I was fortunate enough to pick up a couple of ATP points, made a couple of good runs in doubles, had an overall really great experience. And then decided a couple years ago that I think that that was, that was enough for me traveling and living out of a duffel bag - out of a suitcase. And that it was time to kind of start focusing more on what I wanted to actually be doing, which is coaching full time.
Fabio Molle
Great to know what you want to do. And that you knew you weren't going to grind it out on the tour for 10 years. And you know, you don't know what the results are. So it was good that you could just make that decision. But you'd played in the New York Open a few times. Tell us about that.
Gary Kushnirovich
Yes, I've been really fortunate to win the wildcard for the New York Open on two different occasions. So it's been hosted in New York for three years now. Lucky to win it the first time, lose in the finals of the of the playoff the second year and then win it again the third year so I've played the qualifying for the New York Open which is an ATP 250 event and it was an extreme honor and privilege just to be out there competing with that level of player and got to see you know what their lives are about a little bit and see the stresses and see you know that even those players that we think are untouchable are touchable right? It's not it's really not that far off from where guys in the top 500 are and even lower in the top 1000 so it's you know, there's percentages that really separate players as they get better and better even decimal percentages, right?
Fabio Molle
Yes, and how did the matches - I saw a bit of your match was it last year, the end of last year whens the New York Open?
Gary Kushnirovich
This past year, I lost to Jason Jung - I got routined if that's, that's a nice way of saying it.
Fabio Molle
There were some good points put in there. I only saw the highlight reel. That's what I saw. And it was your highlight reel. So I saw some good points in there. And I thought yeah, like you weren't, you know, you were competing. You didn't get what was it 3 & 2 or what score was it?
Gary Kushnirovich
Yeah, I think it was 3 & 2. So that's all right. Yeah. For a guy who, who coaches full time, doesn't train to play against the guy who makes a living off of it. I think, you know, getting a few games is better than nothing. But uh, it's interesting, because he had also he had an incredible run that year. He made it to the SF. And so I thought, you know, one of the one of the biggest weapons in my game is my serve. And he was treating me like a child and I watched him play against Reilly Opelka. He was doing the same thing to him. I was like, okay, it's not me. It's definitely not me.
Fabio Molle
So he was just seeing it like a football.
Gary Kushnirovich
Yeah, it was. It was easy for him - just taking it on the rise, I watched him take Opelka's you know, 115 mile an hour second serve on the rise and redirect it. And I was like, okay, I don't feel that bad about it anymore.
Fabio Molle
Yeah, that's good. Tell me what's your favorite match? The one you remember the most from your whole tennis career?
Gary Kushnirovich
That's a really good question. I would have to say, you know, my favorite match would be probably this year at the New York Open. The first time I played it, I was insanely nervous. And I actually you know, I didn't do poorly - I lost I believe it was 5 & 3, something like that as well. The first time I played but I was I felt very inadequate. When I walked onto the courts, I felt very lost. And there was a lot of pressure and it was really, you know, I was still competing at that time, I was still trying to, you know, break through, I guess, so to speak, on the pro circuit. And so the idea of getting six ATP points by winning a first round was it made me really, really nervous. And, you know, I had some opportunities, had some awesome looks, and I wasn't able to convert. And it was really interesting that this year, by far, I felt the most comfortable on court. And it was, I felt, you know, it was nice to have a lot of local fans, a lot of my friends and family came out and, you know, people I've worked with and, you know, other coaches in the area who know me, and it was really nice to just be there in that environment. And I think that I did a much better job conducting myself this year than I did maybe that first time around because I was I had put so much pressure on myself and this time it was fun. It was more fun than pressure. You know?
Fabio Molle
Yeah, that's important that it's fun. And you probably had more fans than all the other guys put together out there. I'm sure being you know, being a local and just people want to come see you play. I think that's what happens.
Gary Kushnirovich
It's fun. It's like, you know, Noah Rubin is from Long Island so there was a decent crowd for his match and I watched him play as well but it was funny because there was, it was similar in my match. I was like, oh, this is nice. Yeah, I'm as famous as Noah Rubin, that what it felt like for a brief second.
Fabio Molle
And tell me does any bit of you wish you were still playing? O are you just completely happy you're coaching?
Gary Kushnirovich
I love competing. So you know, I still play local money tournaments and I'll play tournaments here and there. But the thing that is really people say, oh, you know, you're so lucky to be playing on the pro tour. I think they, they forget that it's, it's really a grind, you know, it really is a grind, especially at the Futures and Challenger levels having to bounce from place to place, you know, trying to scrape together one hundred bucks to pay for a hotel or, you know, make sure that you have enough food or like money to eat, I think is, is really overlooked. The majority of players who are trying to breakthrough don't have funding. And so when I look back at it, I'm like, wow, I was incredibly fortunate to be able to work and pay my way through these tournaments. Whereas many people don't even get that opportunity. They don't even get a chance to play. So to say that I wish I was still competing. No, I'm definitely - that chapter in my life is done. I'm really happy with the experience that I've had and the friends that I've made across the world. But realistically, it wasn't something that I could see myself doing for, like you said for 10 or 15 years, you know, like, there's the stories of, you know, even Fognini, you know, he was he grinded for 10 years before he really made a massive breakthrough. And to have that dedication to take that many losses for that many years and still be able to come out and be incredible. And to continue winning is I don't think most people are not made for that realistically.
Fabio Molle
You need to be hard as nails and just be fully committed. And, you know, we don't hear about the guys who do their 10/15 years and never broke true, and they are sort of in a lost position because they may not have education. They wouldn't have local contacts as they've been traveling for 15 years, which puts them all in a really tough position. And I think, obviously the ATP do try and help people, you know, to make the transition, but I think they try and help more the successful people, the people who've been to Top 150, Top 200. That's who they try and help. It's the other guys, there are plenty of guys that have been struggling on the tour for years. I won't to say struggling - I wish my levels top 300/400/500 but in the grand scheme of things they're struggling if you're going to be top 400 for 10 years and I don't think there's enough done to help those but I think that's a conversation for another day. But so Gary, let's talk about Instagram - you're an influencer. How are you with me saying that?
Gary Kushnirovich
I definitely don't believe that I am. When you first said it, I laughed. I really did. I thought it was hilarious because I don't see myself as that. The whole Instagram culture is it's interesting. You know, it is. There's a lot of like you said it's the highlight reels. It's like yeah, I lost that match 3 & 2 against Jason Jung but all the internet saw was, you know, the four or five points where I played unreal.
Fabio Molle
Well unless you looked at Jason's account!
Gary Kushnirovich
Exactly, exactly. So, yeah, I definitely don't see myself as an influencer. I, like I mentioned earlier, one of the main reasons why I try to consistently post content is because I know that there are many, many players out there that don't have a coach or might not necessarily be able to afford a coach. And so, I would love to help those players out because that was me. That was how I learned how to play. We couldn't afford private lessons from the best coaches. And so my dad would work full days and then after he worked a full day would come home and we'd go on the tennis court and we'd work on my game together and we would watch videos and analyze things and record and and go back to the drawing boards over and over again and my my whole reason for posting is to be able to provide some sort of alley to, you know, to the people that are doing it on their own. And I definitely see that there's a lot of coaches that follow me and I get messages and DM's are like, hey, it helps with my players. But I also do get a lot of parents and young players who are like, hey, I really appreciate this. I'm working with this on my son, or my daughter and your drills really helped. So that's kind of where the drive to do it comes from.
Fabio Molle
Your drills do really help. And I know I did mention - I was only trying to joke with you calling you an influencer - you definitely don't come across as a typical influencer. And you're putting out some great content out there, which I love, which that's how I started following you all these years ago, because you'd started that path already. So from early on, you're putting out some good content. And it's hard to find really good content and you're very, you come up with, you know, you're what will be the word you're a bit of MacGyver. Do you remember MacGyver? In lockdown, you figure out how to do drills on top of your, on on the top of your apartment block and you're doing different things. And you know, you're always trying to figure stuff out and make and do what you have. And I think there's a lot of people stuck in bad positions during lockdown and with your content that would have helped them a lot. So I can see where that feedback when get that feedback from parents and other coaches and kids.
Gary Kushnirovich
I appreciate that and yeah, I am a big believer that if you're passionate about something, you're going to figure out a way, right like there's so many times when we aren't - we don't have access to the best courts, or the best facilities or being you know, if you're on lockdown, or in lockdown. You can't leave your your home and if you're passionate about it, you'll figure out a way right you'll volley against the bathroom door or you'll work on footwork in the four square feet that you have between your kitchen and your bathroom or whatever it might be right and you can figure out a way to get better. And I think that sometimes people focus on the, on the I can't versus what can I, you know, and I think that that's really an interesting mindset to be in because it forces you to be creative and, you know, figure out a way like you said, to MacGyver your way through the situation.
Fabio Molle
Tell me I know you got a Slinger bag. You actually won a Slinger bag. And tell me, Slinger - I'm not sure if you know are our new podcast sponsors here. So this is just working out really well. How is your Slinger bag?
Gary Kushnirovich
It's incredible. Honestly, I had a ball machine when I was a kid. We, you know, we spent, you know, saved up for it. And I think it cost us like $2500 and at that time, so it's you know, whatever with inflation and all that. Probably by nowit's way more. But I just remember it being so cumbersome. I hated using it. It was such a hassle to get out of the house to get to the course to set up. And actually the Slinger bag is now my, my entire it's like my basket. It's in my bag. It's where I keep my waters. It's what I charge my phone with. It's the whole nine yards. It's incredible equipment. It's incredible piece of equipment. I shamelessly promote it because I love it. There's incentives that they've brought in later on. They're like, hey, do you want to want to partner with us in some capacity? And I was like, guys, I would do this for free. I don't need the incentives. But I do appreciate it. It's a tennis players best friend. You know, like, the number one thing that separates, you know, really good players from average players is hours on court, right and it's so hard to go out and get the extra reps and now you have no excuse if you have this bag, you can go out and get the reps in on your own. And it's portable, it's lightweight, it, you know, it's user friendly, and the topspin feature. I've gotten very few complaints about the topspin feature, but that's like the only complaint that I've gotten that it it feeds quote unquote too aggressively. Like, okay, if you can handle the spin of a topspin feed, you can obviously lower how aggressively it feeds and you can have it like ballboy feed it to you. But if you could get used to an aggressive topspin feed, a regular ball is routine for you. It doesn't even faze you. And so why wouldn't you want to train with something that's going to give you something that's more difficult, right? So that you instead of you having to, you know rise to the occasion of the really high quality ball that you'll see when you play. You're actually like, oh, I've seen way harder than this. This is very easy for me. It's really incredible.
Fabio Molle
Look, I think the guys at Slinger will be delighted to hear that. So that's, that's worked out well. It's been amazing having you on and I can't wait to see some more your content, you did say you're gonna make us a little pointer video. So I look forward to seeing that.
Gary Kushnirovich
Yes, I'm, I'm excited. I outlined some drills, you gave me some good ideas as well of stuff that I haven't done so I'm going to you know, put that together hopefully this week and then post it on my on my Tennis with Gary channel and on my YouTube channel maybe as well and so if anybody's interested in following that, you have to tune in, you know, for some great quality stuff, you know, I appreciate that you're, you're trying to get me to do it because I'm definitely in. I use it all the time. It's an incredible product, you know, for working on your sweet spot and seeing the ball and tracking it and staying focused. It's I played points with my 10 and under kids with it. Which is really hard, but it evens the playing field. So it's a great, great tool.
Fabio Molle
Great thanks. So for anybody who wants to learn more about Gary, check him out on @tenniswithgary. And it's been great having you on Gary.
Gary Kushnirovich
Thank you so much. I appreciate you, Fabio.
Fabio Molle
Thank you. Thank you for listening. I really hope you enjoyed that episode with Gary. A huge thanks to our new sponsors Slinger and I'll be back next week. Take care. Bye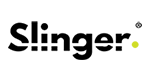 PODCAST POWERED BY SLINGER