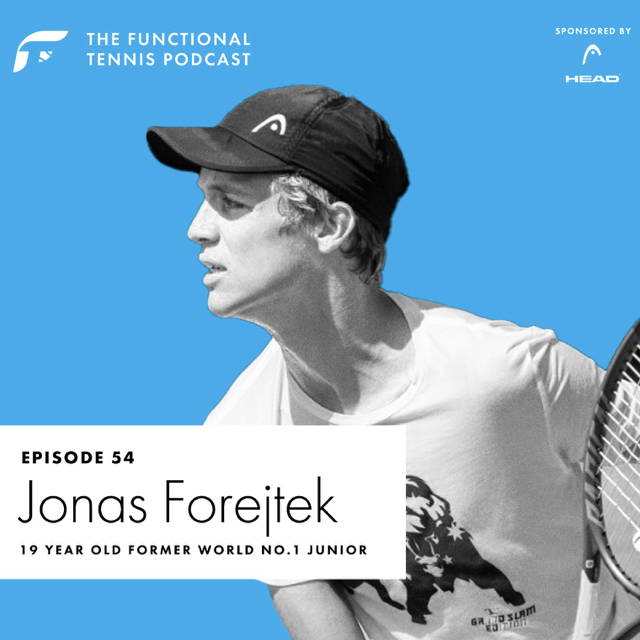 Jonas Forejtek joins us this week for episode 54. Jonas is an accomplished junior player - who reached the world #1 ranking.
He talks to us about hitting with the Tennis Pointer (wooden spoon), changing his on-court mentality, winning the US Open, playing Davis Cup & much more.
It's a shorter episode this week, but still very interesting!
Don't forget to let us know what you think of the episode and leave us a review on iTunes.
Enjoy!
If you find it interesting please share with your tennis friends and family.

Thanks to our sponsors HEAD who allow us to have a producer and a better sounding podcast 🙏
Jonas Forejtek
Hi, I'm Jonas Forejtek, and you're listening to the Functional Tennis Podcast.
Fabio Molle
Welcome to Episode 54 of the Functional Tennis Podcast. I'm Fabio Molle, your host. To get us started I have a question for you, have you ever seen the video of a young blonde kid playing tennis with a wooden spoon? I better you have. That video was taken seven years ago and its one of the most famous tennis videos online and it featured a 12 year old, Jonas Forejtek - who is today's guest, playing with a wooden spoon that his coach had invented based on the Pete Sampras prostaff racket. Jonas who recently turned 19 won the Aussie Open Junior doubles title as well as the US Open Junior boys title and in September, became the world's number one junior. Since then he's risen to inside the world's Top 500 in the mens rankings, and we can expect to see him rise quickly over the next couple of years. Before we start our chat with Jonas and to celebrate Jonas's introduction of the wooden spoon, which we now call the tennis pointer to the tennis world and it's an integral part to the Functional Tennis business, we have 10% of all wooden spoons, which is now available in three models, the jr for kids, ages six to 10 years old, which weighs in at 285 grams, a midsize at 315 grams, which is our most popular model and the recently introduced pro model which is for players who play with a heavier racquet weighing in at 345 grams. Use the code Jonas that's JONAS when you checkout at functionaltennis.com and receive 10% off any pointer order. If you have any questions at all regarding the pointers, just send me an email at ace@functionaltennis.com or DM me at the Functional Tennis Podcast Instagram account (@functionaltennispodcast). Finally before we get started, shout out to our podcast sponsors HEAD. You're amazing guys. Here we go. Hi, Jonas, welcome to the Functional Tennis Podcast. Great to have you on the show. And yeah, excited. I've been wanting to talk to you for a while. Obviously, we can start this off with your famous video as a 12 year old and you hit with the wooden spoon that has been doing the rounds. Everybody must have seen it. Tell me do people get onto you about that video all the time?
Jonas Forejtek
Yeah, they get to, like they're talking to me a lot. Now, because of the video. Especially when I have like a good result. They are always asking if I'm using it still or if I'm not using it. But actually, I am not using it so much since I'm like 16. So I was playing with that a lot when I was around 12/13/14 and now not so much anymore - just for fun.
Fabio Molle
And when you did use it, your coach was Jiri Bartos, am I correct?
Jonas Forejtek
Yes, he invented it. His first idea was that it should be just for him, actually. And then he gave me to try it. And then he saw that it's good that I can hit without friends. So then he started using it, then he used me that I can, like do a bit of, I don't know, I you know what I mean.
Fabio Molle
And how often, you say use that when you're 12/13/14/15? How often did you use it?
Jonas Forejtek
Oh, every time before the practice, so when I went on the court, I used to play with it for five to 10 minutes every day. And then I just played with a normal racket.
Fabio Molle
And do you feel that it has really helped you?
Jonas Forejtek
It helped me because sometimes I was like, or maybe I can feel like I'm falling back from the shots. So when I'm playing with a small racket or with a wooden spoon, then I have to keep my body still and it's helping I think.
Fabio Molle
Very nice and tell me a lot of people who use it always say they try and use like a western grip with it heavy topspin heavy grip. When you use it, what grip do you use?
Jonas Forejtek
I have a normal grip like mine for forehand and backhand. So like my normal grip, but I'm not using so much spin. So I'm playing more flat because if I use spin, it's almost impossible to play. I have the same grip as I play because if I would change the grip, then it would be not so good.
Fabio Molle
Oh, interesting point. So advise people not to change the grip. That is interesting. And tell me Alexander Waske, where you trained was telling me that there's another kid in there that you said that hits the ball even better with the wooden spoon?
Jonas Forejtek
Oh, yeah, I mean, I saw some videos. The other people they can hit it also really good. So I mean, it's interesting to see I started playing with it and now I can see a lot of videos like that kids are playing, playing with the wooden spoon. It's nice.
Fabio Molle
It's crazy. We even get like professional players like top 100 who have used them and buy them. It's pretty crazy. So you're definitely a trendsetter. You're from the Czech Republic. When did you move to Germany?
Jonas Forejtek
Oh, so when I was around 13 or 12/13, I moved to Germany because there was a head coach that was like, half Czech, half German and I know him very good. I used to practice with his mother. And so I went there, and I was always going there and back and I was always in Germany, maybe for two weeks, and then two weeks in Czech Republic, because I was still doing school. So I couldn't be there full time, but I was there pretty often.
Fabio Molle  
Did you ever move there full time or you still did time between both of them?
Jonas Forejtek
Now I practice more in Prague, so sometimes I'm in Germany, but I'm also practicing in Prague.
Fabio Molle
Okay, interesting. When we spoke to Alexander as well, he did say that you wanted to change your forehand because you felt you weren't hitting it hard enough. And he had said, Look, you just got to stick it out, stick it out, and eventually it will come good. Was that hard for you not to change?
Jonas Forejtek
I remember that a bit because I was always like, smaller than other kids. So I was mostly like defending and I didn't have power. So I wanted to put like more power on my friends, but I think it's good that we didn't change anything because the technique is more important because now I grew up and I think it's flying pretty fast.
Fabio Molle
Yeah, anytime we share one of your videos of your forehand, it's so smooth and people go wow, that is a really smooth forehand and you do generate a lot of pace. So for you, what's the secret in your pace is it mostly down to technique?
Jonas Forejtek
I don't know actually. I remember I was not playing so fast like when I was younger, but I remember like one and a half years ago or two years ago when I was playing Wimbledon for first time, I saw Nadal practicing there for the like in practice, and you know how he is in the practice. He's like, full power every for shot. So then I got like, a bit inspired and I tried also to hit more, more powerful and that's why and I felt comfortable with that. So now I'm playing a bit faster.
Fabio Molle
There you play full power. Tell me last year you had a great year as a junior. You won the Junior Aussie Open doubles, and then you won the US Open boys, as well as becoming the world's number one junior, which is an amazing achievement. But I did hear that last year you had to change your mentality a little bit - that there was some research done on your matches, and you weren't giving everything. How did you change? What did you do to give everything?
Jonas Forejtek
So again, when I was younger, when I started losing, I got a bit like angry or mad and I started to give up too early. So when I lost like close first set, then I used to like give up and then the second set would be like 6-1 or 6-2. And now, when I was playing last year, I was just fighting for every point. And it's much better I was just trying to like just fight for every point no matter the score, and that's what I did and it really helped.
Fabio Molle
So it was like a switch was it? Flip the mentality switch and all of a sudden it changed?
Jonas Forejtek
Yeah, it was even last year I had like maybe one or two matches where I was like mentally not the best that I kind of gave up. But it was just like one or two matches, which was much better than previous years.
Fabio Molle
And do you have any cues for that or you just remembered all the time? Do you write any cue words on your racket or write on your hands to say, look, keep fighting or it's just all in your head?
Jonas Forejtek
I don't have anything. It's just like I'm thinking of it, then maybe when I'm going to sleep the day before, I'm always like focusing that I should fight for every point and that's what I do, but I don't have anything like on my racket or on my hand or anything.
Fabio Molle
Oh, okay. And now you're fighting more on court, do you fight more in the training sessions? Do you find your intensities gone up? Or is that always been the same?
Jonas Forejtek
It's I think it's better in the matches a bit. Because in the matches, I just like five for every point, and in practice is sometimes if I'm not playing the best, then I get a bit mad. But it's because I want to play like good also in the practice. And then if it's not going well, then I'm a bit a bit mad, but I think it's getting better.
Fabio Molle
Well, I've just been reading one of the Federer books and you know, when he was young, it took him a few years before he channeled that energy in the right way. And so yeah, what was it like winning the junior boys at the US Open last year?
Jonas Forejtek
It was amazing. I mean, I knew that it was the last chance. Actually, I was already happy that I won the two grand slams in doubles. But I always wanted to do good in singles. And my biggest chance, I think, was the French Open, but I didn't use it. I lost in the third round, I think. But then I was playing well at US open and that was really nice. And then the next week was Davis Cup so it was a really good two weeks for me.
Fabio Molle
You played Davis Cup?
Jonas Forejtek
Yeah, the next next week after the US Open, I played Davis Cup against Bosnia, and we won 3-2. So it was really nice.
Fabio Molle
That's great. I'm just going to cut back to the US Open again. So I also heard that you won it and you said you didn't play exceptional in any of the matches, it was just that this new attitude really helped you.
Jonas Forejtek
Yes, I think so. Because, but also at the US Open, it's really hot and everything. So when I was fighting for every point, then it helped, but then also, maybe I was not playing the best first set, for example, in the finals, but then I got a bit more relaxed and I was playing already much better. But I think I was playing okay, like, pretty good. It was not, not the best, but I think it was pretty good.
Fabio Molle
But so would you say, your success there came down to your change in attitude though?
Jonas Forejtek
Yes, I could say that. So I was not giving away any point.
Fabio Molle
And so just from that change of attitude, what is your advice to other juniors out there who, you know, who may you know, they get carried away, they don't try - what is your number one advice to a 15 year old up and coming junior that says Jonas, what's the one thing I can do that can help my game?
Jonas Forejtek
I would tell him that first he needs to think about himself. Why is it happening? And then he has to do it himself. So he has to focus on why is it happening? Or, you know, because I don't know how he's feeling on the court, because everyone is feeling probably different. So he has to think about himself. And then he will for sure manage it, how to not give up or how to fight for every point.
Fabio Molle
Great, so that was a good end to your junior career. You had a bit of a run at the ITF World Junior Championships. And then you made the transition to senior game. How's the transition? I know the seasons been short this year. How's the transition been earlier on in the year?
Jonas Forejtek
Earlier in the year I was playing some futures from beginning of the year, it was not so good in Spain. But then I was playing 3 really good futures. So the transition was actually not bad. I was really looking forward to the clay season, but it got suspended already in March. So it's a bit unlucky, but we cannot do anything, but I'm using the time because I'm still, like, young in the senior game. So I can improve a lot of things I think.
Fabio Molle
Definitely, we can all improve no matter what age, I think players can always improve. And for you, what's the biggest difference when you play like, let's say a Grand Slam Junior match versus a Futures match, playing like a more veteran pro on the futures tour.
Jonas Forejtek
It's a bit different, but I'm trying to focus on every match the same so I'm trying to just play every match the same, it's a bit different, that I don't have so much pressure on Futures, you know, but every match, I want to win. So, for me I want to take every match the same maybe there is not so much pressure on the Futures when I'm playing first round as on Grand Slams or at Davis Cup, but I want to take every match in the same.
Fabio Molle
Great and from an opponent point of view how are they different? Like is it just is it such more of a dogfight at the senior level?
Jonas Forejtek
Yes here also now I finished school so I feel like that I'm doing like tennis - that's my all. So I don't know how to say but it's like that I have to do with everything 100 percent not give up anything and all the practices 100 percent. That's, that's how I'm doing it right now.
Fabio Molle
Great. And tell me, you just finished school there?
Jonas Forejtek
I yes, I have finished school, I think one or two weeks ago. So finally I'm practicing again.
Fabio Molle
No more exams.
Jonas Forejtek
No more exams. I finished it was actually lucky because I was a bit laid back with the Coronavirus. I had more time for the school. So I finished it.
Fabio Molle
I think that's really important. You finish school, too many people still finish school. And I think that's great. You played a tournament last week. Where was that?
Jonas Forejtek
Oh, last week it was like in Czech Republic, close to Prague for 16 players. There were like four groups by four people. And then there was only one was going to the semifinals. And then there was a final but I was lucky. Because, somebody retired because he got injured or something.
Fabio Molle
So that's how you won it, is it? Have you practiced with Tomáš Berdych?
Jonas Forejtek
I think I was practicing with him only once when I was around 15/16. But only once I was playing with him.
Fabio Molle
You'll have to move to Monte Carlo maybe to practice. If you still play, you need the Grand Slam win for that. And so looking back, what's been your most memorable moment on a tennis court?
Jonas Forejtek
Most memorable - I think it was the US Open when won the US Open, or when I went the next week after US Open to the Davis Cup, the deciding match. So that's the two, which I enjoyed the most on the card, which was like, all the hard work paid off. And it was really nice.
Fabio Molle
Thats great. So many players say Davis Cup, is their most memorable moments. Do you like being part of a team?
Jonas Forejtek
Yes, it's amazing. We got on the normal tournaments, the fans are not cheering for us so much. At least not in the juniors. So it was really nice to play in front of the in front of the people and Davis Cup. It was nice.
Fabio Molle
Nice. Well, I'm sure there will be many more Davis Cup matches for you. Just while you're traveling, something that people are interested in now is like the size that when you travel, what sort of team would, I know you can't travel at the moment but if everything was normal next week and you'd began the clay court season, what sort of team travels with you?
Jonas Forejtek
With me, now I have like my tennis coach - personal tennis coach and fitness coach. It's like half for me and a half for Karolina Muchova. So if the perfect situation, if it would be like a really important tournament then I would prefer to travel with both of them because I think it's important to have a tennis coach and also fitness coach because he takes care of me physically and he also takes care of the food. So with this tool, if I would travel then it would be perfect but it's fine also when I practice when I travel only with my tennis coach right now.
Fabio Molle
It's nice to even have a tennis coach to travel with you know, most players don't. And apart from your tennis coach and fitness trainer, how important is nutrition to you?
Jonas Forejtek
I hate always like nutrition plans, but I was not doing them perectly. So now we started after the school exams, we started in like a really professional way. So I'm taking care of food and I feel better on the court because I used to be always like, sometimes tired or in the practices I was not 100 percent ready. And when I take care of the food it's much better I think.
Fabio Molle
What food gives you your energy? Is there anything that works really well for you?
Jonas Forejtek
Not really like something special, I eat at lot of like fruits & vegetables and everything but mostly only the healthy food but I actually a lot more healthy.
Fabio Molle
Whats your one go to food for when you want to treat yourself?
Jonas Forejtek
What I like I just like pancakes or something sweet. No matter what, no matter what, it's sweet. I like it.
Fabio Molle
I love it. Great. And I saw you last week you're playing with - now we will talk about your racket and funny enough HEAD sponsor this podcast, which they will be delighted to hear that you're on the show. You were playing with the extreme. You normally use a radical, so what record are you playing with?
Jonas Forejtek
Actually, I used to play with the radical but now already, I don't know pretty long or not long. From the beginning of the year, I started using the new extreme, it will be called Extreme Pro, I think. So, it's not the thick frame. It's a bit thinner and a bit smaller head. So that's what I'm using right now.
Fabio Molle
I'm a radical player. I use them all my life, I love them. And what's the difference between the Extreme Pro and the radical?
Jonas Forejtek
So, Extreme is flying much more, it's like much more much faster, and maybe takes a bit more spin. But it has a bit less control, I would say, a bit less control but much better speed, or much better. It's just flying faster and more spin back a bit less control. The radical, I changed because when I was playing Futures, they are changing 11/13 the balls. And sometimes it's like when I was in Turkey, for example, or in Spain, it was always like, cold or a bit raining and the balls were getting heavy.So now I feel really comfortable. I have also got good control with it. And I have also a good control and it's a good racket for me.
Fabio Molle
Nice. It's good to hear the player insight on why you changed. It's where we get to hear that. And finally what's the plan I know the tour is a bit all over the place. What's your plan at the moment for the next couple of months?
Jonas Forejtek
So, we have, again the national tournament in the Czech Republic. And for example, next week we have also have a friendly match with Slovakia. We are playing kind of Davis Cup against Slovakia in Prague. Saturday, Sunday or actually this weekend. So, Saturday & Sunday its Davis Cup, and then next week, I will play some Czech tournaments and then let's see when the tour will start. I will keep practicing for sure. And hopefully 17 August it will start.
Fabio Molle
Great. And finally, what's one thing that you're going to come out of COVID that's going to be much better on your game that you've been working on?
Jonas Forejtek
I hope I will be much stronger physically. I will do just everything more professionally. I will not have like the, I don't know, drop downs or however you say it. So I will be just like, I want to have my constant level on a bit higher level than it used to be.
Fabio Molle
Great. Okay, that's great. It's good that you're working on it because I'm sure some players will come out of COVID better, fitter, stronger, and they've worked on parts of their game and other players will come out slower, weaker, and quitting the tour. So hopefully you're on the right side. But thank you very much for that. It's great speaking to you, and I hope to see you on the tour at some stage.
Jonas Forejtek
Thank you very much. Thank you.
Fabio Molle
It was great speaking to Jonas and I look forward to him moving up the rankings over the next few years. Remember, we've 10% off the tennis pointer at functionaltennis.com when you use the code JONAS, as I said earlier, if you have any questions about it, send me a DM @functionaltennispodcast Instagram account or email me at ace@functionaltennis.com Until next week, get out there, hit some tennis balls. Go enjoy yourself. Goodbye.

PODCAST SPONSORED BY HEAD