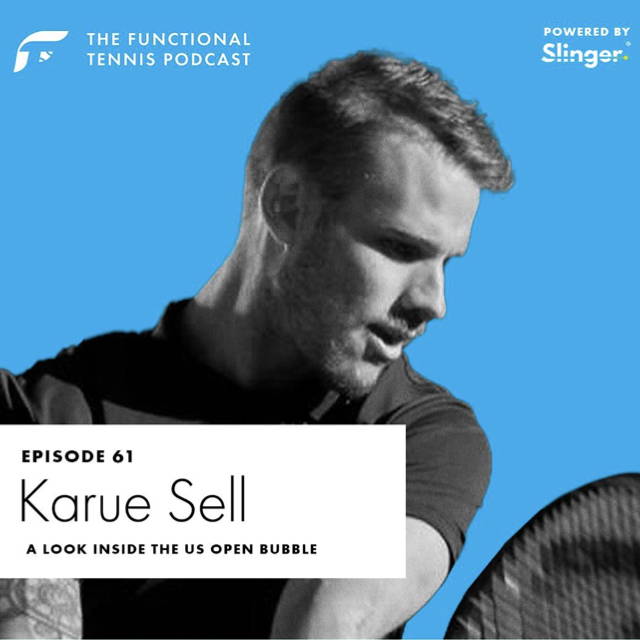 A look inside the US Open bubble
Karue Sell, the hitting partner of Naomi Osaka talk to us from New York about what life is like in the bubble.
He is staying in private accommodation with the Osaka team and gives us an insight into what daily life is really like and what has changed in this edition compared to other years.
Karue actually talks to us from the players suite inside Arthur Ashe Stadium 🤩
Enjoy!
If you find it interesting please share with your tennis friends and family.

Huge thanks to our sponsors Slinger who allow us to produce the best possible episode every week 👌
Karue Sell
Hi, I'm Karue Sell and you are listening to the Functional Tennis Podcast
Fabio Molle
Welcome to Episode 61 an unplanned bonus episode of the Functional Tennis Podcast. I thought it would be great to get some insight into the bubble at the US Open and have Karue Sell back on the show. Karue was a guest on episode 53 talking about 10 things he has learned as Naomi Osaka's hitting partner. It's a great episode and if you haven't listened to it, add it to your podcast queue. Today, Karue talks about life in the bubble with the Oskaka team. Before we get started, a big thanks to a new podcast sponsor Slinger makers of the new portable ball machine, the Slinger bag. Okay, let's get started with Karue. Hi Karue, welcome back to the Functional Tennis Podcast.
Karue Sell
Thanks for having me back.How's everything?
Fabio Molle
Everything is good on my side. Thanks for making the time to do this quick bonus episode of the Functional Tennis Podcast and to get what life is like on the inner side. But before we start, can I just ask what's that new Nike gear like?
Karue Sell
Oh, it's so nice. I mean, I'm trying to get as much as I can to be honest because it's such a nice collection. I mean, there's so many different shirts and shorts so it seems like everyone's kind of wearing something a bit different and somewhat unique so it's actually been really really cool it's like what I think one of the best collections I've seen in a long time to be honest.
Fabio Molle
Great and two things - do you just get onto Naomi and go Naomi get your Nike rep to sort me out? Is that the way it works?
Karue Sell
Yeah, we kind of as a team, there's like a budget for the team so we can get stuff, we don't even go through her just straight through the Nike rep and you know, they do a great job of hooking us up and even Wim now is wearing Nike so everyone is everyone is swooshed out, so can't complain.
Fabio Molle
Great and does the challenge court give you an extra bit of confidence in your game? Reliving the Agassi days?
Karue Sell
It does it kind of makes me want to, you know, compete on it. It's like I need to play a tournament just to just to go out there and and see how it feels on the court
Fabio Molle
If you wear clothes like that - you got to have the game to back it up. You could waste it on me, but I'm sure you could represent it well.
Karue Sell
Oh yeah, I'm ready for it
Fabio Molle
But let's get on to your journey to the US Open - well to the US. You're not playing US Open this week but that's where all goals lead to. When did you get to New York?
Karue Sell
We got to New York last Monday. So we flew from LA. We actually take took a private jet just because I mean, obviously it makes sense for Naomi not to risk, you know, being at an airport. There's no reason to take that risk. So that was like a really, really cool experience. And yeah, we got here on Monday, went straight to the hotel to get tested. That's the first thing you got to do. Straight to the hotel, get tested. And then back to - we're actually staying at a house. Most people are staying at a hotel but we actually stayed at a house and then back to the house until we had the negative results. We actually got the results like way quicker - it wasn't 24 hours. Like we've got it in the morning already. On Tuesday, last Tuesday. And yeah, and then from there, just you know, practice we had our second COVID test 48 hours later. And then we actually had one what was it two days ago again? So yeah, it's been it's been like you know, obviously super safe and you know, they are doing a great job like making sure everyone's safe but at the same time not like you know, completely jailed somewhere.
Fabio Molle
Do you reckon that the Naomi seeding helps getting the result back a lot quicker? Because some people are waiting 48 hours
Karue Sell
Really? I don't I don't. I don't know. Honestly, to be honest, we were just like, we just got the text in the morning. Maybe but I don't think so.
Fabio Molle
And how many people are on your team?
Karue Sell
We have four.
Fabio Molle
So is it you, obviously Naomi, is there a physio in there?
Karue Sell
Yeah, physio, fitness coach, coach.
Fabio Molle
Okay, great. That's a nice, nice team. Do you feel there's like, how cautious are you, obviously, we heard with the players during the week that their physio was it their physio had tested positive and it ended up being negative.
Karue Sell
Yeah, the physio actually doesn't like - we weren't able to get her a credential. So she actually only stays in the house. Because, you know, she, you can only get three. So you need like the three people that are necessary on the site, and then you know, Naomi can do the treatment at the house. So yeah, they're being very strict about it like no one no one's getting, you know, any extra perks.
Fabio Molle
Okay. Well that's really fair. Obviously, a lot of people probably don't even have three, they only have two people with them so and how do you get to the grounds?
Karue Sell
So we because we have you know we're at the house we actually have the owner at their house like, gave us their car so we were driving but we can only like when we drive we have to send our location of our drive so they people can watch that we're going straight to the site.
Fabio Molle
Do you have security all the time with you?
Karue Sell
No, actually no. We have cameras and stuff but actually not. It's not like that, like we have security all the time. We just do a good job doing what they ask. And, you know, we obviously I don't think anyone's like, stupid enough to actually, you know, break the rules because they know she can get disqualified and all that stuff. So you know, everyone is just following the rules. We go from house to site and site to house - thats it. I thought we were going to have a guard at the house but we don't have that I don't know if the other players are staying at houses have it but we don't have it. They had cameras installed in the house. I don't know who was like watching that or not. But yeah, it is like, you know, precautions and we you know, I'm sure there's going to be an exception that we are going to have to like stop for gas at one point, you know but most of it is just us. Then you know, obviously super nice - security on site. It's like they are obviously enforcing it. Everyone wearing masks. We have a suite so that's you know that's kind of where we spend our entire time pretty much.
Fabio Molle  
So you're in the suite right now are you?
Karue Sell
Yes
Fabio Molle
Who is that playing on center court?
Karue Sell
Tommy Paul and Francis Tiafoe.
Fabio Molle
Oh nice and tell me what's that been like? You've had some if anybody doesnt know Karue has his own personal site - my tennis HQ Instagram account which puts up some good content live from the suite - I am really jealous of your access to that content. Who have you enjoyed watching the most from the suite?
Karue Sell
From the suite, I had a day where I watched like a practice said with Thiem & Zverev and they looked pretty good but obviously that didn't translate into the match and so but watching it like I kind went downstairs so I could watch it up close. But you know, to be honest, not a lot of the big dudes playing here - I saw Novak once but didn't really see like Medvedev like some of the other guys - they have been practicing outside, I guess they like hitting on the outdoor courts. So, in here not too much, but I've been I've been doing a good job when we when I had the time to go watch the matches and all that sort of been it's been fun like weird watching it with no one there but it's also like it's a very tennis focused tournament like there's not a lot of you know, the spectacle outside you know, for the fans and all that kind of the bodies moving all the time. It's just all tennis so is it's kind of enjoyable if you're in the circle.
Fabio Molle
And is it's they say it's like a junior tournament a little bit.
Karue Sell
Yeah, well, yeah, it feels like a, like a junior tournament. Or like a Challenger. Or any any other tournament that is not ATP or WTA.
Fabio Molle
Or a doubles event.
Karue Sell
Yeah, exactly. So it's nice.
Fabio Molle
And is Tsitsipas one of your neighbors there?
Karue Sell
Yeah, there are neighbors. It's kind of funny because Naomi and him are like kind of friends. So it's been cool with Tsitsipas and I think Shapovalov is next door - who I havent seen.
Fabio Molle
Oh nice. Maybe the top players don't want to train there because then the other guys you know they get a little bit of insight into what we're working on so they probably want to train on court 20.
Karue Sell
There are no surprises like everyone is like they can watch everyone practice it's like they can go watch matches because there's not a lot going on so there you can tell there's a lot of people just going and watching some tennis and and whatnot so it's like kind of funny like no there will be no like surprises everyone can see what the other players are doing so they have got to go out and play.
Fabio Molle
And so you can just go when you're not with Naomi or not training or not back at home. How long do you spend at the site?
Karue Sell
For me it's like my job is hitting with her. So like, you know, she always has, you know, a bigger warmup a longer recovery session, fitness so before we started, obviously, she was having her fitness sessions after we practice. So those are long so during that time I was walking around the side obviously when we had to leave, I leave because I am not allowed to drive. So now I have to always go when the team goes, but we do spend a good amount of time here. I like going out and watching so I you know, I watched Murray a little bit, I watched Medvedev a little bit so when I have the time in between sessions and you know, she has press and you know, she's a star so she has a lot going on you know, I get to go watch a little bit.
Fabio Molle
And how is Murray moving? I know you had some content up of him.
Karue Sell
It honestly seems fine. The one thing you can tell he doesn't have like those very sharp, like brakes, you know, the ones like he's pulled out on the run gets there and really like that impact on the hip. I think he just has, he needs a few more steps these days to brake and come back. Like when he's doing like typical Murray running catching every ball but like in normal point situation if he's hitting and is dominating the point. He actually seems fine I mean obviously not 100% but he seems okay, doesn't seem like he's in pain and if anything when I watch him and Tiafoe - like the one thing that seeing his timing just seemed a bit off it wasn't like there wasn't like the oh he's not moving or serving he was like missing a lot of first serves and all that and he like when he had some easy passing shots but it was more like the timing you know, the match timing than anything else. But obviously he won yesterday so it's like improving.
Fabio Molle
He will only get better and better. And tell me, what was it like in the in the players box in the empty stadium last night for the Muchova match?
Karue Sell
It was interesting. I guess like for us like we are not paying that much attention to the crowd anyways, like we really like you know she is the focus so for me it doesn't really, I don't think it mattered that much for us. It's just odd, right? She's playing on court 17 which she will never play probably. And, you know, there's no one there it's Naomi Osaka, but you can tell there's all the photographers that can be in here, were there and so, you know, it's, it's different. But I just, I at the end of it, I've said it to a couple friends. Like, for most players, this is kind of normal, you know what I mean, it's like you, you play with some fans, but, you know, if you're not ranked in the top 30 it's not like you're playing in front of thousands of people every time so I think they're used to it. Obviously for Naomi its a bit different but she was like so focused on the match yesterday that I don't think she even like noticed that much. And I know she does get you know, a lot of support everywhere she plays, but at this point, I think everyone has been out for so long. They just want to play like whatever. Whatever they can get. Yeah, no matter what.
Fabio Molle
Do you think that with less distractions there at the tournament, there's going to be actually more focus from the players?
Karue Sell
I mean, it seems like you're right. I mean, all the seeds are losing, which is kind of kind of odd like, man, then when, I think, I don't know, who was last on the women's side, Serena almost lost. I mean, Naomi obviously had a tough and everyone else lost. And the mens side too some of the guys like are losing and losing So, um, everyone seems like there's nothing - there's not a lot to do. So they're going to step down practice more they will be on the court more. But yeah, I mean, I just think everyone is in I wouldn't say like, necessarily, oh, everyone's more focused, but everyone's excited to be playing. So I think that's a big part of it. Everyone, is just kind of glad that they're able to be here and competing.
Fabio Molle
I can only imagine Karue, I know you've ordered your Uber Eats there.
Karue Sell
So we for food is like if you're in the suite you just order into the suite from the you know they have the player dining but yeah, they would just bring it up here so that's been nice so you don't crowd the player dining isn't too crowded so we just order from like an online menu and he comes up like super quickly so its actually super super nice. I think players after this year - they're going to be like man we need this suite thing, every tournament with your own space, your own team. Yeah with your own team, you don't really have to like be around, you know how tennis players are - they can get a little like chippy with each other. So, you know, they want to just have their own space. And so I think I think everyone's going to miss this and the next tournament doesn't hurt.
Fabio Molle
True and I've just four quick questions for you. Do you think that model could work in the future? Let's say Australia could be the same situation. I'm not sure exactly what's in Roland Garros more open to fans, but do you think this bobble method will work?
Karue Sell
Yeah, I think so. They're giving a good blueprint here. I mean, there's obviously probably things that you know, once the tournament is over and they will be like, we could have done this better. And I think I would assume the tournament's are in contact with each other like, hey, like what is working what is not so we can do a good job. I even got someone from Tennis Australia to ask me a couple things like, oh, how is it like, what are they doing? So, I think they already are. And we might have to have a bubble tournament. So I think it's very doable. Again, I think it's always the toughest part is the travel is you know, the, the risks you take on an airplane or airport, whatever it is, but I think once you're here, and you are taking the tests and all that stuff, you think you're okay, and you know, they're doing antibody tests, like I had COVID, like, about a month and a half ago. And so I have antibodies, so I'm actually kind of, kind of like one of the safest people out here.
Fabio Molle
I didn't know you had COVID. Does your body feel good now?
Karue Sell
Yeah, my body is fine now I had like I had the symptoms and everything for like three days and pretty much the entire month of July I was I was out so it was one of those things like we obviously kept it kept it small. Yeah, I didn't say anything because you know we're obviously like we're not going to like announce it but once until I was until I was healthy but I've been healthy and now I got the antibodies tests and I actually have the antibodies for now. So I don't know how that how long that takes to get out of your system. But for now I have it. They're doing such a good job. Yeah, I'm like super good. But again, it's still being super safe. And I see the same four people every day. So hopefully we'll be here for a month seeing the same four people until we want to kill each other.
Fabio Molle
I'm just moving on quickly here. Have you been leaving plastic bottles on the side of the court?
Karue Sell
Me no. I find that crazy that people are doing that. I saw that Vika- she was not happy about it. But like yeah, just like, especially with this. It's like don't leave your bottles that you put in your mouth you know on the court like that's just so stupid
Fabio Molle
And yeah very true. Second last question - how do you keep occupied during the day back at the house or if you're not watching tennis?
Karue Sell
NBA. It's actually been amazing just watching so much NBA. It was like we got back home usually like the games have started and we've pretty much watch it all the way to the end of the day. I'm doing some amount of like tennis HQ stuff too which has been you know always keeps me busy when I'm home. Yeah, I mean there's a pool in the house so like you know, you're just finding ways to pass the time but like once the thing is when she starts playing the days are much longer you know, you're we only got back yesterday around like 9/9:30 so but so it depends on really during match days like the days are long so there's actually not a lot to do you got home, eat, go to bed
Fabio Molle
And last question. Where's Naomi now?
Karue Sell
She is eating.
Fabio Molle
We will get her on at some stage after US Open.
Karue Sell
Eventually, you know how she's like, she's like, yeah, she's doing like her on the treatment bed, just you know getting stretched out eating.
Fabio Molle
Karue, thank you very much for your time and looking forward to the progress over the next few weeks and I'll be keeping in contact. So yep, thank you very much and speak soon. I hope you got a better idea of life inside the bubble. Finally a shout out again to our podcast sponsors S linger. I'll be back next Tuesday with Episode 62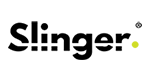 PODCAST POWERED BY SLINGER