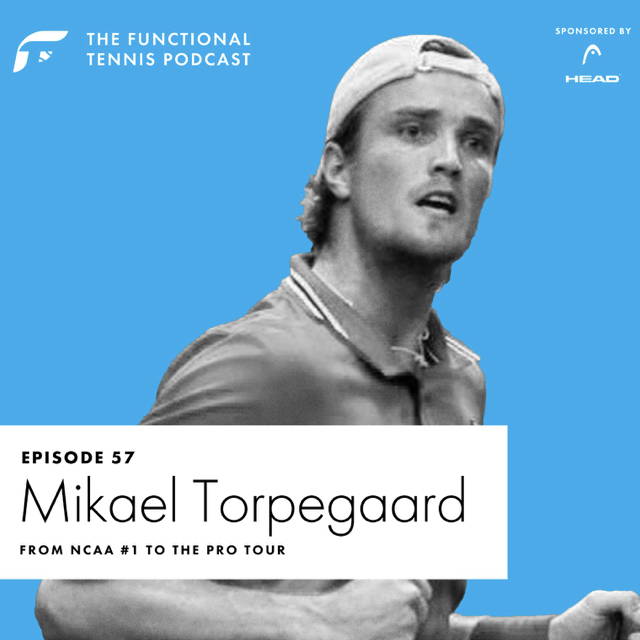 From NCAA #1 to the Pro Tour
We are joined by Mikael Torpegaard this week 🇩🇰
Mikael was an extremely successful college player & has recently transitioned to the professional tour 💯
We talk college tennis, playing Rafael Nadal in Davis Cup, training during COVID and what life is like on tour.
Hope you enjoy!
If you find it interesting please share with your tennis friends and family.

Thanks to our sponsors HEAD who allow us to have a producer and a better sounding podcast 🙏
Mikael Torpegaard
Hi, I'm Mikael Torpegaard and you're listening to the Functional Tennis Podcast.
Fabio Molle
Welcome to Episode 57 of the Functional Tennis Podcast. I'm Fabio Molle, your host. This week I speak to Mikael Torpegaard. Mikael is a former number one ranked NCAA singles player. Last year he had his first full year on the tour with a current ATP ranking of 168 and it's the Danish number one. He tells us all about college life, playing Rafa as a college kid, his first year on the tour and a lot more. Before we get started, shoutout to podcast sponsors HEAD who have just released an update to their HEAD extreme lineup. And if you haven't seen them yet, head over to functionaltennis.com to check it out. our new on court and off court hats. Initial feedback has been amazing. And it's a great way to support Functional Tennis and this show. Okay, let's get started. Hi Mikael, welcome to the Functional Tennis Podcast.
Mikael Torpegaard
Thank you so much for having me.
Fabio Molle
Great to have you on board. Where are you right now?
Mikael Torpegaard
I am in Columbus, Ohio. I am basing myself out of here basically. Have a little set up with all the coaches mental coach, strength and conditioning and of course tennis coach - so I've been spending the majority of my Corona time training.
Fabio Molle
Lets say before Corona, when you finished university, have you been in columbus ohio? Has that been your base all along or do you base yourself back in Denmark?
Mikael Torpegaard
No, I've been basing out of Columbus ever since I graduated Ohio State, it's been perfect. I got really fortunate to meet some great people who are connected to Ohio State who really took me under their wing and helped me out with this transition to the pros from college so I'm very fortunate to be in this situation and be able to get the visa to stay in the States and I've been playing here ever since.
Fabio Molle
And are you based in the university there?
Mikael Torpegaard
No, we are actually have our own little setup about 20 or so minutes outside of the campus, still in Columbus but not connected specifically to Ohio State, though we sometimes practice with them a little bit here and there, but we have our own little setup outside.
Fabio Molle
Nice. And is there any other pro players training which that we may know?
Mikael Torpegaard
Yeah, I have been training with JJ Wolf ever since. We're the only two really that live here and base out of here. But every now and then we have other pro players, you know, come down and hit with us - last month for a month Tennys Sandgren was down here right now we got a couple Illinois guys that are that are some of our friends just to mix up the practice. But me and JJ are basically the only two that really, I guess base ourselves out of here.
Fabio Molle
That's thigh man JJ, the guy with the big thighs. Y
Mikael Torpegaard
Yeah
Fabio Molle
So you had a successful college career which we're going to touch on soon. But before you went to college, how were you as an ITF Junior player?
Mikael Torpegaard
I played a lot of junior tennis. I played all the slams. I believe my career high was 25 or so 24 something along those lines. So I was a good junior, my game was a little bit different back then, I used to just run around and hit all the balls back I wasn't very big. And now I make a lot of points off my serve and that kind of stuff. But before I really hit college, and I developed more physically and and as a player in juniors, there was a lot of pushing a lot of just grinding, you know, so, but I was decent. I played all the slams, traveled a lot in juniors and that kind of brought me into into contact with with the college coaches. I had a coach and so on, but I'm sure we're going to touch on that too.
Fabio Molle
Was there ever a decision to go pro rather than college? Was that a decision you made or did you have good advisors along the way?
Mikael Torpegaard
No, definitely. It was a, there was two decisions that I could have made. One being going pro right away and the other one being going to college. And the first I think, you know, when when the college coaches are allowed to recruit you, I got a bunch of inquiries and stuff from the coaches who wanted me to go to their colleges and that kind of stuff. And the first thing I said, I remember was no way like I'm going to pro but as I pretty quickly realized after - Denmark is a very small country, we don't have like a national center, we don't have any support from the Federation. So it would have been next to impossible for me because it's a big financial decision for a 17/18 year old to not have any support and then go out of pocket for the first year you're playing pro. So with that in mind, I had a Swedish coach at the time who used to play professionally at the same time as Ty Tucker from Ohio State. And they got in contact and you know in the back of my mind the decision started to change, I became more and more interested in going to college and it kind of worked itself out that way because when I made the decision to go to college I still wanted to to use it as kind of like a stepping stone for going pro and that was the main thing and Ohio State - I saw it their history you know and that's honestly what changed my final decision of coming here and seeing that it is possible to go to college and then go pro because to be honest with you, I had no idea what college even was before I got here.
Fabio Molle
Okay, that's interesting. But I think it's a great decision that you made. How would you compare yourself as a junior back then so just before you went to college so your last month playing juniors against obviously a guy who we at Functional Tennis talk a lot about is your compatriot from Denmark Holger Rune?
Mikael Torpegaard
I think, looking back at it, it was the right decision to go to college because 18 year old me was extremely immature on the court. I play a lot different right now. I had no weapons back then. I mean, I had a little bit of a serve coming, but besides a backhand, I mean, my game was completely turned around. When I when I went to college, I changed my forehand grip, the first year of college, I basically survived juniors on a forehand hack slice. So it was it was definitely good to get my game developed and just get a different point of view on it. Because you know, Denmark is a great country in a lot of aspects but just not in the tennis way because we don't really have any I mean, we have a few coaches that are that have been good but just my situation, I didn't see it going very well me turning pro at 18 because my game really really really took a big jump when I went to college. And I don't think I could have been in the situation I am in now without having the development on and off the court.
Fabio Molle
That's interesting about the maturity thing where you knew yourself if you're going to go pro you're going to have issues so obviously that made college a really sensible decision. So yeah, that's really good. And it must be such a tough decision when you are top junior - it looks so easy. I'm good enough to go pro. I'm good enough to go pro but you know, and it's hard to convince, maybe it's harder to convince the juniors that aren't even that good because a lot of them just want to go pro and and it's so difficult and then I think if from what I've gathered from the good juniors get such great opportunities to go to great universities and what did you major in?
Mikael Torpegaard
I majored in strategic communications you know, I was in business for about two weeks before I figured out that wasn't going to happen I kind of wanted a life outside of tennis and school so I kind of went with the commuications.
Fabio Molle
A bit easier was it?
Mikael Torpegaard
Yeah, it definitely was, but it's a pretty broad major, honestly pretty satisfied with that choice. But no, it's it's definitely to touch on what you just said about the transition. I mean, I believe honestly in tennis that that the transition from junior to Pro is one of the hardest things like in any sport you can do like in the tennis world and I had no idea about that when I made the decision. So I mean, I guess it was a little bit lucky that I kind of chose to go the college way but definitly just coming over here, getting the facilities that's another thing about Denmark - Denmark has no facilities whatsoever, and you come over here to you know, a college like Ohio State that has a hundreds of millions of dollars invested into their facilities and coaching and whatnot so it's just a different. We're playing chess over here well while I was sitting back playing checkers back home.
Fabio Molle
Yeah I know, I can relate to that. I think the Irish set up here would be quite like the Danish setup. And the guys who go to the States obviously get what you get as well. All this brilliant set up and you just don't have that here. Cold weather training, not many indoor centers and a lot of other things so yeah, so tell me: How does college tennis change your game? What was the training like?
Mikael Torpegaard
Well, first off, it was the discipline. The practice hours and kind of the grind of it all. I mean, a coach who's got 12 kids who are all trying to make the team it's extremely competitive so you're always fighting for aspot. I know I came in and played one right away but still though you still have it in the back of your head that you're competing not only against your opponents every week but you're against your own teammates for the spot and I feel like that competitive mindset, combined with the massive amount of hours like at Ohio State, you basically practice four hours a day plus the time you put in the new gym and extras and whatever. So just repetitions that I hadn't gotten before I went to college just made a big difference physically and mentally because I went from not having any weapons to finally being like confident and actually hitting the baseline game. And just with that in the back of the head, and during college season, like people don't think about it, but like the top 10 in college every year could possibly play a top 500/400/ 300 ATP level tennis and if you're playing one for a college, all the other ones from different colleges are going to be really good and you get like two or three matches a week that are against other top 500/400/300 players and you just can't afford to take any days off. So it gives you a sense of consistency that is really really, really useful when you're starting to play pro because you see it in many college players, they can go week to week to week to week because they are used to it from a long college season and still perform consistently on the challenger level. Which is I mean, you also know that that's just what you need to do you need to be consistent to make it as professional player because you see all these guys that are doing well one week then less well the other week, you know, and losing a little bit of confidence here and there. In college, it's just so far in the back of your head that you can't afford not to show up in a challenger because you kind of need to be there every time like mentally and physically everything. So that kind of mindset gave me a lot. And I believe it gets a lot of people that from college that aren't used to kind of the grind mentality.
Fabio Molle
That is something we've heard here before a lot is to get out of the challengers, you need to be as you said, very consistent. You need results every week. And that's the only way you get out of there. You can do okay in the challenges but anybody who's got through that we've had on the show have said they've had to put into work and work and work and work and once they get that consistent run eventually then they can break into the Top 100 but it just takes time. But tell me what was the pressure like landing as a freshman in such a prestigious university and playing number one that must have been pressure straightaway?
Mikael Torpegaard
It absolutely was. I had to get used to it and for a lot of Europeans coming to college it's a different you know experience so it takes some time to get used to and it did for me too. I barely broke year whereas the last three years of my college career I was basically number one in the country all through the I mean majority of the time for those three years so it took me a good while to get used to and I didn't do anything really that impressive. My freshman year, I won of the regionals when I got here, but that was about it. So it was definitely a transition as well that was hard to get used to and then me changing a bunch of stuff in my game and getting used to the hardcourt because you know, back in Denmark, we play outdoor clay, we don't really have any outdoor hard so that was also a thing I had to get used to but once you know I kind of settled in my and got into my second year going it was a lot easier on me but it definitely the pressure of playing one my freshman year was was intense, because I didn't want to let anybody down I didn't want to let my coaches down and make them feel like they had recruited this guy from you know, Northern Europe who couldn't who couldn't live up to his reputation. So every week was a battle against my own mentality on and and the pressure and everything but I believe that is part of what made me successful nowow. I mean, if you want to call it that, whatever is that the pressure, you know, you're able to handle that pressure and you feel that pressure every week and a challenger and so on. So I feel like at the end of the day, it's helped me tremendously in the transition to the pro tour.
Fabio Molle
Were you number one for three years?
Mikael Torpegaard
The majority of it. I think a little bit into my sophomore year, I broke number one and then I was pretty much there the rest of the year. I didn't lose a match at home or away really, for my entire junior season. So the majority of those two and a half, three years I was number one.
Fabio Molle
Was there ever like, who is it - Mackenzie McDonald? Did he do a tear need decided to go pro? Were you ever saying I'm number one here. I'm too good for this. I'm going pro did that ever enter your mind?
Mikael Torpegaard
It did by the end of my junior year whether I was going to come back to my senior year. Looking back at it, I definitely made the right decision to stay because I got all these contacts and got the setup going in Columbus that allowed me to be where I am right now. But it definitely crossed my mind. I mean, I believe it was September of my sophomore year when the first Columbus challenger was there and I got a WC and I ended up winning it beating you know, Polanski, Sandgren and Benjamin Becker in the final there and I I had no ranking and I just immediately jumped to top 300. So right after that I definitely thought about going pro but you know a bunch of factors played into me staying and I definitely think I made the right decision staying and now you know I was career high before corona and had a really good streak at the beginning of the year going and unfortunately had to pull out of the last tournament that I felt really confident into. So I think I made the right decision
Fabio Molle
It definitly looks like you did. And in the meantime your playing college tennis you get a call up to play some Davis Cup for Denmark and you play Rafael Nadal. Tell me what was it like being a young college kid having to meet the legendary Nadal?
Mikael Torpegaard
You know, it was a dream come true. Ever since I was very young. You know, I've looked up to the guy, I admire his mindset more than anyone's. It doesn't matter to him who he's playing or what he's playing or any like what tournament he's playing or, or what the match is no matter what the guy is playing the next point like it was this last and I admired that so much so going into that match I was extremely excited. I got to take the time off from college to go back and play both Nadal and Ferrer for those two matches, but it's funny I remember still going back there and let me put it this way. I don't think I've ever had so many people telling me congratulations for getting my ass kicked before. But that match was still that's that's still haunts me a little bit because they was 4-4 in the first and I had I believe two or three break points to to be able to serve the first set home and honestly, that was a huge turning point in my career where I actually after the match - I remember even though the two last sets weren't close, I just looked into the mirror and I said honestly, this is the first time I truly believe I have a chance at making it as a successful tennis player like I had never really been given it the thought of day. I had always just showed up and played but that was the first time I really, really believed that I had a chance to make it and that was just such a cool experience hearing Rafa say that this guy is going to be good and, and all this stuff after the match, and him just you know, figuring out that these guys are human too and that I can play with them and, and all this stuff is just it was a it was a life changing experience for me.
Fabio Molle
Was the match in Denmark or Spain?
Mikael Torpegaard
It was in Denmark.
Fabio Molle
Okay, so the crowd would have helped you a little bit there.
Mikael Torpegaard
Yeah, definitely.
Fabio Molle
So 4-4, breakpoints, you say you're cool under pressure. How were the nerves?
Mikael Torpegaard
It was actually at that point in the match. It was great. I felt really in the zone in the beginning. Like before the match, I wasn't nervous at all night before anything, because I think I was so starstruck. But I remember the nerves hitting me at one specific point. And it was him serving the first game of the match. And I'm like, thinking to myself, oh, wow, like, I'm actually about to return and start the match against Nadal. But besides that as I held the two games kind of easily, I believe also I had like 15 or 20 aces in the first set so that might have helped a little bit but my serve was on point and and that kind of helped my nerves when I'm when I feel like I have a good serving day. It's easier for me to kind of contain my nerves and to go for more in his service games and that kind of stuff. So that's what brought me in that situation. And then, you know, I just have to say fair enough because all three breakpoints I had, there was nothing I could do. The guy played 1/2 tennis, just had a really good first serve and then knocked off the second ball. S it's not like I bricked a volley or something to approach but you know, I want to stand in that situation again, I do believe I mean, I've gotten a lot better as a tennis player. I think mentally, physically, even game wise, like, I just would love to stand there in the same scenario and that's why I put in the work every day to be able to do that,
Fabio Molle
From a mental point of view, go back to that match against Rafa and you're playing Rafa at the French this year first round, you're drawn again throughout at the French. How has your mentality changed in a situation like that?
Mikael Torpegaard
I think that just the maturity level. Also having the experience of one year on the tour going through college, just knowing my game better. I think I would be a lot more comfortable. And I mean, at the French, that a little spicy, you know, because yeah. There are other surfaces I would prefer to play him on!
Fabio Molle
Lets say a fast indoor, carpet!
Mikael Torpegaard
So if it was the French, I would hope that I was serving extremely well that day, but I think just mentally I have a different point of view on it, I play my patterns better, I play my patterns differently from when I, when I went back there. I mean, when I played back before in juniors, I was just hitting balls, like I had no purpose in the ball I was hitting in which I feel like I do now. So that's the biggest change. I feel like the mental aspect of it or a tactical or whatever you want to call it, like just knowing how my game works and what I need to do in order to win points. I mean, of course, it's very, very arguable if that would still you know, work on Rafa on clay, but I would definitely go into the match with a little bit different mindset.
Fabio Molle
Just going to take us back to college here. When you first landed in Ohio, did you sit down with the coaches or they said, look, in four years, we'd like to see your game evolve like this, and that's what we're going do for the next four years. Or was it you saying, look, I need a weapon. And you worked on it? Did the coaches really help you develop a plan for the four years?
Mikael Torpegaard
Yeah, you know, it came more naturally it wasn't the fact that we I mean, we did have meetings and about the game and what I wanted to do and my goals and stuff but it was more so that that discipline, the amount of hours kind of made me more secure in my game because if you hit for four years straight, four hours a day, balls for the middle as hard as you can, I mean your baseline game is gonna take a jump and that's what Ohio State gave me the most it gave me the belief and the confidence in my baseline game that I have been lacking beforehand. So as individuals, we needed to work on stuff constantly and then my approach game and my net game got to the point where it got a lot better in the first year and I believe that it was the part when I got a little bit more aggressive, played a little more grown up tennis, you know, that allowed me to dominate college tennis inthe way I did and kind of take my game to the next level.
Fabio Molle
So the way I see it is that you matured a lot in college and by the end of it you're more mature than other players, you knew how to play them. And that's why you managed to stay number one. Would that make sense?
Mikael Torpegaard
Exactly. I would like to think I have a pretty good level of competitiveness, which is why on my bad days in college, I would still find a way to kind of just put the ball in again and then just kind of go back to basics. And win those matches, even though I was playing, you know, it's tough to play well, all through a long season of college. So, so that and mixed with what you said, the maturity level of rising constantly and through the years in college just allowed me to make the transition easier to pro tennis also.
Fabio Molle
Who's your main competitors back in college that we would know now?
Mikael Torpegaard
Back in my college time, it was for people you would know now it was Dominik Koepfer
Fabio Molle
Oh, yeah. We had him on here before he's a good guy.
Mikael Torpegaard
Oh, cool. Yeah, he's a good guy. He was a very good player and obviously the run he made at the US Open last year was incredible and trying to think who else in my freshman year I played, I played a lot against Yannick Hanfmann and there were a couple other guys which I forget the names but obviously Mackenzie McDonald and a couple of the US guys that went pro a little early through their college career, those guys I played with there are a lot of good players which is why like I said earlier that honestly any year of college tennis anyone in the top five maybe can can have a shot of making it into professional tennis.
Fabio Molle
Definitely a few weeks we're going have Conor Niland an Irish guy, but he got to number two I think he got number two and he came out of college I think he played a year as pro and decided he could still go to Berkeley, the rules were different, went to Berkeley with Peter Wright - got to two or three I can't remember. He was top 300 really quickly moved into 200 and just got shy of he just got unlucky at the end of his career because he was starting to really pick up and injuries just caught up with him. Yeah, but we're going have him on the few weeks for a good story. So tell me you you finishing college you had your first year on tour. How was your year on tour compared to university life? You didn't have to hit any futures by the looks of it. You were out of the dumps pretty quick. So that that must have been a big relief because players spend their life down there.
Mikael Torpegaard
I did play through my college career I had one summer - I went to Finland and played three futures and actually ended up winning them all. Actually no, I did lose one of the finals to Casper Ruud. But we had a battle there. I believe it was like 7-6 in the third or something. But besides those two, I won the other two and those were the only futures I really played because what is really good in college is that it's a spring season and the American challenger tour is in the fall so you can travel a lot you can play, I played Vegas every year. I played Columbus, I played Illinois, I played that stretch every year of tournaments - Knoxville and had a chance to not start from from scratch when I finally graduated.
Fabio Molle
Did Sam Barry get to the final in Ohio?
Mikael Torpegaard
Yeah. Sam Barry
Fabio Molle
He's a friend of mine.
Mikael Torpegaard
Right, yeah. And what was the other double guys name?
Fabio Molle
Dave O Hare.
Mikael Torpegaard
It was actually hilarious I mean I mean him and Salisbury, the first year they played the Columbus challenger I believe me and my partner beat him like, one and two in doubles and then we lost to them the next year. They really too a jump. O Hare is also one of my good friends on tour there when he played and I think Sam Barry made the semifinal. he had a great semifinal win I can't remember off top my head there's actually a documentary made on it. I thought he did a great win and anyway.
Fabio Molle
Yeah, he's was a great player. Yeah he was, he just recently retired. I know Harris. And O Hare aswell, I was sad. I was sad to see him retire. Because he got unfortunate the way Salisbury moved. You know, they had whatever they moved on, and Salisbury's career went crazy. And poor Dave got injured. He was actually on the show so for anybody listening, look back at it!
Mikael Torpegaard
Now I believe Salisbury is playing with Frederik Nielsen, right? lThey made the SF at Wimbledon last year I think?
Fabio Molle
Salisbury is playing with Rajeev Ram.
Mikael Torpegaard
Yeah, right. But before right before I think he played with the Danish doubles player, Frederik Nielsen
Fabio Molle
At some stage. Yeah. Frederik Nielsen is actually a really nice guy. He's played the Irish open many times
Mikael Torpegaard
Unbelievable. Yeah, he's one of my very good, very good friends. He's the Davis Cup Captain now also.
Fabio Molle
So back to business here. Tour life. How was your first year on the luxurious Challenger Tour?
Mikael Torpegaard
Well, I was definitely excited that I didn't have to start grinding the futures. So playing the challengers and doing well in the beginning was very crucial for my professional career. I won a few in Columbus won one in Cleveland earlier this year, and then made the final last year, so having those and being inside the top 300 throughout pretty much my entire first year, really took a lot of the pressure off playing the slams, the qualifiers winning a few matches here and there which is a learning experience and definitely this year before this whole strange situation happened I felt you know that I had been there before and it took the top off the nerves so it's also a transition that that requires a little bit of time for a lot of players and as you say, like a lot of them just don't make it even into the top 300 but it was obviously tough at times, fun at times. You know, it's it's a roller coaster ride, the professional tennis tour.
Fabio Molle
Did you have a coach with you traveling?
Mikael Torpegaard
For about half of the tournament's I did. I traveled with this German coach, who now is based out of Orlando who is a very, very good coach that I still work a little bit with here and there and I had him traveling to the slams and some of the bigger tournaments but some of them I did myself, traveled a little, JJ and I shared a coach for some of them and then you know, some of them I was by myself but it was a little bit up in the air. Whether I had one or not.
Fabio Molle
Your ranking, it's currently 168. Was there any breakthrough result that has got you to your career high? I know we talked about consistency but just before what was the win you got just before lockdown?
Mikael Torpegaard
Yeah, it was the Cleveland tournament. That put me up there again I had just dropped out of the top 200 but got back in there with the Cleveland win, had a really solid tournament beat some very good players and kind of felt that that was a mental breakthrough for me again that that I really belong up there and you know, right before lockdown I played the Kazakhstan tournament which I really felt comfortable in and really would have loved to play out because I think I had a great shot of winning that tournament and then having an unbelievable start to the year you know, going into the first slams and though I would have liked to see how that would have played out but honestly, the lockdown hasn't been bad. I have been working a lot of consistency in my game. So you just have to look at it like that.
Fabio Molle
Good to see that you've been working hard. Is it a ranking? Or is it do well in an ATP Tour event getting into one? Do you make a commitment to get a full time coach? Because you need a full time coach. Let's be honest.
Mikael Torpegaard
Yeah, absolutely. Absolutely. I do have more or less three full time coaches with the setup in Ohio. And we also, they are going to travel with us this year. They have made the commitment to travel with us this year as well. So we get a coach each so it's funny you mention it because right now is actually the time where I'm making this commitment to getting a full time coach.
Fabio Molle
Great. Yeah, no, I was just curious to ask like when you have to make that commitment. It's a bit like I don't know. You're going out with a girl for years and the times has come, you got to put the ring on the finger like it's one of those moments like I have to just have to invest in my career. Take me to the next step.
Mikael Torpegaard
Absolutely, absolutely I agree. I mean, it's so tough. You need a fresh pair of eyes that sees things differently at the tournament's you're at so definitely it's a huge commitment and it needs to be made for any player. I don't think anybody can really make it on their own out there.
Fabio Molle
Yeah, no, I completely agree with you. And I'm excited for tennis to kick back off and you showing the world what you can do and move in closer ito the top hundred but going to end this Mikael. One question we ask everybody. If a junior comes up to which I'm sure to do all the time at 14/15 years old and they want advice. They want to be Pro. What's the first thing you say to them?
Mikael Torpegaard
The first thing I say to them and the thing that I really wish I could have told my own 14 year old self is honestly that stop worrying so much about the results in juniors they do not matter. I think the best thing you can do as a junior is just think about the process or I mean trust the process, trust the people around you surround yourself with people who know, who have been through it, whatever who's got a good idea of what's going on and just trust the process. You don't need to be good right now. I mean, you there's a reason the the average age in the top hundred in men's are like 28 years old or something like that. It's a process and physically and everything just trust it. Do the right thing that's going to win you a lot of matches later on rather than do the wrong thing that is going win your match tomorrow. That's the biggest advice I think I can get it give any, any Junior.
Fabio Molle
That that's great but on your advice. You got to top 20 junior. And that gives you the ability to get recruited by one of the best universities in the country if the best actually. So I see a bit of differences there where sometimes because they hack your way there get and then you can work on that stuff later. Because maybe had you had believed in the process and you would have been ranked 500, you wouldn't have got those opportunities. And you, you could be in a better position now, but I don't think you would.
Mikael Torpegaard
No. Absolutely, I agree with that. So it's a fine image of you doing what you can to get up there. But at some degree, it's also I think, that maybe just skipping the junior step would have been better for a lot of people like if they can, if they can have a setup later on that it's going to work for them. Because obviously it's easier to say if you're American and you have a lot of money in your Federation and a lot of people around you and stuff like that rather than coming from a small country like Denmark because if I had done poorly in juniors, I wouldn't have even had a shot of going to college or anything. But, you know, it's you know, I don't have the answer but I definitely see it's such a good point you're bringing up that you have got to scrap some of it and then you have to just trust the process for the rest. So it's just, you know, it's so individually whether it works for for someone and it doesn't work for others, you know,
Fabio Molle
And it's always easier looking back.
Mikael Torpegaard
Definitely. Definitely
Fabio Molle
That's great. Thank you very much for the chat. It was great having you on and as I said, I'm excited. I'm excited to see what you can bring on the rest of the year, hopefully.
Mikael Torpegaard
Yeah, absolutely. Thanks for having me. It's been a blast.
Fabio Molle
I hope you enjoyed that chat with Mikael. He's definitely going in the right direction and I look forward to following his career. I'll be back next week with Ireland's Conor Niland with some grand slam stories. Until then, goodbye.

PODCAST SPONSORED BY HEAD