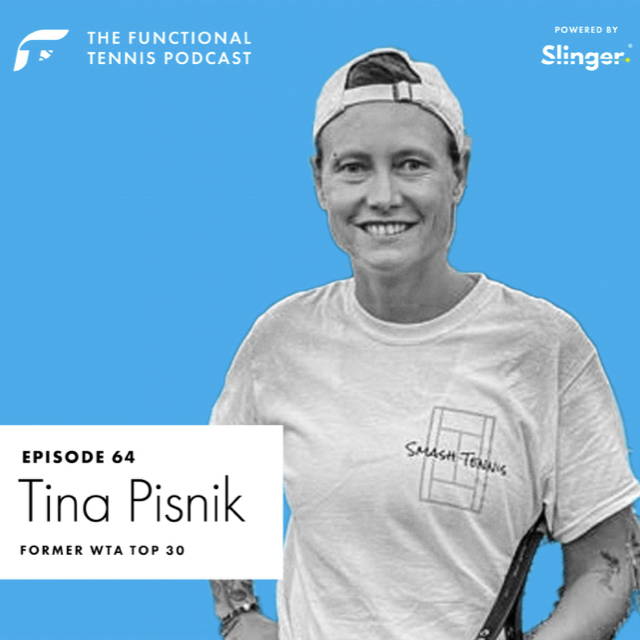 We talk to Tina Pisnik, a former top 30 player, who now coaches in the US.
Tina talks to us about her story, mental health, her most memorable match, winning WTA titles & much more. At the end of the episode, Tina tells us about what it was like to represent Slovenia at the Olympic on two separate occasions 😮
I really enjoyed this episode, finding it refreshing and eye-opening.
Let us know what you think! 💯
If you find it interesting please share with your tennis friends and family.

Huge thanks to our sponsors Slinger who allow us to produce the best possible episode every week 👌
Tina Pisnik
Hey, my name is Tina Pisnik and you're listening to the Functional Tennis Podcast.
Fabio Molle
Welcome to Episode 64 of the Functional Tennis Podcast. I'm Fabio Molle, your host. Today we're speaking to Tina Pisnik, a former top 30 player who runs her own tennis academy in Chicago. We talk about her favorite moments as a tennis player and challenges she faced along the way. Before we get started, I'd like to mention our new free webinars that we are launching very soon, we will dive deep into tennis topics on and off the court. We have some great speakers lined up including some previous guests of the show. If you want to find out more, head over to functionaltennis.com/webinar and leave your email address. Also, a big shout out to our podcast sponsors Slinger. They're slowly rolling out more countries to their delivery list. Okay, let's chat with Tina. Hi, Tina. Welcome to the Functional Tennis Podcast.
Tina Pisnik
Hey, hey, how are you?
Fabio Molle
I'm great. Thank you very much. You're actually, you're the second Slovenian to be on the podcast. Can you guess who else?
Tina Pisnik
I heard that podcast with Kaja, yeah.
Fabio Molle
Oh, yeah. She's so nice. I was. It was great speaking to her. Do you know her?
Tina Pisnik
She's a little younger than me. And I already left Slovenia when she came to the scene. But like, of course, you know, like, Slovenia is pretty small country. So we're all one big happy family basically.
Fabio Molle
I was excited to talk to her as I'm excited to talk to you right now, and even Hercog Polona and she's gone off the radar a little bit. I was checking her Instagram account today. No posts from her for the past year, so she must be just concentrating on tennis and life and keeping away from social which is important.
Tina Pisnik
Yeah, I mean, the social media is kind of like a blessing and a curse I think, you know, it's fun and it's it's nice, but then at the same time, it's time consuming, it takes the focus away. So, you know, if you're able to balance it both and maybe have a little help, you know, you can use it to make it really good.
Fabio Molle
True yeah, you're right finding a balance is the hard thing like everything in life. Find the balance, be it eating or sleeping and or partyng or work. You've to find the balance. But yeah, let's, let's talk a bit about your tennis career. From my bit of research. You were the world number one Junior, you won the Orange Bowl. And your two time Olympian, you want some WTA tournaments. You got to the top 30 in the world. That's a pretty good career.
Tina Pisnik
Yeah, I mean, I'm not, you know, I'm super proud of it. A bit sad that it got cut short by the car accident when I think I was peak of my career. I was 30 in the world playing a tournament in LA and I got into a car accident with the official driver going back to the hotel. So like after that, you know, I had a neck surgery and had to you know, after what was it maybe like a good year I had to just come to stopping my career and stop playing pro tennis and kind of went into coaching after that.
Fabio Molle
And how old were you when the accident happened?
Tina Pisnik
24
Fabio Molle
Okay, so you weren't that you were - nowhere near your peak yet. You were still no, you're on the right road and devastating. Did the accident take you out straightaway? Did you get back on the court after it?
Tina Pisnik
So I kept trying coming back to the court. I actually injured my neck. So, you know, I was out for a few months after that then tried to play I think it was US Open and then the Olympics, but it was it was more of me trying to get back into it. Not really accepting the fact that you know, it's not good, and it's has it will require a little more treatment and like at the end, I got a got a neck surgery. So that kind of helped me gain probably back to like 60/70% of my, you know, normal where I used to be. So I'm at least happy I can still play tennis and I can still coach but I was never able to really go into like back to competitive tennis and being back on tour and play every week and, you know, train hours in a day. So yeah, I was it was kind of like from today to tomorrow my career basically ended.
Fabio Molle
Oh god so yeah, it wasn't planned. And how did you deal with that mentally? That's a big talk these days - the whole mental side of injuries and after tennis and how was that side of things?
Tina Pisnik
It was difficult. I mean, I'm not gonna lie. It was depression. It was you know, I was super low about everything. Everything that I known up until I was 24 just disappeared overnight. And I think athletes, not just tennis players, but athletes were treated more like robots, no, no emotions, no feelings. And it's not true, right? And if we express that we're treated as we're weak, you know, why are you complaining, you're living a life and all that, but I don't think it's talked about enough. And in my time, I didn't really get much help. It was more me, myself and I and, you know, just trying to figure it out. And it took me a good four years to actually kind of accept what happened. And you know, like, you're not going to go back to where you were, and you need to find and move, find a new way and move forward. And so it was it was it was tough, but you know, looking back, I think it just made me stronger. And it was I guess that was my fate. I don't know.
Fabio Molle
Yeah. And where did you go after you stopped playing? Did you go back to Slovenia or were you in the States?
Tina Pisnik
So I always lived in Slovenia and moved to the academy a little bit when I was 16 for a few years to the US, but basically, I was always based out of Slovenia. So I did all my preparation and all the training there. So, you know, I went back to, I was back in Slovenia, and I opened my own tennis club. I was always saying that after I'm done with my career, I'll be a coach. I always enjoyed coaching and I guess it was kind of in the family because my dad was a soccer coach and I saw his passion for the sport. So I, I kind of felt that's going to be my path. It was it started a bit earlier than I thought, but you know, like I said, I opened my own club. I had it for five years, but then it was you know, I I enjoyed the coaching part, I enjoyed the the kids, you know, everything that involves tennis, but then being an owner, it's kind of everything else as well, you know, and I kind of like wanted to go straight into coaching. Just coaching No office work.
Fabio Molle
Yeah, no payroll, taxes, VAT, all sorts. Yeah.
Tina Pisnik
And I don't think I was, you know, mature enough to handle both sides of the business. So then I opened my coffee place. So I went into that, tried it for a few years, I tried to work in the office for a little bit, you know, and just wanted to make sure that tennis and coaching is the thing that I absolutely want to do in the future. And it was important for me to to see what I don't want to do. So I'm 100 percent committed to tennis and coaching now. And you know, after after I was a Fed Cup captain in Slovenia, I was kind of like, okay, what's next? Where can I you know, what else can I do in Slovenia, I kind of felt like, it's a little small. I was like, okay, let's let's go and explore the States. So that's when I moved to Chicago. And this is where I am now.
Fabio Molle
Great and you running a program there at the moment?
Tina Pisnik
Yes, I have my own program. And I do run both sides of the businesses now. So taxes and office work as well. But I feel like okay, you know, I'm mature enough. I know how to pace myself. I know how to put time into, you know, being on court and then do the other stuff as well. So, it's been fun.
Fabio Molle
Great. You know, there's so much you can learn. And you mentioned a coffee shop there. You had a coffee shop back in Slovenia?
Tina Pisnik
Yeah, I had it. You know, I always kind of, I was like, okay, maybe I'll have a restaurant, I I love to eat. Right. So I was like, okay, I'll have a restaurant but then, you know, it ended up being a coffee shop and it was, you know, a great experience. But it's not my home field. So it's, it was you know, it was a lot of things to learn and it was super fun. But you know, after like three or four years, it was time to move on and and go back 100% into tennis. And yeah, it's been fun.
Fabio Molle
Coming back to your tennis. We also had somebody else who you worked with on the podcast in the early days. Mark Petchey, he was your coach?
Tina Pisnik
Yeah, yeah, he was my coach. It was a few years back. But those were fun years, I, you know, it was super, super good to catch up with him when there was the Laver Cup in Chicago and he was here so we got together and yeah, I learned a lot a lot from from Mark and you know, he helped my game a good amount when we worked together.
Fabio Molle
Because looking back at my notes, your name is on my notes, but I didn't know who you were at the time. And it's just good to be able to put two and two together - put the puzzle together. But how long did you work with him for?
Tina Pisnik
Um, it was about two years.
Fabio Molle
Okay. And tell me, did you keep working with him? Was he around your injury time or was it after that or before that?
Tina Pisnik
It was actually before that. It was like the beginning of my pro career. He was he was there. We actually met through Silvija Talaja, so he worked with her. And since I knew Silvija a little bit, we kind of like, you know, got together, started practicing together and then then like I kind of hopped on the team and we traveled together and then for a few months, it was just one on one with Mark.
Fabio Molle
Great, great. I love hearing him on TV, he does a great job. He's on Amazon now and some of his lines are, are pretty good. He's getting to be as good as Rob Cohen. Now with some of his one liners, he's good. From all your tennis matches, which ones for you stand out the most?
Tina Pisnik
It was probably finals, Croation Open in Bol when I played Amelie Mauresmo. It's just kind of like I I never went into matches, not believing I can win. But that was the match where we started playing and it was like 1-1, 2-2, 3-3 and I kept waiting for her to like switch gears and, you know, just overtake and take control of the match. I kind of hung in there and, and was like, okay, maybe, you know, I'm in there, I'm, you know, playing, I can actually win, you know, but like looking back, that was like the mental part it was like I always thought, okay, she's going to just step up and, you know, take control, but it never happened. And that's kind of like stuck with me and I felt like that gave me that extra confidence that like, okay, maybe I belong like I'm there I can I can play this big girl, big names that are up there for a while and you know, actually beat them. So that was that was probably one of the matches that gave me that kick in the butt that you know, yeah, you belong.
Fabio Molle
Do you think that you belong feeling makes such a big difference whether you're practicing with some top players, or whether you do get that opportunity in a match, and you may not win the match, but it may be really tight, much tighter than you expected. And all of a sudden you have this newfound belief that wait, I'm good enough to hang around with these.
Tina Pisnik
Yeah, it's very much about mental part, right. So I think everyone that does play those tournaments they learn how to play forehands and backhands. Yes, obviously, there are some weaknesses and there are, you know, some of their games, but it basically comes down to, you know, believing that you can win. And, you know, obviously always give them respect but never fear anyone. Just having that experience and being exposed to that. I think it does show you that, you know, you can play, you can be there, you can beat them. So, it's it's obviously a big part of tennis is the mental part that you believe. And then you can achieve.
Fabio Molle
Yes, if you don't believe you're in trouble. I suppse that's probably a good team around you can help as well to build up your belief in your own game.
Tina Pisnik
Absolutely.Yeah.
Fabio Molle
And what other learnings did you take from your short, short ish career into your after tennis, after tennis career? What are the main learnings you can extract from them?
Tina Pisnik
It's obviously hard work. Right? Hard work pays off. I think that it teaches you time management. It teaches you how to handle adversity, teaches you how to solve problems. You know, because we, we all when you're a kid, everything is like lala land, you know, like everything is, it's nice, it's perfect, you know, someone else takes care of your problems, but once you're out there and you're exposed to that, you know, you're out of the bubble. So you have to learn how to deal with that you need to learn, you know, how to be mentally strong and, and a lot of times, you know, just ignore your emotions and feelings because, you know, that can just, it does, it does break you, you know, so I think that just gave me an extra push and like being exposed to all of that when I was young, it helped me get through the problems or the the car accident and how to get back maybe easier than someone that didn't experience that as a young kid. So I think I think it does teaches you, you know, life lessons. It's not just tennis and sports, it's after that you can use all the skills that you learned when you were younger.
Fabio Molle
And speaking of those skills that you learned, on-court coaching, are you for or against it? I'm guessing you're against it, but I could be wrong.
Tina Pisnik
Um, I probably am for on-court coaching when they're a little younger, to teach them to understand the game. But again, I think you have to be able to solve problems, you have to, you know, start reading the game, and I think that's missing, you know, like, they just wait, the issue, but the thing that I'm running into as a coach now is, kids just wait to be told what to do. Instead of, you know, figuring things outon their own. So um, I think if they're taught that from the young age, then you know, you don't need anyone else to tell you what needs to be done.
Fabio Molle
So were your kids there in your, in your smash tennis program, what do you do to help them figure it out themselves?
Tina Pisnik
I ask questions.
Fabio Molle
Okay.
Tina Pisnik
I tried to hear what they think not to tell them what I saw and what I see with my eyes. But you know what they see, how they felt, what they think they could have done better or differently. And that's one. That's like specific on tennis. But then on the other hand is, you know a lot about respect and hard work that with that I'm a big believer in.
Fabio Molle
So if you show up late, you're in trouble.
Tina Pisnik
Yes. 100 percent.
Fabio Molle
You're doing sprints for the day?
Tina Pisnik
Yes. I do not like that. And if you don't say hi, bye and thank you. Yeah, that's my pet peeve.
Fabio Molle
Yeah, no, you're right. Look, tennis can be part of your personal development off the court, and it can make you a better person. So it's great that you know, kids, they may not become the best players in the world, but at least they you're teaching them an education.
Tina Pisnik
Yes.
Fabio Molle
Which is which is really important. And that will stand to the kids and that will stand to use a coach also.
Tina Pisnik
Yeah.
Fabio Molle
It's really interesting. And tell me what about the Olympics? What's it like to represent your country at the Olympics? Not many players get to achieve that.
Tina Pisnik
So, um, it's the next level, right? We have we have Grand Slams that we, you know, hang around the best players, tennis players in the world, once you get to the Olympics, if you're hanging out with the best athletes of the world, it's a whole different animal. It's a it's a great achievement. I'm super proud of being part of two Olympics. It's hard to explain but I just like just being around all the athletes and see them you know, first how human they are when we were in like an Olympic village and you know, just to talk to them and then them stepping on their field and just being almost not human anymore. So that was that was the great, great experience in my life.
Fabio Molle
Great to be around these people so they can help you push yourself to another level.
Tina Pisnik
Yeah, when you think you're working hard and you look at them and you're like, okay, maybe I'm not working that hard, you know, I still have room for improvement. So yeah, that's another thing.
Fabio Molle
Never stop improving. We will end this shortly. But what other learnings can you tell young kids who want to be pro tennis players? But as you said, you never know what can happen along the journey. So what can they best do to prepare for what may occur?
Tina Pisnik
First, I think you need to enjoy the journey. Right? It's like you have to love what you do. Because it's, it's not going to be easy, it's not easy. So you just gotta, you know, just love it. Second, a lot of them expect the result overnight. And it's it's not a sprint, it's a marathon. So you need to be patient, you need to put the work in. You need to put the work in when things are not going wrong, because this is when it's, you know, majority of people will quit, you know, it's like, oh, this is not working. It's not for me, but you know, this is where you push this is when you're patient and just wait for the opportunity that's going to come and control the controllable you know, you never know what is going to happen but if you create a problem before the problem exists, then this is this is what's going to be stopping you. So I think you just have to be open minded and keep pushing and keep working hard and and be able to get out of your comfort zone on a daily basis.
Fabio Molle
And be very positive.
Tina Pisnik
100 percent.
Fabio Molle
Can I just ask you one question. This goes live on just after the US Open final is finished. Who do you think will win the men's and females?
Tina Pisnik
I think Novak will take the men's and Kvitova women's.
Fabio Molle
Safe bets there! I hope you're right.
Tina Pisnik
Yeah, I haven't seen too many matches because obviously I work a lot and you know, we're in the same time zone so it's kind of they play the same time as I work but as much as I saw that those two looked very solid on the court and they looked like they put a lot of work in during the quarantine so.
Fabio Molle
Yeah the timezone thing is we're not so good here - the matches start now, actually here. And then actually this morning when I get up at 5am Tsitsipas was in the middle of his meltdown.
Tina Pisnik
I watched, I watched that. 6 match points in the fourth set.
Fabio Molle
Terrible. Poor guy. But anyway, he'll get over it and will come back stronger.
Tina Pisnik
I'm actually happy for Borna
Fabio Molle
He's a local Baltic player.
Tina Pisnik
Yes, yes, Balkan.
Fabio Molle
He's a hard worker. We'll look, thanks a lot again, and we'll speak soon.
Tina Pisnik
You're welcome. Bye. Sounds good. We'll be in touch. All right, bye.
Fabio Molle
I hope you enjoyed that chat with Tina. If you've any feedback at all, please send it on to the Functional Tennis Podcast account over at Instagram or you can email ace@functional tennis.com be good or bad feedback. I'm always willing to listen and learn and improve the podcast. Finally head over to functionstennis.com/webinar to get more info on the new live webinars, which are launching very soon really excited about it. A big thanks to you, our listener and also to our podcast sponsors Slinger. Until next week, go out there and hit some forehands. Bye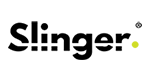 PODCAST POWERED BY SLINGER