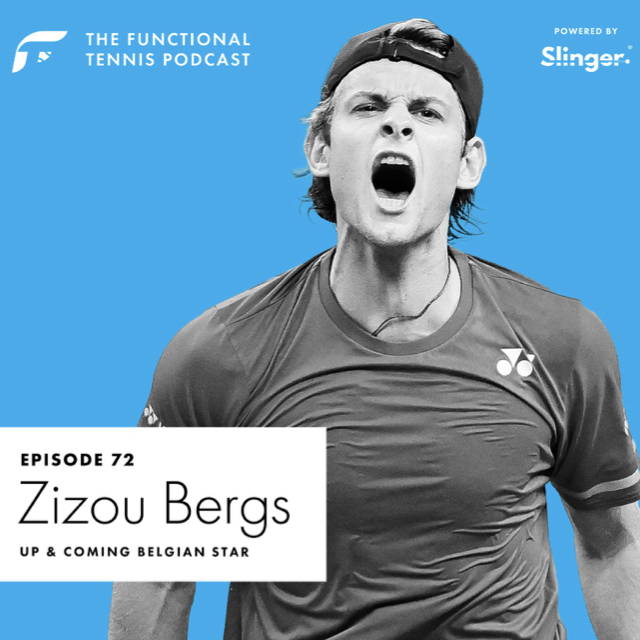 Delighted to be speaking to Zizou Bergs, the Belgian tennis player who won his first ATP match last month 🇧🇪
We talk about the difference between ATP & Futures events, how he thinks his level is not far off the top professionals, playing Khachanov in Antwerp, juggling tennis & study - and much more🔥
For such a young player, Zizou is mature and knows what he needs to do in order to succeed in professional tennis! 🙌
If you find it interesting please share with your tennis friends and family.

Huge thanks to our sponsors Slinger who allow us to produce the best possible episode every week 👌
Zizou Bergs
Hi, this is Zizou Bergs and you're listening to the Functional Tennis Podcast.
Fabio Molle
Welcome to Episode 72 of the Functional Tennis Podcast. This week I speak to the up & coming and very personable Zizou Bergs. He tells us about his first ATP tour victory in Antwerp, playing Khachanov, his team, why didn't choose the US college route but still attends college and more. Before we get started, shoout out to our podcast sponsors Slinger who make the slinger bag, the awesome portable ball machine. Okay, here we go. Hi, Zizou, welcome to the Functional Tennis Podcast.
Zizou Bergs
Hi, thank you for inviting me first of all.
Fabio Molle
Excited to have you on. Congrats on your first ATP tour win last week. It seems to come in success with your Tik Tok career.
Zizou Bergs
Yeah, I started thinking five weeks ago or so because friend of me and also a guy who knows a lot about social media, marketing strategy and all of that. He actually said I should I should start with Tik Tok, because it's a really big platform. And so I started and at a certain point, it came pretty much in social media. I saw it on ITF Tennis Federation on Tennis TV, I think also ATP and then some pages on Instagram. So it has a lot of visibility.
Fabio Molle
Yeah, no, I only saw your videos more recently, I saw the what was the one if the tennis players
Zizou Bergs
were students.
Fabio Molle
I thought that was really funny. And that's what I saw. And then I saw a few your other videos. So it's come in line with your with your with your success last week. Tell me how does last week compare to a Futures tournament? Because that's where you're most weeks.
Zizou Bergs
Yeah, exactly.
Fabio Molle
What's the number one difference?
Zizou Bergs
The biggest difference is the stage you're playing on, I think the energy that is going around, because you are super, super excited. Give everything you have in, in these big tournaments. And the Future's from natural I'm a guy who works really hard so I don't have any problems with motivation or so. It's just the extern energy that's coming coming close to me with with the atmosphere, the crowd that's there, the stadium, the big players you're playing, the media all of that just gives an extra boost and sometimes yeah, because I've proven in the past that every time I'm playing the European Open I do decent results although it's not always winning. I lost a few times twice 7-6 in the 3rd against against great players.
Fabio Molle
Did you have match points last year against Felix?
Zizou Bergs
Yeah, it's been already two years I had too match points against Felix. The year before I played Tsitsipas which was okay match not special and then the year before I played Pierre Hugues Herbert when I was 17 years old, so pretty early and it was also 7-6 in the 3rd third. So every time I'm playing there, I just can step up, step up my game.
Fabio Molle
And tell me what would have happened in the semifinal when there was no crowd?
Zizou Bergs
I think that would just continue the way I was playing because again, the crowd gives me motivation. But I know I have the level and I don't have a problem showing my level on court against these kind of players. So even if it was an empty Stadium, I will be still very hyped, very pumped to continue the way I was playing. I think that's the most important the way I'm playing and putting myself on court with how I want to present my setting that was really important and I did all of that. Okay, now there was a crowd and stuff but still the stadium was not full packed because of the corona measures. So um, that's okay.
Fabio Molle
Yeah, no, I I definitely it's obvious that you have the level that's clearly visible. But do you think there's a lot of players who are ranked where you are coming into this I know mid five hundreds mid four hundreds that have the level they just need opportunity to really show that have the level and to give them belief and confidence?
Zizou Bergs
That's a great question. Well, I'm I'm very convinced there are a few guys that are ranked 500/400 that are really talented that have a level but just cannot bring week in, week out. But there are also a lot of a lot of guys that are 500 and don't have the level to go through. For sure some sometimes you need luck, you need opportunities, but then you also have to take it and to and use it. And I think that's also a part that's really difficult. And I and I did that answer by I got a, I was really lucky because I normally I didn't get a wild card, I got an opportunity and I took it with two hands and I showed on court that I was worth the opportunity. But again, there are a lot of players that don't have the level but there are also players who have the level but yeah, sometimes just miss lack of mental mental aspects like maybe me in the past that okay, I have a level but for me, it was tough to bring it and all of that. So I think there are definitely players who can really match the level of the tour, yeah.
Fabio Molle
And what was it like I saw one of your, I posted one of your videos before it started. The Air Zizou, the Tiafoe one. I thought it was a great video did really well. But tell me have you played with those guys? Have you practiced with those guys before?
Zizou Bergs
Well, that was my first practice with the with the guys for the European Open. I usually don't really train with with big guys and only with Ruben Bemelmans and Kimmer Coppejans that areBelgians. I was playing like really great level last weeks, months on training and but I didn't really try it against top players, so I was curious, in the training, how it went against these kinds of players. And it went really good, the level was almost the same but just like result wise. I was kind of surprised. I also told my dad's like, oh, okay, that's pretty impressive what I'm doing with the results, because I was I was winning a lot of points, a lot of games, a lot of sets. And that also gave me a confidence because it was not that I was really stepping up my level. In practice, it was just like, my eyes went open from okay, if I do this against these guys, they they cannot do anything with it. Like if you serve big, if you return big, if you go forward. I mean, they you give them a really tough time. And I think that was also what gave me a lot of confidence going into the first match against Vinolas.
Fabio Molle
I say that can put you in such a good position where you're like, oh, I can actually compete with these guys, I'm giving them trouble. And so you go in and how did you feel going into the match? Obviously, so you're confident, any nerves?
Zizou Bergs
Well, yeah, like from before practice confident. And when I saw the draw, I was like, okay, that's the player I like to play. And I know, he doesn't like my game. So that gave me a lot of confidence and time to play. And, yeah, of course, you go on the big stage, which you don't really deserve to be honest, because, in my opinion, I didn't really deserve the wildcard, especially on that kind of level. So you should be not as confident, but still from practice really confident and I knew I could I could beat Vinolas and you go on court, you're you're still a bit nervous, because you're not used to play at this stage. And actually, during the match I had, I was too tight, too much tension because I felt in my breathing that it was kind of difficult. But uh, for me, we were working mentally on staying loose, stay aggressive to keep moving forward, to go to the net. And I think that what's really helped me to keep thinking about okay, play loose, play aggressive, go to the net, take charge of the game. And I think that's what eventually brought me through the match.
Fabio Molle
And was your family watching?
Zizou Bergs
Yeah, sure. They had to go to go home earlier than when the match finished. Because we in Belgium have this night clock, you have to be home before 12 o'clock. So my mom and brother had to go home early and this week was my dad was coach because my coach tested positive. So that was kind of pity for my coach, but my dad was with me all the tournament. So that was nice.
Fabio Molle
Great, What a bummer that your family had to leave, but look, there's curfews everywhere in the world now, it's a bit of a it's a bit of a pain. But so then you were on again, a tough 3 sets with Khachanov?
Zizou Bergs
Yeah, exactly.
Fabio Molle
How was that experience playing such a big hitter?
Zizou Bergs
Like again, I know a lot of people were saying yeah, it's really hard. I, to be honest, I saw I saw him playing a few times on TV especially but I didn't go watch his game before the match because I really wanted to keep going in my idea, how I wanted to play. And I'm convinced when I play my game, it's tough for the opponent to take charge of the game. So I try to step in the match with my vision and from there on, we work and when I started the match I felt like okay, this guy - he might be very high ranking wise, but he is not going to tennis me away tactically, technical wise or power wise, he's not going to hit every time a winner or serve an ace. So at that point, I felt confident because I was still in charge a few times. And when I went to the net, he had troubles, he didn't really go to the net. Okay, his serve is big, he has big shots and all of that. But still, I was very happy that I could control the match a bit. And then I took the break in the first set at the end with an amazing return that I hit through. Yeah, like, it went pretty fast the first set at the end, because it was just like equal take holding the serve. And then I took the break, and I got loose, and they're like, okay, let's keep moving forward and try to finish the match. And I actually I was, I was doing great, just like a few opportunities I had, I didn't really take but still he played great tennis at that at those points. And he knows, you know the difference, he gets a lot of chances from me. And my job was at a certain point to defend my breakpoints on my serve, and all of that, and he only gave me a few opportunities on his serve. Then pity one that every time the sets the last game of my serve, I lose a serve. But uh, again, I think I did a great job saving some games where it was 0-40 down. Also, it's more easy to play those guys, because you tried to be loose, aggressive, going forward, just hit it, try to control the game, there's not as much fear, all the crowd is supporting you and all of that. So I think that a lot of parts were in my advantage. And ok, still, you have to bring the game and that's also what I did.
Fabio Molle
And do you think those guys, top guys are just so good at when it comes to the 6-5, 5-4's? They just can go up another gear. Did you find that at all?
Zizou Bergs
I think I find it more with Khachanov than with Vinolas, I think every time when it was close, at the end, I went even more aggressive, I think, and he got more tight. And then he tried to compensate with being aggressive too and start to miss. And I think, Khachanov, what he did. I think I also said, I a few times during the points, I was clapping for him, because that's where they get my respect the most when things got tight, when things got a decision to take the game or no, he stepped up a bit and went more aggressive and went more for the shots and it was going for his way the ball is rolling for him. And I think that was also like the difference for the match eventually.
Fabio Molle
Nice. Yeah. And what did he say anything to you after the match?
Zizou Bergs
Well, of course, he said, great job and good luck for the future. And then we went doing or cooling down and, and I took my bags for the shower, and he was alone. And I say okay, this is a great opportunity to talk about match, to learn things from him, how he sees it, what to improve, and all of that. We started talking and, and his coach also came and just about the match and why it's important for the close future to to do the same in the futures and all of that. And I think it was really interesting and helpful.
Fabio Molle
That's very nice to get that information like it's a bit like a mentor. And when you're with your current team now - you have your coach, your dad helps out. Is there anybody else on the team? Do you see psychologist? Do you have a trainer?
Zizou Bergs
Based in the Federation in the Flemish part of Belgium, it's called Tennis Vlaanderen. And there I have actually an amazing team helping me out for for a couple years already. And now since since March 2020. I have a whole new team. I also started like one week ago with a new psychologist. So I mostly work with them and travel mostly with my tennis coach. But since I worked with the psychologists, I really think it was really helpful. I feel really a connection. I like the guy a lot. And I also felt after the tournament that it's really important to improve my mental aspect because once again, I think the level is there. It's just really important now to bring it week in week out tournament by tournament. And so also the coming weeks when I will travel to Greece, my psychologist will join me to really make to make steps to going forward to improve myself and yeah, I really I really believe in it. I have a lot of confidence and I really enjoy it too.
Fabio Molle
I think you make a good point there. You have to believe in it for it to work people, some people won't give it a go but I think that's great, but you briefly touched on the Flemish Federation. What's the difference? I don't know anything about this I just know that they are split in two. What's the difference between the two Federations?
Zizou Bergs
Well some simple - the club you join. For example, I join a tennis club in in the Flemish part. Well, you have the rights to be associated with the Flemish Federation and then otherwise too if you are based in a in a tennis club that's in the French part of Belgium. Well, you have the right to be associated with the French. I mean, the French part of Belgium that's really separated, and they don't work together, which is a kind of puty one, in my opinion, because we're such a small country. It's not that we have plenty of plenty of players. And still, it's hard to manage to all train together, but now it's getting better and they're working on it. But um, yeah, that's Belgium. It's just like this.
Fabio Molle
Crazy. And what one is Goffin in?
Zizou Bergs
Goffin is in the French, the French part of the Federation. I mean, he grew up there together. Couple years with my coach, Darcis too. And then from before, there are many players that grew up in the in the Flemish Federation. So yeah, we have a few. Also Alyson vsn Uytvanck, she grew up. She did a some years in the Federation here, Greet Minnen. I mean, there are a few players though.
Fabio Molle
And you get to practice with Goffin at all?
Zizou Bergs
No, because he lives in, in Monaco. And when he's in Belgium, I think he plays more at the French Federation.
Fabio Molle
That will be you in a few years living in Monaco.
Zizou Bergs
Hopefully. Yeah, I would be a good sign.
Fabio Molle
No, I'm gonna ask you a question here. That is an intriguing question. We get some juniors on here. Some players have been to college who haven't? You were with top top 12 Junior in the world? By the way, was Simon Carr your age?
Zizou Bergs
Yeah, Simon is my age. Yeah.
Fabio Molle
Do you know Simon well?
Zizou Bergs
Yeah, pretty much. I'm not sure about doubles. But we definitely practice a lot together. We had some chats and we played a few times against each other also in singles.
Fabio Molle
Oh yeah Simon, for thos who don't know - Simon is Irish number one actually, I used to practice with him the odd time I was hitting partner. Normally when he's injured, he would call me and say Fabio - I'm coming back from the injury side hit a few sessions used to absolutely love it. And I haven't done it in a in I'd say I think it just over a year now really miss up. But anyway, Simon's a great guy. We get him on here and good to know that you know him, but my ask why you choose. I'm sure you'd loads of college offers, why did you make the decision to proceed with your tennis career? The professional route rather than the college route?
Zizou Bergs
I think, especially on the Junior tour, every time you talk with an American, it's always about are you turning pro? Are you going college? Well, we in Belgium have more than that we have a system where you actually can study and do tennis, but sometimes the Belgians to be honest, they did look, they don't look further than what, what then what the normal is, I looked farther and that and I found like a program, which allows me to study like if a bachelor takes three years, I will do it in six years. So I'll do with halftime, part time, but allows me to go full time for tennis. And next to that the Federation was helping me I had a great coach, which they also helped me with, a great accommodation, to improve myself and all of that. So that for me that was not even about choosing between college or, or going pro as they say in in terms. After all, I think college is also a great opportunity for players to combine the things you love to have a degree. And I also believe after college, you can really make it no doubt about it. But it will take more long and but at the end the normal age I think now when you go in top hundred for the first time is about 2728. So if you do if you stop at 22 with study and go full time for tennis I mean, there is no no problem I think to still make it.
Fabio Molle
Nice. That's very good. So you're doing both, which is great. And we only had Iga Swiatek's coach on last week and he said he was fighting with her during COVID during lockdown because she was studying 10 hours a day to I know she was finishing her high school, but it's good to see young players there like yourself who are so invested in education, but what are you studying?
Zizou Bergs
I'm doing sort of Business Management and Management Science. Because I mostly think more than just sports I really like to build also for the future to look at, at the marketing strategies about the economics around it and all that so it from naturally just interests me and my dad is also that way. And yeah, as you say there are players who invest in themselves. Oh, well, I like to do it too. Because I mean, first of all, you're like a person then you become a tennis player/student then you're a tennis player and then you're back to person and then you have to find something else. It's not that you can play tennis for so long. Well, the time you do tennis, I tried to do as good as possible. I work really hard day in day out. And studying for me is more like a relaxing part where I take my mind off tennis. There are players who really like to play PlayStation, watch Netflix. Well I do it. I like to do it too. But still, there's time to study. It doesn't have to be much mean, if you do one hour a day, it's already a lot. Because okay, if you have exams, you try to maximize it with a few more hours to read that you can succeed on your exams from the first time. But I think for me, it's a great combination. I like it.
Fabio Molle
Nic, well, we can all find an extra hour or two in the day if we don't spend as much time on our phones and all sorts of stuff. Tell me what's next? So you're going to Greece. Is there a Futures in Greece?
Zizou Bergs
Yeah exactly, I will play there three futures. Heraklion. Yeah. Now due to COVID. Of course, it's really strong. Because when I was there in February, I was second seed, with this ranking and 15 in college, so it's a big difference with last week, I took a lot of confidence. I know, the game is there just it's just a matter of showing it. And I think also with the psychologists that joining, I really am confident that we can we can make things straight for myself and work it out and to show it on court day in day out. Of course, it's a process and I won't be like this from out of the sky. But I would be already really happy if I could go for every week.
Fabio Molle
Heraklion? Nice. Well, this is coming out in a week and a half, so I'll be tracking your progress. I actually only ever played I played some Dublin Futures but I played them in Greece. Well, eight years ago, I played that Futures tour.
Zizou Bergs
Also Heraklion?
Fabio Molle
Yeah, played Heraklion and what the other islands aswell. I can't remember. I can't remember the name the but I played Heraklion, the Irish guys were going down. And I was like, I may as well go down and give it a go myself and I played a few of the Dublin Futures but I was injured and it wasn't great. And anyway we won't that's enough about that. But what's your Tiktok username if people want to follow you on Tik Tok or on Instagram?
Zizou Bergs
It's pretty easy just zizoubergs or in English zizoubergs just that? No, no added letters/ numbers.
Fabio Molle
Great. Well, if people want to see some of your fun content, check out Tik Tok. We will still be posting some of your videos on Instagram, which are great. So keep sending them through. And yeah, best of luck and looking forward to seeing more ATP Tour wins in the near future.
Zizou Bergs
Yeah, thanks a lot for inviting me and for the chat.
Fabio Molle
I hope you enjoyed that chat with Zizou. I think he's going to go places. He has a great attitude. He always wants to learn, and I'm really excited by it. So keep your eye on him. I'll be back next week, same place, same time. Hope you have a great week. Bye.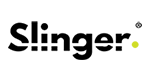 PODCAST POWERED BY SLINGER