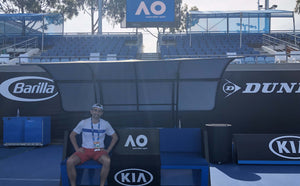 Our Story
Hi, I'm Fabio and I love Tennis!! 6 years ago I kept coming across great content online to help improve tennis players both on and off the court. I decided to make a home for all that great content on the Functional Tennis Instagram account and that's how this crazy tennis journey started!
I've been lucky to travel to tournaments around the world to meet coaches, players and experts in the world of tennis and many of whom I've interviewed on my podcast here.
Meeting Novak at Roland Garros
From speaking with the leading minds in tennis, it became clear that nobody was serving the advanced tools that they needed to help players get to the next level. From these chats came our match and practice journals, the Tennis Pointer, The Camera Mount and we currently are working on a new flagship product, The FT37, coming this summer.
Our products are used by young competing juniors to grand slam champs.
Our Instagram account with over 9000 videos features probably the widest selection of top-level tennis videos in the world and is followed by the who's who of coaches and players.
I look forward to helping you improve your tennis whether its with one of our products, listening to our expert guests or thorough one of our videos 😀
We believe in
1% Better Every Day
At Functional Tennis we are big believers in small daily improvements. Small daily improvments will lead to big long term gains which will help you bring your game to the next level as well as help you smash your goals.
Say hello 👋
If you are new to Functional Tennis, use one of our products, watch our videos on Instagram or listen to our podcast, come say hello! I love connecting with our tennis fans 😀 Fabio