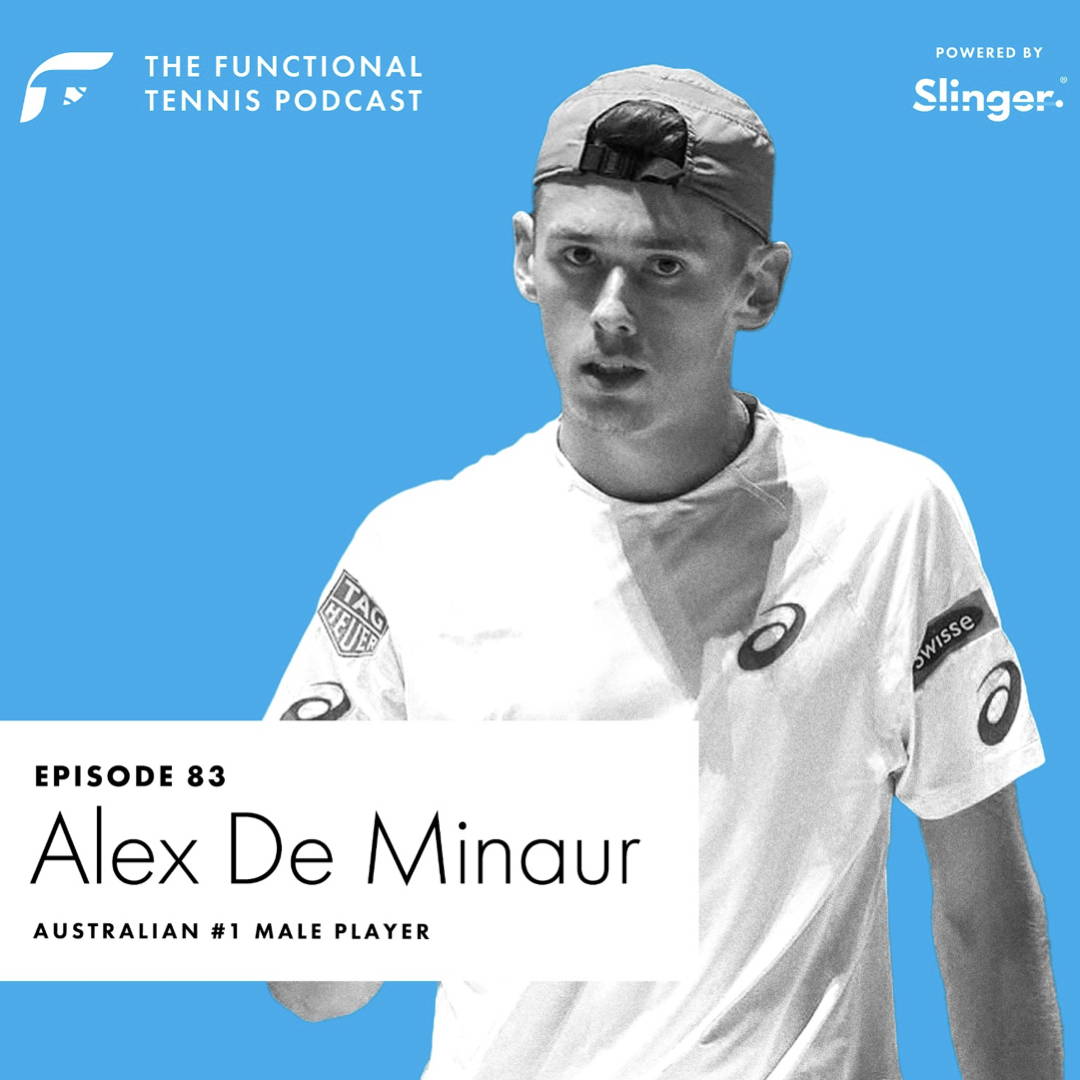 We talk to Alex De Minaur ahead of the Australian Open in Melbourne 🇦🇺
Alex has already won an ATP title in 2021 and is in great form going into his rematch against Rafael Nadal at the ATP Cup & as his home slam approaches 🔥
We talk playing Rafa, Asics Tennis Shoes, how he got his nickname, playing against his mentor, Lleyton Hewitt & his friendship with Nick Kyrgios 😃
If you find it interesting please share with your tennis friends and family.

Huge thanks to our sponsors Slinger who allow us to produce the best possible episode every week 👌
Alex De Minaur
Hi, I'm Alex De Minaur and you're listening to the Functional Tennis Podcast.
Fabio Molle
Welcome to the Functional Tennis Podcast. I'm Fabio Molle, your host. Today I speak to the player known as 'The Demon', Alex De Minaur. He is known as the demon for his speed, agility and ability to get balls back in play that you would think is impossible. The wider you push him, the more dangerous he is. Alex is currently 21 years old and ranked 23 in the world. And importantly, he wears my favorite ASICS, tennis shoes, the Solution Speed FF 2. Two thanks are needed today. One our podcast sponsor Slinger who help pay all the podcast bills. Head over to slingerbag.com to get all the info on the portable machine that easily fits in the boot of your car and is super transportable with its portable wheels. Also shout out is needed today for the team at ASICS Tennis, who kindly arranged this chat with Alex for us. Thanks, guys. If you enjoy the episode, and you're listening on Apple or YouTube, please leave us a review or comment. You can share this episode on your Instagram story and don't forget to tag @functionaltennis or our podcast specific account @functionaltennispodcast so I can say thanks. Okay, over to Alex. Hi, Alex, welcome to the Functional Tennis Podcast. How are you?
Alex De Minaur
I'm doing good.
Fabio Molle
Great. I say you're just raring to go. I know you've been practicing a little but I say you're just raring for some freedom?
Alex De Minaur
Yeah, for sure. We got a couple more days to go. And then we we have the freedom. It's going to be very special. Looking forward to being able to roam around the streets of Melbourne back in my home country and really looking forward to it.
Fabio Molle
Where's the first place you're going to go? Obviously, apart from the tennis court that you just got to say this is great. Favorite restaurant, favorite cafe, anything you've planned?
Alex De Minaur
Well first thing I am is I'm moving into my new hotel. I love staying in the same area every single year. And I've got my three or four kind of breakfast places and coffee places. So I'd say the first thing I'll do is go for a walk and get myself a coffee.
Fabio Molle
Nice. I say you're pumped for that. I also want to say congrats, by the way on winning a title this year already. It must be good to start the year with a title under your belt.
Alex De Minaur
It's a great feeling. I mean, we went out there to try and gauge where where my level was at. And I was able to bring a very high level throughout the whole week. So it was a great way to kind of start 2021, put 2020 behind and hopefully have a big year in 2021.
Fabio Molle
Yeah and how are you feeling? How's training been going for you?
Alex De Minaur
It's been going well. I'm very happy to be back here in Australia. We've been having some great practice sessions with Cameron Norrie. And now we just, I guess we're both looking forward to getting out of here and get stuck into competing. This is what we came here for and I think we're both definitely ready to go.
Fabio Molle
And what was it like training with with the same guy? Did you do one or two weeks with Cameron?
Alex De Minaur
So it's gonna be two weeks now it's a total of, well, 14 days our quarantine. And yeah, I mean, with someone like Cameron, it's been great. We've had very high level sessions every single day. And we both understand each other. So we were able to if one day one person wanted to work on a certain aspect, then we would do that. And the next day we would work on the other players area that they wanted to work on. So it was it was great. We we've managed really well. And we're almost done.
Fabio Molle
So are you ready for the big rematch next week? Well, this will probably go live the day of your rematch. Are you super pumped to be playing Nadal again?
Alex De Minaur
Yes, I mean, it's a great it's a great way to start the year it's going to be tough but another big opportunity for me to go out there and give it my all, it's definitely exciting. I had a great match against him last year. So hopefully I can bring a very high level again and and really try to take it to him.
Fabio Molle
Yeah, I was only watching last night some highlights from that match. Unfortunately, we can't post them on functional tennis because of ATP tour copyright. But we did I did have a practice point that you had with Rafa in Paris last year and people went mad for it like it's crazy with a good court angle view. And the hustle is unbelievable. What's it like out there when you I know it's your game where you just hustling everything but Rafa just pushes you that bit further. How are you feeling like when you're on the edge?
Alex De Minaur
Well, of course, I mean, that's what makes Rafa such an amazing player. One of the greats. His ability to make you push to, to the edge, not give any points free and make you feel like you're constantly under pressure. So, look, it is definitely something that, you know, we've got to prepare, both mentally and physically to be ready. It's going to be a lot of energy coming out and and, you know, thats the level and intensity you got to bring out on court with him.
Fabio Molle
Yeah, no, definitely. But he pushes you to your to your absolute limits and using the most dangerous on the absolute limit. So I'm looking forward to seeing it again. It's going to be great. Do you feel like you're playing home in Australia? Do you feel more nervous, pressure or excitement? What's your, or is it a mixture of all them?
Alex De Minaur
I would say it's more excitement. I mean, there's nothing better for me to come out here and play in front of my home crowd. It's something that I miss throughout the whole year. And for me, the Australian summer is just the best time of the year. It's nothing better for me. I love playing in front of such an amazing crowd, which always have my back and have always been there. So it's gonna be amazing to be able to play in front of that crowd again.
Fabio Molle
Yeah, no, I think it's going to be great. So Australia to go all the way is that?
Alex De Minaur
Of course, yes.
Fabio Molle
I love it. I love it. And let's just jump quickly talk about your speed, your agility. And before we talk about that, we got to say a huge thanks to Asics for organizing this. You wear the solution speeds they are. They're my favorite shoes. I preach about them all the time on Functional Tennis. And I've been wearing them ever since I think about 2011 or 12, since they first brought them out. But how do you find the latest version that's just been released?
Alex De Minaur
Well, for me. I used to use the old solution speed FF. And ah, since I've changed to the new Solution Speed FF 2, I've felt, I mean, they've always been unbelievable shoes, but I feel like they've somehow managed to go a step further. It feels lighter. It feels more comfortable. It feels kind of like it's molded for my game. You know, I'm always running side to side. And it just feels like it gives me that kind of one second head start.
Fabio Molle
Yeah, no, I understand that's t wo ofmy bits of feedback, where I thought they were more comfortable and lighter at the same time. So I think they've done a great job. And what color? What's your favorite latest color?
Alex De Minaur
Well, at the moment, I'm going to be wearing the yellow color, the yellow orange color. That's what I'll be wearing for the Australian Open. So I'm really looking forward to bringing those ones out. And, you know, hopefully I can have a big Aussie summer with them.
Fabio Molle
Nice. I'm sure you will. And do you have any input into the design of them, do ASICS, get onto you and ask for your feedback and in the early prototype and of the latest versions?
Alex De Minaur
I mean, ASICS is, is amazing, I never knew that a player would have such a impact, or they would ask suppliers for so much feedback about the shoe. And yes, I mean, they constantly asked me about my thoughts and and what aspects I want to change if there are any and what aspects I like or I do not like and so, you know, we've always been working together and I mean, it shows a lot of the shoes and for me the definitely the best shoes on the market right now.
Fabio Molle
I couldn't agree more, which sounds very biased, but I couldn't agree. I think they're my favorite shoes and they're great. And great to see you out there rockin them. Let's cut back to your early days. You spent a lot of your childhood in Spain. How was life in Spain? When did you move there?
Alex De Minaur
So I was born in Australia. When I was five. We moved to Spain for eight years. During that time, I was going to school. I had already started playing tennis and I kind of grew, played a lot of my my younger years over there in Spain. And then after those eight years, we moved back to Australia for for another three years in 2012 to about 2015/16 and then we moved back to Spain. So we've been back and forth a fair bit. And I've been able to, I would say get the the best out of both worlds.
Fabio Molle
You get summer in Spain and Summer in Australia
Alex De Minaur
Yeah, exactly. Got both.
Fabio Molle
And are you you're still working with your same childhood coach?
Alex De Minaur
Yes, I am.
Fabio Molle
Yeah, you've been working with the same childhood coach. Like that says a lot, because we see so many players get to I don't know they just turned pro. And all of a sudden, they they need a new team and I want a new coach, and what are the qualities you've seen your coach going through your career to where we are now?
Alex De Minaur
Well, for me, it's, it's something amazing. I mean, I've been with Adolfo I think we looked back on it the other day, and it's been about, you know, 14 years almost. So it's a, I've been able to honestly say that, I've been through all my stages in my career with him, it's been amazing for him to be in every step of the way in my career and for us to grow together as a team, me as a player and as a person and to be where we are right now together. And we've done it just by by hard work and look, he's the one person that's always gonna keep me grounded and, and the one person that I always want kind of in my life has always been there. And it's just a great person to have around
Fabio Molle
That sounds like such a solid base to have, which is really important. One less thing to worry about. Did you ever have speaking of Spain, and you play for Australia. Was there ever a big decision of who I'm gonna play for was it always like, no Australia's the one in my heart.
Alex De Minaur
I was born in Australia, I, I really, I've always felt Australian. And the biggest thing is when I really needed the help, Australia was there to help me out. And they've always had my back from day one. So look there's, nothing, nothing better, or nothing that I wanted to do more than to represent my country in Davis Cup. And I've been fortunate enough to to be able to do so. And I would say it's one of my greatest accomplishments till this day.
Fabio Molle
And it's a huge accomplishment. And thinking back to Spain, the early days any of the junior tennis players you played with back then any of them on tour at the moment?
Alex De Minaur
Yes, there's, there's a couple. I played a lot with Alejandro Davidovich is on tour now, top 100, playing some great tennis. I've played with Nicola Kuhn. And then I've been able to spend a lot of time with training with I guess, Roberto Bautista, Garcia Lopez, a lot of these guys, over the years being in Spain, you know, we've gotten very close, and we train a lot together.
Fabio Molle
Nice. That's great. And it must be good. Sometimes the general public think oh like you're playing these guys for the first time, you know, like the first time playing on the ATP tour, but you guys go back, let's say 10 years, must be great having that relationship with these players that you play for the first time in ATP tour, but you know them so long? That's something that I think the general public don't really think about.
Alex De Minaur
Yeah, well, a lot of the players, especially when we're in similar age groups, we've normally been playing each other for about 10 years, and we've grown up with each other, we've gone through every kind of step of the way, in our careers together. And and it's amazing to, to just look back on that time where we're playing each other in, I don't know, under 10, under 12's tournaments and now to be able to say that we're out here playing each other on the ATP tour is pretty special.
Fabio Molle
Yeah, it makes the games more exciting as well, because you know, their game you've probably practiced with them loads as well. And what's it like then when you face somebody who you've never played before? So it could be younger or older? And you might watch a bit of video on them before? How much trickier does it make, like how longs it take you to try and figure out their game?
Alex De Minaur
Well, a lot of the time, you kind of have to figure it out once you're out there on court. I mean, there's players that you've never played before. And even though you might watch some footage on them, it's not the same as actually playing them and, and every match is different. So a lot of these matches you kind of have to adapt in the moment. And that's one of the beauty of it as well, to be able to change your tactics mid match according to what your opponent is giving you and yeah, it's just another in game battle you have to deal with.
Fabio Molle
Part of the challenge. Just coming back to juniors, you were you were quite successful junior, you were number two in the world, was it always a dream for you from an early day that you were going to be professional tennis player?
Alex De Minaur
I would say that, you know, as a kid, obviously, that was always the dream. But when I was 12, was probably the moment where I really kind of looked at myself in the mirror, and, and started, you know, doing since education. I was in the Federation here in Sydney. And I started to train full time. And from then on, I was like, you know, this is, this is what I want to do. So I've got to make sure I do everything in my power to to reach my goal of playing on tour. So that was probably the the age that I really started to take everything seriously.
Fabio Molle
Yeah, that's a quite a commitment as a 12 year old. But, sure, that's what's needed to get there. And so you do your junior career, you've switched to the senior tour quite early. How has that transition been as a 16 year old playing on the, playing Futures?
Alex De Minaur
I think it was very important for me, mainly, because there's a lot of players that that switch from junior tour on to the senior to the futures tour, the challenger tour and they often are, you know, I would say spend a bit more time than than ideal. And then it kind of can hurt you because you kind of, I would say, your level stays there. Whilst if you're able to kind of transition through those periods quicker. Not only do you get more professional, everything becomes more serious. Everything's way more with your main goal, which is to get to the ATP tournaments. That makes sense. And do you remember your last junior tournament? My last Junior tournament I believe, was US Open. I think it was US Open 2018, 2017.
Fabio Molle
Okay, not so long ago.
Alex De Minaur
I played juniors that year. And from then on. I stopped playing.
Fabio Molle
Let's play some proper tennis with the big boys.
Alex De Minaur
Yeah. Well, I was lucky that I was able to get some results. And back when I felt my decision.
Fabio Molle
Yeah. And something we ask all our guests whether thet are coaches or players is advice for juniors. I'm sure you get asked all the time, parents and players ask for advice. Well, what's the main bit of advice that you dish out for juniors who want to be pros?
Alex De Minaur
I think the the biggest advice I would say is, you will never be good enough. And you should never be content with where your levels at. There's always, always room for improvement. And there's always aspects on your game to to get better at. And I think that's one of the things I've always taken with me. And every day is another, another chance to get better, or to improve and add something new. So you can never be satisfied with yourself because that's the way you kind of stay where you are and don't progress.
Fabio Molle
Keeps you humble as well.
Alex De Minaur
Exactly. I mean, you, you're never going to be good enough. So that basically means you got to keep working constantly. That's the biggest thing.
Fabio Molle
Yeah, no that that makes a lot of sense. Thanks. That's great bit of advice there. And let's jump on to your speed. And your agility. Were you always quick as a junior? Was that your number one attribute?
Alex De Minaur
Well, until probably 16/17 well, I kind of started growing into my body. I was actually I had big feet and I struggled with movement a little bit I was a bit quirky, I would say I've worked a lot on on the technique of of moving and and once my my body grew, I kind of grew in my body then that's when I started to get that speed. And from then on. It's just been you know, constant work. I'm not the biggest guy, not the strongest guy. So I've got to find different ways of winning matches. And that's one of the ways that worked for me.
Fabio Molle
You're six foot, aren't you? Or 183 or is that info wrong?
Alex De Minaur
Yeah, I am 183 Yes.
Fabio Molle
So yeah, you're not the smallest guy out there as in from a height perspective. But you move you move unbelievable. One of the best movers on the tour. And are you still working on drills to help you get quicker to make sure you're agile? What's your favorite drill to work on?
Alex De Minaur
Of course I mean as I said before you can always improve so look it depends on on the the day or what my fitness coach decides but there's always a lot of sprints, a lot of movement stuff on court specially a lot of drills who just keep working on kind of those end range shots and turning the defence into offense. So there's a there's a couple of drills here and there that you know, I I keep doing since that I have been going for for a long time for sure.
Fabio Molle
You have to throw them up your Instagram gives us a bit of give us a bit of insight someday. Who was the first person to call you 'the demon'?
Alex De Minaur
Ah, I got called the demon by my coach and one of my coaches in Sydney called Ben Pyne, he was the first person to kind of call me the demon and and from then on, I loved it and it kind of stuck so I can't really complain. I think it's a sick nickname, and I'm definitely gonna rock with it.
Fabio Molle
Yeah, some people have good nicknames. A friend of mine, they call him the champ. I think it's up there with the demon and there's some good nicknames. So let's quickly quickly run on Lleyton Hewitt, your mentor. What's it like? I know you played him and doubles in s'Hertogenbosch. What was it like playing him in doubles? What was the intensity like? Was he out to beat you? Were you out to get him?
Alex De Minaur
Oh, it was a look. Lleyton's been an amazing mentor of mine has helped me so much. He brought me under the Davis Cup umbrella from from a very young age and I was able to learn so much from from him and all the greats in and the the players as well, the Aussie players. So look, it was a surreal experience to be able to play him in a doubles match. It was it was fun. It was exciting. And it was a great feeling for sure.
Fabio Molle
Who actually won? I don't know.
Alex De Minaur
We ended up getting the win was a very, very tough match. I think we just sneaked it in a super. So it was very tight.
Fabio Molle
Nice. Two more questions for you Alex. One is what have you learned? What's the one most important thing you learned from Lleyton?
Alex De Minaur
His biggest thing was always to, to believe in myself and that I was good enough to to be with these top guys. I think that's the biggest thing to just believe that I'm supposed to be there. And that's a belief that I belong with these top guys. And this definitely made a huge impact on me once I started believing believing in myself that I could take it to these top guys and and feel like I was one of the tour. So that was probably the biggest thing.
Fabio Molle
Nice. Great to have him rooting in your corner, giving you that belief. And last question. We know you're good pals with Nick Kyrgios. What do you learn from Nick on a dily basis?
Alex De Minaur
Nick and I we've got a great relationship. I've been able to get to know him through through Davis Cup and he's always had my back. He's always been a guy that would hit with me in the Davis Cup sessions. And he's been amazing. And with him, I think we have a great chemistry we we both are able to help each other out. Sometimes I I often am a little bit too tough on myself, and I forget to kind of enjoy the game a little bit. And that's what I learn a lot from, from Nick. And sometimes I'm able to kind of vice versa, you know, I think we complement each other very well. And he's just an amazing guy and amazing player to have by your side.
Fabio Molle
Yeah, that sounds like a good mix. That to have and for somebody to work with. Look Alex, thanks for your time. Appreciate it. Best of luck in the ATP Cup in the Australian Open. Go get them. Thank you very much.
Alex De Minaur
Thank you very much.
Fabio Molle
I hope you've enjoyed that chat with Alex. It was great to find out more about him. He's only 21, he has a great career ahead of him. So we wish him all the best. And after you leave us a nice review or comment, you should head over to YouTube and look for his highlight reels and you'll honestly get tired looking at the points, they are ridiculous. I'll be back in a few days with another episode. So stay tuned and until then, goodbye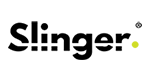 PODCAST POWERED BY SLINGER