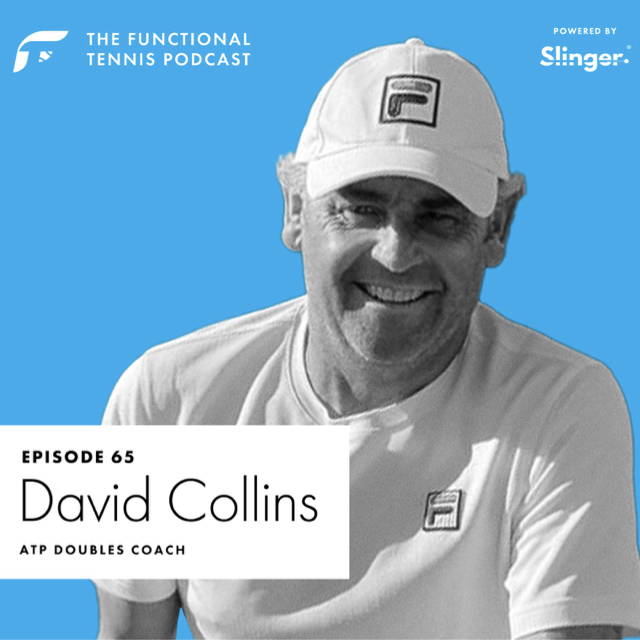 This week we speak to ATP Doubles Coach, David Collins.
David is a club professional in the UK, but also works as the coach to many pro players. He is best know for working with the top doubles pairing of John Peers & Mike Venus.
We talk about his playing days, player stats, working with John & Mike and advice for coaches. At the end - he also touches on his best coaching moments!
David will join us for a doubles episode of the Functional Tennis Webinar. Be sure to stay tunes for the date!
Hope you enjoy 😃
If you find it interesting please share with your tennis friends and family.

Huge thanks to our sponsors Slinger who allow us to produce the best possible episode every week 👌
Dave Collins
Hi, I'm David Collins and you're listening to the Functional Tennis Podcast.
Fabio Molle
Welcome to Episode 65 of the Functional Tennis Podcast. I'm your host, Fabio Molle. This week I speak to ATP tour dubs coach Dave Collins. Dave is the coach to John Peers and Mike Venus as well as being the head coach at the prestigious St. George's Hill tennis club in the UK. We talk about coaching the pros, coaching at club level, advice for amateur doubles players, his upcoming webinar with us and more. The free webinar series where we speak to specialists in all areas of tennis kicks off this week, and you can go to functionaltennis.com/webinar, get all the info and register. Before we get started, a shout out to our podcast sponsor Slinger. If you have any Slinger bag related questions, you can drop me a message anytime. And I'll be glad to assist. Okay, let's chat to Dave. Hi, Dave, welcome to the Functional Tennis Podcast.
Dave Collins
Hi Fabio How are you doing?
Fabio Molle
I'm doing great, thanks. Great to have you on. And with doubles being such a key part of the game outside the pro world and in the pro world. It's just great to have a doubles expert on the show and learn a bit more about you and doubles. So maybe you can start by telling the listeners just a bit about you where you're located, what you're up to right now. And we can take it from there.
Dave Collins
I'm located in in Surrey in the UK, and I'm the head coach at St. George's Hill Lawn Tennis Club. It's a club that's 107 years old. It's been there a long time. We've got about 4000 members and it's pretty busy. There's a range of courts, etc, etc. and doubles is pretty. It's pretty busy throughout the club.
Fabio Molle
Okay, so 4000 members, that's that's a lot of members. How many of them are active now?
Dave Collins
So it their membership is split between different categories. We've got a health and fitness section, we've got obviously tennis, and we've got a pool and we've got some squash as well. About 2000 play, play tennis, including the juniors. So it's a pretty busy setup we've got there.
Fabio Molle
Wow and how many courts do you have?
Dave Collins
We've got 33 courts, they are a mixture of different surfaces indoors, grass, different types of artificial clay.So we've we've got a full range.
Fabio Molle
Oh nice, and you're the head coach there?
Dave Collins
Yep, I'm the head coach, we've got a team of 12 coaches, so yeah coaching is very busy at the club, especially now with people coming out of lockdown and tennis being such a good thing to do with social distancing, etc.
Fabio Molle
Have the tennis numbers gone up since this time last year?
Dave Collins
The participation has yeah, the courts are really busy from sort of morning till night with lots of people working from home and sneaking out at lunchtime for a game of tennis with their friends. So it's pretty busy, yeah..
Fabio Molle
And tell me you're also the doubles coach of two great, well a great doubles team. John Peers and Mike Venus. How do you manage being the head coach at such a big club and also working with these guys?
Dave Collins
So yeah, it's it's challenging sometimes. I'm not on the road with them a massive amount. I do some events as and when we can fit it in and it works for all of us. But when they're back in the UK, back at base, we we work at the club, and we fit it in around there the day to day club work and club coaching that I do. The members like to see the the guys around the guys get involved on the court with some of the members, which is great. And the members really enjoy that. We'll do some exhibitions and clinics and things. So it's nice to have them around.
Fabio Molle
Great. And you're having a good week this week - they took a nice English scalp in the first round in Rome.
Dave Collins
Yeah, they did. They played Jamie Murray and Neal Skupski first round, and which obviously Jamie was one of John's previous partners. And then yesterday, they came through 14-12 in the final set breaker against John's partner from last year which was Henry Kontinen, the Finish guy.
Fabio Molle
At the top level, they're all playing people they've played before which must make it's so interesting. How do you coach or how do players deal with knowning that the other guy knows all their secrets? Or patterns? Maybe is a better word.
Dave Collins
Yeah, it's good. Yeah. Lots of players play with with certain patterns and they do specific things at certain times. So it's, it's you know, we speak regularly before the matches and go through what the opponents what we might expect them to do what they did against the last time. If they did it against them last time and it was successful they'll probably do it again. If it didn't work, then the oponnent will change it. So we've got to be prepared for things to change, and it might change through the course of the match. Nobody plays exactly the same way all the time.
Fabio Molle
What worked before may not work this time, or you know, it's coming, so you're prepared for it
Dave Collins
I'ts best for them, and it's comfortable for them and hope it does the job on the day. Other players will play in a more strategic way to try and unlock what we're trying to do on the court.
Fabio Molle
Do you find one works better, where there's two ways player can feel comfortable going out and just playing his own game or a team, let's say can feel comfortable, go out and play their own game and not worry about the other team. Or you can go out and unlock your players weaknesses, which may upset your game a little bit, do you find teams do one or the other or they mix it up?
Dave Collins
I think they mix it up. And I think for John and Mike, I think they play their best tennis when they do the things that they do well, and we tweak it a little bit according to who they're playing against.
Fabio Molle
For me as an amateur tennis player, I find it important for me to work on my own game, sometimes you concentrate on too much strategy on the other players weaknesses. It can, I may not be good at exploiting the other players weakness, if I concentrate on itactually don't play so well. So for me, at the lower level, I try and do what I know best and win or lose. That's what I'll do.
Dave Collins
That's it. That's a good strategy.
Fabio Molle
And tell me, so you're on the phone to these every day?
Dave Collins
So yeah we speak or WhatsApp yeah on a daily basis, sort of before the matches after the matches. So we gather the data on their matches. So they've got the data with in terms of you know, their serve numbers and their return numbers and points won etc, etc. And then we'll we'll look at the data from the opponents of their next match and have a look if there's anything that stands out that that we need to look for the guys they play next they've not played before, but the guys have won two matches back to back. They're a wildcard in the tournament. So they're clearly playing well.
Fabio Molle
The Italian lads?
Dave Collins
Yes.
Fabio Molle
They are doing well, the Italians aren't they this week.
Dave Collins
Yep. Yep. Very good. There seems to be a surge in Italian tennis. So they're doing some some good things over there.
Fabio Molle
Yeah, normally, they mature a bit later in life, but there seems to be with Sinner doing so well. Obviously, there's Berretini was a bit older, who came out of nowhere, really. And then Musetti has a couple of good wins, who I taught he was going to be good, but didn't expect him to get to wins this soon at that level.
Dave Collins
Yeah, he's had two good matches the first two matches there he's done really well for someone so young.
Fabio Molle
it's strange isn't that when somebody breaks on the tour be it male or female, where they have that little runway for a while where nobody knows how to play them.
Dave Collins
Yeah.
Fabio Molle
And then they disappear for two years or three years, and all of a sudden, they're back again, they figured it out. And they're causing trouble to kind of to get the little honeymoon period.
Dave Collins
Yeah, that's sort of an unknown entity to start with what people haven't got much information on them. And obviously, the more they play, the more exposure they get, the more the players in the coaches see them. And they can start to formulate ways to unlock how they play
Fabio Molle
Musetti's an interesting one where they say he has a bit of Rafa in him, a bit of Novak in him and a bit of Federer in him, and he's just a good combination of those three players, which makes an exciting prospect in the future, I hope.
Dave Collins
Yeah, that's if you could choose a player to make up of three different players. That's probably the threeyou would choose. So he's got a good future ahead of him
Fabio Molle
A bit of Murray grit in there would be good as well.
Dave Collins
Yeah, for sure.
Fabio Molle
And tell me, so you just briefly talked about stats there? Do you get your stats from the ATP Tour? Is that where you get most of it from?
Dave Collins
So the ATP tour will do the team stats. But I do the individual stats. So each player will have their own individual stats for the match. And I do that myself during the match or if I don't, if I'm not sort of sitting on the court with them or or I don't get a chance to see the match live. I'll do it after the match. But yeah, those steps are done. And we give them to them after match or as soon as I can after the match is finished. So then they know where where they're at at the moment.
Fabio Molle
What are the most, What are the five most important stats you take from a match that you give back to the players? I'm not sure if you can could be secret information. But if you can share it with us would be great.
Dave Collins
Yes, we look at obviously first set percentage and then first serve points won. Same with the second serve. And then the same with the return first and second serve balls in play and how many points are won obviously some of that will depend on your partner - what they're doing at the net. But then there'll be more detailed stats about which side it was forehand or backhand whether the serve went forehand or backhand whether the different formations, we'll do stats on some of the formations as well of them and also their opponents. So whether they played regular on the duece side rather than I formation to see how that worked against a certain player, because all of that is information that we can use further down the line if they play the same people again, which in doubles, they do a lot of the time.
Fabio Molle
She must have a big notebook.
Dave Collins
Yeah, it's two or three notebooks. They're filling up
Fabio Molle
The playbook. And what are other players have you worked with Dave?
Dave Collins
So with, with John and with Mike for those guys for the last, probably I've known John longer than the knife and Mike moved over to the UK. And then came over and joined our club about two, two and a half years ago. I currently work with two other players as well. I work with Emily Appleton who's 21. She's ranked around 650, currently, and also a young British guy called Max Basing who's got a couple of ATP points. He's only 17 and he's ranked currently about 1400 so it's quite good there's, it's I've got my finger in a few different pies in sort of the different parts of the tour which is really nice, really exciting.
Fabio Molle
And my bit of research I didn't know - there wasn't much about you on Google now. I know our mutual friend James Cluskey he said a few good things about you and you are UK 35 double champ
Dave Collins
Yeah, we won that last last summer. We didn't play it this summer obviously because of the virus the tournament wasn't held but last summer myself and my partner Mark we won the over 35's which was held at the all England club which was really nice on the grass.
Fabio Molle
That's That's very nice.
Dave Collins
Get to keep the trophy for another year because it wasn't played this year
Fabio Molle
That's amazing, a bit like Novak.
Dave Collins
Well, same, same venue but different competition.
Fabio Molle
Same place it all counts. And do you play any the veteran events the ITF World Champs?
Dave Collins
So yeah, I've played a couple of times played for Great Britain a couple of times in the world championships once in Florida, and once down in South Africa a couple of years ago in the team event, not the individual event.
Fabio Molle
You don't stay for week two?
Dave Collins
Have to get back to work.
Fabio Molle
Tell me this week was the week of the World Championships in Umag, Croatia. They were canceled. I was meant to be there. And unfortunately I planned the year around it but we knew early on it wasn't going to happen which is unfortunate.
Dave Collins
Yes, it's a shame
Fabio Molle
Let's go back to the start. You were on the pro tour for a while?
Dave Collins
Yeah, I played pro for a while I played for maybe five or six years - did okay got a ranking in singles and doubles most doubles ranking was a bit higher around 350 something like that singles was about 800 so had more success at doubles actually played with I think a friend of yours maybe. Owen Casey a couple of times. We played together in Portugal and won a couple of Futures events down there back in the day
Fabio Molle
Owen Casey is a great lad. He was one of my coaches actually back in the day and I still he still coaches in our club now. The guy loves coaching, absolutely loves tennis and he's a great coach as well. Really great coach. So he's a good lad. And did you go straight into the pro tour from Did you go to college? Or did you just go straight into it?
Dave Collins
Straight in from school, I didn't didn't go to college, went straight in after finishing school and then and tried my luck. But yeah, like I said - did okay, but not enough to make a living as as with a lot of players and then went into coaching. After about probably five or six years, like I say, competing.
Fabio Molle
How did you get involved then working with pros?
Dave Collins
It came about, well the first sort of top doubles guy worked with obviously was John that came about John was working with Chris Eaton at the time. And then Chris got a job over in the States as the college coach and I forget now where Chris is coaching at which college it'll come to me probably and then Chris moved over so I helped John little bit and then sort of as as time went on, we did more and more together and yeah, so that's really how it worked out. Emily Appleton I've been working with for probably since she was about 13 or so I would say on and off. She did well, finished uni as top 10 and so she's now finding or fighting her way up the rankings in that transition period from from junior to pro and she's doing pretty well.
Fabio Molle
Chris Eaton is at Wake Forest.
Dave Collins
Wake Forest. That's right.
Fabio Molle
Which is the one the best teams in the States, if not the best or they are up there anyway.
Dave Collins
Yeah, they're up there. So they've got Chris's doubles expertise over there, too.
Fabio Molle
Since you've been working with John, have you gone on the road much in the early days?
Dave Collins
The first time I went away with them was probably two, two and a half years ago. I would say I did some of the events here in the UK first some of it obviously is is determined by my sort of day to day job at the club. But like I said, I think before as and when it works for all of us. When it works with everyone's schedule, then I go away whenever I can.
Fabio Molle
Okay and do you have any good tour stories for us? It's been a few episodes since we've got some good stories, and some of our listeners have been missing some stories so maybe you can shed light on something interesting.
Dave Collins
So good stories. Let's have a think. I'll have to come back to that, I think
Fabio Molle
We will come back to that, you get working in the background. Come with some because, yeah, this is how we find coaches have the best stories because you just find they've been around longer. They can just chat better. And they always come up with some funny stuff. But so, as a lot of our listeners, they're not professional players, they're amateurs, play club level, some juniors there, what bits of advice can you give them to, to help their doubles game, like, give me a couple of practice drills they can work on that are going to help them.
Dave Collins
I think, any level of doubles, I think when you're you're playing with somebody, it's good to try and establish a partner to play with. So you, you play with them, maybe play with somebody a little bit more than you play with another person. So you get to know a little bit about what they do and what they don't do. The main thing I would say, would be to look at getting three or four different plays that you can work with. So whether it, whether it be, you know, as basic as I'm going to try and serve to my opponents backhand, and I'm going to try and hit as many forehands as possible, because I don't serve and volley because lots of club players like to serve and stay back and I want to serve into the backhand and then hit as many foreheads as possible from the back of the court because most people - their forehand is is a lot stronger than their backhand. And that's on both sides, whether it's on the ad side or the duece side.
Fabio Molle
Jack Sock style
Dave Collins
Exactly. Yeah, it works for him. So, but that can be translated down to club level. Like I said, because most players their forehand is a lot a lot better than the backhand.
Fabio Molle
Yeah, no, I agree. Serve & Volleying can be can be rough. Like you're playing some good returners who are hitting the shoe laces on every return, it can put you under a lot of pressure. So staying back can be can be the right thing. And what mistakes do you see doubles players at the amateur level make the most is there one thing they can cut out that could help them straight away?
Dave Collins
I think a lot of it is their positioning, where they're where they're standing. I think a lot of the amateur players feel like they need to cover the the tram line or the alley as much as possible to try and stop the opponent hitting the ball down the line. Whereas in reality, the ball doesn't go down the line very often. So they they'd be better standing a little further over maybe towards the center of the service box and then it'll help them maybe get involved with a few interceptions or poaches because they don't have so far to travel.
Fabio Molle
Yeah, that's that's some great advice. I think a lot of people have fear of getting a ball in the back of the head don't they
Dave Collins
Yeah, they do for their partner, it has to be a pretty bad serve to hit if your partner and if your partner hits you in the back of the head. So if he does it more than once, maybe choose a new partner.
Fabio Molle
Yeah, yeah, no, definitely you don't and it's not that sore really, if you get it's more sore in the back, if you get it in the back. And do you encourage, like I formation, do you encourage that sort of play?
Dave Collins
Yeah, yeah, we try to we try to introduce it to all of our members, so they get exposed to it. So then they can, if they decide to use it, they practiced it a little bit. But obviously, some of that will depend on the serve speed. And some of it will depend on the serve accuracy. So most of our members that are at our club when they pay to play traditional doubles, but the guys that are playing and the girls that are playing a little bit better, maybe will start to experiment with I formation and, and doing a few more different things when they're out on the court.
Fabio Molle
Yeah, because the uncertainty can can really help servers can;t it, puts returners under a lot of pressure.
Dave Collins
Yeah, and you get some cheap points because they're not sure about what the net person's going to do. So you're going to get some some free ones, because they're looking at the net guy rather than watching the ball and, and missing the return.
Fabio Molle
Yeah, it's a nice point. It's nice play also on that say, whether it's I know in the next point, after duece is played a lot or advantage where you're stuck in that advantage situation, you just can't win that point. And sometimes just change up like that can get you as you said, a free point, get your shank return, or it puts the return under pressure, actually just going to lead us on to a nice section here now where we hope to have Dave on with our new webinars which are starting actually starting this week. So what we're going to do a dobles specific webinar with Dave, we haven't really discussed it in depth what we're going to do, but do you have any ideas Dave, what we're going to what you're going to talk about on the webinar?
Dave Collins
Yeah, I think we can we can go through some more, some more tactical things and maybe some more practical things that people can can do and work on on the court to to help their doubles and to try and get some maybe better results. When they're, they're playing out there. Or they're maybe they're playing some people certainly at club level who they can't quite beat so maybe we'll help them with a few sort of tips, a few tricks that can can show them to get the get the upper hand on people maybe they haven't got the better of before.
Fabio Molle
I love it. I can't wait for those tips for myself now. Really excited. Okay, so we're gonna end this there shortly, but hopefully you're still working on those stories in the background. You work with John Peers and Mike Venus - we'd love to something we've never done on the podcast before on the podcast before is have two people on it at the one time and no better way to have a good doubles pairing having a bit of banter. Do you think we can arrange that? I'm sure we can, I'll have a chat to them. I'm sure that we can, we'll try and find a time when they're, they're not too busy and they can we'll get them on After Roland Garros I know it gets busy after Roland Garros as well, maybe at some stage later in the year, but it would just be really interested to find out how they teamed up and you know, bit of their background information. And, yes, that should be really exciting. So I look forward to that happening. And finally, two things, any stories pop up anything that I can use in those in that episode with them that I can challenge them with?
Dave Collins
I'm gonna have to come back to you with it fabio on that one.
Fabio Molle
You're too nice. You're too nice. Yeah. Finally, what about we are going to end this with some advice for coaches out there who want to get into the pro game? What's your advice for them?
Dave Collins
I guess two avenues isn't there, either there, you'll find that some players will come to you. Because they've seen what you can do with or seen what you've done with other players. Or it may happen by chance, you might find that somebody has moved into your area, and they suddenly need someone to help them and you help them a little bit and they see a little bit of value of what you're doing. And then it grows and grows from there. But I think one of the big things I would the big advice that say for coaches is never stop. Never stop learning keep keep learning keep keep watching the doubles, keep looking at how the game has changed, because it has dramatically over the years, you know, probably only 50% of the players now will serve and volley whereas in the old days, it was probably 90%. So the game has changed for sure. Most of the returners are playing both back on the first serve. Whereas in the past, that would never happen. There has even been an instance I think it was last year at the US Open where the service partner was staying back and the guys that did that they won a round so and I can't remember off the top of my head the name of it, but I can get it to you.
Fabio Molle
Wow that's interesting. And are you referred to as a doubles coach?
Dave Collins
No, I do have a club role, obviously, which I do everything from, you know, from tots to the tour, I guess you could say so, you know the little four year olds who are starting out with their mini read lessons, and then working with the guys when they're here. So now I think a little bit of everything.
Fabio Molle
With tennis coach, they sort of use tennis coach, they do everything. Are there tennis coaches out there where you'd say, okay, we need to work on the forehand, we're going to ring coach over there, we're going to work on a volley, we're going to ring him a bit like, I don't know, I see tennis coaches a bit like a GP or a doctor where they sort of do everything. But are there coaches that are like an a surgeon of different types of specialties that you recommend?
Dave Collins
Yeah, that we you know, if there's if there's things that we need help with, you know, I'm more than happy to, to speak to people who are probably experts in a particular field. So I'm not saying if I can't fix it, I'm more than happy to seek advice from somebody who's, who's better at that than I am. Lots of coaches are sometimes a bit shy of asking other people because they feel that the player may think that the coach doesn't know what they're doing. But actually the player is doing the best job possible, because they're trying to help the player in whatever way they can.
Fabio Molle
Yeah, I agree with you. It's good that you can do that. Because I think you're right. It's interesting. Last question, what's your best memory as a coach?
Dave Collins
Well John obviously won the Australian Open in 2017. So we got up early to watch that which which was, was pretty special to, to have been helping him through that. Obviously, I wasn't down there but but working with him, before he went down back home to Australia, because that's where he lives that was pretty special. Mike won the French Open in 2017. But that was before I'd even spoken to Mike so that I can't take any credit at all for that one. The first tournament I worked on with Mike was Wimbledon. 2018. And Mike made the finals. So that that was a pretty a pretty good start to to our relationship.
Fabio Molle
And did you get to go to Wimbledon?
Dave Collins
Yeah, so I was because it was here in the UK, it was a lot easier to be to be part of it and to be around and help out. So that was a pretty good start. But it but it's been good. There's lots of good memories down down the road with them. Hopefully, they're going to create a lot more
Fabio Molle
Great, well winning big titles is pretty, it's a big milestone for any coach. So congrats on being part of that team.
Dave Collins
Thank you very much.
Fabio Molle
Thanks for your time. I'm really excited for the webinar, for my own game, personally, but I can't wait for it. And if people go, I'll put up the link afterwards. If they go there, they can sign up and we'll have more information there. But thank you very much, Dave,
Dave Collins
Thank you very much indeed. Catch up soon.
Fabio Molle
I hope you enjoyed that chat with Dave and are excited for upcoming free webinar with him - where you can improve your doubles. Go to functionaltennis.com/webinar to sign up and get more info. I'll be back next week. But until then get on court and work on your serrves and return. Bye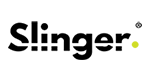 PODCAST POWERED BY SLINGER