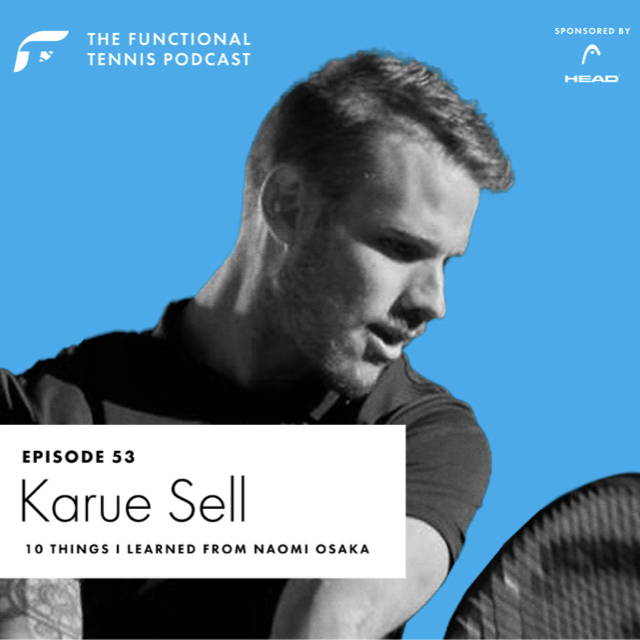 10 things I learned from Naomi Osaka
This week we speak to Karue Sell, the hitting partner of Naomi Osaka.
Karue went to college in the US (UCLA), played professionally, has coached and is now the hitting partner of Naomi Osaka. He tells us about his journey to get to where he is, as well as 10 things that he has learned from Naomi.
Be sure to listen on your favourite podcast app.
Enjoy!
If you find it interesting please share with your tennis friends and family.

Thanks to our sponsors HEAD who allow us to have a producer and a better sounding podcast 🙏
---
Follow Karue on Instagram
https://www.instagram.com/karuesell
Karue Sell
Hi, I'm Karue Sell and you're listening to the Functional Tennis Podcast.
Fabio Molle
Welcome to Episode 53 of the Functional Tennis Podcast. I'm Fabio Molle, your host. This week I speak to Karue Sell. Karue is the hitting partner of Naomi Osaka, and he tells us 10 things he has learned from practicing and touring with her and her team. We start off by talking about his college days at UCLA giving the pro tour a shot, as well as what he's doing when he's not on court with Naomi. Before we get started, a big shout out to our sponsors HEAD. Karue actually gives us some insight into the rereleased head pro tour 2.0, the racket originally used by Thomas Muster when he won Roland Garros in 1995. Okay, let's go. Hi, Karue, welcome to the Functional Tennis Podcast.
Karue Sell
Glad to be here.
Fabio Molle
Great and its unbelievable to have you on and can't wait to hear about your tips from being Naomi Osaka's practice partner. But before we get into that, why don't you tell our listeners a bit about yourself and where you're from?
Karue Sell
So I'm from Brazil. And, you know, born and raised there, played all my junior tennis in Brazil, ITF's, all that stuff. Then I moved to the US in 2012 and played at UCLA for four years, did a little bit of coaching and went into the pros for a few years. Now I'm working with Naomi Osaka as her hitting partner. So it's been a it's been quite a journey.
Fabio Molle
Great. Well, tell me let's break it up a little bit. How did you get recruited for UCLA?
Karue Sell
College tennis was always kind of like part of the plan. It wasn't ever like I think I always leaned a little bit more toward college tennis.
Fabio Molle
You guys had a pretty stacked team.
Karue Sell
Oh, yeah, we're solid team. We made one NCAA finals. There was kind of like a crazy thing happened. So we know the format of college tennis is best out of seven for people who don't know college tennis. So you play three doubles and whoever wins two points wins one point a two doubles, wins one point and then play six singles simultaneously each singles worth a point. So whoever gets to four wins the match, and we were tied against Virginia three, all came down to the last match was Puget versus Mitchell Frank, and he was serving at 5-3, Puget was serving 40 -30, plays a point where he hits the back and goes to the net, hits the volley. And Mitchell Frank misses the lob. So we were like, Oh, we want it so we're about to rush on the court, but in between that volley and missed lob my friend, Puget, actually touched the net. And he got called for touching the net. And he just kind of went downhill from there. And it's just kind of like, who touches the net. First of all, had never happened and who touches the net at that moment? So it was just like, it's kind of like a legendary story like weird. It was kind of crazy, but yeah, it happened 2013, my freshman year.
Fabio Molle
Does he still have nightmares about it?
Karue Sell
Yeah, he I think now he's gotten better. But yeah, it was a tough one. It was a tough one to come back from like, that's for sure.
Fabio Molle
You know, I was I was speaking to Ciaran Fitzgerald, who we mentioned before played in San Diego would have played you guys a few times. And got their ass whipped by you guys a few times. And he was telling me you must check out this point. I didn't know about it. So I was researching earlier. I was like heartbreak. That's really heartbreaking stuff.
Karue Sell
Yeah. That was a heartbreak one and the following year we had like a very good team and we had a stack team. And we ended up losing like a few 7-6's in the third against Oklahoma and USC. I love team tennis, every team event I just think it's super fun and and you're playing as a collective group so even though you know we never won a title you know it's kind of like a little bit of my family here so it's been it was a good time.
Fabio Molle
It's the exact same as a lot of my Irish friends who went to college in the States, they all have a little family in the States, they tend to go back to whatever university you're in every now and again and they've got friends there. It's a really good experience that anybody who goes has.
Karue Sell
Yeah, I don't think anyone it's not really only about the tennis thing. So that's the I think you will develop playing pros as well but it's just a little bit different and I don't think anyone has ever like regretted it. I mean, you can ask, you know, Cam Norri, who, you know he could have been probably top 70 earlier, but he loved playing college tennis and we did actually on our website, a series of interviews and it's kind of always the same. At the end, it's a lot of the same. And it's in a sense of like, everyone loves that kind of family they build and in the relationship and again, you make a lot of contacts. It just helps you a ton. And I think with tennis, the way it is today, but everyone is peaking at 30. Like, if you leave college at 22, you're still young. So it's not like you're missing all your prime. You're just you're coming out not even close to your prime yet.
Fabio Molle
And fresh and fresh. So yeah. Tell me so after you finished in UCLA, you decided to go pro for a while?
Karue Sell
Yeah, so I played. I played for four years, finished in 2016. I actually didn't go pro for another season. I just I know how pro is, financial stuff is really it's really complicated to stay on the tour. And I just like wasn't in the right mindset at the time. So I actually went to Pepperdine University which is here in LA and I coached for a year there, I was like a volunteer coach there. I was still, you know, playing play men's opens and I was actually playing really well, I came off a very good season my last year. And then, at Pepperdine, I played a future that was in Calabasas which was super close. And I ended up qualifying, I beat the second seed to the French guy Hemery, Calvin Hemery at the time and I wasn't even, I was just practicing with the team. I got to the quarterfinals lost of Kwon in like a tough match. I was like wow, I'm playing well, I feel like I should do this. And then but I committed to the end of season which was like, April, with Pepperdine. And then at that point, I was like, let's give it a go. So I went out and played a lot of men's opens to get match rythm. And then on my there was a little circuit of futures here in California in September and I was like, I'll start there. See how I feel. On my first future backm I won it. So I was like, well, I guess I have to do this. There were four rounds of qualifying and five rounds of main draw. I won singles and doubles. I was like, well, I got, I guess I have to give this a go for real. So yeah, I played from that point on to like, mid 2019 it was just, you know, financially is really hard. I won another two futures on got to 370 something like that was like my highest ranking, playing really well just had a little little bit of an injury that kind of set me back in 2018. But other than that I was doing I was doing really well, but just financially, you know, with no support and anything like I it was just really hard to stay out there. You know, my parents were helping as much as they could, you know, I was having to kind of do that, you know, coaching a little bit and playing and you know, you're not like, fully 100% in it because you're just kind of like how am I how am I going to pay rent this week. I'm gonna pay for this flight and all this stuff. So it's a it's a tough thing. I mean, I'm sure you've heard all about. It just became financially really hard.
Fabio Molle
So what happens, you're like, Okay, well, this isn't working out, I just can't afford to be playing every week and too much external pressure financially. So what opportunity arrived?
Karue Sell
Well, I just LA is a big coaching market. You can, you know, financially become like really stable here. So I actually had done a little bit while I was at Pepperdine, I did a little bit of hitting partner stuff with the USTA, I went to Fed Cup with them, all that stuff, but I was just kind of like here in LA I found a few clients like juniors really just to coach and all the sudden I was, you know, I was on the court six, seven hours a day and and and kind of enjoying myself here and not having to travel all that stuff, and it's kind of like your first time you're secure. Financially like on your own, like you're not relying on anyone else and just kind of felt nice and I was like I am enjoying this and you know, I can build the career from this. I thought my experience in pros already had been, you know, I still think I could have probably cracked maybe the top 200. But it's also like, where it's scary, right? Like you were like the 200 - 100 you're really battling to like you know, crack that that top hundred and so many people spend so many years on that on that little kind of fluctuating 200 close to 100 and all that and everyone is so good that I always tell people anyone who's playing top 200 tennis can be playing top 100 player players for sure. It's just competing for less points in challengers, you have to go on crazy streaks to maybe crack the top hundred its a really complicated part. In that transition to pros and again even if there's like money from qualifying, slams and all that stuff still like you're still kind of struggling at it, which is crazy for me like for 200/250, you're still kind of struggling financially it's not necessarily like you're you're able to, you know, afford traveling the coach and all that stuff. It's hard depending on also your, situation, you know, if you have Federation support and all that stuff, but it was a you know, I started in this here, and I was pretty set up until the, you know, the Naomi offer came in, but that was just kind of my mindset at the time, I was just gotten gotten a little over it. And I was like that whole transition period that was also like, kind of pushed everyone a little bit over the edge. So it's kind of if I when I look back now, it's like I would have had 2019 with half the season with the transition tour and then 2020 with this. So it would have been the worst time to carry on the tour right now. So I actually timed it well luckily.
Fabio Molle
So Karue, when did how did the Naomi opportunity arise?
Karue Sell
Honestly, it was like, out of nowhere, I was just sitting at home one day it was before Asian tour last year. So Beijing, all that. I just got a text from a couple people actually like that week. I can't remember what week was it but I just got a text from like, a bunch of people are like, hey, like, there's someone who's moving to LA who's like a good player, or they're gonna look for a hitting partner, blah, blah, blah. They wouldn't tell me who they would just say that. Yeah. And I was like, Are you looking for someone? And it was all people who knew me because I did this before USTA. I went to Indian Wells with like USTA and Shelby Rogers and Bethanie Mattek Sands and and all this stuff. So Steven Amritraj was the first one to reach out, actually. And then a couple people from LA because I think Stuart who is her agent was just reaching out to people here and my name kept popping up. I literally got like for people to call me by the fourth call, I was like, look, okay, like, is this happening or not happening? What's up? I didn't hear from anyone for like, a couple months because they went to Asia. And yeah, I just, I was like, I guess that didn't work out. And then late in November, mid November, something, I finally got a text from Stuart, and we just met up and he was like, Okay, let's just do a couple week trial. They were training at UCLA, which was perfect. I was like, Okay, let's do it. So we did a couple of weeks trial in December and all of a sudden, they're like, okay, we're going to Australia. I was like, alright. So I didn't know I just for me the opportunity of you know, working with someone like her and and not even just her but you know, the coaches, the people or the who's going to be around her. You know, it just would add greatly for you know, my experience as a coach and everything so I didnt even think about it, I just went with it.
Fabio Molle
That's, that's crazy. Well that let's get to the beef of this episode where you are going to tell us multiple things you've learned from practicing and being around Naomi and her team. So let's start with number one.
Karue Sell
So number one, I think a lot of it that I put here might be not your just your typical things that you want to hear not necessarily about just ball striking and all that. But I just say every person is different the way they work and the way they they go about things. So, you know, with Naomi, she's actually fairly resourceful and creative on the court, and that can be both good and bad. So because you can make bad decisions, but with Naomi like what I learned a lot, especially from her end. Number one, what I have here is just make good decisions. Decision making is its key now to mean even if you're someone who's very resourceful and, you know, crafty and all that sometimes the simplest shot and not trying to make everything more complicated than it is, it's not, it's gonna be your best bet. You know what I mean? Keep it simple, make good decisions. So that'll be number one.
Fabio Molle
I don't think you're going to get to be the best in the world without being able to make good decisions.
Karue Sell
You know, a lot of people- I see players over here who are incredibly good and powerful and all that stuff, they sometimes just see their decision making. You're like, Whoa, that is just not that's not what you should be doing right now. And like with her, it's like, it's incredible. She makes like, great decisions most of the time. So that would be number one.
Fabio Molle
And just to end number one, do you think this great decision making comes from you just got it? Does it come from experience? Does it come from having a good team? Or does it come from all of the three above?
Karue Sell
I think all of it I think you need to you need, kind of the freedom to make the decision to make the bad decisions as well. You know, and learn from them. You need the people around you to to know also keep you in check. So I think it's a good combination of everything. But in you know, it depends on your character, you know, how your personality is, like how you handle maybe criticism, things like that, but definitely, it's something that you can work on. It's not It's not something that is like, Oh, I was born with that you can you can definitely work on that. I know it because I had to do it myself.
Fabio Molle
You just got to be you just can't be the person who keeps making the same mistake or as you won't go for. Okay, so number two.
Karue Sell
So number two, what I have here I wrote hyper focused practice sessions and I don't say it in this is not in you know, her being hyper focus or anything I say it as if we're going to work on something. If Wim comes in with a plan, like, hey, we're gonna work on this today, we're going to spend probably all the time working on that and not try to cram in too many things every session, you know what I mean? Like say we're gonna work on slices, we're gonna work a lot on slices today, it's okay to not hit cross courts and down the line for a day. So we do that a lot. I think Wim is a great coach and he plans you know, everything ahead and we come in, we make adjustments and obviously, depending on how things are going, but but he does a tremendous job at that, like kind of, you know, keeping the focus at a certain thing for a good amount of time, whatever he wants to work on that day or that week, and I think with athletes like Naomi, when you do that for you don't have to do it for you know, long periods of time. We're not going to work on something for a month. She's going to get it after, you know, two, three days. So that's been a very eye opening thing. Sometimes I think we try to cram so many things inside an hour/ two hour practice that you actually go into, like improving anything, you're just kind of like run through things.
Fabio Molle
I completely agree with you, you can be caught, you want to work on everything and you spend the sessions working on everything and you get nowhere. That's a really good tip. We just focus on wanting keep working on it, maybe for a session, two sessions, two days, three days. And do it as well as you can stay focused, which is hard to do. So that's, that's a skill in itself.
Karue Sell
Yeah, it's a it's hard, it's tough, especially if it's something you're not comfortable with and you haven't spent all this time doing it. It can be kind of annoying, but it's important to actually, you know, mentally stay strong through that stuff.
Fabio Molle
Great. And okay, number three, Karue.
Karue Sell
Number three, we got footwork, like developing your game from the ground up. I think, you know, even someone like Naomi, who is the you know, multiple time Grand Slam winner, there's still you know, basic things and footwork that's she struggles with and, and I think a lot of players end up trying to develop from the top, you know, like just oh my swing and always like make a mistake, my swing was bad now or whatever it is, but were are you in position? Where you you know, loading with the right leg? All that kind of stuff we spend a lot of time actually with footwork with, you know, proper loading all that kind of stuff choosing the right base. So that's, I mean, it's not it's not necessarily something I learned, but it's something that I was glad to see that, you know, when I when I was training that's what I was thinking a lot. So I was glad to see that. Yeah, we're doing that at the top building, building your game from the ground up. Especially groundstrokes they're called groundstrokes because you know you need to develop from the bottom first though that's very important and one out there just make sure you are developing good footwork.
Fabio Molle
Great I've seen her use the ladder. She loves the ladder and I think she has good footwork. I know most top pros have good ladder feet, but she definitely does and she's often seen using it which is great.
Karue Sell
Yeah, we use a lot of the ladders, we use you know, cones and I know reaction stuff and all that kind of all kind of stuff. So she she, you know, she definitely puts into work and also just in general just in practice not even doing it post or pre with ladder work but just, you know, as we're hitting as doing that kind of during practice really emphasizing, you know, the lower body making sure she's doing the right things, when she's moving, moving, recovering all that stuff. I think it's really important for anyone to focus a lot a lot in that and you kind of think you can have like a tremendous improvement once you improve your your footwork it can be like you can feel it much more, I think than just by having good strokes.
Fabio Molle
100% agree. Okay, number four.
Karue Sell
Number four, I have depth, just depth on the shots, we work a lot on that. I think there's sometimes too much emphasis on power, you know, in coaching these days. But as Wim said, a couple days ago, or a week ago or so, he said, depth is like the main cause of mistakes. If you're hitting the ball deep, you're going to generate more mistakes from your opponent than if you're just hitting hard. So you know, always making sure whatever drill you're trying to do if it's not deliberately to hit shorter on the court, maybe slices or angles to play that making sure you're putting a target to hit the ball deep. Doesn't have to be that wide as well. You know, but depth is incredibly important, especially at the level like you a couple inches further, you know deep in the court, you're going to succeed much more than you'd expect actually.
Fabio Molle
Yeah, even at the lower levels if you have good depth you're going to just pick up easy points because people aren't like the pros who can pick up those deep balls. But question do you when you practice depth, what would be a sample drill? Is it like hit a cone or hit like 30 balls past the cone? Do you do those sorts of drills?
Karue Sell
Yeah, with a bit more area not necessarily cones, but areas where on the court where she needs to hit, you know, 30 balls there 20 balls there, or even not just necessarily she's stationary sometimes, you know, I'll be moving her and she needs to hit the hit that area at the same time, actually, you know, going the other way to like making me hit deeper balls. And so she can come up with but still come up with deep shots from those deep balls. Again, in the pros, there's a little in a lower level. As long as you make it back. Sometimes you're going to be okay but in pros, you know some player hits a good deep ball, and she's not able to handle that and hit the ball back deep, you can just be setting the ball short so, so a lot of emphasis on on depth, a lot of it specially areas. Cones is more if we do drills if he's feeding stuff like that, but if we're hitting, it's more like a big area, so it's just a little bit different.
Fabio Molle
Great. Okay, so number five.
Karue Sell
Number five, I have it here something that I actually never like really thought that much and I wish I did. It's like generating power from the hips. I think I used to think a lot about my legs. But a good way to stay strong through it is like that hip rotation, making sure because Naomi's sometimes can have like the tendency of guiding the ball a little bit when she gets her hips around like good load on the leg, whatever leg she, you know, she's going to open and close them whatever. But making sure the hips like really like her quick, as you know, she's a strong girl that makes such a big difference in how powerful she hits and control power too is not necessarily like just wild is not like opening the hips too early, its just kind of like that unit swing, but really like off when you're pushing off the leg, really making sure that the hip is coming around quick. So you're gonna create more racket head speed, everything is just kind of like a, it's a really interesting thing that I always I never really thought too much about it. And then I realized that I do a lot of it on my backhand, and I don't do it enough on my forehand. And I was just like, oh, man, I should have been thinking about this a little bit more. It's really an interesting thing. Like when you can generate the power from the hips. It really helps us stay strong through the shot and create more power.
Fabio Molle
And how would she work on that? Would it be in the gym or on court with medicine balls or any specific drills?
Karue Sell
Medicine balls to warm up actually we have, you know, just in general, just a typical stuff. We're not reinventing the wheel, anything that most people are doing with medicine balls we're doing as we're doing too - a lot of, you know, some hand feeding stuff. So you're having to generate the power, you know, the main, you don't have like the ball to kind of just tie back. So hand feeding stuff so you can really like you load and push off the hips, and push out the hips, at the gym to there are some exercises that kind of that be kind of hard to explain in a podcast, but you know, exercises of like creating, you know, hip thrusts, and yeah, and things like that, where you're, where you're, you really like, you know, work on that and because it's a lot about feeling that too, like I when I you know, whenever they're doing things I kind of try to like do it myself, so I try to understand it and you know, it's a lot of feeling those muscles like I you know, I never really felt too much. I never thought too much about my my hips and now that I'm playing I'm like, oh, like I need to do this to feel it a little bit more and all that stuff. So she at first, you can tell that she wasn't really comfortable with that too. But now she just is very automatic. And it's been really hard to actually like push her for sure back on the court because it's so strong. So that's a really important thing, especially a little higher level people that you know, are trying to maybe add a couple couple, a little bit of speed to their shots. I think that's, that's a good tip.
Fabio Molle
It looks even more effortless once the hips are involved.
Karue Sell
Yeah, yes, exactly.
Fabio Molle
Okay, so number six.
Karue Sell
Number six, I kind of lumped a couple things together. It's more about like, you know, a character thing but, be open minded, trust the people around you and be okay being uncomfortable. And then she actually does a great job trusting the people around her and obviously she works incredibly hard at the gym and on the track, but now on the court, you know, working on things that she you know, she's not really known for, you know, her volleys or her slice or whatever it is, and it can be a little bit annoying sometimes for you to go out there and do things that you're just kind of like, I'm never gonna play like this, why am I doing this kind of thing? Not just her, but just in general, we all have that, like, I'm never going to play this, like, what am I working on this but, you know, trusting that you have to add certain things to your game and there's always like, you know, a new level to be reached in tennis and I think that's a really important thing for anyone that is in their tennis journey.
Fabio Molle
That's what makes out great champions is that you strive to be better to fine tune everything in their game because there will be a point 30 - 30, I don't know, serving for another Grand Slam where she hit a slice or a volley and all that work pays off for that one shot.
Karue Sell
Exactly for the one shot exactly exactly our point like. I've always heard like you don't, we're not expecting you to start slicing like Federer but maybe you're going to steal one point that you do it and that one point might be the biggest point.
Fabio Molle
Okay, so number seven,
Karue Sell
Number seven. It kind of is on the same note, but I just wrote here like, stay curious so and then note of being open minded and doing, you know, things that are uncomfortable with also don't necessarily just be told what to do but like, ask the why. Why are we doing this? Why are we developing this? I think we actually in this last like few months, we hit a little bit just me and her like while Wim wasnt here, and she seemed like she was getting like much more curious about just tennis in general, her game and all that kind of stuff. And, you know, once you have that tennis conversation, especially you, you know, if you're a player and you have a coach, your coach is going to love that. Like if you want to have that conversation like why am I doing this? Why? How can I learn this better? Like why am I struggling on this shot? I think she has done a much better job. I think now that she, you know, it was a new team this year, all that stuff. I think now we're kind of like in a really good place. And I think that's very important for tennis players just in general like don't, obviously listen to your coach. But don't just be told what to do and mindlessly do it, like learn the whys and the hows and all that stuff. So it becomes much easier in a sense of like, hey, I'm struggling with this ball like why am I struggling? You know, when we were practicing or doing certain thing? Why am I doing it differently now it's easier to kind of revert back to like a point where you're you knew what you were doing and learning more about tennis is actually going to help you just become a better tennis player in general.
Fabio Molle
Well, I think that will really help her when she's in slams and she doesn't have a coach and yet certain breaks down and she goes oh, you know, it can help you break down stuff get to the solution and figure it out yourself.
Karue Sell
Exactly she again she she's a very good problem solver, what I'm seeing what I've seen so far and but you know, tennis is hard and is just a mental battle. So you just kind of when you kind of learn more about the whys and how's and I just think you can, you can always like okay, maybe take a step back and you know, maybe start making more balls a certain way, remember something you did in practice that you're actually like it's ingrained in your mind. And not necessarily just like I did it, but like, you know, I forgot it, I guess.
Fabio Molle
Yeah. I can't remember why I was told to do that. And I don't know what it was for. And yeah, anyway, yeah, exactly. Number 8.
Karue Sell
Number eight, just simple serves and returns spend a lot of time on that. I think we always spend, you know, extra time searching or returning, it doesn't have to be both on the same day. Most days, we actually just do one, one of those. But, you know, go out there and serve and return. Like if you can add whatever time that you can add to your practice session that you can serve in return a little bit more. I mean, it's just your way to start the point and so you need to be good at those two. So make sure you are spending time on that and you don't have to, I think we do what we do a lot sometimes, you know, we just kind of focus on two serves or one serve even like, we don't even go for that long, but just really specific kind of goes again to the hyper focus practice, you know, we're only going to do kicks today or whatever it is, but go out there and do that, because that's gonna, obviously, I mean, it's goes without saying how important it is.
Fabio Molle
Again, you're going back to your previous points were, you're not trying to work on everything you're just working on be it the kick serve or a return. So it's keeping that philosophy alive. Okay, number nine.
Karue Sell
Number nine. And that's I think this last couple of points is more like, , you know, as a Grand Slam winner, I'd say so. I have number nine, focus on your side of the court. I think, you know, scouting reports, I think can be a little bit. It's nice to know how, you know, your opponent is going to play but it can be a little overwhelming that sense like you, you end up adapting to the player. So you know, what I wrote here and I think that's kind of our mindset, when she's going to go out there like play your game and make them adapt to you make that your opponent adapt to you, don't adapt to them just because you know a couple extra things about their games. So I think focusing on your side of the court, making sure you're coming, you're going into the, into the match with a clear game plan, executing that game plan, and trusting the game plan and your style, playing your style, not trying to just make changes just because that person plays a certain way or this and that, just focus on your side of the court, you're going to be much more successful.
Fabio Molle
Great. And finally, number 10.
Karue Sell
Number 10. Just mindset of a champion. I think walking that kind of fine line between arrogance and confidence. You know, it's like, it's tough thing tennis is just I think, I personally think that way more than half the battle is already before the match. Like you're playing someone who's a hundred spots ahead of you. And its like he's so good, whatever it is, especially when you're a junior, it's the hardest thing and I think you know I tried to ask her the you know things like that - when you're winning a slam it's like your mind has to be the right place and tennis is such a mental sport and Im not saying walk out like you're the biggest star in the world if you're just playing in your club league but having a mindset that you know you're good and you can beat anyone at any day. Just don't you know, go into the match like I I know I lose 6-4, 6-4 for this good player it's going be it's gonna be nice. No. Have that mindset of a champion.
Fabio Molle
But not cocky.
Karue Sell
Yeah, exactly. Not cocky. It's a it's a fine again it's a really fine line right I think the big three do such a good job at like, kind of hiding that you know extra cocky part like right I'm sorry but you know, but you know Fed and then Novak and Rafa. They're in another league and you know, they have to be like, you know, they they respect everyone and they go in but but you know, there's that that kind of like, little bit of an edge like almost like it can be cockiness sometimes where, man you're just not going to lose to this person like you're just not going to. Exactly failure does sometimes happen and I think we see them more often on the girls side coming out on top on a day that's a little harder. But I think just think that kind of mindset and again really hard to develop really hard to I couldn't even tell you what it is to like, you know, close out a slam. You know what I mean? That's just a whole different ballgame from what I've experienced, but definitely a good mindset. Staying confident and trusting, trusting your process. It's very important.
Fabio Molle
They were 10 insightful points. Karue, I know, as you mentioned, you're not reinventing the wheel here, but you just emphasize that simple things are what work really and executing the simple things is what's important.And okay, we'll move on to the last section of the podcast. We're just going to talk a little bit about what you're up to right now when you're not on the training court with Naomi. Before we do that, I just want to ask you - I saw you had a video with the HEAD pro tour 2.0, which is it's a comeback of the old Thomas Muster. Andy Murray's racket is based on that racket. I know there are other guys out there using it, maybe not the younger guys, but what is that HEAD pro 2.0 like to play with?
Karue Sell
It is good. It's, I mean, it's a little I'm not going to say it's a little bit hard to play once you actually go into playing points because I mean, it's an old school feeling racket The sweet spot is a little bit small but man when you're hitting the ball clean it feels good. The sound is good. It just feels very old school. It really like plows the ball it has good amount of mass though you can just you can clock the ball but there's that you know it's a weird thing. It's not necessarily a powerful racket but you can really hit it hard but fuel is just amazing. I really liked it I would I play with it? No, I need I need a little bit more help in certain spots. But unbelievable racket.
Fabio Molle
Is it like a prestige?
Karue Sell
It's like a prestige. Yeah, I played with the prestige for for like a few months, like six months, I think in 2019 or 2018. And it feels a lot like the prestige. If you don't have good strokes, it will kind of highlight that. You know what I mean? People with good strokes, solid contact, all that stuff will help, it will you know benefit from playing with the people with kind of like not great strokes you know that can maybe get away playing maybe with a Babalot or something with a little bit bigger head size should stick with that. But you know, kind of that if you have long nice full strokes, good distance between the ball. Oh, that thing just goes, especially on the backhand side for me. I was like, oh, that's that's that's just feels good.
Fabio Molle
That's That's nice. I always felt those sort of rackets. I'd love to play with the prestige but I don't have the feel to play with one. If I find on the backhand of the smaller head size, that's a 95 square inches. Ive seen the 98 ones on the prestige, they are not forgiving enough. They are just lacking something.
Karue Sell
Yeah the prestige I had was a 98. And I just always felt like I had to be just so sharp and I'm a clean ball striker. And even there I was like, you know in a match. You're not going to win just because you're clean. So you need you need a little bit of help. That's why I switched to the speed because just the extra 100 square inches but really for hitting I liked on the back end because I can be a little stronger through the shot. It felt very good on the forehand it's a little tougher for me I need I need to be like really dialed in to hit the ball like well which is like it's fine it on its own way it's really fine and it's like it's kind of a funny thing. I think every like kid should play with a racket like that like once a week just to like, you know have to be dialed in for like an hour or so. And make good you know, good ball striking.
Fabio Molle
Well its a bit like the tennis pointer that we have. I'm not sure if you've seen it is the wooden stick the wooden spoon. That's based off, has the exact same measurements of the sweet spot of the old Sampras prostaff the sweet spot is the exact same and the measurement is based off that nowI know there's no strings in it. But it and it's the same thing where we encourage people to use it once a week, twice a week warming up 5-10 minutes just to get you that feel of the sweet spot and being clean and getting those feet moving.
Karue Sell
That's kind of yeah, that's actually the perfect. That would be just if that little wooden spoon became a racket it would be the HEAD Pro Tour.
Fabio Molle
And tell me so if let's say you're a player who it's kind of a flat ball has good feel, likes a serve and volley. That would actually be a good racket for them?
Karue Sell
Great racket. Yes, great racket if you know, fully trust your strokes. Really go for them. Don't you know this because there's some people who are a little more passive with their shots. If you really go for your strokes, you to want to play aggressive come in serve and volley, very good for serving very good racket for serving the accuracy and all that stuff. Not that great like the kick a little bit tougher because of the string pattern plus the small head size, but for the flat serve, the slicers it just moves. So good racket, good racket for that like definitely if you're having that kind of style. Go for it.
Fabio Molle
Nice and now it's going lead into the last part of this podcast, where we ask what you're up to when you're not on the court and I initially came across you from the videos you had up of Naomi. You put up the odd practice one and you send them on to me, which we really appreciate. So you started up a new, an Instagram account, my tennis HQ, you have a YouTube channel. Tell us a bit more tell us the name the YouTube channel actually is in MyTennisHQ as well?
Karue Sell
Yeah, My Tennis HQ as well. Yeah, so we have the website is kind of our you know, that's where we started. That was about six, seven months ago my mytennishq.com and it was just kind of creating content around tennis that you know, maybe answering questions that people aren't really getting the right answers to, and some things I just think so it's my friend myself. My friend that played at Pepperdine, actually and his other teammate that played at UCLA. So the three of us know writing some articles where, you know, we just we just felt like we had some sort of like an insight that a lot of people, maybe you know, you're your normal, like club coach and all that stuff don't have the access to certain things that we do these days. And a lot of, you know, a lot of answering questions. I mean, really, like we have articles about anything like what what are tennis players drinking on the court, you know, just recovery strategies, all this sort of things. There's more instructional stuff, there's more, you know, prize money related stuff, we actually have a very good breakdown on prize money. And an article recently on our website, which was really good, you can tell he shows how people that who are, it is kind of a funny thing, but funny and not funny at the same time, but like a player who was 400 to 450 makes as much as like someone on disability Social Security here in America, so we had a whole breakdown of that. So we did that and we started the Instagram account just to kind of post some of the instructional stuff that we wanted to do but a lot of the things that we see on Instagram that we enjoy that we think oh, this is a good tip or this is a good video we share on our Instagram, but yeah, the YouTube and the website is kind of like our main focus where again, we like I said, the reinventing the wheel part. I think I see a lot of stuff online sometimes that I'm like, wait, that that this is way too much like no one is doing this. Like don't try to just because he looks good on video doesn't mean it will help you 100% on the court, right? I think simplicity in tennis it's already a complicated game. Simplicity is so key, and we just kind of wanted to you know, we have a plan. A platform we each have our own experiences like I'm traveling with Naomi, I'm seeing tennis at the highest level. I love tennis. So like, when I travel with her, you know, sometimes they will have to do this or that and I'm like, Okay, I'll see you guys later because I'm gonna go watch some tennis.
Fabio Molle
Kid in a candy store.
Karue Sell
Exactly. I love it. I just love watching I love like seeing. It's each person plays so differently, but they just make it work, right? You're the new Medvedev compared to, to Thiem, whatever, like everyone is so different. So I really love it. And I thought I kind of was what I compared to what we're doing with our website we're trying to aim to do is, for example, I'm a I'm like, you know, a mid level golfer, I shoot in the 80s / 90s. And I can Google something about fixing whatever, like how to fix a slice or whatever it is. There's gonna be a billion things online. But so many things are so gimmicky and and like what is what is actually then then I'll ask someone who actually plays pro golf, and they'll give me such a simple tip or such a simple thing. And I'm like, wait, why are they trying to create all this stuff online that it's making it more complicated than it is. And I think with our insight, and again, like I, I try to soak it in everything that I'm learning from Wim or from, from, you know, the fitness coach, anyone who's been around and any other coaches and players and anyone that I've been around, I've kind of sponged a lot of this stuff from them. Because, you know, it's just a big learning thing. And we just wanted to kind of share that we wanted to, we have our experience, and we're not saying like, we know everything we actually, you know, we don't know everything we, we just, we just like keep learning on the go. But I think we're in a great position of being around people who are, you know, at the top of this profession, and we just kind of wanted to share it with people and keep it simple. Keep it fun. I think that's also another part of it, we all have jobs. So we're not like we can't just be on the court shooting videos all the time and writing articles, but it's been a really fun thing. And I think we're just kind of starting to hit our stride. And we're going to do a lot more directed reviews too. So I think that's an area where I think people like to hear, you know, from actual players like what do you like, what do you guys think of that? I think there's, there's sometimes people reviewing rackets that like, you can't really trust them too much, I'd say. So I think that's a big thing. Yeah, you just kind of like, do you really know what you're talking about things like that. There's like some nuances with the racket and all that stuff that I think more experienced players can really like tell you more about.
Fabio Molle
Ultimately, that's why I don't review as many rackets as we should. We rarely actually redo great reviews because, look, I haven't played at the highest level of game. It's a bit like somebody reviewing a race car or fancy car, where, you know, you got to have to push it to the limits to really know how good it is. And if you're not a good racing car driver, you're not going to do that to a car. Sure, you know what it's like, but ultimately.
Karue Sell
I couldn't agree more like I I know I love cars. I think I'm a good driver, but I'm probably not so like, I'm not going to review cars, you know what I mean? It's not gonna be my thing. I just like, I spent hours watching coverages, but it's, that's that's exactly what we're trying to do, like, compare rackets. I know the feel of all this stuff. So we are going to do that. And again, we, you know, I've been following you guys for so long. And I appreciate that you know, you guys have been supportive during this time. You know, we're just started not too long ago. But yeah, it's been a fun project. And it's been a good quaratine project too. We're glad that we had it before the quarantine started. So it's been it's been a good time.
Fabio Molle
I look forward to seeing more your views. My last question to you right now. It's a tricky one. Very, very tricky. Are you going to put in a good word to Naomi to get her on this show?
Karue Sell
Oh, I'll put in a good word. I'll put it on a good word. I think she's probably a little bit bored that we're just practicing. So maybe she can she can do it. You actually, you know, it's funny. You sound just like her agent like I've been on this call for an hour and I feel like I'm talking to Stuart. You guys sound exactly the same.
Fabio Molle
I don't know if that's good or bad. Is he Irish or Italian? Well look, you put in a good word try and get on here. It would be amazing. We have not any Singles Grand Slam champions or world number ones on here. And it would be absolutely unbelievable just for a fun chat. We're not too serious here. So fun chat. And that maybe she can tell me 10 things that she had learned from practicing with you.
Karue Sell
She's learning I push her.
Fabio Molle
Well, good job. Yeah, thank you very much. And yeah, we will chat soon.
Karue Sell
Absolutely. Appreciate it. Have a good one.
Fabio Molle
Hope you found the episode interesting with Karue. It's great to get that insight into one of the world's best tennis players. And as mentioned on the show before, the world's best aren't reinventing the wheel and practicing. They're just doing the simple things really well. I'll be back next week with Episode 54. And until then, goodbye and hope you're back out hitting tennis balls on the tennis court. Bye!

PODCAST SPONSORED BY HEAD