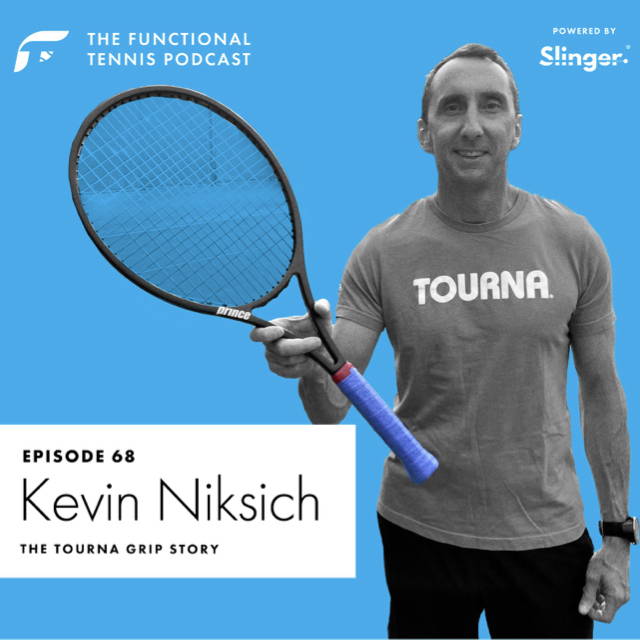 This week we delve into the story & history behind the most well known grip in tennis, Tourna Grip 😍
Kevin Niksich's father started the company & Kevin now helps run it along with his brother & father.
We talk about the origons of the grip, current players that use it, past players to have used it, marketing the grip & finish on some of the other products available from Tourna 🎾
If you use Tourna Grip - this episode is a must listen!
Numerous pro players use/have used Tourna Grip, including: Sampras, Courier, Murray, Bryan Bros, Shapovaolv, Pliskova, Roddick, Isner & others 🔥
If you find it interesting please share with your tennis friends and family.

Huge thanks to our sponsors Slinger who allow us to produce the best possible episode every week 👌
Kevin Niksich
Hi this is Kevin Niksich with Tourna Grip and you're listening to the Functional Tennis Podcast.
Fabio Molle
Welcome to Episode 68 of the Functional Tennis Podcast. This week I speak to Kevin Nicksich, who is one of the family members behind Tourna grip - the famous blue grip that has been used for over 30 years by many number ones. I have been using the blue famous grip since I was a young teenager and I was very excited to learn more about Tourna. Kevin tells us all about the company behind Tourna grip, how they came about, player stories and more. Before we get started - a shout out to our podcast sponsors Slinger. If you've any questions about the new portable Slinger Bag, just drop me a message on Instagram or email at ace@functionaltennis.com. I'll be very happy to help answer your Slinger Bag questions. Okay, let's start talking to Kevin. Hi, Kevin. Welcome to the Functional Tennis Podcast.
Kevin Niksich
Fabio, how are you?
Fabio Molle
I'm very good. Super excited to have you on. I'm a big Tourna fan as you know, I think youwere probably one of the earliest partners/brands we worked with. I'd say over three years now. And yeah, it's amazing to find out - I always want to know more about the Tourna story. So I'm super happy that you decided to accept my challenge.
Kevin Niksich
Well, thank you. Thanks for having me on.
Fabio Molle
And yeah, I've been using Tourna grips ever since I'm a young little kid and actually have an old radical here. I should have just took it out but it's still probably didn't use it since I'm like 14 it still has the Tourna grip on it. It's one of those images that do the rounds - tag a friend with a grip like this. That is one of those grips. But tell me one thing I'm confused about before you get started - Tourna grip or unique, what is the company name?
Kevin Niksich
Well unique sports is our is our larger company that we have we have a lot of different brands even outside of tennis. Tourna is our tennis specific brand. And that includes Tourna grip and all the other tennis accessories that we have with Tourna.
Fabio Molle
Okay so, okay, so now I understand it a bit better. And tell me when did unique start?
Kevin Niksich
Oh man almost 50 years ago now.
Fabio Molle
Wow, and it was it was started by your father, correct?
Kevin Niksich
Yep. It was started by my father. One of the very first products that ever came onto the market and this is all pre high tech overgrips. Right. So he came out with a couple different accessories and one of them was a it's called pro stick. We actually still sell it today. It's just a glue stick. And you rub it on your grip and it makes it tacky. And he had like a it's called a bouncer. It's like a tennis ball restore, where you put your balls in there and it pressurizes them you know, back in the 70's some of those cans of balls were you know 5/6/7 dollars a piece so people were a little more interested in keeping them alive and then also saw dust - you know remember even Lendl - he put saw dust into his pockets. So I mean, we would go to the sawmill and sift sawdust to get it nice and fine - put it in bags and sell it. Those are some of the first few tennis accessories.
Fabio Molle
Was he a tennis player? How did it come about that he got into the tennis accessory business?
Kevin Niksich
Yeah, he was a tennis player. He was working in corporate America but really loved tennis. Tennis was his passion. And he just started to come out with a couple products to try to you know fill some needs in the market and then it just went from there.
Fabio Molle
Wow and tell me was saw dust a hot seller?
Kevin Niksich
Not anymore.
Fabio Molle
Oh, was it though? Was Ivan Lendl a customer?
Kevin Niksich
I don't know, I don't think so.
Fabio Molle
How did the grip come about?
Kevin Niksich
Yeah, so Tourna grips origins were more in the line of a shammy you know, like a shammy to dry your car. So shammies however, you know, they although they absorb water extremely well. As soon as you know you put a little water on it Tourna grip got too grippy. Which is really you know, still why it's so good today as it gets wet. It gets a little bit sticky or gets a little tacky or gets grippy so not suitable for a shammy but excellent for tennis grips. So we cut it up into some strips and the rest is history.
Fabio Molle
So the actual product idea was for a shammy first of all, you were developing a shammy?
Kevin Niksich
That's right.
Fabio Molle
And then you're like wow this could be great for tennis that's that's pretty cool. And did it come straightaway - say okay, there's a light bulb go off and go this could be a great grip or was there a bit of time see what will we do with this thing that we've been testing.
Kevin Niksich
Well, definitely there's a little bit of time. But you know, back in the day, you know, we just, it was just trying to see what would work and you know, obviously it took off from there. We had a huge group of players using it in the, in the early 80s. And through the 80s as well.
Fabio Molle
Okay, so before Pistol Pete marketed it - you got in contact with him and he was using it, that's who I remember used it. I can't know of any players younger. So before his generation who used it, but just cutting back to the grip, what color was it initially?
Kevin Niksich
It was blue. It was always blue. And for a time there, there's a couple varieties of colors, but definitely the color was blue. It's just a just a nice unique color. And that stood out we thought
Fabio Molle
And it just sold off the bat straightaway?
Kevin Niksich
I mean, it definitely grew and gained in popularity pretty quick.
Fabio Molle
And where were you guys marketing back then?
Kevin Niksich
We would go to trade shows and pro shops, we had reps that would go all over the country selling this as well. Magazine advertisements all that
Fabio Molle
What players were using it before Pete, so who were your early guys?
Kevin Niksich
Well, if you just think back in the 80s all the guys that were using it you're looking at like Andre Agassi and Courier, Chang, Martin, Kuerten. All those is a huge crop of players using Tourna grip at that point.
Fabio Molle
Let's talk a bit about Sampras.
Kevin Niksich
Right. So Pete Sampras won the US Open in 1990. And then we approached Pete Sampras at that point. Because, you know, back in the late 80s, and the 90s. There just wasn't a lot of athletes really, you know, wrapped up in these contracts like today, it's a lot different athletes have contracts for shoes and clothing and racket strings and grips but back then that really wasn't the case. So Pete was obviously with Wilson, he's playing with the pro staff. But, you know, we approached him because he was already using Tourna grip. And we just said, Hey, Pete, you have a grip contract? And he said, no, you know, we don't have one so we were able to sign Pete back then. And definitely that transformed Tourna grip and took it to the next level as he continued to win and influence all the other generation of players that came along with him and after him.
Fabio Molle
They are the working wonders. And were grip we see the first player to have a grip contract with any brand do you reckon?
Kevin Niksich
I don't know he was definitely ours. I mean, it was pretty early on to, to sign grip contracts. I mean, even these days, Fabio, I don't think companies sign grip contracts, they sign racket, strings and, and grips along with it. I mean, we're kind of a unique company because we don't have rackets, you know, we just specifically focus on our accessories and grip and Tourna grip.
Fabio Molle
Yeah, but you must get people, everybody so many people use Tourna grip. I know I've talked to you about this before. We've done the poll where we do the Tourna grip v Wilson white grip vote and, and we know like they are pretty close- the votes. So there's a lot of people using Tourna grip out there. So you must get players must be hounding you for grips at all time.
Kevin Niksich
We do. We get a tremendous amount of requests for free grips. We get a lot of messages, we get a lot of emails. But you know, at the end of the day, we're just grateful and thankful that we have that type of fan base. And, you know, especially the longtime loyal fan base, the diehards that have been using it like you for, you know, 40 years. I mean, we're just very grateful and fortunate to even have that.
Fabio Molle
And the product still the same as it was?
Kevin Niksich
Definitely, I mean, the product is still the same. We haven't changed anything about the formulation of the product. I mean, back when Pete was using Tourna grip, we just had one width of Tourna grip. We've since expanded it to you know, an XL version, which is a little bit wider. We even have an XXL version, which is wider than that.
Fabio Molle
And tell me the famous blue it's known anytime you see a blue grip, you think of Tourna, Tourna Tourna Tourna, you guys have patented that heavily?
Kevin Niksich
Yeah, that's right. I mean, back, you know, going back to what we were talking about with the group of players like Agassi and Sampras, all using Tourna grip. One thing that brings on back then is just a lot of imitations to your product. And that's was definitely one of our biggest challenges early on. And so when you have all these sort of imitations that may not, you know, perform to the same level as Tourna grip. You know, it's it's very tough to overcome that. But in 1996, the law was changed where you could actually trademark a color. And so, you know, at that point, we had sold 15 million Tourna grips in that blue color. And we applied for our trademark at that time, you know, probably, you know, a year or two after the law was changed. And so once we were awarded that trademark, we were just a very few small select companies like that were to be able to get a color trademarked and so you're looking at, you know, Tiffany blue, Owens corning pink, UPS brown, brown, very iconic companies and colors and Tourna grip blue was in that small company. So, but what that allowed us to do was we then had, you know, an ongoing lawsuits for years after that with pretty much every single racket company, or agreements that were in place where, you know, you had to stay away from the trademark blue color. And so, now it's very identify identifiable, you can turn on the TV and see the blue color on anybody's racket. It doesn't matter if it's a black tape, white tape, red tape, silver tape, another company's branded tape, it totally doesn't matter. You can't disguise the trademark color of Tourna grip.
Fabio Molle
And that's obviously all that hard work has really paid off in the long term. So if I'm a racquet manufacturer, and I cannot even attempt to do a blue, like you're just, you're just looking for trouble.
Kevin Niksich
That's right. We, we definitely, you know, we'll monitor what's out there from time to time. And you all once you have any patent or trademark or anything, you have to enforce it.
Fabio Molle
Yeah, are we allowed talk about HEAD?
Kevin Niksich
Yeah, sure. So after we were granted the trademark, we had a lot of companies coming to us that wanted Tourna grip private labeled, we looked at all of them and chose HEAD, HEAD had excellent distribution overseas and in Latin America, far superior to ours. And so what that allowed us to do strategically is to get our grip in the hands of players worldwide, you know, not just pro players, but you know, people all over the world. So, to this day, I mean, HEAD markets it under the HEAD program, it's not a secret, you could turn over the back of that card. And it says made by Tourna grip. It's funny because people often say it's, it's a different grip. It's not the same grip, it's slightly different, but I promise you it's, it's still here, it's made here, we package it here, it's the same grip.
Fabio Molle
I'm gonna have to buy some and try it out, I need to test it.
Kevin Niksich
Tell me if you can tell a difference, but I guarantee you there's not.
Fabio Molle
So Kevin, tell me what players are actually under the Tourna contract because we see so many using the blue grip. But who are who are the guys that you actually endorse?
Kevin Niksich
Yeah, so there's a we got a nice table of players currently. I mean, the second players we actually signed after Pete Sampras, were none other than Bob and Mike Bryan, who have just been amazing partners and retired this year. We're going to be very sad to see them go. They were just great ambassadors for Tourna grip all through the years as well. Kind of a funny, funny story there is, you know, Andy Murray, right. So he was complaining to the Bryan brothers about his grip slipping. He used a white grip that was slipping and he was complaining to the Bryan's about it, and they offered him some Tourna grip. And, you know, obviously, he's began to use Tourna grip for the rest of his career. So you know, love the Bryan's for, for all the people that they've turned on to Tourna grip on the tour. And there's been a lot of them.
Fabio Molle
But was Murray wasn't a contracted player, though, was he?
Kevin Niksich
No, absolutely not. He was just, you know, he's a HEAD player. And he was just looking looking for help, you know, through the Bryan's. And they offered him they put a Tourna grip on his racket.
Fabio Molle
And he was Tourna for life then. So he probably HEAD would have probably sorted him out with his grips.
Kevin Niksich
Yep, absolutely. And then after that, it was John Isner we signed Isner right out of college basically, we saw his height and his serve and we had to have him and he was already again using Tourna grip. So we were definitely keen on signing him right away. And we've also had some great players like Gasquet who I'm sure started with HEAD grip. And then we were able to, you know, form that relationship to a more direct sponsorship with with Gasquet. You know, David Ferrer, Kevin Anderson, Karolina Pliskova, now, Bouchard, Cornet we have a great group of players.
Fabio Molle
Nice. That's, you've, you've done well, yeah, it's, it's great that your blue grip does all your marketing for you. You know, it's just works well, but you talk about we mentioned briefly back in the early days where you do trade shows and various other things. Today, what is your marketing apart from the players for Tourna grip? Is there any marketing?
Kevin Niksich
Yeah, I mean, we've, we've been on. We've had some television commercials with the Bryan brothers, Pete Sampras, John Isner, Pliskova have all done commercials for us that we've run on the the Tennis Channel which is a very specific you know targeted audience of people watching just tennis on one particular cable channel. We've run those commercials on ESPN too. We do print advertising, we do social media advertising. We have Instagram and Facebook page under Tourna tennis and you know we'd like to thank everybody for tagging and showing their pictures of Tourna grip. I love it. I appreciate it. And we do trade shows, we do it through the through the athletes, we you know, we sponsor juniors as well, every now and then but that's again, we have a lot of requests for that. So yeah, we probably try to hit every avenue possible.
Fabio Molle
You used you sponsor my old friend, but I think you did James Mc Gee.
Kevin Niksich
Yeah, we did.
Fabio Molle
He sweated a lot. He was a good guy. So any of the HEAD players use, I was just watching Berrettini before we came on here, and he plays with the new HEAD extreme, and he uses the blue grips. So he's using a HEAD grip made by Tourna.
Kevin Niksich
Yep, that's right. So you know Berrettini you know Ash Barty, Taylor Fritz, Sharapova, Andy Murray even
Fabio Molle
Do you have some of these big names would purchase directly from you?
Kevin Niksich
Oh, yeah, we do. Like Andy Roddick, for example, for many years and bought directly from us kind of a cool story about Andy is, you know, he was looking for, you know, Tourna grip that had a little bit better coverage on his racket handle. And so we that's how we develop XXL version of Tourna grip. So we just cut it a little bit wider, he could wrap it all the way up to the throat is, as you can see, it's very iconic. And we still have that in his in our line because of his request.
Fabio Molle
Is he still a customer?
Kevin Niksich
You know, haven't haven't run his credit card in a while. So I guess not but yeah, like Grigor Dimitrov is another one that we send it straight to, Shapovalov is one of the newest players that has just converted over to Tourna grip. He used to, I don't know what grip he used, it was a white grip. And then now you can see in the last couple tournaments, he's starting to use Tourna grip.
Fabio Molle
Wow it means it says a lot about your brand when you know the best in the world are actually purchasing because they get so much for free with your endorsements and various things. And I have heard the same with some smaller string manufacturers where some players buy directly off them, they don't there's no endorsements because ultimately, you know, it's expensive, endorsing these players. And it's only the top racket brands and sporting brands that endorse a handful of players. Not as many as we think earn money from brands as as everybody. A lot of people think a lot of players get a lot of money from brands, but it's not the case. And you can probably confirm that.
Kevin Niksich
Yeah, I mean, I'm sure there's some players that get some very good money from the brands. You know, when we look to sign players, the first thing we look at is do they already use Tourna grip. So we feel like we're in a position where I would never want to pay you to use Tourna grip. I don't want to pay you to change your mind to you know, give use a grip that maybe you don't want to use. So grips are very personal. We know that some people absolutely love Tourna grip. Some people don't like it, I get it. Some people have to have a tacky grip. But a lot of players you know, they have to have Tourna grip. They they change their their grips, they come to us outside of their own paid contracts because they have to have Tourna grip. So when we're looking to sign players, the first thing we look at is do they already use it? Do they love it already? Is it something that they're already connected to and identify with?
Fabio Molle
Nice, you're right it is that love hate relationship. You either love it or you hate it. There's no there's no in between. And it's it seems to be on the white. On the white Wilson grips, there's no patent on the white grips is there?
Kevin Niksich
Yeah, there's no there's no patent on the color of white. There's a trademark on the color of white. So really, when you look at a white grip on anyone's racket, you don't know what it is really? It could be it could be anything.
Fabio Molle
Yeah, I think it's a Wilson I don't know why I think that's what I hear that well that's that's I'm used to seeing because people I don't know you use white Wilson grip. So that's my own from years or maybe it's a Federer thing.
Kevin Niksich
Yeah, maybe there's a lot of white grips out there. Every manufacturer has a white grip. So I mean, I know. Like one of our other grips is called Tourna Tac. We ship that out to have we've shipped that out to pros in the past as well. But again, it's just not identifiable with this doesn't matter. There's no there's no way to tell what exactly that grip is. And that's again, what's unique about Tourna grip when you see the blue grip on someone's racket its Tourna grip.
Fabio Molle
It is yeah, no, it's great. And have you ever had any player emergencies where they have ran out of grips and you've like I need grips tonight like sort me out. Does that happen a lot?
Kevin Niksich
Yeah, pretty much every tournament we get an email that says we're out of grip we need to do overnight it
Fabio Molle
Have you ever gone been based at a tournament where you're just there just to liaise with players?
Kevin Niksich
No not really too busy here.
Fabio Molle
Too busy, that's a good sign well what are the products you do a lot of you do a lot of a lot of sports but tennis specific what would be your more popular products that you do apart from that classic blue Tourna grip?
Kevin Niksich
Sure. So the next group that we launched after Tourna grip was actually called Tourna Grip 2 and it was a tacky version of Tourna grip I don't know how many people would remember that but the problem was that it was a little bit confusing in the name with Tourna grip 2 and it was not different enough in the name so we renamed it you know a couple years later to Tourna Tac we still sell that today. And that allowed us to go into some other colors as well you know white Tourna Tac, black and pink and of course the the blue and then most recently one that we came out with his Mega Tac and you've tried the Mega Tac is that right?
Fabio Molle
I have and I don't like it.
Kevin Niksich
Mega Tac has to be the most polarizing grip and probably more so than Tourna grip because some people they touch it and they hold it and they're like oh my that is the best thing I have ever felt and it is by far the tackiest grip you're ever going to feel we spent probably five years developing that grip and just continually trying to make it tackier and tackier but we finally finally settled on the formula that we have now but by far and away the tackiest thing that anyone's going to feel the tack is going to last longer than anything that anyone's ever had before but you know if you don't like tacky grips you're certainly not going to like Mega Tac.
Fabio Molle
Yeah, that's I love the old dry grip and tac I just find them too too tacky - your hand just sticks there can't move a quick enough but I will say it is really tacky and I have had them on the rackets pink ones, blue ones, white ones you've sent over and I have tested them and they do stay tacky for a long time and that's a problem for me so I just like I just like the classic you know you just why change something that works and no matter how many times I say I'll give this a go you know you always come back to it you go you know I've tried this again it just doesn't work you always go back to the to the classic and it's sometimes good knowing what works but it's good to try other things just to see.
Kevin Niksich
I do but in the middle of winter, are you still using the original Tourna grip?
Fabio Molle
Yes all the time.
Kevin Niksich
I mean that's diehard that's that's awesome.
Fabio Molle
Why?
Kevin Niksich
I tend to go to just some slightly tackier grips in the winter just because to me when Tourna grip gets wet when you're in the middle of summer you're sweating or you know it's hot you know it's the wetness and the moisture of that of your hand that activates Tourna grip. In the winter I have to like pour water on my hand to get it to work.
Fabio Molle
No, I wouldn't be the heaviest sweater in the world either I know you say it just works for me just a bit of slip there but there's not enough you know not enough slip to disturb me and it just as it wears then that it's nice as well. It just works for me and I think it's a great grip.
Kevin Niksich
Yeah, you're not alone. You know when you're when you're hooked, you're hooked so
Fabio Molle
There's worse things to be hooked on
Kevin Niksich
Yeah, that's right.
Fabio Molle
So other like you do a lot of accessories - tell me COVID all I saw during COVID was the rebound ball base the thing that you put a bit of water or sand on the ground and and they were all over Instagram with some great videos from people that did extremely well there some people made their own at home, some obviously what it could have been your product and so I know if you go to Alibaba these sort of websites everybody's making them and everybody is selling them we'd have people contacts on Instagram - can you promote this post and they're obviously running a dropship and Shopify stores and so everybody COVID just went mad with these I think it was about a year ago where there was one video doing the rounds was really popular and so it's kind of funny that it came back around during COVID but they must have been a big seller for you. And were you under pressure manufacturers saying look we need more of them - keep making, keep making?
Kevin Niksich
I mean, it's always been a pretty good seller but man who knew that you would bring a pandemic to you know completely explode an item like that I mean it really it was extremely difficult just to stay in stock and produce it and yeah crazy crazy story that those things have really taken off. Yeah I mean normally we you know import that and it takes a couple months for sure. But we're air mailing you know, pallets and so we can just try to stay in stock - it was a scramble
Fabio Molle
And airmailingduring COVID was not cheap as well. It was pretty pricey.
Kevin Niksich
That's right.
Fabio Molle
Kevin - what's new first of all, before I talk about what's new, I know you're in the string business how are your strings doing?
Kevin Niksich
Yeah, they're doing great. They're growing. I mean, we've been in the string business for almost 15 years now. We've been sort of our best known niche was within the poly area and we've got some super highly rated polys. So we get all our strings tested with the racquet sports industry magazine, here in the US and you know, they tested on a variety of features of the string you know, spin and power and touch and feel and overall and so out of the top, you know, the, the spin potential strings, we hold three out of the top five spots. So our big hitter black seven, our big hitter blue rough. In our silver seven tour are all in the top 3 for spin potential, tennis warehouse university, I don't know if you're familiar with them, they do some amazing research. Over there, they rated the silver seven tour as the best tension and maintenance poly by far. So if you're looking for a poly that holds its tension a little bit longer, then definitely stick. You know, give silver seven a try. All our strings are usually under about $10. So you really can't go wrong. There's a huge amount of value there. And just give it a try.
Fabio Molle
Do you have a string called grit? Is it?
Kevin Niksich
Yeah, Tourna grit. It's like a nanotechnology string kind of feel a little bit like sandpaper?
Fabio Molle
Yeah, I've tried it. It's not bad. It was like it. I'm, I'm a Solinco man, and really happy with them. And but I have tried, you have sent me some of them and the grit rings a bell because I think I from what I remember, I liked it. And as you say it was a different feel to it - it felt a bit different.
Kevin Niksich
I mean, we are a family business, right Fabio it's my brother and I my dad still works here we all play tennis. Our families play tennis, we've always played tennis. It's we love you know tinkering with strings, we love playtesting strings, we love tinkering with grips and accessories. And everything we put out, we don't put out on anyone else's timeline, we put it out on our own timeline, when we finally find something that's worthy to put out on the market, we'll release it. It's that simple. And so whatever there is, you know, innovative or new or something that we can look at. That's that's what we do. And that's what we are passionate about doing. Even most recently. So we've gotten into the string machine business as well, which we're, you know, definitely expanding and it's growing very quickly. And we have some pretty low, low cost machines, like drop weights and cranks. But we also have some extremely high premium computerized precision machines with a new kind of clamp that's been, you know, has been patented by us. And so by far, you know, normally it's like a swivel clamp on your stringing machines. So the ones we have, it's called a pressed down clamp. And so you no longer have to lock your base by the swivel mechanism, it's just pressed down. And then when you want to release it, you just release the clamp and it releases automatically it is by far the fastest way you're going to string a racket, and you're going to only find them on the Tourna machines.
Fabio Molle
And who is the brains behind all the good inventions - is that your job?
Kevin Niksich
It's partly my job. It's my brother's job. It's my father's job. We all partner on the the product development and we have some great partners with manufacturers and people that you know, we work with that help, you know, bring some of our ideas to light and vice versa.
Fabio Molle
That's exciting. I didn't know you actually did a stringing machine Thanks, Kevin. Appreciate the time and the story. It was great to get a deeper dive into Tourna.
Kevin Niksich
Alright, thanks again for having me. Great talking to you.
Fabio Molle
I hope you enjoyed that chat with Kevin and it brought you closer to your blue Tourna grip or gets you to want to try a blue Tourna grip. I think they're great - recommend them. I was excited to do this with Kevin. Okay, I'll be back next week and until then get out there and play some tennis. Bye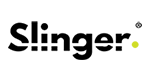 PODCAST POWERED BY SLINGER