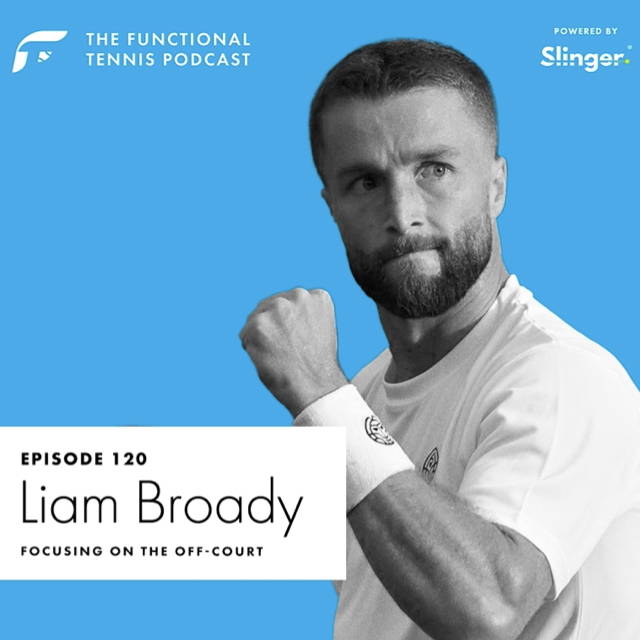 Focusing On The Off-Court
Professional player, Liam Broady joins the podcast this week to reflect on how changing his habits have helped his tennis game!
Liam recently won his first ATP Challenger title & hopes to continue his good form 👊
We speak about how his coach Dave Sammel has helped him out, how a chat with Andy Murray put things into perspective & the importance of being stubborn/resilient on court 😉
If you find it interesting please share with your tennis friends and family.

Huge thanks to our sponsors Slinger who allow us to produce the best possible episode every week 👌
Liam Broady
Hi, I'm Liam Broady and you're listening to the Functional Tennis Podcast.
Fabio Molle
Welcome to the Functional Tennis Podcast. I'm Fabio Molle, your host. This week for our 120th episode, I'm delighted to have British pro Liam Broady on the podcast. Liam was one of the world's best juniors with high expectations on his shoulders. But it's never that simple. Now, 27 years of age - he recently won his first Challenger title in eight attempts since his first in 2014 and finally opened up and putting advice to use, Liam is on the up with his more attacking game style. Liam tells us all about his journey, advice he's got from pros such as Andy Murray, Dan Evans, and his coach who's a former Functional Tennis Podcast guest, Dave Sammel. There's plenty of simple but effective lessons to be learned in this as well as being a great story. I really hope you enjoy it. As usual, a shout out to our podcast sponsors Slinger who make the awesome portable ball machine, the Slinger Bag, I've been told that the Christmas orders are ramping up. So if you've plans to surprise anybody, or yourself with a Slinger Bag - get ordering at slingerbag.com. Finally, talking about Christmas. We now have combo packs of our match and practiced journals available on our site as well as a combo including our famous wooden spoon, the Tennis Pointer. You can check them all out at functionaltennis.com. If you've any questions about the Slinger Bag or any of our products, simply leave me a question at the Contact Us page on our website or you can send me a DM at @functionaltennis (Instagram). Okay, here's Liam. Hope you enjoy. Hi, Liam. Welcome to the Functional Tennis Podcast. How are you?
Liam Broady
Yeah, I'm good thanks. Thanks for having me on.
Fabio Molle
Great to have you on. A big shout out to your coach, Dave Sammel, who you know who gave you the kick in the arse to get on here! We'll talk a bit about him but tell me how have you been - you've got your first Challenger win, it was your 8th final. Tell me what did that feel like?
Liam Broady
Yeah, it was it was my eighth final. I think my first one was back in November 2014 so you know seven years apart. It was really cool I mean, to be honest, I saw a stat that I was the lower ranked player in each final I played but there were some finals that I felt like I should have won and I kind of got in my own way and I mean it's difficult you know because obviously before you go on court for that final you've got to be focused and not thinking about the result and just thinking about the way you're going to play and who you're playing so you're almost - you don't have time to worry about it and then by the time the match is done, it kind of feels a little bit surreal. I hit a volley to win the match point and I kind of didn't see the ball for a second, my heart was in my mouth and you know it looked like a straight sets win but in my head my brain was going crazy and now I mean it was a special feeling it felt like a you know a bit of a vindication of all the work I've been doing.
Fabio Molle
First of all looking at results it look like you walked your way to all the matches, it looked like you're in control of all the matches there was no issues but you're right mentally inside the heart would have been beating and on all sorts but was there a weight lifted off your shoulders? Did you say now let's move on to the next thing?
Liam Broady
Yeah, definitely I mean I actually hurt my ab a little bit during the tournament but I'd actually been on the road for like three months and it was the last tournament so we said you know, let's give it one last push and you know play on the painkillers and see if we can get through it because obviously it'd be a good way to end the trip with a Challenger win and that ended up happening. So you know, afterwards I took sort of 8/9/10 days off to rest the ab. To be honest, I probably kind of needed that anyway because like you say, I mean it was a bit of a watershed moment you know, after seven years of wanting something so badly to have then done it - it's a bit of a strange feeling. There are a lot of different emotions that you can't quite label but you know, I mean, it was for me probably the most positive experience I've ever had on a tennis court so you know, it just kind of makes you want more of it.
Fabio Molle
So one of my questions was down the line to you was what is the best moment you have on the tennis court and that is it - is it?
Liam Broady
It's tough you know, because I wouldn't say that they were my best wins and I wouldn't say that they were the - I've probably played bigger tournaments. And you know, obviously the Olympics has to be one of my best experiences as well but purely for the sort of things that I was battling against for such a long period of time to have then finally got that Challenger win. I mean for three, four, five years that's been a year yearly goal to win a Challenger. So to finally win one, I mean, you know, it felt pretty good.
Fabio Molle
And tell me what's changed? I spoke to Dave and he says, you know, you're a lot more committed. You just even we'll talk about social media afterwards as well how you're trying to be more in the moment on match days and that, but for you - what's been the difference looking back over the seven years that allowed you to win a few weeks ago?
Liam Broady
Yeah looking back I don't think I was a good enough tennis player to win a Challenger yet, I think to win a tournament is a lot you know, as we all know is a little bit different than you know going deep in a tournament and maybe I didn't always have that belief. I think that you know, at the end of the day, I became a good enough player to win these tournaments. At the start of 2019, I actually lost Ivashka, Ilya Ivashka - first round of qualies in Australia and I've had the best preseason that I'd ever done and I was feeling great I got out to Australia and I think I won three games and my first response in my mind was let's go out let's go get drunk let's you know forget about it. It's not a big deal and I kind of had to stop myself and I called Dave and I said look I don't want to talk about the tennis I said I want to make a commitment now to my tennis and I want to give myself a full 12 months to see where I can get if I make the right decisions off the court, I want to respond the correct way to losses rather than you know feeling sorry for myself and making the wrong decisions off the court. I don't want to focus on the tennis on the court anymore I just want to do what I can off the court so I think that really kind of laid the foundations for starting to play better this year, you know, and it's funny because I have a lot of people asking me what was the difference this year whereas you know, actually in reality I think the biggest moment was that moment at the start of 2019 it just sometimes takes a while for the results to come.
Fabio Molle
So maybe tell us a bit about some of those off the court changes you made to you know to help improve you.
Liam Broady
Yeah, I think you know, before matches I mean I've got a lot more professional with my routines, with my warm ups, with my mobility and the main thing I guess is having the discipline to do it day in day out you know whereas in the past maybe I would have done it for two weeks and then I'd have you know not had a result and I'd have tanked and then not done it for another three months whereas win, lose, rain, shine, you know, I do these routines every single day it's you know, so I actually do a bit of mindfulness, a little bit of yoga before each match you know I make sure that all my equipment is you know correctly setup. After the matches it's you know, again it's difficult you know, like it's just I'm sure anybody can relate when you lose you just want to go and lay in bed in your sweaty clothes and not do anything but there are things you need to do to look after yourself and it's strange because the things off the court that you know, you wouldn't think stretching your legs out after a match would affect your match in a week's time or in two weeks time but it's just kind of the mentality of getting into that professional mindset and it does affect it I don't know why.
Fabio Molle
And how important has to be like being around Dave or I know you're around Andy Murray on and off and other great players like Cameron Norrie now and how important is it to be around these athletes and see these guys do it?
Liam Broady
Yeah. I mean you know, Dave's been one of the most important figures in my life you know, off the court and on the court you know, he's got a very very specific philosophy in tennis it's quite an aggressive attacking sort of you know, fun to watch game style and I think you know, probably the last few months I've started to play like that finally. He's been in my ear for 5/6 years but at the end of the day if someone's that persistent you know, you can't help but listen it's going to go in there. So to have that clear of a philosophy I think from the side of the court is fantastic and you know even at my lowest - you know, he was always there whereas you know, a lot of coaches would have left the project thinking that it was going nowhere and he stuck around and obviously that gives you the belief in yourself you know, and like you say to be around these players I mean, Andy [Murray] is a great help. One of the biggest helps for me has been Dan Evans over the years. He's always been willing to give advice and the advice he gives is always it's so simple but always cuts straight to the bone it's very it's very precise and you know, and now obviously Cam is doing fantastically as well.
Fabio Molle
It sounds a bit like the Mardy Fish Netflix documentary I'm not sure if you've seen it but where it's you know you've your pressures, you've had your pressures growing up and obviously he wasn't applying himself enough he just said okay, I'm going to apply myself right here and results change it looks like what you're doing you've decided to you know, a few years ago you're going to apply yourself and the results - you say they don't come straight away but if you stick at it long enough, they'll come.
Liam Broady
Yeah, that was the funny thing you know, because I kind of thought you know, I kind of knew like if I do this stuff then then you know, you have more chance of doing well but I didn't realize how long you'd have to be doing the right things for you know. I thought I you do it for a week and you'll get results. And when I was younger, some you know, luckily enough, I was talented as a kid so I didn't really do much of that stuff. And I'd get results and then I'd do two days of the correct stuff. And I'd have great results whereas obviously as you get older, you kind of need to everyone's so professional, you need to match them. And I never did really because of you know, stuff going on in my own mind. And it was funny. I had Josh one of the guys runs to the ATP Challenger social media, he said to me - What would you say to 20 year old you? I thought damn you know it hit me quite hard the question I was like that's a good question and I didn't know what to say because you know you kind of think I wish I could put this understanding that I have now into younger me and what a coach's job is as well as to do that to younger players. And I just kind of said I said, look, I had people that tried to tell me this and I didn't listen. So whatever I said to 20 year old me I probably wouldn't have listened anyway. So I think that is a big thing for players. I've seen a few of the guys coming through, you know, like your Shapovalov's and Felix's and the thing that's always surprised me about them is how mature they are at an early age. I think everyone can play tennis to a certain degree. But Felix especially I mean, I I was playing tennis with him when he was 15 years old.
Fabio Molle
And beating him?!
Liam Broady
Well no, I practiced with him one time and I think he was he was probably battering me but I think we might have been on serve but it was incredible his game was I mean for a 15 year old his game was exceptional but what really impressed me was it was like I was practicing with a 30 year old guy who'd been on tour for 20 years. He had such a clear game style and was so level headed and I was thinking - jeez this guys got this level of understanding at 15 he's got another 15/20 years to add things on top of that and I think sometimes at least in the UK, we'd maybe get a little bit carried away with what people have on the tennis court and I don't think that's the most important thing to making it as a player.
Fabio Molle
Somebody said on the podcast, I can't remember who it was this is terrible but they say like you really some of the young guys have a mental age of 28. Let's say Felix or Shapovalov and they say that's why they just have their mental age is a lot older.
Liam Broady
That's been my problem you know, in all honesty, I mean I'm still pretty young now but I think over the last year or two I did mature. You know, I'm probably at the mental age of an eight year old and I'm probably matured to the mental age of a 22 year old now. Obviously at 27 that's not ideal, but you know another one I mean Sasha Zverev I mean I remember seeing him at 16 in the Challengers and again just these guys were incredibly mature at an early age and I guess the earlier you can learn to have that level headedness, the longer you have to figure out the tennis side because I think it's inevitable that that comes when you do when you're when you're ticking all of the other boxes.
Fabio Molle
Yeah no and is it tough to see like players come through like these younger guys the new coming through the Challengers within like six months or less - they are through the Challengers into playing ATP tour events or is it something you just don't care about it's like you're on your own journey?
Liam Broady
Yeah, exactly. To be honest it's never bothered me. Because I mean you get the phenoms and they're just worlds away right because there are there are a hell of a lot of people like me on the tour so you know when one or two of those young guys come through and it's every couple of years you know I mean last year or the year before it was Alcaraz and Musetti - I mean they're doing pretty good now as well but yeah I mean everyone's journey is different at the end of the day. I mean if anything it just kind of shows how small the margins are because you see those guys having good matches in the Challengers and then having good matches and winning in slams and masters series so yeah I think if anything I actually quite enjoy seeing Challenger players do well on tour because you know I kind of feel like they're representing us.
Fabio Molle
Tell me, you were a top Junior, you were what number two in the world you won Grand Slam doubles events, singles finals and obviously the world expected - the British press would have expected this guy is the next big next Andy Murray like you know, how much pressure was that on a young lads shoulders?
Liam Broady
Yeah, I mean that that was huge pressure and I think as a kid I didn't really understand what sort of came with it and to be honest I kind of crumbled under it really and kind of got a little bit lost with myself you know, there was a lot of stuff at the time going on off the court that probably didn't help with the tennis I mean, I didn't really even think about the tennis for three, four or five years just because of you know, yeah, all sorts of stuff. I won't go into it but it was very difficult for me to focus on the right things whereas you know, I guess again that's kind of come at the right time now. Yeah, I'm kind of grateful that it has come at all that now, I've got to a stage in my life where things are pretty stable off the court and I can use that to just say okay, life's okay now. Let's see what we can do with with the career and I probably had a lot of time after the juniors where that wasn't okay and it's a different ballgame right so in juniors it's a lot about talent and you know, you get a lot of a lot of guys still trying to figure out their game whereas in the pros I mean, in the futures and the challengers , everyone's fighting for every point and hustling so hard and it becomes very difficult and it's a bit of a bog I mean, I was at a futures in Antalya in Turkey with the Dominic Thiem when he was 20/21. You know, some of the names of players that I've played futures and Challengers with - you'd be amazed at. But the best players at the end of the day they're good enough to get out of that and that's what makes them so special and enables them to play such good tennis on tour is is that they're very very tough players
Fabio Molle
Two questions for you here Liam. One is you never actually gave me an answer or sorry you never actually answered Josh's question to what would you tell a 20 year old self so one that and two - to make that breakthrough from juniors to seniors, apart from having the mental age of somebody a bit older than yourself, what else you need to move quickly?
Liam Broady
To be honest, to 20 year old I mean, I suppose it's kind of similar sort of question right? Like because I'd be telling you what to do to move up quickly, I'd probably say look, take care of the stuff off the court. And even if you don't understand why right now, do it for long enough to see the results you can get on the court. And secondly, I'd probably kind of try and say something about your social life and stuff off the court isn't as important as the stuff on the court because I think you know, most young people you know, you kind of take things for granted right and having had a good junior career, I kind of took the tennis for granted and it took me to get to about you know to drop down from I think my career high when I was it was in 2015 I got to 153 and I dropped down to about 400 a couple years after that and it took me to get to that that I kind of realized hang on this is this is the priority in my life. It's not it's not a social life that's the priority, but I mean it's tough because how many kids go through that in the world I mean you know I see friends going to university and all they do is have a good time for four or five years and then they go traveling for two years and have a good time and and I was just a normal kid from from Stockport you know like a small town up in the northwest and and that's kind of where I was happy. But then I've kind of started to realize like, how lucky I am to be playing tennis and the lifestyle that we live and the opportunity I've been given so yeah, again I don't think I'd be able to answer the question because I think I kind of had to go through what I went through to kind of understand what I understand now.
Fabio Molle
And it is a flaw of younger people who you know, I'm sure you look back at your parents or coaches you've had and they gave you good advice along the way and as you said you didn't listen, you've got to experience it yourself. You've never learn even if you if you've done the writing it's still really never learn would you?
Liam Broady
I mean at the end of the day I mean my my coaches you know that they've been one of them. Before Dave I've worked with Mark Hilton and he's a fantastic coach as well and you know they both tried to tell me this stuff for years that's the funny thing and obviously you know Hills probably got a bit sick of it by the end and I actually met up for a coffee with a guy called Nick Baglin a few weeks ago, he's a friend of mine he's from the similar sort of area and he was good friends with Mark and and he said Mark used to call him and be like I don't know - I don't know how to get through to him. I don't know what to say to make him understand what to do and and now I see players who are younger than me kind of speaking to me and asking for a bit of advice and I and I give them the advice that I now understand and then you know a few days later they're messing around and not doing the right things and I think you know what, this is the circle of life like I'm I'm now being punished for having done that and now it's going to happen to me but I guess that's the job of a coach and and I guess the greatest coaches they can make people understand that or at least they can stand by someone and guide them until they do have a full understanding of it.
Fabio Molle
Yeah, I agree. I agree and look, some people it just takes a bit longer. Some people never learn at all like at least you did learn.
Liam Broady
Some people never learn it right?
Fabio Molle
Yeah and you talk about players who've been on your journey who haven't made it and various things we mentioned Sam Barry, a good friend of mine. There's been plenty of Irish players like that - Pete Bothwell, do you kow Pete Bothwell?
Liam Broady
Yeah I know Pete.
Fabio Molle
Yeah Pete's a great guy.
Liam Broady
I mean Sam for me is is a great example of that I mean I don't know how he was doing with you know finances and stuff. I know that's difficult in Ireland because you know you guys don't get the wildcards for Wimbledon and stuff like that. So it does make it a little bit more difficult but you know, I mean, at the end of the day Sam - he slapped me up in Thailand one time. He was a fantastic competitor. He had a great serve. He was a great mover and he's a prime example I mean if he'd have been able to keep going I don't see why he wouldn't have got to where I am at the moment and pushed on higher and that's kind of what I feel like now is like if I can start to do okay at the Challengers and stuff, who can't do okay you know and I know I think Pete maybe it was slightly down to the finances as well but you know, Simon Carr, he's a good player. He's out there and I think these guys just you need to give them more time and at the end of the day in tennis, we kind of see it now where if you're, if you're not top 100 or you know not top 50 by the time you're 21 you know, like your Rafa's and these freaks of nature in tennis, then you're not a successful player and at the end of the day, you can play this sport until you're in your late 30s. So if you're, if you're in your ranking targets, by the time you're 28/29, why not have five years in the top 100, making a good career for yourself and taking those experiences and lessons you learn into, you know, hopefully tennis in the future and giving it to younger players, or, you know, into your next career, because I think they're invaluable life lessons that you learn at this level of sport.
Fabio Molle
You definitely learn great lessons. And what differentiates you from these guys is one you're still at roughly the same age as them. You're still on tour, you're ranking is going up, so you're more resilient. You are prepared to stick it out. Maybe your dream was bigger, I'm not sure. But resilience. Did you learn that along the way, or is it something you always had? Or did somebody working with Dave or your previous coaches did they instill something in you?
Liam Broady
I wouldn't say more resilient, because I mean, Sam was pretty resilient on a tennis court. He was a tough competitor, and he was someone whose name he didn't want to see yourself next to in the draw.But I think one thing that did help me is having a good junior career. Because no matter how bad it got, I've always you know, everyone feels special inside themselves, but I always kind of thought, I know I can do this, like, I know the level is there. Whereas I guess for people who haven't had a junior career, you know, if they, if they're 26 years old, and they haven't been inside 250, they might think, what's the point? You know, like, I'm never going to do it. I've never beaten good players. Whereas actually, you know, you just it's going to happen if you make the right decision, you just never know when. And like I said, I was lucky enough that I had a junior career where it kind of instilled a belief in myself, no matter how bad it got, I mean, there were times when I wanted to quit. There were plenty of times when I wanted to quit. I mean, I remember, I love to have a look on my history at the end of 2018 I think it was. I played a few Challengers in India, and I was I was sliding down the rankings fast and I bombed out of qualies of both of them first round and that was a funny one because Dave was because I was like, all right, before we went, I just been in China. And I was like, maybe we should go home. Like it's been a tough year, like, I've been on a nine match losing streak that year. And Dave was like, no, no, come on, like, let's make this right. And I was like, okay, yeah, you're right, and I bombed out first round of qualies both weeks. And I was like, damn, yeah, I kind of want to quit. Like, I don't think I want to do this anymore. But, I mean, you know, my dad's quite a, you know, has always been a strong figure within my tennis and within my life, and he's a very, you know, he's a traditional northern English man, you know, he's very hard working. He's very stubborn, he never quits and that stubbornness is something he's given to all of his kids. I mean, it leads to a lot of arguments at home.
Fabio Molle
Yeah, I can imagine.
Liam Broady
But within the sport, I think stubbornness is an exceptional trait to have I think if you can kind of weaponize it to your own advantage then you know, the benefits are limitless really. I mean, a lot of people say that I'm a good fighter on court and stuff like that and quite often I think it's not - I'm not fighting I'm just being stubborn like it you know, it's almost sometimes it's kind of a little 'f you' to the opponent or to myself to say, I'm not stopping here like you know, I'm going to prove to you that I can do better than this.
Fabio Molle
It's something I think you need to be a top athlete you need that resilience or stubbornness and any time I've had the younger guys on the podcast and they say what's it like you hit the pros like from juniors to seniors, it's always like, man, those guys are fighting for their lives or ladies like are fighting for their lives it's like they're fighting for dinner on the table like they're not all there it's Futures and Challengers so every penny counts and it's just like a dogfight out there and nobody's giving up.
Liam Broady
Yeah, what is kind of beautiful like that there are so many people giving their lives you know, sweat, blood and tears to this sport to try and make it and there are so few of us that do make it at the end of the day and you know, there are I mean, you probably know about that there were like nine Futures, six Challengers a week going on and every single tournament, every single court, you know, everyone's giving their heart out there to try and try and live the dream and, you know, I think it just kind of shows how beautiful the sport is, and how many people love it.
Fabio Molle
It's tough, but it's beautiful and fairplay to those who make it who are on that journey like yourself. But what's that story I heard of Andy Murray I know we briefly mentioned it - told you to I'm not sure you can tell us the right context. What he said is it something like if you keep doing what you're doing, you may as well just quit.
Liam Broady
I mean, it was it was pretty much that. We had these events - Battle of the Brits in the UK, we had an individual event that Jamie Murray, you know, kind of put on during COVID for the British players you know, it was fantastic he did a brilliant job obviously helped support us amazingly. And you know, I was giving it - we had a group chat with all the British players and there's a lot of there's a lot of sledging and churching going on, and I'm not really want to take that lying down. So I was giving it as bad as anyone, obviously very aware I was playing very bad at the time, but I thought, you know, what have I got to lose? I'm just going to give it to him as much as I can. And then I ended up drawing Andy. And he just absolutely destroyed me on the court. And I was very bad. At the time, I had like decided, I don't know why I thought was a good decision, I decided to change my forehand grip. I mean, I couldn't hit a ball. And Dave said, actually, that he watched at home, and he thought this, you know, the careers done and Andy actually was, was playing really bad himself, it made me laugh, because he said that he would have put a sledged me on the court more, but he felt so bad that he couldn't do it. So it was just a very bad tennis match. But then, you know, I had a chat with him in the cafe afterwards, you know, we had dinner. And we sat there, and I kind of picked his brains a little bit. And it's probably the first conversation that I've ever had, that was a serious chat with him, you know, and he was just kind of saying, like, look like there are things I regret in my career that I wish I'd have done differently. And he was talking about his coach Jamie, who was a very good player. And he said, you know, if Delgy [Jamie Delgado] had done a few things differently, I'm sure he could have been better as well. And, you know, I obviously knew he was talking about me, because I think everybody kind of knew that, you know, what type of person I was. And, you know, and I've kind of thought, you know what, he's right. Like, if I'm going to do this, then I might as well do it properly, rather than, you know, kind of half-assing it. Then a few days later, he texts me, I was driving through Sheen or something near the National Center, and he texted me said, I've been watching your Wimbledon Junior final. He said, I've been watching it and he said, your forehand is brilliant on these videos. Why don't you just hit it like that? And I said, I'm not sure it's that simple. Like, I've been pushing the ball for seven years. And he said, well, he said, one thing I can guarantee you is that if you continue hitting your forehand, like you have been, then you'll never make it as a player but and he said, I can't guarantee you that you will make it as a player, but you might have a chance of making it as a player if you start hitting your forehand again. And you know, obviously David tried to talk to me about it many times, but to have that from Andy and to have him put it in such an intelligent way to me, I kind of thought well hang on I, you know, going, you know, going for my forehand in the past would have seemed as a risk, but actually, the way Andy's reframed it in my mind is - it's more of a risk not to take it on because at the end of the day, I'm not a very good tennis player if I don't do it and from that moment on I decided right you know, he's right, I've got to start, you know, looking to play the right way. And at the end of the day, a lot of this is what Dave's been telling me so I'm sure it was music to Dave's ears - I think it was a bit frustrating for Dave that, you know, he's been telling me for years, and then Andy tells me and I decide to do it, but Andy kind of framed it in a way that clicked in my head. And then yeah, so decided to start playing properly. And then it was only six weeks after that, that I qualified for French, which was the first time I'd qualified for a Slam in I think that was my 14th attempt.
Fabio Molle
Resilience.
Liam Broady
Yeah, I mean, it's a lot of attempts that!
Fabio Molle
You'll get there eventually but I was going to say, so I was speaking to a coach yesterday who would have traveled with some of the Irish younger lads. And he said you would have seen you at Junior tournaments back in the day but he says one thing about you says you never missed a short ball - forehand ball. So it's just backing up and you know, you're attacking, you were on it early and he says that was one impressive thing about your game as he saw as a junior like he just didn't miss one and you were on it so quickly. Is that true?
Liam Broady
Yeah, no, it's true. Dad's big thing because up until I was probably 16 or 17 it was my dad that coached me. To be honest, probably 17/18. My dad was my coach, we traveled every week and you know, he was a real tennis fanatic. And one of his big obsessions was the early ball and basically just attacking and playing the right way and no matter what, and if you lose the match playing the right way then it's better than losing the match and just pushing and you know, I guess that's kind of what happens when you're accelerating on the ball you actually have more control than when you're de-accelerating on the ball, which is kind of like a little bit of a paradox really but that and I never had fear as a junior whereas obviously once I'd achieved what I'd achieved in juniors and then gone into the senior game, I kind of developed a bit of a fear of failure because I was like, look at what I've been you know now it's the big leagues like now I've got to do it to actually make money rather than just to get myself a bit of a name. And that's kind of where it tripped up a bit really.
Fabio Molle
Yeah, it's crazy but it must mean so much to have these guys around. I don't know look, you can still call your dad for advice, you've Dave, you can call Andy. What's the best advice you've got from Andy and from other Brits - is there one from each you can give us from Dan maybe as well.
Liam Broady
The one from Andy was was that one really. I mean at the end of the day that kind of changed my career path in a sense you know, you're not going to make it pushing the ball. So why not give yourself a chance by hitting the ball and it's such a simple statement right? But you know, even when I say it now it's like damn, like that's it's a really smart thing to say that like such a stupid guy that's such a smart thing!
Fabio Molle
I don't know if he listens, but let's hope he does, because he gives you a bit of abuse on that.
Liam Broady
Yeah, it was a bit a piece of brilliance really. And one of the I mean Evo [Dan Evans] again, I mean, similar to that piece of advice, Evo has probably giving me five, six incredible pieces of advice over the years that have just struck me to the bone. I mean, there was one a few years ago, and this is for anyone that's ever in a in a strong tournament. I remember looking through the draw and I was texting him, I think it might have been whilst he was out of the game, and I was like, jeez, like, this is a strong tournament, I was like - this is difficult and he said, and he was even, you know, classic, Evo way he kind of insulted me at the same time, he's like the same as everyone else. You're such a such a baby. Slightly more rude than that. You're such a baby. He said, you look at that draw and you see 31 other players, you've got to beat, you only have to beat five of them, the rest of them will beat each other. And I was like, damn, he's right. You know, even in the strongest draws, you only need to beat five players, you know, I'm looking at all these top 100 players in the draw and actually, there's only four or five that I actually need to worry about, you know, and I thought that was a fantastic piece of advice. And that's always, he might not even remember telling me that but that's always stuck with me. Another one, he actually said to me, and it was him and Mark Hilton, like I said, we did that preseason together in 2019. And it was then, you know, it was those two that were saying to me at the end of the day, and Evo said, I don't know why but doing the right things off the court affects the way you hit the ball on the court, it doesn't make sense, but if you take care of the off court stuff, for some reason, you play better on the court. And you know, I had gone for a coffee with them after a practice and they're both kind of like, looking back probably trying to drill it into me a bit. Whereas I was thinking this nice friendly coffee. And that was probably another career changing piece of advice. You know, it didn't it probably didn't stick straight away. But like I said, you know, then a month or two later I went and got bounced out of the draw in Australian Open qualifying by Ivashka and that kind of struck me then what they had said and I kind of thought okay, well let's give that a go and see what happens.
Fabio Molle
Yeah, how dangerous is a Ivashka these days?
Liam Broady
Yeah, I gave you a list of the players I've lost to at so many tournaments!
Fabio Molle
At least you've been there to lose to them. But I think I'm just going to jump in here. I think the whole thing about doing the right things off the court - it's mental training really, you're doing the right thing. You're making the hard decision. But ultimatley then you're on court. And you know, you won't take the easy route out because you're mentally training this sponge in your head to do the hard thing and make the hard calls.
Liam Broady
It's funny you say that because obviously like people said that to me for a long time. And you know, I train hard off the court and I probably wouldn't do the other things like taking care of my body and eating right and I'd go on court for a match and I'd be like I should feel confident here like I worked hard in the gym like I'm fighting hard on the on the practice court, and I'd feel bad. Whereas actually what I've learned is you probably even if I didn't train hard off the court, but I actually did the right things around the tennis. I'd feel better on the court and I don't think - it's not even like consciously on the court, you know? Yeah, like you say you're not almost thinking, okay, I know I've done the right stuff here. I'm going to hit this forehand good, but somewhere in the back of your mind there's an extra sort of calmness. I don't know how to explain it just kind of more of an understanding and the ball seems to feel better.
Fabio Molle
We need to get Dave on to explain how it all works. Well, let's quickly talk about your coach David Sammel. He runs the Mindset College, and it's a place where players and not only tennis players, other athletes and business people can go and they can do mental training - it's a course they can do online. You're an ambassador, and apart from Dave's help with you on the court, how has the Mindset College helped you on the court and off the court?
Liam Broady
I mean, it's funny you know, because we've kind of me & Dave actually had this chat. When we think about it. We sat down a few years ago and I said right we got a great tennis coach in Dave, I had a great S&C coach in Rick my S&C coach back home and I didn't have a mental coach. He said, right, we need to get a mental coach as well. And I brought in this guy called Phil Quirk, and he's very good. But then a year later, we kind of sat down talking and obviously Dave does his mentoring stuff with Mindset College. And Dave actually said to me, he said it's funny because you know, you've got three guys specific for each thing. But actually Rick as well does some mentoring, so I've got an S&C coach who does mentoring and mindset work, a tennis coach who does mentoring and mindset work and then a mindset coach as well. So yes, so it's worked quite well and I'm probably the type of person that I overthink quite a lot. So it's quite nice to have that in each setting so when I'm on court I mean Dave for me is next to none in I mean obviously he's a very very good tactical coach and technical coach but he's second to none for me in managing, helping manage me with my emotions and and my insecurities. There was a time in Rome this year I remember I had a bad practice and I was feeling really bad on the court and I called him and obviously I was a bit panicking, a bit panicky and he kind of just talked me off the ledge a little bit and you know gave me a few little things to sort of manage myself and so just relax, give yourself a few more days and you know and I found it again but that's that's the type of person Dave is - he's a very intelligent guy and he has a great awareness of people so you know, I guess he's kind of decided to put that into his business a little bit.
Fabio Molle
Does he make you login?
Liam Broady
I think he's trying to get me to. I did a call with him a few I think was it last year? But I mean I'm not very - well as you know, I'm not very good with this stuff. It's taking me about two weeks to book this in with you!
Fabio Molle
Ah look, you're busy, you're busy playing tournaments. I know how hard it is to get tennis players in because the schedule changes all the time and practice changing, weather issues and flights and whatnot but no, it's been great having you on Liam. I wish you a lot of success. You said you're from Stockport is it?
Liam Broady
Yes.
Fabio Molle
Is that near Manchester?
Liam Broady
Yeah, it's great Manchester.
Fabio Molle
Are you a City or United fan?
Liam Broady
I'm a Manchester City fan. My claim to fame is obviously besides my sister, well, that makes me the third greatest tennis player to come out of Stockport because obviously Fred Perry is from Stockport as well.
Fabio Molle
There you go. There's high expectations there, no wonder you've had that pressure on your shoulders.
Liam Broady
I'm aiming to be second best, but I need to get my sister out the way.
Fabio Molle
You're all over it. Last thing, any last bit of advice you want to give our listeners who are like junior players, parents out there that you feel could be valuable if they're willing to listen?
Liam Broady
I'd say firstly, I wouldn't put a time stamp on goals or achievements. Sometimes you want it to happen, you know, within a week, it might be three years, four years, five years, but then a lot of things might happen at once. But one thing I can guarantee is that it's always going to take a longer time than you think it will because as humans you know we want the shortcut, we want it quicker and in reality it's not like that. And yeah, I mean, I guess and I think this is kind of like I said, you know you can take some things from tennis and put it into life as well and it's the same - I think it'd be the same in business. You know, the same in any walk of life is that if you if you do the right things then good things will happen. And it's as simple as that really, I mean the toughest times to do that are when it's not going well but that's almost that's also the most important time to do it. And in the words of Pep Guardiola, I stole this one from Pep Guardiola - the Manchester City manager, he got asked in an interview it was before they set the record for most wins in a row in the Premier League. An interviewer asked him if he was if he was worried about setting the record for the most wins in the Premier League. And he responded, I'm not worried about winning matches, I'm worried about how we respond when we lose. That was very powerful for me to hear, because it's the same in any sport and in any business in life. It's easy when you winning, the most important time and what really defines a champion or a champion mindset is how you respond when the chips are down and when it's going badly.
Fabio Molle
We've talked about losing but when you win, when you won the Challenger - did you have a nice beer or what's the new routine now?
Liam Broady
Yeah, I went home and I saw the family, my girlfriend actually bought me a huge cake.
Fabio Molle
Bad influence!
Liam Broady
I had a slice of that, but you know I'm getting old now man, I can't go out and celebrate like I used to so.
Fabio Molle
Last question here! But did you ever play the Irish Futures in Dublin?
Liam Broady
I never did. I always wanted to. I've never been to Ireland. I was actually planning a holiday to - I think it was Dublin at the end of the year. But the way the schedule is looking, I don't think I'm going to get out there.
Fabio Molle
Okay, well, maybe if you get out here, I know it's a holiday, you'll get Sam Barry out to hit a few balls, he's still playing a bit of league for us! He's still a bit useful!
Liam Broady
On the deadly wet astroturf out there!
Fabio Molle
On his home ground. He said he'll take you. But Liam, thank you very much. I'm not sure what your plans are for next few weeks, take a bit of time off or whatever it is. Keep it on the straight and narrow and I will talk to you soon and thank you very much.
Liam Broady
Thanks so much.
Fabio Molle
What a great chat with Liam. I really hope you picked something up from it. And if you did, let me know what you found great about it. I would really like to know. But until next week, get out there, get playing tennis. I'll be back then. Bye!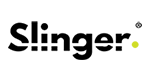 PODCAST POWERED BY SLINGER