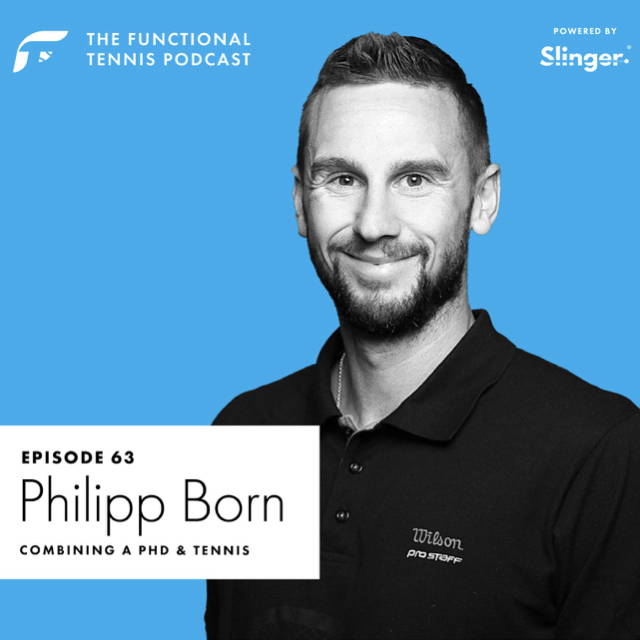 This week we are joined by Philipp Born, a coach who is heavily involved with research into tennis.
Philipp comes from a tennis fanatical family in Germany who actively play and coach 😃
We talk about the German pro league, his research into tennis patterns, the importance of second serve speed, advice for juniors & the importance of video analysis 💯
Hope you enjoy the episode!
If you find it interesting please share with your tennis friends and family.

Huge thanks to our sponsors Slinger who allow us to produce the best possible episode every week 👌
Philipp Born
Hi, my name is Philipp Born and you're listening to the Functional Tennis Podcast.
Fabio Molle
Welcome to Episode 63 of the Functional Tennis Podcast. I'm Fabio Molle your host. This week I speak to Philipp Born who has combined his love of tennis with a PhD. We talk about his PhD, essential serving patterns, improving your practice sessions, second serve speed & more. Before we get started, huge shout out to our podcast sponsor Slinger. If you need to know any info on the Slinger bag, you can send me a DM at the Functional Tennis Instagram account or email me at ace@functionaltennis.com. I'll be happy to help out now that I've used the Slinger bag for over a month. Okay, let's get chatting to Philipp. Hi Philipp, welcome to the Functional Tennis Podcast.
Philipp Born
Hi, Fabio. Thanks for having me really looking forward to it.
Fabio Molle
It's great to have you on the show. And we actually met was it about I think about three or four years ago over in Cologne because we have a mutual friend.
Philipp Born
Yes, that's true. Fabian.
Fabio Molle
Fabian is like yourself - a scholar, a man who chases a PhD. Tell me, you've worked, obviously worked, writing a lot of papers. You've a PhD in tennis. Tell me how did you get into how did you mix tennis and a PhD?
Philipp Born
Well, I am a tennis player all my life. Basically, all our family is tennis family. My parents both studied here at the sports University in Cologne, and then became tennis coaches. My father even was the national, one of the national coaches here in Germany for over 30 years. So I was born into tennis and when then I finished my yeah, well, masters degree or then it was a diploma in sports science here at the sports university. Yeah, like everybody else after univerisity I had a look around what is what is there for me in the world. And then one of my professors came up to me, Karl Weiber. He came up to me and he wanted to do one more big scientific project before he finishes his career. Yeah. And that's how I got to do my PhD. And then we started to think, what are topics that are new in tennis that are maybe not yet researched enough? And yeah, well, the game opening was one of the factors that we decided we we should do research on and yeah, that's how I got started with my PhD back in 2011. And with all the work I've done besides that, or better to say I did the PhD beside my full time work as a coach. Yeah, it took me almost six years to to finish it but yeah, that's how I got into PhD in tennis.
Fabio Molle
It must be great coming from such a tennis enthusiastic family and having your dad as one of the national coaches must have helped you as a player.
Philipp Born
Definitely. It did. Yeah, it was also tough sometimes because the father son relationship is always different than a coach player relationship. It's always special. But now looking back Yeah, I was really lucky. I have two brothers as well one one brother two years older. So we that's the next thing that helped me a lot was that I always had a better and older practice partner, and that we have a younger brother nine years younger than me. So we are yeah, basically, we all learned our tennis from our parents, like from the first steps from our mom and then my dad took over with other coaches, but he was and still is yeah my best and my best coach I ever had. And I'm still playing with him from time to time, even though.
Fabio Molle
He's probably still beating though is he?
Philipp Born
Not anymore. But yeah, but maybe again in the future we don't know.
Fabio Molle
And your two other brothers play as well.
Philipp Born
They do. They both played college tennis in the US. My older brother played quite successful. He was number one in doubles. They won the NCAA Championship against Kevin Anderson and his partner back then. So he was very successful. He's still living and working in the US as an athletic director at Lamar University, and my younger brother, he's now he just finished his masters degree. And he wanted to go to start on the pro tour this year, but as we all know, the Coronavirus had something against it. So he's yeah, he's practicing and preparing to hopefully start in 2021 to start and try his luck on the ITF and ATP tour.
Fabio Molle
And nice and tell me, we posted a video on Instagram this week that you tagged us in with Dready. Was that your younger brother or was that you?
Philipp Born
Yeah, that was my younger brother, Yannick - the one I just talked about. Yeah. And he's, he's playing with with Dustin and a team. He played some doubles in the first Bundesliga last year. And last Sunday, they played in our second team together. So yeah, so they practice a lot and this video was from last year. It was a Yeah. Unbelievable rally in the 'dribbler' how we call the game yeah.
Fabio Molle
It's good. Yeah, that video actually killed it. So it was really good video, but I remember watching Rot-Weiss, is that how you pronounce your club?
Philipp Born
Yes. Yeah, it's the colors red and white. Yeah. Rot-Weiss Koln
Fabio Molle
Dready was playing I'm not sure if Seppi played that day. I know Fognini was on your team at one stage, wasn't he?
Philipp Born
He was but unfortunately, he never played. He was in the roster, I think for two years but never played but Andreas Seppi. I heard the episode with him that you had a really liked it. He was yeah, he was here a lot of times he played a lot of times. Very nice guy. Great player and yeah, unfortunately as he also said, he's struggling a lot with his hip lately. So sometimes he just had to yeah, he had to skip the club matches because he had to give himself a break. But yeah, Andreas, we have Benoit Paire in our team, which is always great player and great to watch also great guy. We have Dready so we have an interesting team also for the for the spectators to watch.
Fabio Molle
Yeah, no it's crazy. Like I didn't know much about German league more until recently, the past few years, but the quality of players is unbelievable. And for people who don't know, like, what goes on in these European leagues like it's amazing the players that show up and there are ATP 500 matches going on there.
Philipp Born
Yeah, sometimes you have yeah, sometimes you have great, great matchups. Yeah.
Fabio Molle
Let's move on to the PhD. The meat of the interview. Tell us what was your doctorate in?
Philipp Born
The topic was the game opening in men's professional tennis. My PhD is the PhD in Sport Science. So that is what I study at the universities, Sport Science and I but yeah, the topic was game opening in tennis. And what I basically did was to get statistics from the French Open and the US Open. So we chose clay coourt and hardcourt because we said, okay, this these are the two main surfaces that are played on in Germany, but also worldwide. And all in all, I had almost 25,000 strokes that I analyzed via videos that we had from from the Grand Slam tournaments, and we focused basically on the first four strokes. So serve, return, and then first stroke of the serving player, first stroke of the returning player to get a detailed look into what they are doing, where do they serve, where do they hit the next shot to, to which zones of the court so we divided the whole court into 14 different zones that are really easy to adapt on the practice court, there was one thing that we wanted to do that we did a scientific research but very close to the day to day training of all the coaches. And one thing that was like the novelty of the of the PhD was that we developed serving patterns. So we we defined, like you said in the beginning, for example, the big V, which is a serve, that goes wide - so you move the opponent out of the courts, the return comes back to you and you play your first shot, or the third shot of the, of the rally to the open corner. So the Big V to get a get a picture of it, is that if you draw an arrow for your serve, and for your next shots, those two arrows will form the letter V. And then yeah, from then on. From there on, we defined several serving patterns and well there was the topic and was and still is very, very interesting to see what happens on the court.
Fabio Molle
So what was the final outcome? What was the most important thing that you learned from the study?
Philipp Born
Oh if I have to pick one that's tough, but regarding the serving pattern, it was that there are basically three to four serving patterns, which are no revolution, but it's one thing was that is that simple. So for example, the Big V, or the second most played one, the small V. So your serve to the tee, the opponent goes to the middle of the court, and you're still playing to the free corner, for example. So you have basically easy and not very special serving patterns. But the most important thing is that how you play the patterns, you have to play with a certain certain quality in the serve, but also in the following stroke. And one thing that was really new and still is new I had for example yesterday I did my education part in the in the trainers, education coaches education here in Germany for the A courses. And we talked about that is a specific zone, I call it the C zone. So the letter C, which is like behind the service line close to the sideline. And these zones are the most played zones. So, so the first row after the serve if you go to one or the other corner, and this is the zone where the male professional players and now in our newer research as well we found out that also the women players do the same. They play their first strokes and ball offensive strokes as well like aggressive strokes from within the baseline or approach shots. They play to these zones a lot. And not only a lot but also very successful.
Fabio Molle
Maybe I will get you to send me though an image of the court broken up into 14 zones and I can include it in the show notes just so people have a better understanding of all the zones.
Philipp Born
Yeah, I definitely will. Yeah.
Fabio Molle
Great. And so you talk about the big V, the small v, what are the other one or two popular patterns?
Philipp Born
Well, the next one is the we call it the behind the back. So you serve wide, and you play behind the back. So the opponent has to move to the center of the court to cover the courts and you play behind the back, which is actually one of the most successful ones because it's for the serving player a lot of times easier to play your next shots back to where it came from, instead of changing the direction of the ball, which you have to do in the big V. So these three are the most played and the most successful ones. It differs a little bit from the duece side and the advantage side, but that's like the next. Yeah, the next step to to individualize it, you know.
Fabio Molle
So a Big V, let's say 30-20, it could be me. I'm a right hander playing a right hander. I slice out wide. And then I come in, I get a midcourt ball back and I go inside out to his backhand side. Is that an example of the Big V?
Philipp Born
That's the Big V. Exactly. And like you just described is one of the next things that we found out in the in the men's tennis actually, not in the women's tennis but mens is that as you said, a lot of third strokes are played with the forehand. Even if the opponent returns to my backhand side, more than 35% of all strokes that go to the backhand are still played with the forehand. So the run around forehand is one main thing in men's tennis as well. This is actually one main difference to women's as well because women tend to do it a lot less. So we have only 10% run around forehands, for example, in the women's tennis.
Fabio Molle
Okay, it can be nice stuff too. If you do get a backhand return down the line. You can use your body weight, especially a double handed backhand to get a bit of angle to open up the court even more, that can be nice. But I'm sure a lot of this, this would be a very trained drill as well, like pros, you've worked with pros, how often do they train these patterns? Is this all they do?
Philipp Born
Actually, that's very different. That's very individual. There are some players, the trainer or my brother posted a video from from the Australian Open this year, where he watched Kevin Anderson, and he did a whole session on it, serve, next shot, serve next shot and even only the next shot. So he just he did like a simulation serve, not serving maybe to to, to get a little bit of rest to his shoulder but train the next shot. So there are some players, for example, the big serving players that practice that a lot, but there are also some players that seem to not practice it a lot, but my yeah, what I see and when I talk to you colleagues that are still on the on the ATP and WTA tours that it gets more and more that the focus is more and more on the game opening. Yeah, that they really try to get individual patterns for their players to see okay, what is the strength of my player? Does he like you said before have has a very good slice serve maybe from the duece sides. What can we build on that or next step to to think about what is the return I want to get back so maybe it's not even so much about the serving direction but it's more about if I serve there, where does the ball come back to? And then as you said, Do I want to have my backhand or do I want to play forehand with the first shot? That's the next thing you you see in the in the practice sessions
Fabio Molle
And question let's say let's look at it from the other side I'm playing a lefty Rafa Nadal - extreme example who uses that play all the time, especially when he's under pressure. He's advantage down, he plays the lefty serve slice out wide. He follows in with a forehand inside out. How do you deal with somebody who's using the V against you successfully?
Philipp Born
Well, that's the thing. If, if the player like you said Nadal is playing it successfully, it's it's tough to do anything against it. And that's the most important thing for the serving player that I always emphasize. That is, if you have a really good working serving pattern, use it. And it's tough, if you well I never played against Rafa obviously, but I can only imagine how it is to to return his slice serve. And we all know wherever I put my return, he still tries to go with his forehand so one of the best answers would be try to get your return back deep into the middle, which is when we talk about return patterns is one major thing that is very obvious in men's and women's tennis is that more than 70% of all the returns are played deep through the middle. So we try to get back to the feet of the serving player. And this is all you can do. And then after that, it's yeah, you have to see what the what the serving player is doing with your return.
Fabio Molle
Too many times the more amateur players, like myself, prefer to go for the big returns and the risky returns and meanwhile the pros as you say, are hitting 70% of returns deep down the middle, cutting off all angles, you know, its a nice, secure shot. So I think a lot of us should be looking at working, practicing on these returns that you know, we just get them back down the deep middle and set up our next point with it
Philipp Born
Exactly. Yesterday for example, with the coaching course, I said if I if we, with our junior players, practice only two things with the return. First, put it in. 80/90% of the returns in and 70 or more percent deep through the middle. Like that's your goal if it's if it's going a little bit more crosscourt and a little bit more down the line okay. But your goal is to go deep through the center of the court. If you train this you have a big step forward in your return game and then you will give the the serving player as many follow up strokes as possible. So there will be less easy points for the serving player. He or she always has to do more to win his or her serving games so this is a would be a big step in all the return quality.
Fabio Molle
Yeah it's amazing. Even when you see I know we're going to the extreme examples of Federer/Wawrinka when they're blocking it back with their backhand and it's just a foot inside the baseline, no pace. And the server's like completely neutralize the server. It is an unbelievable return to have.
Philipp Born
Yeah that's it. Yeah.
Fabio Molle
Just coming back on your serving patterns. Are they based off first serve only or are they second serve also?
Philipp Born
It's both first and second serve, they differ a little bit regarding the serving direction. So if you want to do it very, if you want to do it very easily, or easy, it's, you could say that serving first serves its wide or tee, and only more or less 10% of the body of the opponent. When serving the second serve, it's almost 60% to the backhand of the player, 30% to the body and only 10% to the forehand. So, this is what is the the main difference with the first and second serves. And yeah, depending on that the follow up stroke is still the same. So you, you still have you go to the open corner or behind the back. And that often depends on the quality of the return. So let's say like this, if the if the return is good with a good quality, deep with a good pace, the players tend to play the ball back to where it came from. So again, what you said before, less errors, less risk, play the high percentage ball. And if they have the time, if they can build up their stance, if they can choose what they do, they tend to go to the open corner to make the opponent move. And it's as simple as that. It's most of the time a choice between two things, not like three or four things. But yeah, the quality of the player is that he or she is most of the time making the right decision and not like you said before, go for the big shots that goes to the line. And if it's in it's, it's huge, but it's like in two out of 10. So, yeah, the the high percentage is very important.
Fabio Molle
And obviously as you say, minimize change in direction of the ball. When you change the direction it's always a bit risky isn't? The footwork has to be much better. And have you seen Reilly Opelka serve this week? I don't think he's following your stats there. He's just going for the body first serves. He's absolutely nailing people with his first serve.
Philipp Born
Well, that's a, that's a good thing to do as well, you know, it's, and that's what we have to keep in mind when we now talk about the stats, or if I talk about the stats, it's like a big, the big picture. So we had 25,000 strokes, we have like 40 players in it. But on the individual level, it could be very different. So you always have, I still remember Stan Wawrinka, when he won Roland Garros, he was serving to the body a lot as well. So you always have like the individual level when you play against a certain player or you have a certain player who is more able to do this so that so what we focus on in our research is first of all, get the big picture to get yeah, useful, useful numbers, useful stats for the coaches and the players, and then a great coach is able to adapt those stats of the pros to the individual level of, of the players he's working with, you know.
Fabio Molle
True. And that's one of the reasons why I'm a bit anti against all these online courses that are available at the moment. I feel that, you know, tennis is such a personalized game. Everybody's different no matter what the level, we all have different skills and different abilities and there is too many online courses, which just cater for, you know, there's no real personalization there.
Philipp Born
It is yeah.
Fabio Molle
And anyway, it's just something I thought I'd bring up. Briefly, we're talking about second serves. I was asking you about the patterns, but I heard you mentioned on Adam Bilchers podcast about the second serve speed, which I thought was interesting and something that I've actually been trying to work on recently. Maybe you can tell us a bit more about your thoughts on the second serve.
Philipp Born
I have to go back some years. In my own playing career, one of my coaches, or when I changed clubs to here to Cologne, my new oach worked with me and he said, Okay, you've got such a great first serve. But what's up with your second serve? It's like, your second is a lot weaker a lot slower. So it's like, even if there's a like, there's a, another player serving. So we worked on that. And it's his input was and that is something that worked for me. And since then, that's like, 10 years ago, maybe I'm working with this philosophy with all my players, and it really helped a lot of players is that why should you hit a second serve slower than a first serve? There's no reason for it. Why? Because you need a certain pace in your racket to control the ball. So if you hit it too hard, you will lose control but you have a certain pace and if you go under that, if you go slower, you will lose control. So if you want to hit a good, consistent end as well, efficient second serve, you should use the same racket speed that you use on your first serve with the one difference that you don't hit the ball flat, but with more slice or kick, so you do you just use your your wrist or your under arm movement a lot more to make the ball rotate, and use the pace to control the ball to make it more efficient to make it tougher for the opponent to return. And, and this is one of the main reasons for me as well with with junior players doesn't matter if male or female, that they have one service motion that they can use and they can continue to use and get a lot of repetitions on. What I see a lot is that they tend to have like three different service motions. The one is the first serve. The second one is the slice second and the kick second serve, but why should they differ so much. So my philosophy is to hit the second serve 90% of the movement same as the first serve and just differ in the spin you give to the ball. With the only exception that for very high bouncing kick serve, you need to change the toss a little bit. But even if you toss it always on the same spot, like for example, I think Roger Federer is doing great is that you can still hit a very good kick serve, maybe you're not get a such a high bounce, but you still can, can hit a very, very good second serve with that.
Fabio Molle
Plus, your opponent will struggle a lot more to know where your serve is going, which gives you such an advantage. That's much better than an extra 10 miles an hour. The player doesn't know where you're going. Anybody listening, give that a go in your next practice session, I think really works and it just changes your thoughts on the serve completely because obviously, it's not a flat serve you are hitting, you're still going to get a second serve with more spin or more slice and but it gives you an extra bit of confidence and you actually get a bit more from the serve. I thought it was great. But also for juniors like you work with juniors what's important for juniors out there? We have a few listeners, junior listeners. And what can we tell them from your experience that's important when they're training?
Philipp Born
Regarding the serve?
Fabio Molle
Just in general.
Philipp Born
Well, in general, it's one thing I always try to teach my players and also if I do coaches education to try to teach the coaches is that if you have players that are competing in any way, could be a regional tournament or club games or national tournaments or going for pro whatever it is, as soon as they are competing, even if they are still playing on the red court, the game opening so serve, return and the first strokes should be one main focus in the practice, on the technical side, on the movement side, so all the footwork that is involved starting with the footwork, within the serve and after the serve. And also technically, because and this is something we now with all the stats we have, including all the stuff that Craig O'Shannessy is doing, we know that no matter which level of play, which which age group, the first four strokes 70 or more percent of the release, and that's the most important thing. And if we focus on that more, we will get the players from an early stage on to be more successful and more like you said before, more confident in the situation. So they don't struggle with the serve and the second serve, they don't struggle with returning and everything. I think most of the time that happens because most of the training sessions are baseline, focuses on the baseline, focuses on hitting strokes getting a lot of intensity, blah, blah, blah. And then we do a little bit of serving and maybe returning but maybe not in junior, junior practices. So yeah, I'm definitely would suggest that they play more with focus on serve in every and every way.
Fabio Molle
Points to 10. How about we go out and play some points, or points 11. I know some players who are great off points, to 10 or 11. And then once you put in the serve, it completely changes things around. So I agree, I think there's too much time spent on those points to 10, points to 11. And I think as you've mentioned this before, it's more that's more of a fitness you do tennis for fitness, you're not actually doing it to win matches to become a better player. And hitting cross courts all day won't help you that much. You sometimes need a bit of feel I think and you'll do it but I think doing it all the time, I think is wrong.
Philipp Born
Yeah, well it's it's perfectly fine if you do it, you know, but it always depends on what your goal is in tennis. I think tennis is also a great sport if you do it not competitively and play just for fun for fitness, whatever. Those people they don't have to focus on serve and return and everything. But as I said, as soon as you play matches and this is one or the main focus in your tennis, you have to do it. And you have to also do this, the rest of the strokes. So I don't say don't play cross court rallies. But I say if you have a certain amount of time, if you have a 90 minute session, you should give the most important things more time and enough time. So if you have 90 minutes session - 30 minutes should be about the game opening, at least, if it's closer to the next competition, maybe more. But yeah, that's the most important thing. And next thing is not only more time and more focus, but also the placement in the I don't know if placement is the right word, but the placement in the training structure so not why always do serve and return at the end where everybody's already tired, a little bit less focused and everything. Why don't do it at the first thing in the practice you do a good warm up. You are warmed up before you start hitting baseline strokes, we do serve, we do return, we do the first strokes. That's our first 20 to 30 minutes after warm up, and then we start hitting from the baseline. So we have our main focus on the main thing, that is the most important thing for winning matches. And then we still have 60 minutes, or maybe 50 minutes for all the rest of the yeah, strokes, we also need.
Fabio Molle
I agree with you, its only for looking at it from my side is actually a hard thing to change when you've done something for years, you have these routines built into you mentally and people you play with have these routines as well. And it just takes a bit of effort to break out of it and bring something new to the table and say we're going to switch things around today and keeping that structure moving forward. But I agree we used to have a fitness coach, and he used to say let's do the speed work at the start. After you've probably warmed up where you have a lot of energy and when you're quick, you're quick rather than doing at the end. When you're fatigued, and you're trying to be quick, but you can't be quick because you're tired. And so I think it's a bit the same philosophy as that. But first, we're going to end this on just a question. One of your papers is on video analysis. Just briefly tell us a bit on the importance of video analysis for players now.
Philipp Born
Yeah, well, that's one one of the other main research topics we are on here at the sports university, besides all the game opening instead, so we do a lot of research with, with with video, the use of video analysis and practice and also the use for the players for the coaches. And well first of all, the first message is now we have such an easy access to create tools. Everybody has a smartphone, almost everybody has a template and any sort of way. And most of the devices have very good cameras so you can use it very, very easily on cords. When I remember only 10 years ago, when I was still studying, we had like a big camera that took the video then we had to take the camera into the, into the classroom for the cable from the camera to the TV and then we could watch it you know, now we have a smartphone or the tablet, we take it out the pocket we take a video of our player, we have it with a very good quality. And if we add certain apps on it like huddle technique or Coach's Eye or Tennis Australia technique, or whatever it is, we can we can make it even better regarding the slow motion, the to to hold one picture of the movement to do like two movements side by side to make a comparison between two players or whatever it is. So that's the main message should be use. Watch what we have in your practice. And yeah, be aware that's your eye or your eyes can't see everything that is happening in tennis. We have such short and also fast movements, especially the movements that are happening right before we hit the ball. Right before the contact point, an experienced coach sees okay, there's something wrong, something is off with the movement with the with the hitting with the risk, whatever it is, but we can't really see it. So we use the video analysis to just break it down to get a better look for the coach. So the coach like gets a better view on the movement to help with his corrections for the players. And the second thing, which is yeah, which I can highly recommend is that the players see themselves whoever it is younger players, older players, experienced players. A lot of times it's like a really eye opening moment for the player to see his movement. And from there on, the work between coach and player will be a lot easier. An example would be if you're a player, and I told you for the last several weeks that I want you to get your racket head more under the ball just before you hit it and you don't get it you know what I mean? But you don't know how to do it you think okay I'm already doing it. My coach is still on me what is what's up so then you see it and what you never saw before because you don't watch your racket and you can't watch a racket while you're hitting yourself but you see it on the video. You see it in slow motion, you see what I mean. I tell you okay, look, that's what you're doing. I want you to have your racket here or there. Maybe you compare it with Rafa Nadal who is doing it great, or whatever. And it would be most of the time, the eye opening moment for the player. And from there on your efficiency and coaching will be a lot better, a lot easier.
Fabio Molle
I agreed that the whole visual learning thing is massive. And you can learn so much more, as you say once players see it. It's a lot clearer and can help a lot but yeah, no, thank you very much Philipp for all that information. And I'm sure there's loads for the parent listeners or the coaches or players here that go out and work on and can work on today straight away. So I thank you a lot for all that information and keep up the good work Tell me where can we learn more about you?
Philipp Born
Well first of all thanks for having me. Always appreciate the work people like you do and that's very important to get to get all the information we have out there that's why I'm I was really happy to do the the podcast and as you said already the the one with Adam and for us researchers, it's very important to get all our like, yeah, all the research all the knowledge out to yeah, to the players to the coaches, and I think that's that's a great way with your podcast as well. Well learn more about me, check, maybe researchgate. That would be the scientific, Facebook, where you would say, where you will find a lot of papers. I'm still publishing a lot here in Germany, but also worldwide, go to conferences. If you're a coach, I highly recommend the ITF coaches conferences, for example, as soon as all the covid situation is better, there will be even more conferences, I hope, which is always a great input. I will be there a lot of times to present. And besides my professional level, we have our family. We talked about that earlier. We have Born coaching on Instagram, which is more like a private thing. But we try to yeah, give a little input from time to time from our daily practice, as players as coaches. So if you're on Instagram, it's @borncoachng. Yeah. And you maybe get a little bit of insight in and what we do.
Fabio Molle
Thank you.
Philipp Born
You're very welcome.
Fabio Molle
I hope you enjoyed that episode and picked up some great ideas that you can bring straight away onto the practice court. If you want to see what the court looks like split into 13 zones or want links to the Video apps that Philip mentioned, head over to Functionaltennis.com/podcast and we'll have all the information in Philip's podcast episode notes. I'll be back next week. Until then, I hope you get busy working on your second serve. Bye.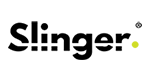 PODCAST POWERED BY SLINGER