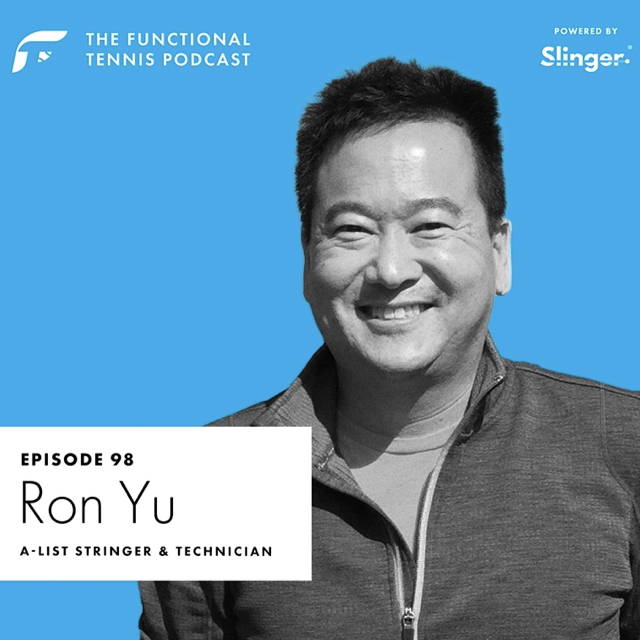 A-List Stringer & Technician
Ron Yu, a professional stringer & racket technician on tour joins the podcast this week 💪
Ron travels to all of the grand slams & master series events every year to string for the likes of Roger Federer, Andy Murray, Stan Wawrinka & more! He has also previously strung for Andre Agassi, Pete Sampras & Tim Henman.
We talk about how he got into the industry, players that he has worked with, the responsibility of working on professional players rackets, relationship with his clients, dynamics on tour & a few other things 😏
If you find it interesting please share with your tennis friends and family.

Huge thanks to our sponsors Slinger who allow us to produce the best possible episode every week 👌
Ron Yu
Hi, I'm Ron Yu and you're listening to the Functional Tennis Podcast.
Fabio Molle
Welcome to Episode 98 of the Functional Tennis Podcast. I'm Fabio Molle, your host. This week I speak to Ron Yu. Ron is an experienced racket technician and has worked and is still working with the game's greats. He's worked with Agassi, Sampras, Federer, Djokovic, Murray, Wawrinka and many more. He tells us all about life as a stringer and technician, traveling the world, challenges of COVID, player stories are more. You're going to love it. If you're a listener, I'm sure you know Slinger are the official sponsors of the Functional Tennis Podcast. They make the awesome portable ball machine, the Slinger Bag and to celebrate our upcoming 100th episode, we're giving away one of the Slinger Bags to you - to a listener. Entries are open to any country that Slinger ship to. If you head over to functionaltennis.com we have all the countries there. But off hand, they ship to USA, Canada, UK, Switzerland most European countries, Australia, Japan, India and Israel. To enter, all you have to do is take a screenshot of your favorite Functional Tennis Podcast episode and tag our podcast account which is @functionaltennispodcast and also tag the slinger account which is @slingerbag on your Instagram story. We'll keep a record of all the tags, and then a random winner will be picked and will be annoucned on Episode 100. If you have any questions, you can just send me a DM at our Instagram account or send me an email at fabio@functionaltennis.com. Okay, let's chat to Ron. Hi, Ron, welcome to the Functional Tennis Podcast. How are you?
Ron Yu
I'm great, Fabio, thanks for having me on board.
Fabio Molle
I'm really excited to have you on. You've been in stringing a long time and racket modification and you've worked with many greats over the years. So really excited to hear what it's like working with the greats and what's it like working as - I call you a racket doctor, what's the best word to describe what you do?
Ron Yu
A racket technician you know, you can call me a stringer, although stringing is only part of it and, you know, stringing, customizing. So I guess a technician might be kind of a general term that you could use.
Fabio Molle
Nice. And how many years have you been working as a racket technician?
Ron Yu
Started stringing in 1986? About 86 or 87.
Fabio Molle
And were you a tennis player beforehand?
Ron Yu
No. Well, I went to university and my freshman year, I had a couple friends that played tennis and they said hey, let's go hit tennis balls, which I had never hit very much growing up. I would hit rocks with tennis rackets you know, I would hit tennis balls. And I fell in love with the game, started hanging out at a tennis shop nearby and it just became deeper and deeper involved in the industry.
Fabio Molle
And you just love stringing and working with tennis people?
Ron Yu
The stringing is a love hate relationship. I don't actually love the task of stringing. I enjoy watching a player use my stringing work to fulfill their goals. I enjoy the travel aspect. The things that go with the streaming are fun. I'm not so sure. Like if you put me in a room with 20 rackets with no windows. I don't think I'd be too happy.
Fabio Molle
But tell me, is that what slams are like?
Ron Yu
Can be. Slams can be early morning stringing before the sunrise and then go to the courts, give the rackets to the players. And then you don't start stringing until maybe in the evening. So you're kind of on opposite sides of the schedule that the players at the courts.
Fabio Molle
Yeah let's talk about more of that in a second. Before we do just tell us, what players have you worked with that are most well known?
Ron Yu
When I worked for another company. My former company, I traveled a couple years with Andre Agassi. And then since Nate Ferguson hired me at P1, you know we've worked with - I've done some work with Pete Sampras, although Nate did the majority, vast majority of work with Pete but then also you know, Tim Henman, Roger Federer, Novak Djokovic, Stan Wawrinka, Andy Murray, John Isner, Marcos Baghdatis, quite a quite a number.
Fabio Molle
Tell us when you work in your previous company with Agassi. I remember Craig Shapiro mentioned you actually, he was a stringer, as well - was he?
Ron Yu
When I was hired by the company in 98, he had been working there for maybe a couple years. Yeah, he was already there.
Fabio Molle
I listened to probably a year ago you had an episode with Craig on his podcast. I thought that was great. It was a video and you were stringing Federer's racket at the time.
Ron Yu
I was.
Fabio Molle
You must have probably did a few Sampras's rackets or agassi's rackets or Federers rackets to see these guys as you say you get the most when they use them on court and see can they get results. How does that make you feel?
Ron Yu
I think that when I started and getting into the industry on the you know stringing for professionals at tournaments as a normal, that's a normal onsite stringer. Each tournament has an onsite stringing service. When you're younger, you're a little more nervous. The first time you string for a pretty big name like maybe the first year the stringing service doesn't give you the big names. But when they get confident in your work, you get higher ranked players, bigger players. And when you have a player, you get a little more nervous in the beginning, if they're losing, you feel like you almost feel like is this? Did I do something wrong? You know, which is not the case. But as the years have gone on, I don't even think about it to be honest with you anymore. You know, you just, it's another match. I mean, obviously you get to a final slam and you're stringing - it doesn't make me any more nervous. But you know, it's a big match coming.
Fabio Molle
Yeah, I could only imagine, tell me how from all the greats you've worked with how meticulous are these guys? And females?
Ron Yu
Depends on the player, actually, Pete Sampras, he was really really particular about his handles and the grip. You know, Nate had to do a lot of work to get to a point where he was happy with the way that the grips worked. grips compress when you when we first customize a racket and you wrap a new grip on a racket - be it a synthetic grip or a leather grip. In the very beginning, the grip actually compresses by the pressure of the player's hands. So Pete can feel that compression. So after let's say, a few weeks, they felt different from when he first got them. So sometimes what Nate would have to do is he would have Pete play with eight rackets at tournaments. And then on practice days, Nate was already working in eight new rackets. So by the time Pete would use them for matches, they felt the same as previous match rackets. So Pete was very particular about that part. But with strings, Pete just wanted strings to feel pretty tight. He strung really, really at a high tension. On the flip side, a guy like Andre, he wasn't so particular on his handles, he was okay with slight variances, as long as they're really pretty close, but not finicky. But his tension, he was very particular about tension, you got two great players being more particular about one part of their racket setup than the other. So you got to work with a player, you know, some are very, very finicky about certain things. And some, you know, not so much.
Fabio Molle
What about Roger, let's say?
Ron Yu
Roger is shockingly one of the least finicky top players I've ever had to deal with. He knows what he wants. And he trusts us to get the stringing, right. But when it comes to things, he just says, I'll get used to it. Indian Wells is a big example, during the daytime can be really hot in Indian Wells. But if matches start going a little slower and your late afternoon match suddenly becomes a night match, the temperature out there drops dramatically at night. And some players really get concerned that their tension might be too tight. As it gets colder, you know, the ball doesn't fly as fast. So they go usually looser. And I remember when we first started working with for Roger, he had one of those matches was going and I said do you want me to take some rackets back and restrict them to looser, and he just looks at me and goes 'no I'll figure it out in a few minutes when I'm out there'. You know, he just he doesn't let things bother him. And I tend to think that that helps because tennis is so variable. And unlike any other sport, unless you're the first match on, you don't know when you're going to play, you could be playing, let's say your third match after 11am you could be playing as early as 2:30/3 o'clock, you can play at five, six o'clock. So you have to be pretty adaptable. And I think like a Rafa - who we don't work with. He's very adaptable as well, I think I think there's a there's a real, I wish players were really finicky because it would make my job much more important. But I think it helps a player to be concerned about their equipment, but not let it overwhelm them and really get in their head that oh, this doesn't feel I'm off by half a kilo. I'm off by a quarter kilo a 10th of a kilo in stringing today, because then they're on the court and that that works against them.
Fabio Molle
Sorry, what females to work with?
Ron Yu
We don't actually string for any of the females we do some customizing in the office. We probably could take on some female clients now. But when they first started the company and I joined them a few years afterwards, there weren't a lot of combined events other than the slams, you know, you had you had Indian Wells and Miami. But other than that, we normally string at the masters and Grand Slams. And when we first started, there weren't that many combined events. So it was hard for us to get into stringing for the women. But now there's the combined events are increasing. And it probably be actually very possible for us now.
Fabio Molle
So you're mainly at the Masters and the slams. What do the players do? Let's say they are playing ATP Tour 500 or Davis Cup? Are you shipping rackets out to them? Or they're just using their local stringers?
Ron Yu
No, they would use the on site service each each tournament has some onsite stringing service and I probably go to like four 500's, maybe a 250 during the year if a client requests me to go then I'll go or Nate will go.
Fabio Molle
Okay, great. It's good to know because I taught maybe some players, it goes back to your finicky thing where I'm sure it doesn't matter as much but for the more finicky player they probably want Ron stringing my racket every time nobody else is allowed to touch the racket.
Ron Yu
I wish I were that important Fabio!
Fabio Molle
Yeah, I like it. And how does a player let's say Federer or I'm not sure Andy Murray's no longer with you, but any other players who are with P1. What way does that work? When does a player sign a yearly contract with you?
Ron Yu
Yeah. Andy still is with us, stringing you know he gets his rackets customized by HEAD but we still we still do stringing for him. So unless you know something I don't which is possible Fabio, we're sometimes the last find out.
Fabio Molle
No well you get his rackets
Ron Yu
Yeah, the way it works is usually we call it a yearly contract. But it's more a tournament. It goes four slams. And eight of the master series events. We don't include Monte Carlo because it's not a mandatory event. And we call that a yearly contract. But it could actually extend beyond that. So let's say a player gets hurt. They only play two slams that year and, and maybe five of the Masters events, we add on additional events. So each contract is worth four slams and eight master series events.
Fabio Molle
So you're on site there- are you normally at the player hotel or a different hotel?
Ron Yu
We used to stay at the player hotel or another otel closeby, but with Airbnb, we've been staying a lot at Airbnb's in the last four or five years, it's just more space to work in.
Fabio Molle
So you say a typical day is you're up early, stringing rackets, players go to practice courts, you're there. You give them the racket, what do you do in the afternoon, then the early morning/afternoon?
Ron Yu
Say we've got a lot of players and we're up really early, like, let's say three o'clock in the morning, starting to string, go to the courts, maybe mid to late morning, give players rackets. And then if we've got - might not need to pick up rackets until maybe you know, three, five o'clock somewhere in the afternoon. A lot of times I go back and take a nap. Because I know that I'm probably going to start working on players rackets in the evening again, maybe you know, six, seven o'clock and maybe work for another five hours. So to be up at three o'clock and not finished stringing until 11/12 at night sometimes you want a nap in there somewhere so and then maybe get to go watch a match late in the tournament when you know we're down to one or two clients. I have a little more time.
Fabio Molle
Yeah, a bit more time when they're still in the tournament. When you have a player or two still in there. I've definitely seen your posts on Instagram before we've had like Federer & Wawrinka playing, was it the final or I can't remember who it was now. But you know, the rackets lined up there and they're playing the final. What's it like strining for these two?
Ron Yu
You know, the first time it really hit me because in a big match, you know, was when Andy Murray play Roger in the final of the US Open. And I thought you know, this is going to be really nice, me and a former coworker, we went to the match. And we're like, you know, this is gonna be nice, we can relax. One of the guys is going to win, it's going to be a big win. It was not fun. I felt bad because you knew one guy was going to lose as well. I mean, it's nice when you get two guys in a final, but it's a little bittersweet because you know, one, one of the players is going to be really disappointed. But it's not the worst thing. Don't get me wrong. I'm not complaining when we got two clients making a big tournament final - that's a good thing.
Fabio Molle
And they sort you out with some good seats as well.
Ron Yu
They can, yeah.
Fabio Molle
And what happens in the case where I don't know Andy says, I need this racket strung quickly here. Is that up to you? Or does that go to the?
Ron Yu
Usually we do our work in the hotel room, or where we're staying. We're never usually working on site, except at Cincinnati, where we're the official Stringers. If our place is close enough, and we can get back, we can do it. But most of the time, if they have an issue during a match or just before a match, they are going to have to use the onsite stringers. And, you know, by and large, the onsite stringing service at Masters and Grand Slams are quite good. So I don't have a problem with that.
Fabio Molle
They know the situation if something happens, they are well preped. It's just crazy to work with these stars, you know, like you are you say you're oh, you're not that important. But you are like. You're maintaining their tool that they use to perform their trade, which is pretty spectacular.
Ron Yu
It's a responsibility for sure.
Fabio Molle
And tell me when you're back in your office, there is your shipping bill massive, shipping rackets all over the country?
Ron Yu
You know, it's not too bad. A lot of times we can bring rackets to tournaments. So you know, because a player you know, they don't want to pay for shipping. Nobody does. But I tell you the cost of shipping has gone up dramatically in the past couple of years. But yeah, we got it. FedEx gets a good good chunk of change from us for sure.
Fabio Molle
Nice and I just moved out a bit too quick there. But going back to the players playing. How many rackets on average do they have in their bag and what sort of string tensions are they playing with?
Ron Yu
Most of our clients will probably travel with 8-12 rackets. We call them a batch. So when a player needs a new batch of rackets and it depends on the player some only need 8, travel with 8 and some as much as 12. But 12 is the max that we have right now for guys. We have a few guys that travel with 12 rackets.
Fabio Molle
And is it a batch per match?
Ron Yu
No, just for stringing you mean? It can be. Again, that varies by the player. You know, when we work with Lleyton Hewitt, he would typically, he had 10 rackets in his bag, usually, and before the first round of the Grand Slam, he would have us string all 10 rackets, but for subsequent rounds, only the rackets he used in that match, would he get restrung. So let's say he used four rackets in his first round, we only had to restring four more rackets for the for the second round, and he would keep the old rackets. Most of our players though, want fresh strung rackets for each round, each match.
Fabio Molle
So if you have like six players playing on a Monday, you've got to string, let's say 80 rackets.
Ron Yu
Yeah it can get busy.
Fabio Molle
Wow, was there something where I heard that somebody said when the players they wanted their rackets to be strong last every night or last every morning?
Ron Yu
There are players that want that. Yeah, none of our guys. Our guys are pretty used to the way we string and the timeframe - how we set up their stringing schedule so they don't even question that. But when we're on site at Cincinnati, you will get a player come in and they'll say, can you string this late like the last group rackets you string at night? Or can you string this in the first batch of rackets that you string in the morning? Yeah.
Fabio Molle
Wow, they're just too sensitive those guys.
Ron Yu
Yeah. Or too superstitious - one or the other.
Fabio Molle
Yeah. Are any your guys superstitious?
Ron Yu
Not any more so than the average person I don't think. Youu know, I think everyone's superstitious to a degree. I am as a stringer. I'm superstitious. Roger laughed at me one time when he came in my room, and he saw all of his rackets there and I had lined up a certain way. And he says, wow, they are all lined up and I said that they're always lined up that way. And he started laughing at all the different playersI line them a certain way.
Fabio Molle
Nice. What sort of strings are these guys using? Is there still I know back Pete Sampras was a big natural gut user, right? Was agassi a Kevlar user? Did he use Kevlar?
Ron Yu
Yeah. When I was streaming for him 98 to 2000, he was using Kevlar and gut, natural gut in the cross strings. And then maybe 2002, 2001/2002 he switched to Luxilon polyester all around.
Fabio Molle
Nobody uses Kevlar anymore, do they?
Ron Yu
No. I used to use Kevlar when I played. I was an okay recreational player and I used Kevlar when I played and then I strung one up with another racket up with Kevlar just a few years ago, it felt horrible. I cannot believe I play with that string.
Fabio Molle
Playing with a baseball bat. And what sort of strings are the guys using now? What's the most popular?
Ron Yu
Everyone's using some sort of polyester - poly string. Whether they use it fully in the full string bed, both mains and crosses are polyester or they do what we call hybrid where either the mains are polyester and the crosses might be a gut or the opposite way around every one I believe now is using polyester to some degree.
Fabio Molle
There would be very few using full on gut?
Ron Yu
I'm not sure but I don't think anyone on tour is using full gut anymore.
Fabio Molle
Probably gets expensive the way these guys are stringing up rackets as well.
Ron Yu
Yeah, yeah, it does. I think there might be a few women that use still use full gut though. I'm not positive on that.
Fabio Molle
Nice. I've never to this day ever used it. One day.
Ron Yu
You've never used full gut?
Fabio Molle
I've never used full gut.
Ron Yu
You're gonna have to send me your address. I'll send you some gut.
Fabio Molle
One day I'll use it. I havent played tennis. We've been locked in here for months on end. But we're back now, we're back. But so it's not all pretty out there. It's not all going to Grand Slams, living the life. You know, COVID affected so many people in all forms of life. And if you'd asked me, How did it affect you? I would probably said maybe a little bit. You know, I'm sure there's still there's still high performance people playing tennis. I'm sure they're still stringing, you know, I'm sure the pros, the top guys, your P1 clients are still sending you rackets. But I did read on the New York Times the article, and I was surprised to see how hard it hit you guys and you've had to take another job?
Ron Yu
Well, the other job part is a little bit exaggerated. And that's probably my fault, not Chris Cleary, who wrote it. What basically happened was, the bulk of our job is work with pro players. We're not like a shop. When Nate and I are on the road, the office is closed. So when the tour shut down in March of last year of 2020, you know, that basically slowed everything down for us. What happened was it shut down, if you remember just before Indian Wells. And in February, when we come back from the Australian Open, we work on a lot of customized rackets to get these guys batches of rackets because we know we're going to be in Indian Wells and Miami for a month. And then it goes right into the clay season. So we're well ahead on rackets because normally players might want a new set of brackets for clay. Well, when COVID shut the tour down, suddenly, we had nothing to do in the office, because we were already ahead. So there wasn't a lot of work to do. And obviously the way our contracts work with the players, they pay us for going to tournaments. So if they're not going to tournaments, revenue, drastically decreases for us. So we're in the office, and we're doing a little bit of work, but for the majority of the day, you know, we're not really having things to do. So I was lucky enough to get a part time job. And I just figured that, you know, Nate's still paying me my salary. And I would just take this part time job in the afternoons. And then whatever I made at that job, I would just basically give back to the company just to defray some costs. So it wasn't like, oh my god, I have no money and I have to get a part time job. So I think it might have been a little exaggerated, and maybe it wasn't as bad as it looked. But you know, our revenue dropped dramatically. So that was tough.
Fabio Molle
I'd say it can be tough when you rely on the tour to be alive. When are you going to your next tournament, are you going to Roland Garros?
Ron Yu
I am. I'm going to Geneva next Wednesday and then I'll go probably straight to Roland Garros, depending on our results of the clients there. I may come home for a few days or may just go straight to Halle and then straight to Wimbledon. So it's pretty busy.
Fabio Molle
Sounds like you're just travelling for Roger is it?
Ron Yu
Well he's 39 years old, you know things change rapidly but that's the plan. I go to Geneva for him. And then Roland Garros. Nate and I will be there for all our clients that we're going to be stringing for and then Halle for Roger and any if any of our other clients are playing Halle. Roger typically wants us to be wherever he goes. If he's playing a tournament. He's happy to have one of us along.
Fabio Molle
Nice and he's not playing every week. He's not even playing all the masters. So it's not like he's 25 again, doing 35 weeks. What's the most weeks you've ever done in the year?
Ron Yu
I think I did 34 one year, pretty busy. It's easy to travel now, though, than when I first started. Because just being able to pay all my bills online, like this zoom, or even you know, FaceTime, things like this, keep in touch with friends and family. I remember when I first started traveling on tour, the big thing was all the players were like where did you get the cheapest phone card? So you could make phone calls? That was like a big deal for you know, where do you get the phone card?
Fabio Molle
Yeah, I remember the calling cards, the international ones if you go on holidays
Ron Yu
Yeah!
Fabio Molle
Did you bring your traveler checks?
Ron Yu
Yeah, exactly. You know, there was two computers set up in a players lounge. And people were had to sign in to get 15 minutes of computer time to write emails. I mean, you can't even imagine that with smartphones now.
Fabio Molle
And do you find back then was a better bond between all the players because obviously less time on the phone? There's more communication in person, you find anything's changed on the tour since then?
Ron Yu
Yeah, for sure. I think when I first started, you would go to tournaments, not as much the Grand Slams, let's say but like, like a Hamburg, it's etched in my brain that all the players in the evening would be down in the lobby, they'd be playing cards, they just be hanging out talking because you didn't have you didn't go back to your room and face time with your family and that sort of thing. And there was probably less large group player teams back then as well. You know, you might have a coach and a player. A couple of guys might not have physio, but that was pretty much the max would be groups of like three people together in a team.
Fabio Molle
Yeah, now they just tend to hang around with their team or with their country mates probably.
Ron Yu
Yeah a little bit more. It's a little sad that that's changed, but I can understand why it's changed. People talk about why players are playing longer in their careers. And I think the fact that you can maintain contact with your family, like let's say a player is married or has children, or even don't get homesick as much, you know, so mentally, they can stay out, stay out on tour longer.
Fabio Molle
And we don't have too many more questions. Everyone want to ask if you're getting married tomorrow, I'm not sure if you're married or not Ron.
Ron Yu
I am married
Fabio Molle
Great. What players would you invite to your wedding?
Ron Yu
Well, I can tell you this. The amount of players that would actually come to my wedding is extremely short. What players would I invite to my wedding? I would invite Tim Henman, I would invite Roger, I'd invite Stan Wawrinka, Andy Murray, Marcos Baghdatis, John Isner. I'm gonna leave people out for sure I'm going to, I'm going to offend people.
Fabio Molle
So they're all good friends, is what I'm trying to say you've built up great relationships by working so closely with these guys?
Ron Yu
You know, some players, some clients we've had over the years, you can tell that we're friendly with all our clients, we get along with them, but some want to build a little bit more of a friendship. And so which is fine, we're happy to do that, we're happy to be you know, brought into a what we call like the inner circle. And then some others it's more of a business relationship, which which is perfectly fine, too. Well, people always ask me are tennis players nice people? And, and I always say the same thing. I say, I'm an optimist in general, about people. And I think most people are nice people or want to be a nice person. And tennis players are no different. They just have a much more high profile job. But most most tennis players are extremely nice people.
Fabio Molle
I couldn't agree more from what I've met tennis players and from people working in tennis like yourself and the other I don't know 96/97 guests I've had on here they've all been so nice. And just like a normal person really would a bit more profile. But yes, and that. That's really interesting. Great to find out a bit more about you hopefully one day in the future I see at a Slam.
Ron Yu
Absolutely.
Fabio Molle
Won't be for a while for me now. Probably next year. By the time I get back to tournament life. But yeah, thanks a lot for jumping on and best of luck with your clients. Hopefully Roland Garros, we get some good wins and Wimbledon as well.
Ron Yu
Yeah, absolutely. Looking forward to it.
Fabio Molle
Super thanks to Ron, it was great to talk about his tennis life and journey. I really hope you enjoyed it as much as I did. I'll be back next week. Until then, I hope you get out on the court. Bye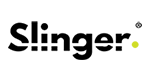 PODCAST POWERED BY SLINGER